Keep Your Hands Dry & Warm With The Best Ski Gloves Of 2022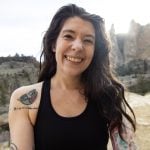 This product guide was written by Tuesday Kahl
Last Updated
November 22, 2021
Tuesday Kahl
Tuesday Kirby Kahl is a contributor at Gear Hungry. Her fierce love for the outdoors fuels everything she does. Her professional pursuits include writing, creating art, and photography. These professional passions allow her the time to live life outside as a rock climber, skier, runner, backpacker, paddle boarder, swimmer, and explorer.  When Kirby is indoors, she enjoys tea, whisky, old films, cooking, and baking. Her product testing and feedback have shaped the design of everything from climbing shoes to candles.
GearHungry may earn a small commission from affiliate links in this article.
Learn more
The powder's fresh, the weekend is wide open, and there's nothing on your mind but shredding the gnar and cruising powder at your favorite resort or backcountry spot. Problem is, you're ill-equipped. You need the best ski gloves to keep your hands warm and toasty and your fingers nimble while you shred. A quality pair of waterproof ski gloves will optimize your performance, and keep you protected yet flexible when you're whirling down the slopes.
To help you find the right pair of gloves or mittens for your special brand of skiing, our team of experts has combed the web for the best models and tested dozens of different brands and glove types. All of our top picks are weatherproof and flexible, guaranteed to keep you comfortably warm while on the slopes.
The Best Ski Gloves
Black Diamond Spark Angel Finger Ski Gloves
As a climber, I'm highly familiar with Black Diamond goods. When I ventured into skiing, I figured I'd go with the same trusted brand when purchasing gloves. Being from Texas, I am not the most cold-tolerant (but it's getting better!), so I knew I needed a warm ski glove that allowed me just enough dexterity so that I never have to take them off and expose my hands to the crisp cascade air. The Black Diamon Spark Angel Finger Glove was my answer. This ski glove is built with both resort and backcountry skiing in mind, with durability from a goat leather shell and BD.Dry technology. These gloves look almost as good as they did when I first got them despite two full seasons of wear. Whether cross country skiing, resort skiing, touring, making a snowman, or sledding, the performance is incredible! My hands are always warm and protected.
I love these gloves and their PrimaLoft insulation. They keep cold air out and my poor fingers nice and toasty. The interior fleece lining is like a warm hug for cold fingers when you slide your hand inside. I love the nose wipe as my nose always runs in cold weather, and the hook and loop wrist closure is easy to fasten bare-handed or gloved. Read the in-depth review here.
Key Features:
Completely waterproof BD.dry insert
Tough, durable goat leather shell
PrimaLoft insulation
Fixed soft fleece lining
Suede leather nosewipe on thumb
Specification:
Brand

Black Diamond

Weight

5.41 Ounces
The North Face Apex+ Ski Gloves
COVID did strange things to us all. Operating a ski lift might have been the last thing our tester would have guessed he would do, but sure enough, there he was last ski season. He went in with novice snowboarding ability and a mild dislike of cold temps. Happily, The North Face Apex+ gloves had him covered. Liftie work is oddly rough on the hands, from hours of raking and shoveling with cold tools to bumping chairs to taking diggers on ride breaks. He found the Apex+ surprisingly ideal for all assigned and extracurricular ski resort tasks. Because they were relatively thin, he could articulate his hands easily. Because they stretched just enough and fit his hands well, they never felt annoying, and the touchscreen index finger pad worked great.
Most importantly, they were warm and prevented wind and snow ingress. I found that to be the case somewhat in spite of their appearance. To most, they look like liner gloves more than anything. But they kept him totally comfortable in sunny conditions and reasonably comfortable during evening temperature drops for beloved night skiing. They cut the wind even when he straight-lined it on runs, and kept the snow out when wiping out. In the coldest conditions, like during snowstorms or on windy ridgelines after sunset, he sometimes pulled another glove on over the Apex+ as they're anything but bulky. But that was always more of a creature-comfort move than a necessity. Overall, the gloves held up and kept him comfortable over a long season working an average of four days per week and riding four to five. Read the in-depth review here.
Key Features:
Soft shell with touchscreen capability
100% windproof fabric
Silicone gripper palm provides excellent grip
Light insulation doesn't overheat the hands
Lightweight, flexible and stretchy
Specification:
Brand

The North Face

Model

NF0A4SGU
Burton Men's Gore-Tex Ski Gloves
Our tester bought an older version of Burton Gore-Tex gloves used years ago, and they serve her well every winter season. She wore these gloves while shoveling snow as a liftie while learning to backcountry ski and having fun on the mountain. Slipping your fingers into the cozy microfiber inside is always a welcome reprieve from harsh conditions while skiing. They aren't bulky gloves but still can be challenging to use during complicated tasks. They work well for adjusting ski boots and bindings, but she reports she usually takes them off while eating a snack on the chairlift or using her phone (even though they advertise touch screen abilities).
The ToughGrip palm does its job—it grips your ski pole, skis, and phones without feeling like you might drop something and allows you to easily zip your ski jacket. The drawstring and wrist cinch allow you to tighten or loosen the glove to get it on, and it seals out any possibility of getting snow up your sleeves, a feeling none of us enjoy. These gloves also come with fleece liner gloves that can be worn in conjunction with the GORE-TEX outer glove or on their own on spring days or while doing more involved tasks, so you aren't left entirely bare-handed. They also include a zipper pocket that fits a hand warmer on the coldest days or vents heat on warmer ones. Even with years of use, these gloves keep my hands dry pretty much all day long in any conditions.
Key Features:
Features Gore-Tex waterproofing
Two-layer exterior fabric keeps your hands dry at all times
Microfiber lining reduces sweating and keeps your hands comfortable
Hidden Heater / Vent Pocket
Touchscreen ability
Specification:
Brand

Burton

Model

103531

Weight

1 Pound
MCTi Waterproof Mens Ski Gloves
These fully insulated, waterproof, and windproof winter gloves from MCTi are designed to snugly and easily fit your hand with their one-pull adjustable closure. The MCTi Waterproof Men's Ski Gloves are ideal for cold weather conditions and winter sports including skiing and snowboarding thanks to their insulating properties. They're made with a 3M Thinsulate fill combined with soft, warm cotton. They also feature a further three-layered composite membrane and a TPU insert, providing excellent waterproof resistance alongside breathability for comfort no matter the conditions. 
These waterproof gloves are also durable featuring a softly covered nubuck palm with reinforced rubber fingers for a secure grip. There's also a convenient nose wipe fabric thumb plus a zipper pocket ideal for storing keys or coins for a day on the slopes. With a securely fastening wrist buckle closure, these gloves can be adjusted for a snug and secure fit no matter how hard you shred – or fall. These dexterous gloves are lined with a soft and comfortable fabric that is gentle against the skin and ideal for day-long comfort. You may also like these reliable winter running gloves from our list. Check them out.
Key Features:
Waterproof and windproof with a breathable TPU membrane
3M Thinsulate insulation
Durable and wear-resistant fully covered nubuck palm with reinforced rubber fingers
Convenient zipper pocket for carrying keys
Easy one-pull design with adjustable drawstring closure
Specification:
Brand

MCTi

Model

SP-HCMCTIB-BK-S-1

Weight

8.36 Ounces
MCTi Warm Touchscreen Ski Gloves
Once again, MCTi delivers the goods with their stylish women's gloves designed to offer warmth and waterproof protection for anyone who enjoys winter sports. They're snugly fitting with high-quality wrist buckles securing the gloves firmly in place. They're perfect for colder climates and outdoor pursuits, featuring 3M Thinsulate insulation and fill that's also combined with 120 grams of soft, thick cotton. They're designed with a waterproof and moisture-wicking TPU insert which is breathable to keep hands dry and warm. The final inner lining is also soft and comfortable against the skin.
The MCTi Warm Touchscreen Ski Gloves have also been designed with durability in mind with reinforced PU leather protection between the thumb and index. They also offer excellent anti-slip protection for enhanced grip on your ski poles. Oh, and there's no need to take off your gloves and expose your hands to the elements every time you need to answer or make a call as these are touchscreen gloves. If you get a runny nose out on the slopes, again, there's also no need to stop and remove your gloves as there is a soft nose thumb wipe integrated into the design.
Key Features:
Warm and waterproof with a TPU moisture wicking insert
3M Thinsulate insulation
Durable and wear-resistant construction with anti-slip PU leather grips
Gloves can be coupled together to prevent losing them
Touch screen index finger and thumb for call handling without glove removal
Specification:
Brand

MCTi

Weight

6.38 Ounces
Snow Deer Heated Ski Gloves
If you're looking for heated professional ski gloves for this season, we recommend checking out the Snow Deer Heated Ski Gloves. The wind and water-resistant exterior of these fantastic mittens is designed to ward off the elements, and inside they go one step further, protecting your hands from the cold with the internal batteries that physically heat up the gloves from the inside out. They deliver superb comfort and warmth to anyone who sufferers from conditions like Raynaud's disease, arthritis, and poor circulation.
These heated gloves are made from high-quality sheep leather with a soft, breathable fleece lining. They can be securely adjusted and tightened at the wrists, with the cuff locked tightly to prevent any wind or snow from entering. There's also a zipper pocket incorporated into the design which is ideal for small change, a credit card, or a key. They're also perfect for evening or night skiing thanks to the illuminating white strips that help with visibility in dark conditions. But the heating element is what really sets these ski gloves apart. There are three separate heat settings, denoted by LED colors; red is high (140-150-degrees F), white is medium (122-131-degrees F) and blue is the lowest heat setting (100-113-degrees F). They're heated by pair of Lithium-Ion batteries which are included with your purchase. 
Key Features:
Professional heated ski gloves
Soft sheep leather exterior
Infrared fiber heating element
Three temperature-controlled settings
Operated via a rechargeable Lithium-Ion battery
Breathable cotton fleece liners
Cevapro Winter Warm Gloves
If all you want is a pair of dependable, comfy gloves that you can use not only when skiing but also when running, hiking, walking the dog, etc, you'll love the Cevapro Winter Warm Gloves with touchscreen capability. With a double layer of thick fleece for added warmth and protection with moisture-wicking properties, these gloves are warm, comfy, quick to dry, and fully breathable too. They're also windproof and water-resistant and feature a high-quality TPU coating. With nice, snug elasticated wrists, they also close securely preventing freezing cold rain and wind from entering. 
The index fingertip and thumbs feature a unique conductive fabric so the gloves can still be worn to operate a touchscreen device. They're also flexible, with silicone anti-slip particles in the palms which allow you to maintain a firm and stable grip. For the ultimate winter protection no matter the activities you like to participate in, these are a reliable, budget-friendly option. If you are taking them skiing, we recommend wearing an outer shell as well. For more best-quality ski gear, check out our selection of the top ski masks.
Key Features:
Winter thermal gloves offering waterproof and windproof resistance
Double layer of thick, moisture-wicking fleece
Sensitive touchscreen gloves coated with a conductive material
Flexible and stretchy
Grippy skid and slip-proof design
Specification:
Brand

Cevapro

Model

MaiGoo

Weight

2.89 Ounces
N'Ice Caps Kids Cold Weather Ski Gloves
The N'Ice Caps Kids Cold Weather Ski Gloves are insulated gloves that come in a wide selection of vibrant and colorful patterns for kids of all ages or adults with small hands. They're designed to fit nice and snugly, featuring a protective, longer style 2.5-inch knitted wrist for protection from the elements. This makes them easy to pull on and off while the hook and loop closure can be adjusted accordingly for a secure and comfortable fit. They're constructed with a 3M Thinsulate outer membrane to offer excellent warmth retention in cold weather conditions. They're also waterproof, snowproof, and windproof, so perfect for snowy outdoor play.
They're great for various winter pursuits thanks to their extra-grippy reinforced palms and fingers which have a natural curved and flexible design for support during impact. They can also be coupled together and attached to a belt loop or winter jacket when not being worn, which reduces the risk of the gloves being lost. They're perfect for little hands and fingers to pull on and off with plenty of wriggle room inside. If you have an active kid who loves playing outdoors no matter what the weather, then the N'Ice Caps ski gloves will ensure their delicate hands remain protected. 
Key Features:
Waterproof, snow proof and warm
Feature a snugly fitting 2.5-inch knitted cuff
3M Thinsulate insulation
Reinforced grippy palms and fingers with flexible curved design
Hook and loop closure for an adjustable, secure fit
Hestra Army Leather Ski Gloves
The top of the line, cutting-edge leather ski gloves on our list are Hestra Amy Leather Ski Gloves. While these don't include a Gore-Tex lining in their glove construction, they do have an excellent blend of leather to keep water out and keep warmth locked inside. You get an extremely comfortable polyester lining, keeping your hands cushioned and warm throughout your entire ski trip, and every downhill expedition through patches of perfect powder.
The Hestra heli-ski gloves are a bit on the pricier side, but they are backed by Hestra's warranty, as well as their fantastic customer service if you run into any problems with your outdoor gear. You'll be able to use the dual buckles along the exterior of the wrist section to tighten and secure your ski gloves, and the extra pull strings along the long cuffs to keep wind and water out and your hands dry. No matter how you swing it, these are some of the best ski gloves on the market. Be sure to combine this with cool ski goggles from our list.
Key Features:
Windproof, water-resistant backhand fabric & durable goat leather on palms and fingers
Long cuff prevents snow from nestling inside your glove
Dual buckle tightening strap along the wrist
Leather construction adds additional waterproof protection
Comfortable polyester lining
Specification:
Brand

Hestra

Model

30570

Weight

9.6 Ounces
Black Diamond Mercury Mitts Ski Gloves
If a fingered ski glove isn't your thing or you need the extra warmth a mitten provides, we've found a fantastic ski mitten that excels in heat retention and comfort. You get a well-insulated pair for roughly the same cost as the Hestra ski gloves above, so you can stick to the same price range and either choose gloves or mittens; regardless you're getting the best value ski gloves.
The Black Diamond Mercury Mitts Ski Gloves include fleece removable liners for changing conditions, making it a cinch to clean and dry. Wrist straps and cuff pull strings keep the perfect level of pressure on your hands: these mittens won't move anywhere you don't want them to, and they'll keep you dry throughout your journey up, down, and all around the mountain. Exceptional waterproofing and an interior made with an elastic material that contours to your hands without getting uncomfortable; what more could you ask for? Combine them with the top-quality ski jackets from our list and stay warm and protected.
Key Features:
A fully waterproof insert & Primaloft insulation
Four-way stretch interior keeps the mittens contoured to your hands in a comfortable way
High-loft removable fleece liner
Wrist straps + cuff pull strings to tighten your mittens to the perfect pressure
Lightweight and abrasion-resistant design
Specification:
Brand

Black Diamond

Model

BD801118BLAKMD_1

Weight

11.2 Ounces
Gordini Men's GTX Storm Trooper II Ski Gloves
You may not hear the imperial march, but you'll be a stormtrooper in your own right. Gordini wanted to go with the best of the best, so they kept their Storm Trooper II nylon gloves inexpensive compared to competitors but managed to slip Gore-Tex into the liners for the best waterproofing in the business. You're dealing with 94% nylon, and 6% spandex to give your ski gloves just enough of a fit that you won't be struggling to get them on (or off for that matter) but maintain great dexterity and durability.
This is a fairly straightforward glove design with simple tightening mechanisms, such as wrist caps and naturally tighter entry to the cuff. No gimmicks, just a simple glove with premium waterproofing. On colder days, you can slip a handwarmer into the heaterpack pocket to maximize your warmth. The Storm Trooper II gloves also feature textured palms for good grip on ski poles, which is always a plus in our books. If you are looking to upgrade your winter equipment, then make sure you read our guide to the most popular winter boots.
Key Features:
Partial spandex construction to make these easy to slip into
Gore-Tex insert keeps your hands as waterproofed as they're going to get
Wraps caps keep these gloves perfectly applied to your wrist; maximum dexterity, full-on comfort
Includes a heaterpack pocket
Textured palms for a solid grip
Specification:
Brand

Gordini

Model

4G1056

Weight

12.6 Ounces
Black Diamond Men's Guide Ski Gloves
Last but far from least, Black Diamond makes another appearance in our round-up of the best ski gloves and mittens with their Men's Guide Glove: a super high-quality ski glove that will leave you feeling pampered while you work. The cocktail of material here was carefully curated for maximum performance for ski resort and guiding professionals. You'll find 8% spandex in the exterior, giving you a great contoured fit all across your fingers and hand. Flip over to the palm, and that's where the magic happens. Goat leather palm adorns the interior, giving you additional gripping power, as well as a quicker drying time when you hang them by the fireplace later in the afternoon. You might not even need to hang them up, because you get a Gore-Tex liner that's going to keep your hands completely dry during the worst of storms.
We love the durability, dexterity, and intentionality in every feature of the Black Diamond Guide Glove which is why they are our top pick ski glove for your favorite ski patroller or guide.
Key Features:
8% spandex construction for exterior for a contoured fit
Goatskin palm lining stays dry and keeps your grip on-point
Gore-Tex insert with warming technology
Knuckle foam padding for impact protection
Keeps you warm and cozy in as low as 25 below F
Specification:
Brand

Black Diamond

Model

801516

Weight

14.2 Ounces
Why Trust Us
The testing team for this project consists of through and through mountain people. Sam is a climber and skier based out of Austin Texas but enjoyed skiing near Nevada while living in Las Vegas. Ilana is a climber and mountaineer with a large breadth of mountain experience from summits, to technical rock climbing and more. TK, your author, is a rock climber first but an avid skier during the gloomy PNW winters. You'll find her on Mt Hood Nordic skiing, resort skiing, and backcountry touring all winter with some summer ski tours sprinkled in too.
Who This Is For
This guide is for everyone looking for excellent ski gloves and mittens. While many experienced skiers find their preference at a certain point, this guide features introductory ski gloves for resort skiing and work leather gloves for professionals manning ski patrol, ski guides, and lift maintenance crew. No matter where you are at in your ski career, there's a glove for you.
How We Picked
To curate a list of the best ski gloves and mittens, I first consulted fellow gear testers here at GearHungry who all had a favorite pair to share. Then, I consulted other experienced skiers in my winter circle and followed it up with reading reviews and research to round out our selection of the best gloves both for men and women.
How We Tested
How better to get the best ski gloves than on our favorite ski hills. Our favorite ski gloves and mittens from myself and two other testers have been put to work in the resort and in the backcountry. We have a liftie to share his favorite gloves he wore all season long while working tools and controls daily. Myself and another tester have put our gloves to the test in the mountains by nordic skiing, downhilling in the resort, and questing in the backcountry. The gloves we tested have all been through a minimum three-month testing period so you know whether they are built to last or quickly fall apart. Who better to test the best gloves than ski professionals and tried and true mountain people.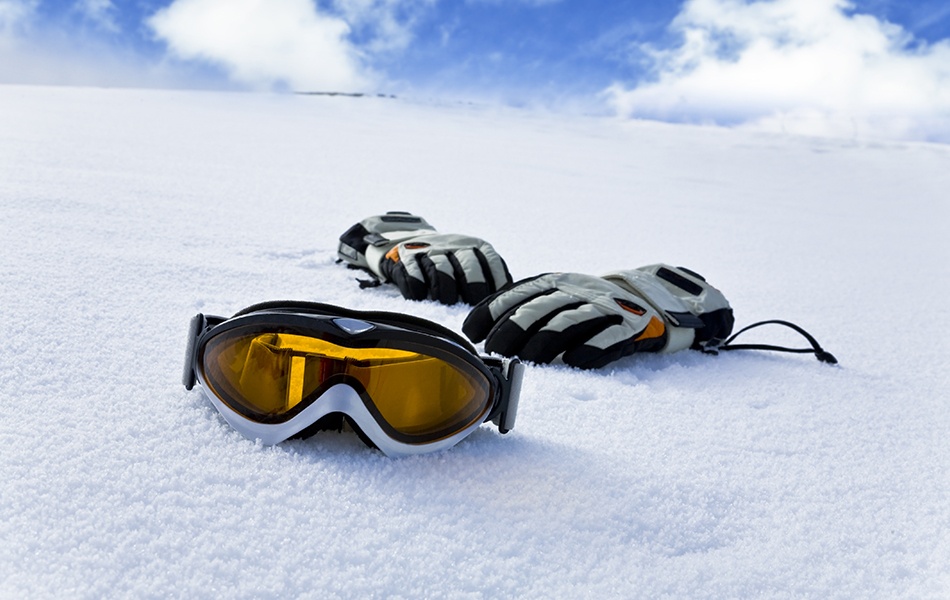 Features To Look For In Ski Gloves
More than just an accessory, a ski glove is a technical garment, a piece of sports equipment that can help you enjoy a cozy day on the mountain or leave you with cold hands, numb fingers, and screaming barfies. The overall design, warmth, fit, and waterproofness are all vital features to consider in the best ski gloves.
Warmth & protection - Like jackets and sleeping bags, gloves come in varying degrees of thickness and warmth (also known as tog) denoting how much heat they provide. The shell material, inner membrane, and amount of space in the glove also have a big part to play in how warm your hands stay. Different materials offer more warmth and insulation and ultimately, the glove you select will be determined by where and when you do most of your outdoor activities. If you love skiing in icy cold winter conditions, then you should definitely go for fully insulated, warmer gloves. Some ski areas stay in the teens, and in other areas, it's standard to have temps in the 20s and 30s all winter long. Keep in mind that you want your gloves to offer warmth, breathability, and comfort, as well as water and snow protection.
Shell material - You have two key options when it comes to the outer shell; a synthetic fabric or leather.
Synthetic - synthetic is a popular and cost-effective choice and is usually based around a nylon fabric mix, although gloves with a full nylon shell are also available. More expensive, high-end gloves will adopt waterproof and breathable fabrics such as a Gore-Tex layer combined with something like an ePTE or PU coating. These breathable fabrics are generally available with both a hardshell or soft-shell finish and are vegan.
Leather - Leather gloves are usually more expensive and naturally durable, waterproof while maintaining pliability. Popular leather skins used in ski gloves include cowhide or goatskin. When combined with a microporous membrane, it's not unusual for an excellent pair of leather gloves to last for years, delivering warmth and protection from the elements.
Inner membrane construction - Besides staying warm, you also want your hands to remain dry and comfortable too. Your gloves can become wet due to melting snow from the exterior of the glove, but the right ski gloves will also offer breathability so that you do not saturate the interior of the glove either. Any moisture is a chance for your glove to freeze. That's where a breathable waterproof membrane, featuring tiny microscopic pores that allow water to evaporate, comes in handy. This membrane is traditionally placed between the outer shell and the inner liner and depending upon what it's constructed from will determine how much breathability and waterproof protection your gloves offer.
There are two primary materials used; Gore-Tex, and Windstopper.
Gore-tex - a well-established performance-enhancing choice providing excellent waterproofing and breathability across a range of accessories and outerwear, including ski gloves.
Windstopper - Windstopper is also created by the team at Gore, this is their ePTFE membrane which is windproof and highly breathable although not waterproof. This makes it better suited to cold but dry conditions. It's frequently however coated with DWR (durable water repellent) so that it can be used in winter gloves. If you live in an area with a wet snowpack this may not be the best choice for you.
Insulation material - One of the principal reasons why people wear gloves and mittens is to protect their hands from the extreme cold weather, so it goes without saying that you need to select the appropriate type and level of insulation. The key is to find a pair of gloves delivering a combination of warmth and breathability, without sacrificing movement. Popular fill types include; Down, Primaloft, and Fiberfill.
Down - made from goose and duck feathers, down is lightweight and helps trap air to keep your hands warm. It loses performance when it's wet.
Primaloft - a synthetic man-made fill that's warm, breathable, and water-resistant. It's not as warm as down, but it is better suited to wet conditions and is vegan.
Fiberfill - made from lightweight polyester fiber, Fiberfill is excellent in both cold and wet weather conditions.
Palm reinforcements - It's common, especially when you're a beginner skier or when pushing your limits, to regularly fall over so added protection and durability around areas that are subject to more regular impact is an excellent idea. Look for gloves that feature an extra layer of protective coating (leather or vinyl) or provide additional durability.
Size & fit - Always ensure that your gloves fit correctly, both for your comfort and to provide the right level of dexterity required. For good performance, your ski gloves should fit snugly but allow enough room for you to wriggle your outstretched fingers and fully cover your wrist. Try bunching up and making a fist with your hand. If your fingers are restricted from bending, then your ski gloves are too tight. I mistakenly sized my first set of gloves too small and they didn't have enough air in the hand area of the glove to stay warm enough for my cold hands.
Additional features - Other features worth considering include the overall cuff length, extra wrist guards, a nose wipe which is generally found on the thumb as well as touchscreen-friendly fingertips so you can get videos for the gram to show your friends how you shred the gnar.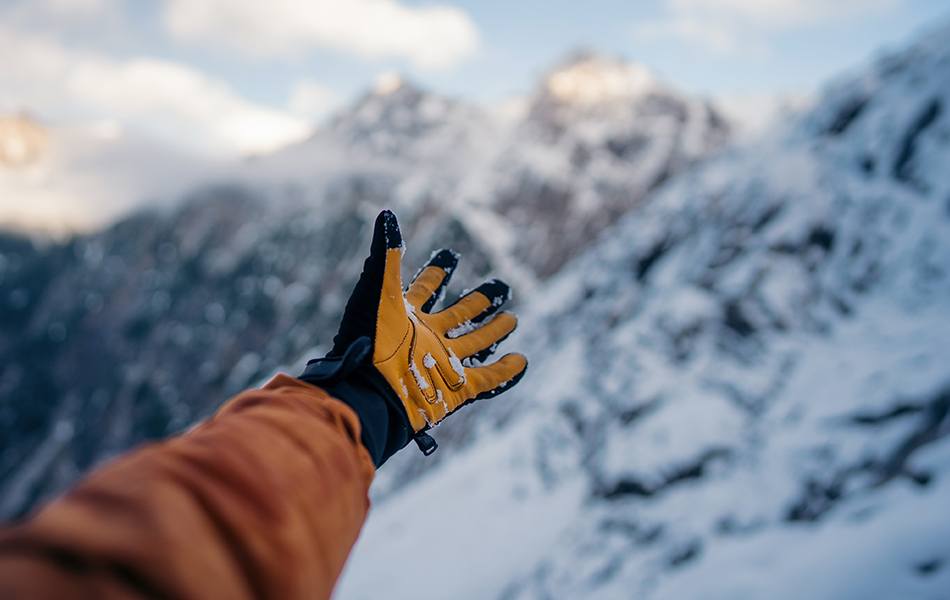 Ski Gloves FAQ
Q: What type of gloves are best for skiing?
A: I personally prefer a leather glove with an angel finger design and a brow/nose wipe on the thumb for my cold hands. However, everyone's needs are different and there is no best glove for skiing. I'd encourage you to read our whole guide and assess your needs before deciding on your favorite glove.
Q: Which ski gloves are the warmest?
A: There isn't a perfect answer here because the right ski glove varies by each person's need. Some features that can help create the warmest ski gloves are leather construction, a removable liner, polyester fleece lining, mittens, or a durable outer shell. Most gloves include one or two of these features though. If you're looking for the warmest glove out there, we recommend getting a heated pair.
Q: How much should I spend on ski gloves?
A: This is a matter of personal preference and budget. A $20 pair of gloves may last you a season but spend $50-$100 and you've likely got a pair of gloves that will last you years depending on how rough on your gloves you are. There's no right answer here, but I do recommend investing in a quality waterproof glove, and a removable liner glove too, to make your mountain days much more comfortable. Affordable ski gloves are aplenty if you aren't ready to invest yet.
Q: Should I go for gloves or mittens?
A: Probably the first question to ask is which design you prefer. Generally, the warmest gloves for cold fingers will be a mitten, as all your fingers share the one central insulated chamber, allowing heat from any finger to be shared by the rest. Their biggest drawback, however, is the lack of mobility when compared to a glove that features individual compartments for each finger. Also, many ski glove brands construct their gloves from technical materials that allow for the use of a touchscreen device. Gloves provide far more flexibility and dexterity to carry out basic tasks like adjusting and removing goggles and accessing pockets. Ultimately, it's a matter of preference and needs.
Q: Should I go for leather or synthetic gloves?
A: This too is a matter of personal preference and to a certain extent, budget too. Leather benefits from being naturally waterproof and delivers an excellent level of protection. As long as you care for your leather gloves correctly, they should last for many years to come. Synthetic benefits from typically being more inexpensive and are also easier to wash and maintain.
Q: How should I store my ski gloves?
A: If you're jumping off the slopes and straight into a car or heading to the airport, the worst thing you can do is throw wet gloves into a bag. You will just end up with a mess of sprouting bacteria as the water stays in the fabric, unable to evaporate. Always make sure that your gloves are adequately dried before you pack them away. Place them inside a zip-lock bag so that they won't get the rest of your clothes wet, but only temporarily as some fabrics can mold in this environment. Leave them out to dry naturally for as long as you're able to and make sure that they have plenty of space to breathe so that warm air can circulate around and through your wet gloves. If you have removable liners, remove them during the drying process.
Sources:
Winter Fitness: Safety Tips For Exercising Outdoors - Mayo Clinic
Safety Tips: Skiing - Nemours KidsHealth
Glove - Wikipedia
Sign Up Now
GET THE VERY BEST OF GEARHUNGRY STRAIGHT TO YOUR INBOX