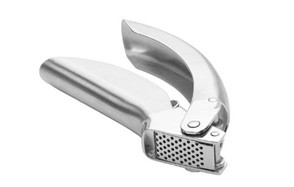 Kuhn Rikon 2315 Epicurean Garlic Presser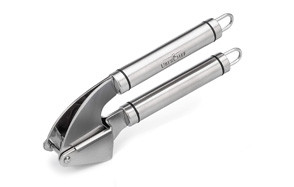 UberChef Stainless Steel Garlic Press And Peeler Set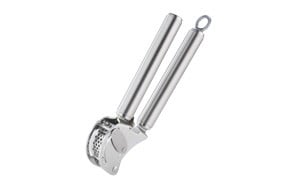 Rosle Stainless-Steel Mincing Garlic Press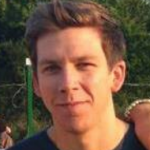 If you're a keen chef, you'll probably appreciate the need for a garlic presser. After all, you can't beat fresh garlic. As a staple in a whole lot of savoury recipes from cuisines all around the world, investing in this handy little tool is undoubtedly worth the money. In order to infuse your dish properly, garlic should be crushed finely, so if you don't already have a garlic presser in your kitchen, it's about time you did. Sure, garlic pressers aren't the most riveting appliances to shop for, which is why we're making it easy for you by reviewing 10 of the best garlic pressers on the market right now.
The Best Garlic Presser
Garlic Presser Buying Guide & FAQ
If you're a little overwhelmed with the amount of choices when it comes to garlic presses, fear not. We're going to break it down for you a little more so you can make the right choice. With that said, all of the products featured in our guide will most definitely do the job, it just depends how much you're willing to spend. The price varies most due to material and design, so, often choosing the garlic presser for you will come down to personal preference.
How We Chose Our Selection Of Garlic Presser
When it comes to making our selections of the best of the bunch, we consider three key things, brand, price and reviews. Of course, we want to bring you the best products from reputable kitchen appliance brands whilst being mindful of the price so that we offer something for every shopper. Beyond the brand and price, perhaps the most important consideration are the reviews. As we mentioned earlier, we appreciate that garlic pressers are the most stimulating subject matter, which is why we sifted through hundreds of reviews so that you don't have to. After all, it's important to see what all your fellow shoppers have to say.

Features To Look For In Garlic Presser
Material - Ideally, you'll want a material that is easy to grip, clean and maintain. The majority of the pressers we reviewed are stainless-steel, which is the preferred material. However, you will also find plastic and zinc options on the market. With that said, if you want a garlic press that is dishwasher safe and rust-resistant, you're best to spend a little more on stainless-steel.
With Or Without Peels - The main purpose of a garlic presser is to give you fragrant, fresh garlic without any fuss. Therefore, you'll want to purchase a press that will crush garlic without having to remove the peel. This way, you can throw your garlic into the press without having to fiddle around and end up with hands that smell of garlic.
Comfortable And Secure Grip - You'll want a garlic press that offers a comfortable and secure grip. It can be a little difficult to crush garlic the first time, so a secure grip is important for the best results. What's more, if you're using your press a lot, you'll want it to be comfortable.
Maintenance - As we mentioned, a garlic press is supposed to make cooking your favourite recipes easier, which is why you'll want one that requires minimal maintenance. Thankfully, the best garlic pressers on the market are dishwasher safe and come complete with cleaning tools.

Garlic Presser FAQ
Q: What is a garlic presser?
A: A garlic press is a kitchen appliance that is users to crush garlic gloves by forcing them through small holes so that you don't have to do it by hand. Simply place the cloves into the basin and crush down on the handle for perfectly pressed garlic every time.
Q: Can you use a garlic press for ginger?
A: The short answer is no. Although some garlic pressers can also be used to crush ginger, you'll want to double-check before buying one as some aren't sturdy enough to do so.

Q: Can you use a garlic press to mince garlic?
A: If you'd prefer your garlic minced rather than pressed, you can simply put it through the presser again until you get the desired results. Furthermore, some garlic pressers will come different blades so you can dice, slice, press and mince using just one tool. But in a nutshell, yes you can.
Q: Do you need to peel garlic before using a garlic press?
A: While the best garlic pressers on the market will allow you to press garlic without the need to peel it, it's sometimes easier to peel it, so you don't have to clean out the skins afterwards. With a lot of garlic pressers, reviewers have noted the cleaning process as the biggest con. So, although you can get away without peeling the garlic beforehand, you might find it's easier, in the long run, to do so.
Now that you've got all the information you could ever need to know on finding the best garlic presser for you, you can take your pick from the best of the bunch and stick to cooking your favourite recipes rather than shopping around.