GearHungry may earn a small commission from affiliate links in this article.
Learn more
How Exercises Influence Brains
Exercise has long been the go-to solution to everything that ails you in life. From even extremely young ages, we exercise without even thinking about it. As children, we run around, we play, we explore and we exhaust ourselves racing to and from destinations. It is fun to do this. The idea of getting something as quickly as possible is exciting and, even though we might be puffing, panting and collapsing once we get to the end, we feel good. As adults, it is a bit more complicated and we can't just run around whenever we want but we understand that there's a lot that goes on inside our heads when we workout, so let's look at what happens to our brains when we exercise.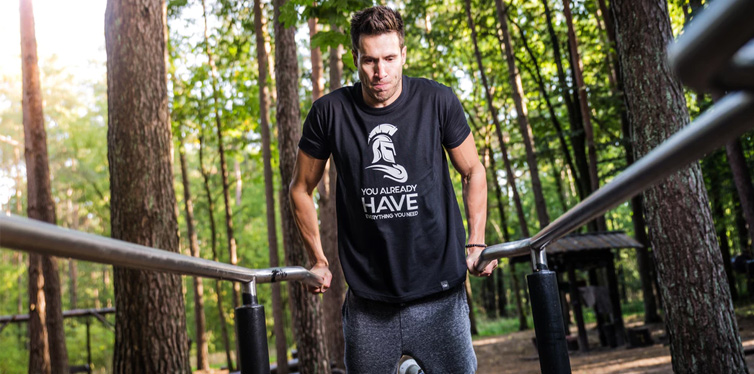 The How
Everyone is already clued up on how good exercise is for you on a physical level. It builds stamina and muscles, it helps you lose weight and it increases bone strength. That's all very well and good and nobody is saying that it is bad to be in excellent physical shape, but what about what happens in the brain?
Most people know and understand the basic relationship between exercise and happiness. Doctors, personal trainers and anyone who has ever laced up a pair of running shoes will tell you massive benefits that exercise can have on your brain. Many people will always pipe up with one word, and that word is endorphins.
What are endorphins you ask? Well, they are that, erm, thing that, erm, makes you like happy and, erm, stuff. Yeah. Happy.
That is the typical response you might get if you ask somebody just what endorphins are. While they are not exactly wrong, because it is difficult to be wrong when speaking in such broad terms, the truth is much more complex.
But it isn't just endorphins that affect the brain, there is a protein that works as a defense mechanism that kicks in once your brain realises that your activity has suddenly changed. The official name for this protein is Brain-Deprived Neurotrophic Factor, or BDNF. BDNF works to both protect and repair and is essentially a reset button, which is why you feel satisfied and have that beautiful moment of clarity following a workout.
When exercising, it is true that endorphins are released within the brain, and this is done to mitigate the stressful nature of exercise. These anti-stress chemicals block the feeling of pain that our bodies might feel during exercise and, in some cases are also associated with a kind of euphoria. This euphoria is what we experience once getting over the initial 'Oh man do I have to go for a run?' feeling.
It doesn't take a genius to figure out that the more we exercise, the more these endorphins and BDNF will be released, causing our brains to create what at its most basic can be described as a happiness chemical, all for free.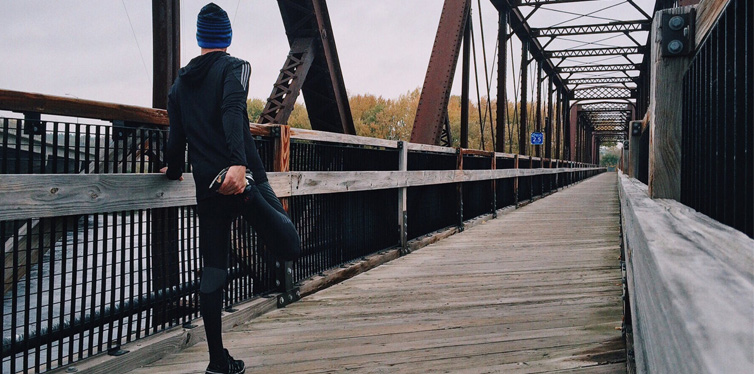 The Why
It all goes way, way, way back to our earliest ancestors. Back when we lived in caves, ate berries and nuts and were just discovering the marvels of fire, we had to deal with a plethora of predators that could quite easily tear us to shreds.
You've probably heard about the fight or flight scenario that we still experience now when faced with danger. During these prehistoric times, fight or flight was essential to the survival of the proto-human race and the physical activity of either fighting or flighting put the brain into a monsoon of stress.
So that's where that came from. When faced with a saber-tooth tiger, other potentially threatening humans or just something that early humanity wasn't all that sure of, the brain reacted and pushed us to do something. That something has continued through the generations and is now associated with exercise.
The Benefits
We don't need to go over the obvious benefits of exercise. We know all about why exercise is good for you physically such as better stamina, better general physical health, lowering your chance of heart disease or even a heart attack and lower blood pressure. It drives people to grab their running shoes, pull on their sweatbands and resistance bands and pack pockets full of protein bars before heading down to the gym when training for marathons, the upcoming season or simply because you've looked in mirror and realized that you don't look like you used to anymore.
And while that is nice, it's always good to look good, to conquer steep hills, your own stairs and hikes, what really seems to push people towards exercise and what keeps them coming back is how it makes them feel.
In recent years there have been many reports about the cloud of mental health that permeates every news article about workplace wellbeing and the stresses of student loans, wages that do not reflect inflation and a general feeling of being lost. While exercise can't solve these crises, it can at least ease the problems that are weighing on your mind.
The positive feelings that come from exercise can help to battle depression, anxiety, stress and even ADHD, PTSD and trauma. While it might be a challenge to motivate yourself to get out there and hit the streets when you are feeling less than 100% both physically and mentally, you have to force yourself to do it.
No ones wants to exercise, not at first anyway, but getting over the initial reluctance to push yourself out the door is one of the best decisions that you can ever make. Soon, you will find yourself feeling anxious at the thought of missing a workout day, it will have become a habit that you need to maintain.
This is because the euphoria that comes from BDNF protein is actually addictive. This is why the act of going to the gym, lifting weights or going for runs can become an obsession on top of being a habit. We all know an old school friend who started going to the gym and is now ripped, active, healthy and nearly unrecognizable when compared to pictures of the two of you back in your spindly teenager days. You might even be that person.
Exercise's effects on your mental health won't solve all of your problems, but it can certainly make any issues you might be experiencing much more manageable. The natural feelings that are produced when you exercise can do wonders for how you feel, and it might just give you the push to get out of this hump and start feeling better.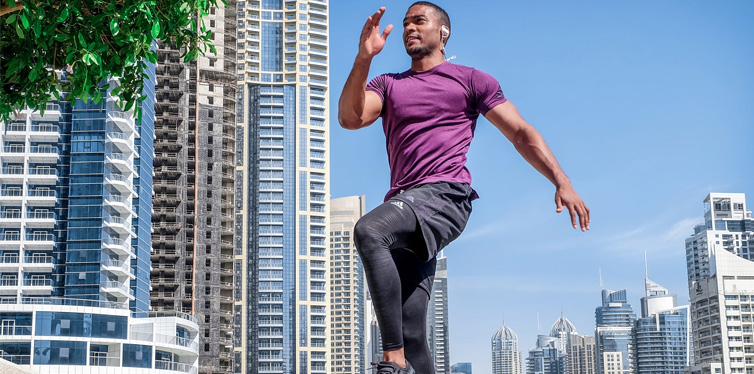 What You Can Do
The obvious solution is to just get down to the gym, but not everybody has the time or the money to hit the gym every day. For something that seems like it should be a basic human right, these places still have to make money from membership fees, fitness classes and even the protein bars that they sell in the vending machines.
So how can everybody be sure that they get the ample amount of exercise to live the happiest and healthiest life possible? People who have the money will install a home gym in a spare room, converted garage or add an extension. This eliminates the drag of feeling that you have to go to the gym, when instead you can simply step from one room to another and get started.
We know what you are thinking. 'If I cannot afford a gym membership, how am I to afford a home gym?' We get that, it might seem like a massive cost layout, but it is far from it.
The average gym membership in the US costs $33 per month, and that is not including fitness gear like sneakers, appropriate gym attire, or even transportation to and from the gym (whether that be gas money or taking the bus). When compared with purchasing home gym equipment such as dumbbells, or a weight rack, you can begin to see why it might be worth it in the long run.
But that could be considered a bit of an extreme solution. Even if you are not focused on getting swole, there are still free options for getting in shape. No matter where you might live, there is sure to be a park or streets that you can walk, run or cycle around, even if it is just for 20 minutes a day. You will soon feel the effects and as time goes on you can increase the distance and perhaps seek more challenging routes to really kick into gear.
Furthermore, if you live somewhere that you would never consider running in public, be it for weather or other reasons, there are many companies that now offer a gym membership as part of their contracts. This not only provides and incentive for you to join their company, but it also benefits them by having healthy employees, and happy employees are productive employees, too.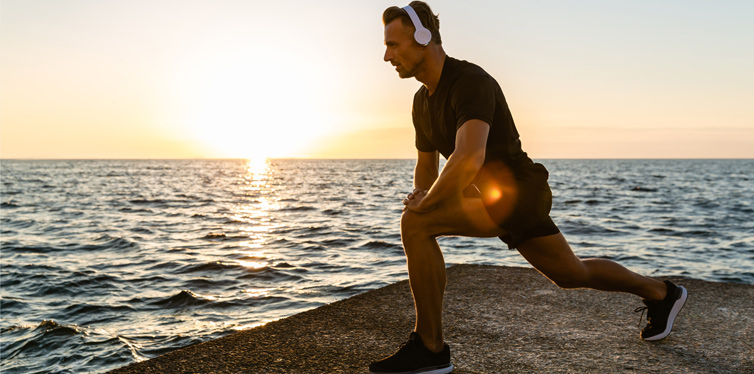 Learning to Love It
For many though exercise brings back memories of sweaty, smelly gymnasiums where you try in vain to climb the rope, get barked at by a gym teacher still living off their high school football success and sitting in the locker rooms terrified of being whipped by a towel. This could be part of the reason why exercise is not done by everybody.
You would think that the knowledge about how beneficial exercise is everyone would be doing it. The benefits on your physical and mental health, the chance to get some fresh air, to generally feel better should be something that you can't stop people doing. We have all heard of the runner's high, so it isn't ridiculous to wonder why everyone isn't chasing it.
Even for millennials, who are the most health-obsessed generation yet, are still not entirely embracing the world of exercise even though many of them understand the benefits that it brings. It might not be because they do not care nor want to get in shape, but perhaps because they have just not found the right outlet for them yet.
Exercise does not have to be sweating yourself into a puddle at the gym. It does not have to be lifting weights or doing pull-ups. It does not have to be running for what feels like hours around the local park in rain, sludge or hail. Exercise can be achieved any way in which you put some physical exertion on your body.
There are many people who loathe the idea of visiting a gym, but have still found different types of exercise beneficial. This can be anything from jiu-jitsu, rock climbing, yoga, to even taking a quick walk around the park. Everybody is different and just because the gym is the most convenient way of getting fit doesn't mean it is the only way or even the correct one.
It doesn't need to be the typically accepted idea of exercise, just something that makes you feel good and gets you fit and healthy. Often, you will find that you are enjoying yourself far too much that you won't even consider it exercise anyway.
Another problem is motivation. Anyone who works full time will tell you that it can be a challenge to muster the energy after a long day at the office. This is similar for those who live in more rainy climates. There are few things more demotivating than getting ready to hit the streets and seeing the storm clouds roll in, thunder and lightning strike and the ensuing downpour.
There's little you can do to change this, but what you can do is try to ignore the usual excuses that you use to put off a workout. As much as you don't want to do it, you know you will feel much worse for not doing it at all. If motivation is a problem, get a buddy to run with. If you don't have any friends then give yourself incentives. You don't deserve that pizza until you've gone for a run. You can't treat yourself to a beer until you've been to the gym every night this week.
Find out what works for you and you will soon be embracing exercise like an old friend. Not only will you end up looking better, but with the proteins and endorphins striking through your brain both during and after, you will feel better, too.
Sources: 
The Mental Health Benefits of Exercise – Help Guide