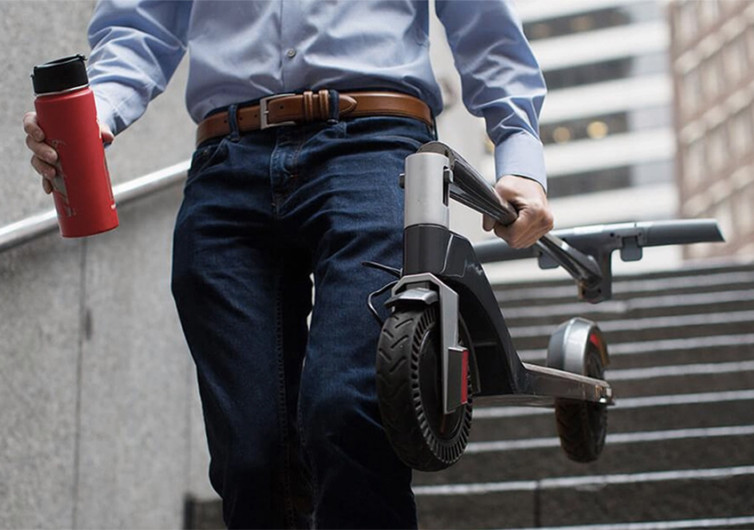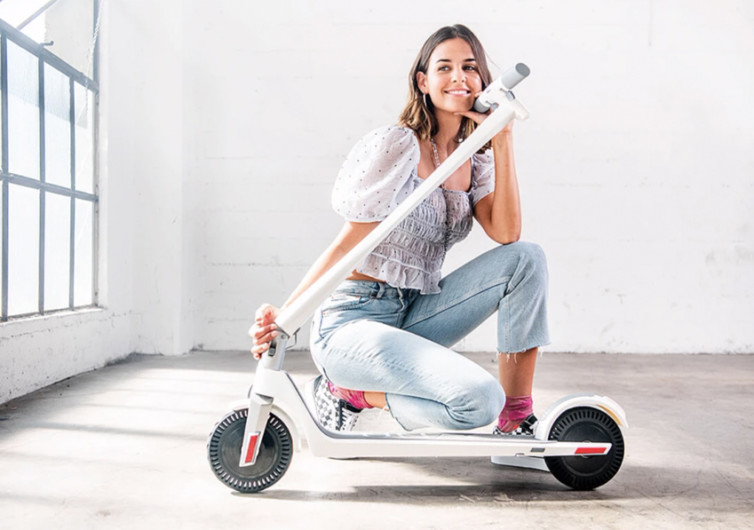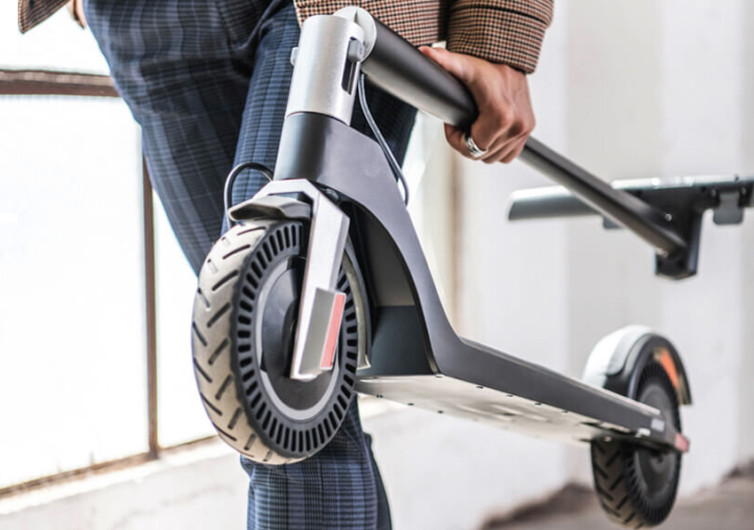 GearHungry may earn a small commission from affiliate links in this article.
Learn more
Unagi Model One Adult Scooter – Move Over, Kids
You want to scoot with the big kids? Then you will need to show up on the streets with the baddest adult scooter on the market, the Unagi Model One Electric Scooter. It's the easiest scooter to fold and store — seriously, there is just one button to fold the handlebars down — and it weighs less than 27 pounds. You can cruise for more than 15 miles before it needs charging. It's even made from the same carbon fiber as Elon Musk's Space-X rockets.
Mic drops that to all your friends, coworkers, and childhood bullies as you scoot off in style on your sleek and powerful adult electric scooter.
Adult Scooter Mechanics
There are two engine choices for your next getaway vehicle — the E250, which sports a 250-w motor on a single wheel, and the E500, which uses a 250-w motor on each wheel. We gravitate towards the E500, seeing as how a motor on each wheel provides you with more power, especially on inclines. These motors use rare-earth neodymium magnets to prevent overheating, so don't worry about going up in flames — Unagi's got you.
The Unagi's body comprises aluminum and carbon fiber (remember Elon Musk?) and features 7.5-inch rubber tires with E-ABS brakes controlled by a lever on the handlebar. (If you want to go really old school, you can use the friction brake on the back tire. Just put your foot back and press down until you come to a halt. Or use it to throw some mad tricks. We know you've still got it.) The braking distance on a dry, clean road is a mere 13 feet; try doing that on a Moped.
The three gears — beginner, intermediate, and advanced — will take you from a dead-stop to 20 miles per hour with just a push of the accelerator, right at your fingertips. The dult scooter drawspower from a 9,000 mAh lithium-ion battery, which is designed to last for years. These batteries take 4 to 5 hours to fully charge but can run for quadruple that. When the battery is cashed, you can easily replace it at home. If you're not as handy as you might hope to be, ship your adult scooter back to Unagi, and they'll replace it for you.
Each electric adult scooter houses a 47-lumen LED front light, as well as a rear blinking red LED light to keep you safe on the streets or the sidewalk.
When you're done with your ride, slow to a halt with your handlebar's control system and flip out the kickstand, it's easy to do, no matter what shoes you're wearing. You can head into the bar or off to the park with confidence, knowing your Unagi adult scooter won't slide or fall with such a reliable kickstand. If you're back at the car or your house and ready to put it away, simply click the button located at the base of the handlebar, fold your scooter up, and set it away to recharge while you reminisce on your epic ride.
The Unagi Model One Electric Scooter is rated up to 275 pounds and is suggested for riders between 5-feet tall and 6.5-feet tall.
How to Buy
This Unagi Model One Electric Scooter is available for a cool $840; significantly cheaper than a motorcycle, but a little more than the Razr scooter from childhood. However, Unagi recognizes that this is an investment and offers a 30-day, no-risk, no-questions-asked trial. If you aren't head-over-heels and screaming your Unagi praises by the end of a month, Unagi will take back the ride. (And rehome the scooter to someone who deserves it, you heathen!) We're pretty confident that once you scoot, you'll never go back.
CHECK PRICE ON UNAGISCOOTERS.COM