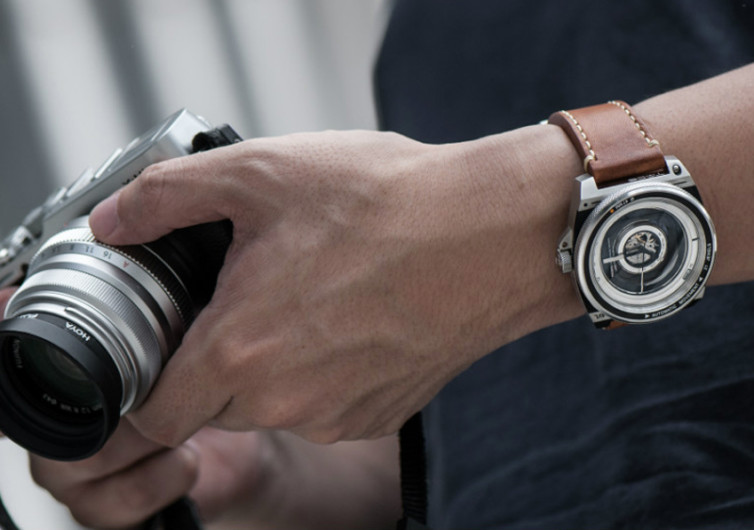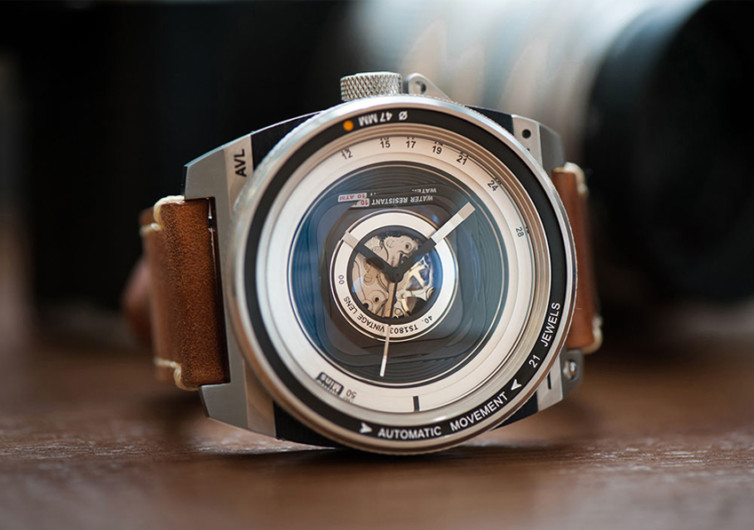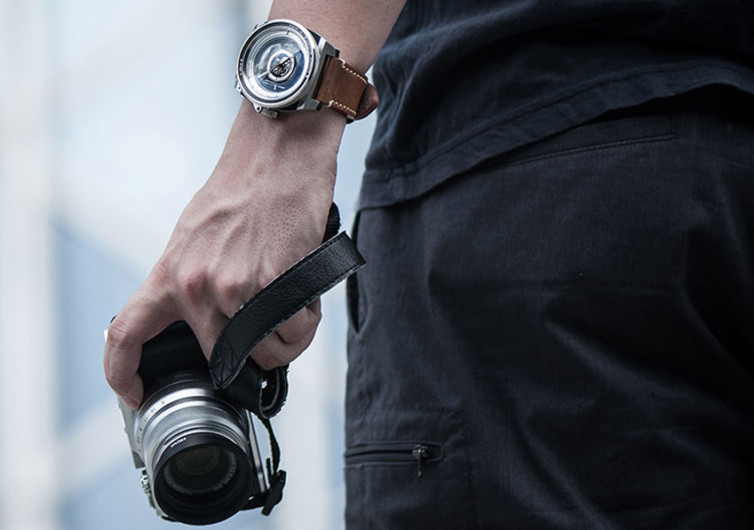 GearHungry may earn a small commission from affiliate links in this article.
Learn more
Tacs Automatic Vintage Lens II
Designed specifically for the professional and avid photographer, the AVL II Vintage Lens automatic wristwatch incorporates the ingenuity of fine chronograph craftsmanship with the equally-intricate technical artistry of photographic lens masters. It's a wristwatch, no doubt about it. But it borrows most of its elegance from the beauty that is the photographic lens.
At the center of the dial is an opening, replicating an open diaphragm in a camera lens system and exposing the heart of the AVL II. The exposed design highlights the timeless beauty of wristwatch and camera mechanics, showing the user and whoever happens to cast his or her eyes onto the dial the intricate gears that make a fully automatic timepiece so much preferred over battery operated watches.
Sapphire glass with an anti-reflective coating is added over the dial protecting both the timepiece itself and the delicate gears that turn the hands of time. Moreover, the glint of glass mimics the unmistakable sparkle of a photographic lens just before the curtain is drawn to a close and forever immortalizing the image sent to the sensor.
The dial itself utilizes depth, levels, and angles – the very same elements that are essential in photography – to create a stunning layer that is made even more remarkable by the use of focal length digits as the AVL II's means of indicating minutes. The diamond-cut crown is meticulously fastened to the casing while red accents add a touch of contrast to the sea of silvery stainless steel. Overall, the design does mimic the exterior of a Leica or even a Hasselblad.
Unfortunately, the AVL II doesn't run on Swiss movement. However, it does utilize the Miyota 82SO movement from Citizen, giving you comparable performance to those made from the Alpine regions. The glass-back design helps give it elegance that further adds to the notion that this is a premium-made timepiece worthy of being lined up next to Rolexes and Patek Philippes.
Beautiful inside out while offering modern comfort and practicality, the AVL II Vintage Lens wristwatch is every modern man's elegant timepiece. It draws inspiration from a craft that only a few can truly master.
You May Also Like: 22 Ultimate Chronograph Watches For Men in 2019