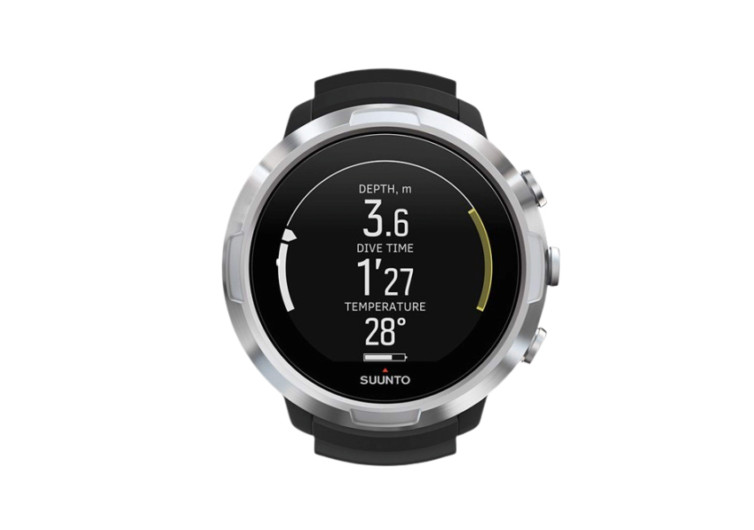 GearHungry may earn a small commission from affiliate links in this article.
Learn more
Suunto D5 Dive Watch
The Suunto D5 looks like a fancy dive watch but it is not. It is a smartwatch that integrates an ingenious dive computer. It has an easy-to-read display, allowing you the freedom to enjoy the beauty of the deep. The D5 also comes with colorful interchangeable straps to match your style.
Underneath its reinforced composite case is a dive computer that can give you a wealth of information. It delivers real-time information on tank pressure, gas time, maximum depth, and high pO2 concentrations. The device also alerts you in case you are ascending too fast or if you have already breached your decompression ceiling.
The D5 is water-resistant up to 328 feet. You can always feel a lot more confident with this gadget strapped to your wrist because of its ISO 6425 and EN 13319 certifications. It comes with CNS/OUT calculations, and real-time gas consumption. Before each dive, you can customize the different information that you want displayed on the 320×300 pixel screen. This Suunto diver's gear also comes with a temperature sensor, allowing you to keep track of ambient temperatures. It works in freezing conditions of up to minus-4 degrees Fahrenheit. It can register blistering hot conditions of up to 122°F as well.
Included in the display is a battery indicator, including the number of hours remaining in your diving activity. This helps make sure that you do not stay underwater any longer than you should. The D5 comes with a rechargeable lithium ion battery. It also comes with the usual timekeeping functions of a conventional digital wristwatch. There is a stopwatch and alarm clock, too.
In addition to these neat features, the Suunto D5 also offers wireless mobile connectivity and a digital compass. This is a smart diver's watch that is worth taking to your next deep-sea adventure.