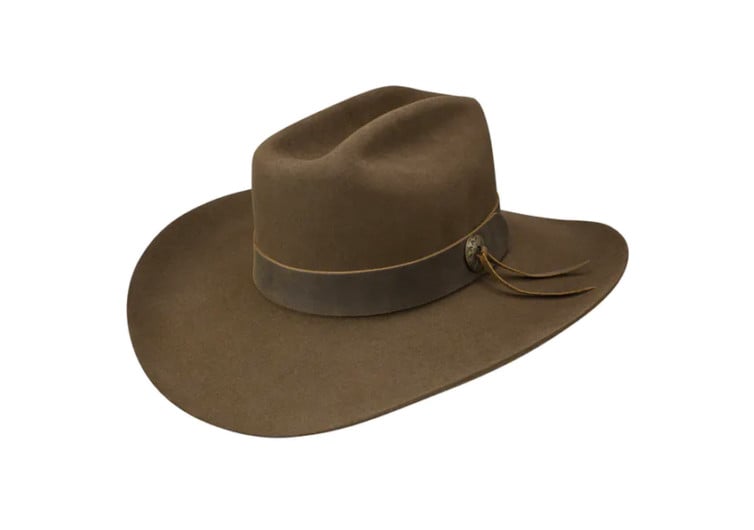 GearHungry may earn a small commission from affiliate links in this article.
Learn more
Stetson 11 Stageline Hat
Very few brands can come close to the craftsmanship of Stetson cowboy hats when it comes to the headgear of the Wild West. The Stetson 11 Stageline follows in the tradition of exceptional craftsmanship that people have come to expect from all Stetson hats.
The Stageline does not come with unnecessary ornaments. It is a true-blue cowboy hat that puts emphasis on functionality more than its aesthetics. This is not to say that the 11 Stageline is a mediocre-looking hat. It is still elegant in a very simple kind of way. There is a band of genuine leather that surrounds the base of the hat. This is the only design element that the 11 Stageline has. It comes complete with a rustic metal eyelet where a pair of leather strands come out.
The construction of the Stageline involves the use of premium wool felt. This material allows the head to feel a lot more comfortable regardless of the temperature in the farm. It is a breathable fabric that lets air circulate in a more efficient fashion. It also has moisture-wicking properties. These Stetson cowboy hats also dry very quickly. This combination of quick-drying and moisture-wicking features can help you feel more comfortable wearing the hat. Adding to the comfort of the Stageline is an interior sweatband made of Dri-lex material.
The 11 Stageline also comes with a 3.25-inch wide brim. It is enough to shield both your eyes and your face from the scorching heat of the sun. The crushable construction of these Stetson hats is also noteworthy. They return to their original shape regardless of how you stuffed or packed them in your backpack or suitcase.
The Stetson 11 Stageline Cowboy Hat is a perfect stylish gift for ranchers, pioneers, prospectors, cowboys, and anyone else who wants a touch of the Wild West in their style.
CHECK PRICE ON HUCKBERRY.COM