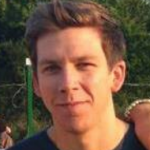 Hiking Hydration
The human body is made up of 60 percent water and just a small amount of exercise can start to see that percentage drop. When you're doing strenuous activity like hiking, you need to make sure you stay hydrated so as not to compromise your athletic performance or health. In fact, not drinking enough is one of the most common mistakes hikers make. Risking dehydration can have serious effects on your health so here are a few tips on how to stay hydrated for your next adventure.
Drink plenty before you set off
The first tip is every time you set off from camp, remember to drink at least half a litre of water. Even if your route shows signs of a water source, there's no guaranteeing that it will be clean and drinkable so you don't want to take a risk. Fill up your containers before your go and make sure you set your body up for the day with that pre-hike glass or two of water.
Fill up containers whenever you can
If you do manage to find a clean and uncontaminated source of water along the way, remember to top up your containers as you never know when the next time you'll find water will be. And even if you don't need it yourself, someone in the group may become dehydrated during the journey and will need some help. It's better to be safe than sorry, so always remember to stock up where you can.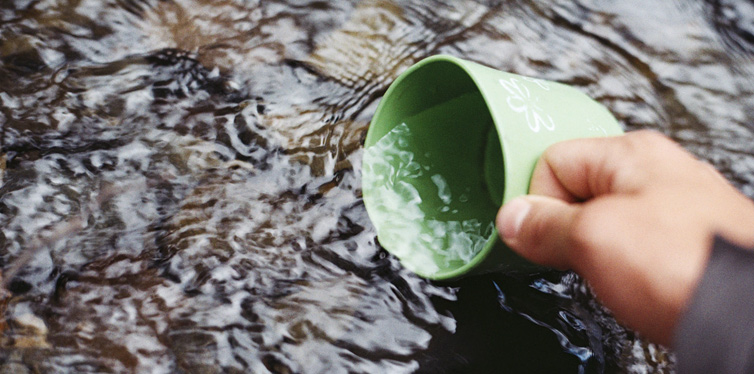 Take the climate into account
Where you're hiking makes all the difference in terms of how much, and how often, you should be drinking. If you're planning on hiking in hot or humid conditions, it's recommended that you drink at least one litre an hour. In milder conditions, half a litre should be enough to keep you sufficiently hydrated. Of course, how much you need to drink depends on your fitness level, physical exertion and just your body in general, so only use these quantities as a guide and drink when you feel you need to.
Plan the best times to hike
While hiking in the glorious sunshine may seem like a great idea on paper, in reality it could be really dangerous. It's better to plan your hike in advance around times when the temperature is likely to be cooler, such as early in the morning, then take a rest when the sun is at its highest to avoid dehydration. You can use this break to have some food and water, and replace that lost energy. Once the temperature begins to drop again, you can carry on with your hike.
Avoid excessive sun exposure
With the sun in mind, it's advisable to avoid excessive sun exposure by wearing protective clothing such as a hat that provides shade to your face, ears and neck, and sunglasses. By keeping your head out of direct sunlight, you'll keep your body cooler and lower the risk of becoming dehydrated. It's also worth remembering to top up on sun lotion to avoid sunstroke. Don't overdress for the hike if you're walking in the warmer months though, as this can cause you to sweat and lose too much water from your body.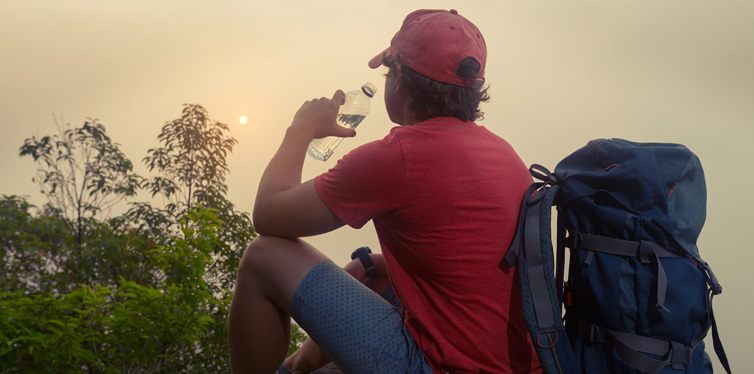 Don't wait until you're thirsty to drink
If you're feeling thirsty, your body is already dehydrated. Make sure that you keep your body topped up with plenty of water along the way at regular intervals, instead of waiting until you feel like you need a drink through a hydration backpack.
Be careful what you eat
Not all foods are created equal when it comes to hydration and some could actually be detrimental. Fatty or sugary foods will make you thirsty and could leave you even more dehydrated if you're not careful. Instead, opt for foods containing potassium and sodium as these actually work with your body to enhance hydrated levels. Bananas, tomatoes and citrus fruits are all great options to snack on while you're hiking, along with a small amount of salty foods to keep your electrolyte levels up.
Assess your hydration levels
There are some key signs to look out for while you're hiking that might be your body telling you that you need to stop for a drink. These include a rapid heart rate, feeling weak or extremely tired, dizziness, and low volumes of concentrated or painful urination. If you notice any of these symptoms occurring, it's time to find a beverage quickly.
Drink more at higher altitudes
Any walking you do at a higher altitude will affect the amount of water you lose, so it can lead to dehydration because you're less likely to crave water or feel thirsty at higher elevations even though your body still needs the fluids. Remember to keep drinking even if you don't feel thirsty just to make sure you're hydrated at all times.
Don't stop drinking when you stop hiking
Finally, just because you've completed your hike doesn't mean you should stop paying attention to what you're drinking. Your body will still be recovering from all the water it's lost throughout the day, so be sure to keep topping it up with hydrating drinks like water, juice or sports drinks to make sure that you replace those lost fluids. Once you feel your body has regained its strength, you can enjoy that well-earned beer.