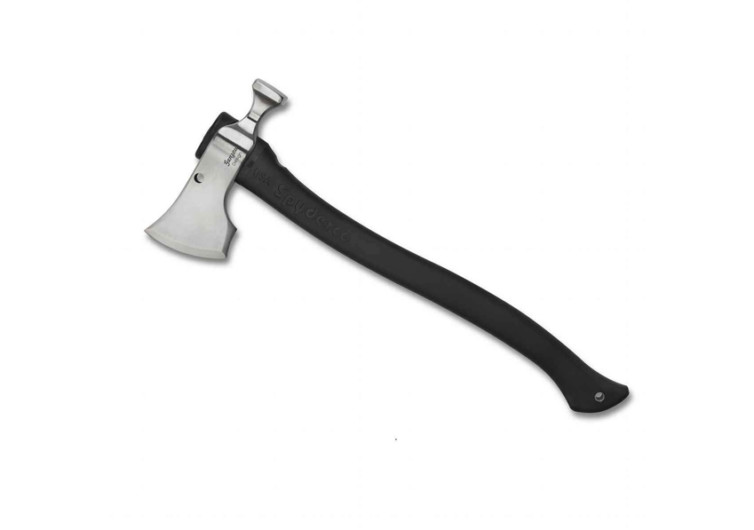 Support us! GearHungry may earn a small commission from affiliate links in this article.
Learn more
Spyderco Genzow HatchetHawk
The Genzow HatchetHawk is an elegant-looking piece of the single-handed ax that is perfect for odd jobs in the shed or in the great outdoors; although with its look you'd almost be forgiven for keeping it behind the clear glass of your display cabinet. The HatchetHawk is a marriage of three different systems to give it not only a jaw-dropping aesthetic but also functionality that you rarely get from single-handed axes.
The first impression of the Genzow HatchetHawk will make you think that it is a heavily modified version of the Tomahawk, the weapon of choice of battle-hardened Native Americans. It comes with the signature tomahawk's poll opposite the HatchetHawk's blade, perfect for driving nails and flattening stuff with its hammerhead-like contraption. Too bad, the HatchetHawk doesn't have the tassel ornament at the bottom edge of the handle.
The upper edge of the HatchetHawk's blade is highly characteristic of the classic throwing ax of the Franks in the early Middle Ages. The Francisca has an arc-shaped head that widens significantly towards the blade's cutting edge. It's part of a two-weapon system that the Franks used whenever they came face-to-face with other armies. The classic arc of the Francisca is also distinguishable in the HatchetHawk.
And then there's the cutting edge of the HatchetHawk that extends well below the butt's width, resembling that of a 6th century Viking Bearded ax. It's a great tool to bring in battles as it can pull opponents' weapons with relative ease while delivering the death blow with their unusually wide cutting edge.
These three ax systems are present in the Genzow HatchetHawk, melded together in 5160 tool steel and mated to a sleek handle made of premium polypropylene. This is one single-handed ax that you will proudly display in your collection or use in a number of DIY projects.