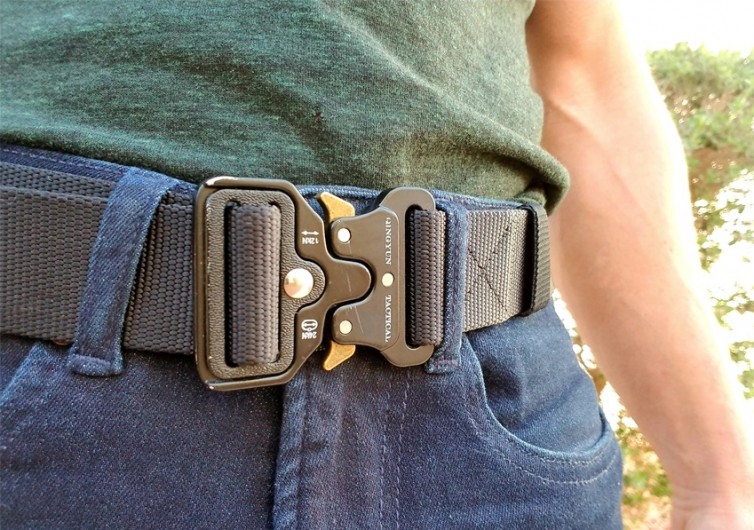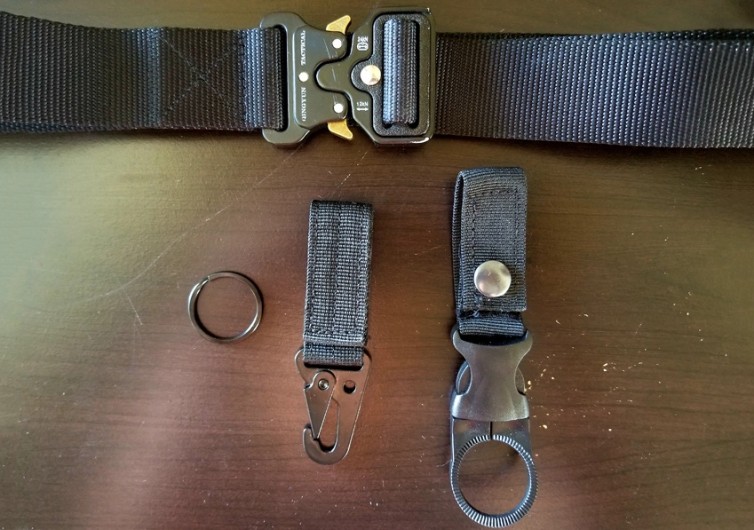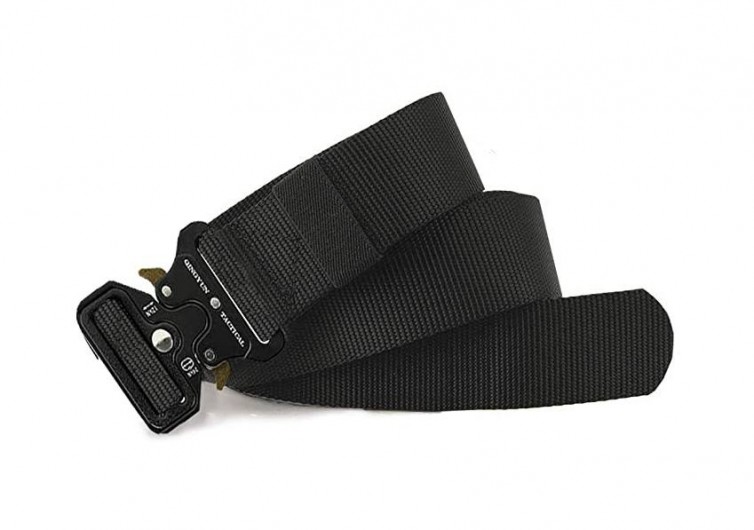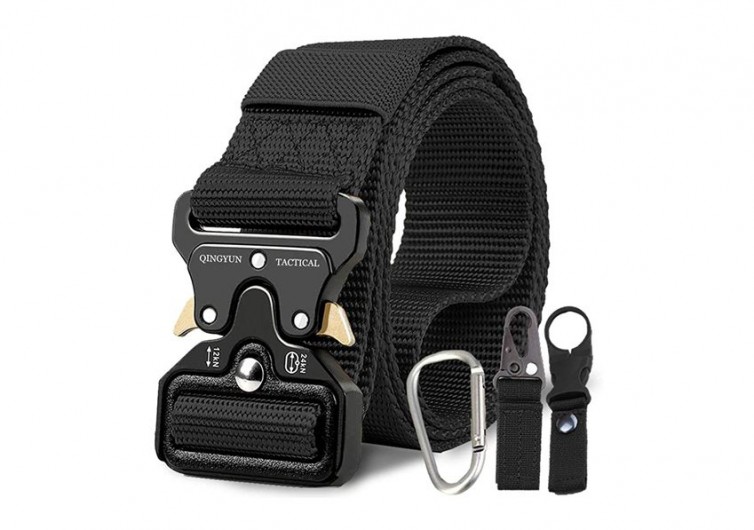 GearHungry may earn a small commission from affiliate links in this article.
Learn more
Tactical Belt by QINGYUN: Heavy-Duty Hiking Belt
QINGYUN's tactical belt turns in a strong overall performance. It exists firmly at the heavy-duty end of the hiking belt spectrum, and it proved durable and capable during testing. The fit was comfortable, and the substantial buckle was easy to operate. Its wide nylon strap satisfied my expectations and was pliable enough to contour to my waist.
Heavy-duty but affordable, the $13 QINGYUN tactical belt should satisfy users who need a strong belt with a lot of attachment capacity. I identified a couple of minor issues and a clear weak point, but they didn't generate any negative consequences in the field.
QINGYUN Tactical Belt Characteristics
In size small, the QINGYUN tactical belt is 45 inches long (tip of the buckle to tip of tail). The nylon is 1.44 inches wide (a hair narrower than the claimed 1.5 inches).
The buckle is a robust variation on a typical side-release style in forged alloy and brass. The bulk of the buckle is a black-coated alloy. No further information on the material is available, though it feels significantly heavier than aluminum. The catch/release levers on the receiver side are brass. The engagement side is a ladder lock with an insert to help grab the belt material.
This insert is the QINGYUN belt's obvious weak point: it seems to comprise fairly light-duty metal, and it's riveted on. Incredibly, the belt is marked for a 24-kN tensile force limit when it's buckled. As a rock climber who's relatively experienced in kilonewton forces, this claim seems outright ludicrous.
For obvious reasons, I didn't take it climbing, clip into it, and then fall-test it. Instead, I tested the belt as a belt.
Test Findings
First of all, the QINGYUN tactical belt is long; if you have about a 30-inch waist like I do, you'll wind up with about a foot and a half of tail. But cutting or hot-knifing it to length shouldn't be an issue.
Immediately, I was unsatisfied with the way the buckle rode. The problem was that when I fed the material through the ladder lock, it made the buckle stand out from my waist. I thought it would break in, but no dice. A few hikes later, I took it off, threaded the buckle according to the length I wanted, and put a dumbbell on it to flatten it. This attempt worked marginally well to mitigate the problem.
My main concern was that the belt would slip or creep. I had a feeling that the material wouldn't catch in the ladder lock, and the belt would slowly loosen while I hiked. However, this wasn't the case. The relatively smooth nylon caught well in the ladder lock, and the sliding insert helped its bite.
Overall, the belt wore very comfortably. It was nearly impossible to adjust while I had it on, but I expected that. It was heavy, so I wouldn't consider wearing it for climbing or any other sport where gear weight is critical. But the pliable nylon contoured to my waist, and I never noticed any discomfort while hiking.
QINGYUN claims the buckle is scratch-resistant, but I scratched it. Granted, I hike pretty abrasively, regularly scrambling over car-sized boulders and gingerly threading my way around sensitive but aggressive desert plants.
The belt comes with a couple of MOLLE-style attachments, and it's substantial enough to handle a lot of accessories — a hydration attachment, holster, etc.
Review Conclusions
The QINGYUN tactical belt is more than solid as a hiking belt. It could be useful on longer missions with its versatile attachment capability, but interested parties should take its relatively high weight and difficult on-the-fly adjustability into consideration.
My only long-term concern: if the rivet attaching the grille to the ladder lock breaks, your only choices are to improvise and repair the belt or trash it.
But at $13 MSRP, it's hard to go wrong.