GearHungry may earn a small commission from affiliate links in this article.
Learn more
Prevent Foggy Glasses When Wearing A Face Mask
Like it or not, face masks are likely here to stay for a while. But as any glasses-wearer knows, slipping on a face mask adds complications to daily life. Whether you're rocking a pair of aviator sunglasses or correctional lenses, you run the risk of your glasses fogging up when you are wearing a mask.
Foggy glasses are not just annoying, but they can also make it hard to function. Perhaps you can't see where you are going through your Ray-Ban sunglasses or read receipts through misty reading glasses. But you don't need to live your life squinting through a fog. Here we explain why masks cause your glasses and sunglasses to fog up, as well as give you four ways you can prevent that from happening.
Why Do Masks Cause Glasses To Fog Up?
Glasses' surfaces fog up due to condensation, which can be caused when warm air hits cold surfaces. With glasses, this usually happens when you step from an air-conditioned room into the hot summer air or from the chilly outside to the toasty indoors during winter.
When you're wearing a face mask, however, warmer air hits the cooler lenses of your glasses more often than usual because of how face masks channel your breath. Rather than allowing your exhaled breath to go straight out from your mouth or nose, face masks redirect your warm, humid breath up onto your glasses, causing them to fog. Luckily, there are ways to prevent your glasses from fogging up, so you do not have to wipe off your lens continually.
1. Soapy Water
One popular way to keep your glasses from fogging up is by using soapy water. Wash your glasses with soap and water, don't rinse, and let them air dry (or carefully wipe them dry). The soap leaves a thin film on your lenses that should prevent condensation.
But if your lenses have any coating or film, the soap may damage that finish on the lens, so be sure to check the specific treatment on your particular lens.
You may have seen some similar-sounding advice that is less advisable. Some places recommend rubbing shaving cream or toothpaste onto your lenses and wiping it off for the same effect. However, this can damage your glasses, so it is best to stick to mild soap and water if you go with this method.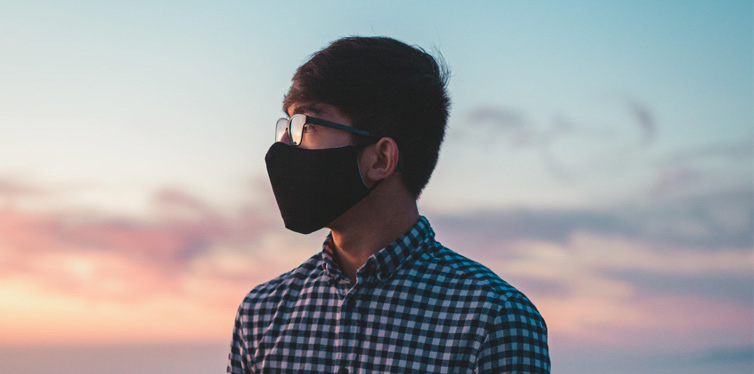 2. Anti-Fog Spray
You can also purchase products specifically designed to keep glasses from fogging up. One benefit of this method is anti-fog sprays are versatile and designed to work in any situation where glasses might fog up. If you wear your glasses year-round and have experienced foggy glasses other times than just wearing a mask, you might want to invest in an anti-fog spray.
Before purchasing anti-fog sprays, be sure to read the reviews, as people have mixed experiences with these products. Once you find a reliable brand, follow the instructions on the package. Anti-fog sprays are a low-hassle solution to fogging glasses that can help you long after face masks are no longer needed.
3. Folded Up Tissue
Another trick people use is to fold a sheet of tissue along the top of their mask. This method works best when you're in a pinch since you likely can find tissue pretty easily, but some people do use this method all the time. Take a piece of tissue and fold it into a narrow rectangle, one that's long enough to stretch from one side of your mask to the other. Tuck it in the top of your mask, over the bridge of your nose.
The tissue will both block your breath from exiting the top of your mask and absorb any moisture you exhale, preventing your glasses from fogging up. If the tissue slips around at all, you can tape the tissue to the top of your mask. With the tissue in place, your breath should not cause condensation on your glasses.
4. Tape
Another way to prevent airflow from fogging up your glasses is to tape down the top of your mask. Lay a strip of tape along the top of the mask, paying particular attention to the section over your nose where a mask can easily have gaps. That will prevent your breath from hitting your lenses.
It is best to use surgical tape since the skin on your face is sensitive. You don't want to irritate your skin when you peel off the tape at the end of the day. You may even want to use specific medical tape for sensitive skin. If you don't have medical tape handy, you could also use bandaids to seal the top of your mask similarly.