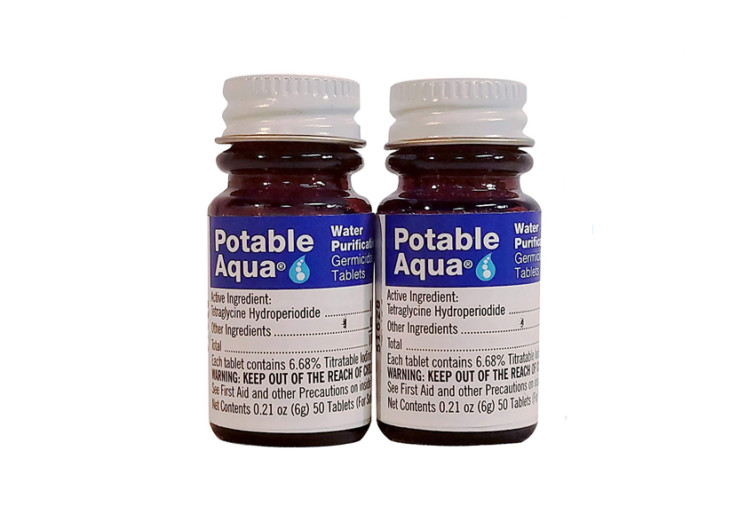 GearHungry may earn a small commission from affiliate links in this article.
Learn more
Potable Aqua Germicidal Water Purification
The Potable Aqua Germicidal Water Purification is a two-pack set of tablets that can purify your water in just 35 minutes. It is a convenient way to get rid of bacteria and Giardia cysts that can potentially harm your body. It's perfect for hikers, campers, and emergency situations.
Getting safe and drinkable water is not always easy especially when you are outdoors. Drinking straight from freshwater rivers may not also guarantee the safety of your body. With Potable Aqua's water purification tablets, you can feel safer with the water you find when you're outdoors. Two tablets can purify a quart of water. If you have a 1-liter bottle, then only two tablets are enough to ensure safe drinking for you and your companions.
The Potable Aqua Germicidal Water Purification acts as its own water purification system by having tetraglycine hydroperiodide as its active ingredient. Each tablet contains 6.68% titratable iodine. In short, these ingredients work hand-in-hand to ensure that the water can be fit for drinking. However, these tablets do not guarantee a "healthy" type of water. This means that it does not offer other health benefits compared to your average drinking water.
To prepare 1 liter of drinking water, submerge two Potable Aqua Germicidal Water Purification tablets into your drinking bottle. Let it dissolve for 5 minutes, and then shake your water bottle. After shaking, let it sit for 30 minutes to let the tablet purify the water. During this phase, the tablets take away the germs and bacteria in the water. For a safer drink, make sure to strain the water first so the solid particles are removed.
Overall, the Potable Aqua Germicidal Water Purification is a must-have if you are planning to hike or camp. One bottle contains 50 tablets, so this is enough to last you a number of travels.