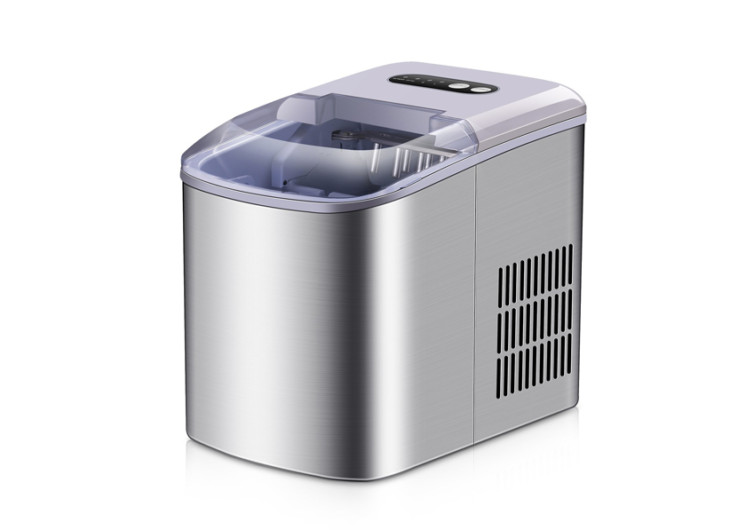 GearHungry may earn a small commission from affiliate links in this article.
Learn more
Portable Ice Maker – Stainless Steel Countertop Ice Maker Machine
The AllSees Portable Ice Maker suits the budgetary and operational needs of a small business. It is compact and portable, perfect for countertops or bar tops. It is also useful when doing catered or outdoor bbq parties. It has a sleek design as well, which makes it presentable when placed in publicly-visible areas.
The product is capable of producing ice in varying sizes and storing 1 to 1.5 pounds of ice per load. There is no need to do the troublesome job of breaking the cubes into smaller pieces or melting them in water just to fit smaller glasses. Simply change the functionality in your Allsees ice maker.
When running a business like a neighborhood cafe, it's common to get overwhelmed with the daily operations and forget about your ice maker still running. This can cause malfunctions or overheating problems. But the Allsees ice maker automatically shuts down when the water runs out or the bin is full.
Because of the constant contact with water, extra caution is required when handling the appliance. For instance, do not allow water to get into the wirings or plugs. Pour water slowly inside the designated bin to avoid any spills. Also, do not leave the power on overnight, despite the automatic shutdown mechanism. This way, you'll avoid the early breakdown problems many customers encountered.
In terms of transportability, the Allsees appears to be the best portable ice maker because of its commercial-grade stainless. This means that you will have no trouble bringing this appliance outside under the sun. Stainless is highly known for its resistance to corrosion due to changing weather and other factors.
It is safe to use, FDA approved and ETL certified to be specific. So worried mothers out there can definitely serve their babies with shakes using Allsees-generated ice cubes. Likewise, this added safe consumption feature will prove valuable to food business owners.
As a tip, in case of defects due to shipment or production mishandling, report it immediately to avail the returns benefit.