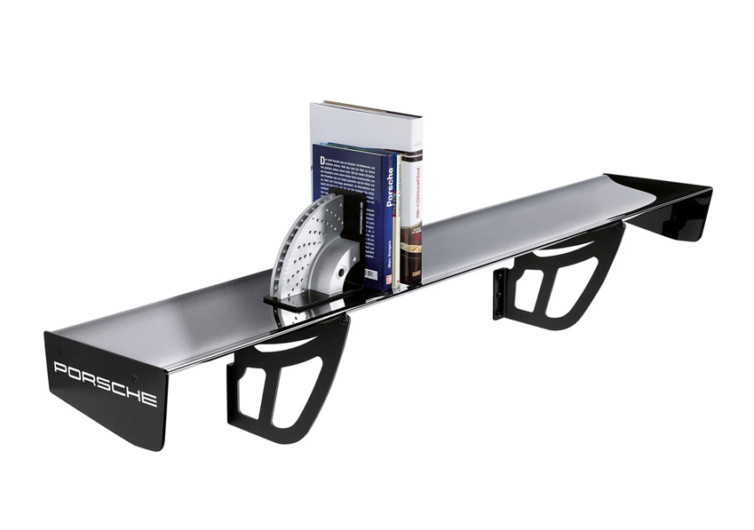 GearHungry may earn a small commission from affiliate links in this article.
Learn more
Porsche GT3 Cup Spoiler Shelf
The 911 GT3 is Porsche's most iconic and most produced race car to-date. Ever since its introduction in 1999, this high-performance sports car has grown a significant following. And if you're one of these loyal fans and a car lover, then you should have the Porsche GT3 Cup Shelf right at home.
This is a rare kind of shelf that you can mount onto the wall of your home or office. It already comes with all the hardware you need for successful mounting. Of course, you will have to drill holes into your wall and make the appropriate level measurements. The shelf already comes with anodized aluminum brackets. This means you don't have to worry about getting a third-party bracket anymore.
What you have to understand about the GT3 Cup Shelf is that it is an original racing rear spoiler. It is the very same spoiler you see from the Porsche 911 GT3s that compete in the Porsche 911 GT3 Cup Challenge USA. Given that it is an actual piece of racing technology, you can expect it to have a hefty price tag compared to other shelves.
The good news, of course, is that you will have the bragging rights to owning one of the very few units in the world. It comes with original IMSA-sanctioned racing screws. The carbon fins also feature Porsche's signature logo. The black finish the shelf comes in should also be a wonderful complement to your interior décor.
The shelf itself measures 67 inches long and about 11 inches wide. The tail fin has a maximum height of 6 inches. The GT3 Cup Shelf weighs about 8 to 11 pounds and can accommodate loads up to 264.5 lbs.
Porsche gives fans of the 911 GT3 a very rare opportunity to bring home a rear spoiler and turn it into their own wall shelving.
CHECK PRICE ON shop.4porsche.com