GearHungry may earn a small commission from affiliate links in this article.
Learn more
Family Camping Trip
Camping is one of the most special and memorable activities that you can do with your family. Nights spent out under the stars, endless adventures to new places, and delicious camping recipes that the whole family can tuck into together; there really is something unique about packing up and heading out into the unknown for a getaway.
With a camping holiday, what you get out of the experience is well and truly in your hands. What's guaranteed is that you'll make memories to last a lifetime – what isn't guaranteed is whether those memories are going to be good or bad. Camping can go one of two ways: that family-bonding experience under the stars, or a few nights spent in a soggy tent with undercooked sausages for dinner!
Camping is all about planning for the expected but also the unexpected. If you enter into the experience fully prepared, you're almost always guaranteed to have an amazing time with your whole family. Whether you're new to camping or just looking to get more out of the experience, our ultimate guide is on hand to help.
We have separated the art of successful camping into five key sections: destination, campsite/survival essentials, food preparation, amenities, and equipment. Want to master the art of successful family camping? Get ready, when we say this is an ultimate guide, we really mean it!
Destination: The Perfect Spot for Family Camping
Let's start with the most important aspect of any camping trip – the destination! Not to put too much pressure on your shoulders… but this is going to define your entire camping trip. Pick the right destination and you're going to be in for a true camping success story; pick the wrong destination and you're going to be in for a very interesting experience!
So, what makes one spot the right destination, and what makes one spot the wrong destination?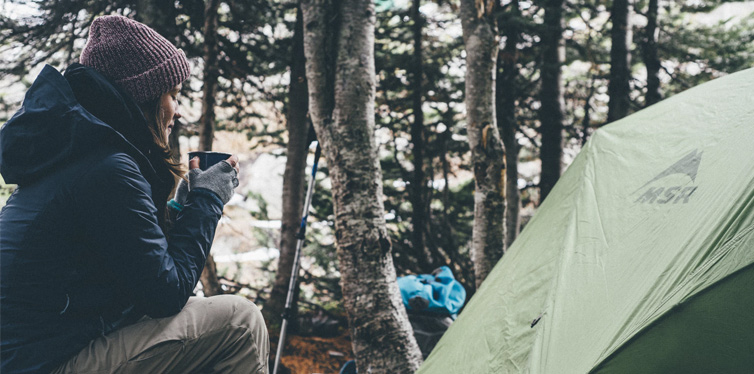 Choosing the Perfect Destination
The perfect destination for one family is not going to be the perfect destination for another family. Picking the right destination is all about thinking about what will work for YOUR family, and then designing your camping trip around that.
This starts with understanding the capabilities of your family; what they are going to be able to do, what they can't do, and what they want to do. If you have younger children, then heading out into the middle of nowhere is probably not the best game plan for a successful trip.
Sticking close to the major campsites is a great idea if you're new to camping, or if you're unsure whether or not your children are going to enjoy the experience. If you have older children, or very active children that are capable of walking for longer distances, then going a bit further afield may be the best bet. It really all comes down to what you think is right for your family.
Think About Activities and Adventure
Spending time at the campsite is only one part of camping; the other is adventuring! Always consider what your chosen destination has to offer in terms of activities and opportunities to get out and explore. If you're family enjoys hiking, then choosing a campsite near to top hiking spots is the best way to get the most out of your camping trip.
Not a fan of hiking? Explore what else is near to the campsites that you're looking at. Some campsites will be able to offer water sports, woodland trails, and child-friendly activities within walking distance of where you pitch your tent.
Checking to see what is unique to your chosen destination is a fabulous way to make the camping trip truly memorable. Be it a trip to a local landmark or a trip to a local town where there are new experiences to be had, always think further afield than the campsite itself.
Researching Your Destination
As well as research into local activities, an essential part of planning a camping trip is knowing what kind of campsite you're going to be staying at. Later in our guide we'll be taking a look at facilities and amenities, but this is also a key part in planning your destination.
It pays to know whether your campsite has running water, whether there are showers, and if there are toilets or electricity points. Camping may involve taking things way back to basics, but you're going to want to prepare your family if things are going to go WAY back to basics.
At the same time, it will pay off to check the weather forecast, and learn more about the camp ground. The more you can learn, the better prepared you'll be!
Booking the Campsite
Some camping spots don't require you to book, especially if they are off the trail. However, that is not the case for everywhere. Most of the popular camping sites require you to make a reservation in advance. This can be up to a year before your actual camping date in some cases.
Many major campsites have online booking forms that also provide plenty of information about the campsite. If in doubt, call the campsite supervisor and check to see if booking is required. Turning up at a campsite only to find that there are no free spots is not a good way to start your holiday!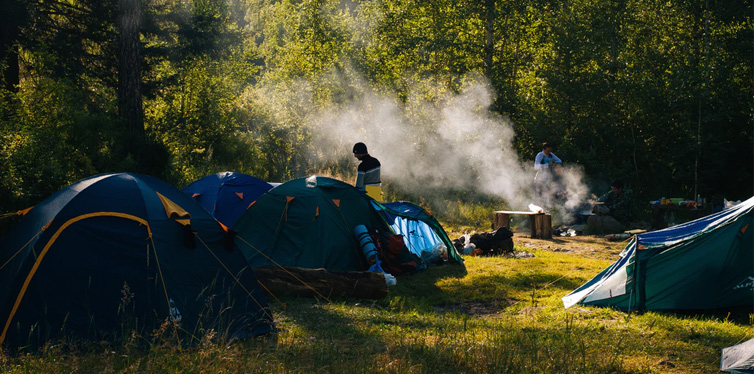 Campsite Essentials: What Every Camper Needs
Once you have a destination in mind, you need to start thinking about the raw essentials. This includes your clothes and sleeping equipment. You may think that cooking equipment would be covered here but trust us when we say that food preparation needs a section all to itself!
Campsite essentials take care of your primary comfort and include those things that you're really not going to want to turn up without: can you imagine what kind of camping experience you'd be in for if you forgot the camping tent?
While these are essentials, it doesn't mean that you're going to be limited in choice. In fact, these items are one of the best ways to customize your camping trip to meet the needs of your family.
Plan What You Need to Take
Planning for a camping trip is very different to planning for any other kind of holiday – you need to get the perfect combination of lightweight and practical, whilst still planning for every eventuality.
To make sure you don't forget anything, it really pays to write a list with everything you're going to need to bring with you. Checking each item off before you load it into the car is one of the best ways to make sure that you're prepared. Here are some of the essential items that you're going to want to make sure that you pack:
Sturdy walking shoes (an extra pair of shoes can also come in handy!)
Waterproof coat or jacket
Warm clothes
First aid kit (make sure this is well-stocked!)
Plastic bags
Sunscreen
A flask for each family member
Insect repellent
Matches or a lighter
Tent
Portable table and chairs
Sleeping bags (or alternative)
Waterproof container
Cooking equipment (See food preparation section)
Flashlights or camping lights
Camping pocket knife
Selecting the Right Tent
Just like when choosing the perfect destination, the tent that you choose for your family has the potential to make or break your camping trip. You wouldn't pick a house that didn't have enough room for your family, so you definitely shouldn't pick a tent that is going to be too small for everyone to fit inside.
Most families, and especially those with younger children, choose to pick a family tent that has the perfect amount of room for sitting, sleeping, and storing supplies. When choosing a tent, pay close attention to the number of people it is designed to fit and the layout and size of the communal area that most modern tents feature.
If you need extra room, then choose a tent that is designed for more people, this will provide you with additional 'sleeping sections' that can then be used to store additional gear and supplies you may need. This can be especially helpful if you're camping for longer periods of time.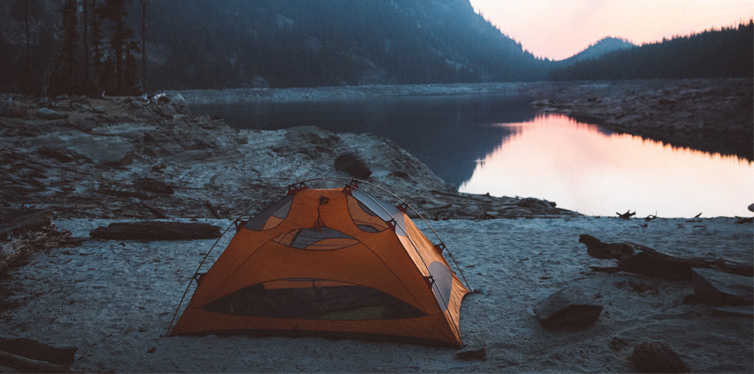 Sleeping Arrangements
Most modern tents come with designated sleeping compartments, but this doesn't account for the actual sleeping gear that you're going to need, to make sure that everyone has a sound night's sleep.
The classic sleeping bag is always a reliable choice, especially when combined with soft sleeping pads that can make sleeping on the ground much easier. It is also worth investing in specialist kids sleeping bags; this is a great way to get your kids excited about camping!
Alternatively, there are many other marvelous sleeping choices that you can go for. Camping cots are a great way to make camping much more comfortable, while a hammock will give you a completely different camping experience.
Think About Comfort and Convenience
Once you've worked out your sleeping arrangements, its time to work on organizing your tent. The last thing you're going to want is to be stuck with a messy tent for the duration of your trip. This will make doing even the simplest of things much more difficult.
Camping chairs and a camping table are two wonderful products that can bring a sense of comfort, organization, and normality to your camping trip. By including these in your essentials, you create a great space for the whole family to gather around in the morning and at the end of the day when everyone is ready to tuck into supper.
These can be set up outside, or even in the communal area in your tent. Whilst these may not seem like the absolute raw essentials, camping without a portable, lightweight set of chairs and that ever-important table, can be a true nightmare!
Food Preparation: Eat like Champions!
The key to happy campers is a full stomach of good food! This is one of the best opportunities to involve your kids in a true camping experience by getting them to give you a hand in your make-shift camping kitchen.
Camping doesn't mean that you must sacrifice eating good food for the duration of your trip. In fact, there are some outstanding foods that can be easily whipped up with the right cooking equipment. This brings us to the second part of our essential camping supplies list; those essential food preparation camping gadgets that you're going to need to keep everyone happy, well-fed, and importantly, hydrated.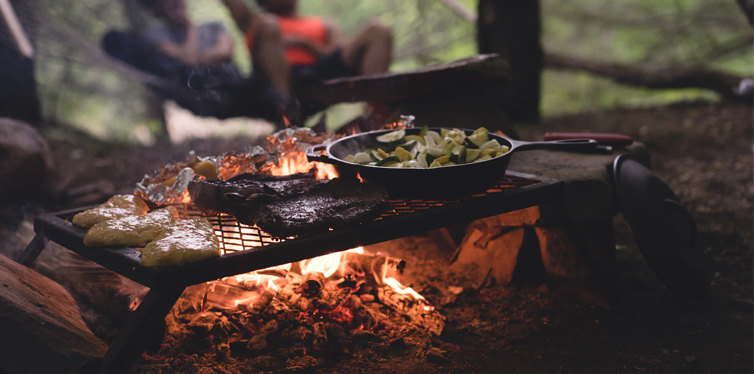 Essential Cooking Equipment
Cooking equipment for camping has come a long way. Today, you can cook pretty much anything your heart desires (or that your kids want) right from the campsite. To whip up a storm in your camping kitchen, these are some of the essentials that you're going to need:
Camping coolers
Stove or grill
Utensils and plates
Cups and mugs
Pots and pans
Food supplies
Unlike the main essentials list, there is very little you need when it comes to cooking. However, it pays to make sure that you're using the right equipment and come fully prepared. Let's break down the list a little.
Keeping Your Food Cool
A portable cooler ranks pretty highly amongst the top cooking essentials you'll need whilst camping. While it is possible to survive on canned, dry, or packet food whilst camping, there are few better treats than digging into some freshly cooked food. Be it fresh fruit and vegetables, milk for your coffee, or sausages and burgers, having a cooler on hand to keep the camping favorites fresh is vital.
Another top tip when camping is to invest in a backpack cooler. Being able to keep drinks cool and your lunch fresh, when you're out hiking or exploring, is incredibly beneficial. After all, who wants to tuck into a warm sandwich and lukewarm drink halfway through their hike?
Cooking Utensils
Forks, knives, and spoons, are a given when your camping, but its also important to pack cooking utensils and plates and mugs. A readily supply of mugs & coffee (great coffee beans) will make any morning when camping that much more enjoyable. Bringing a bowl to wash your utensils in is also a key thing to remember!
The Key to Enjoying Your Meal
The way that you cook your food whilst camping is going to go a long way to determining just how enjoyable it is. You have a couple of options for top cooking equipment, including the classic camping stove. There are multiple variations of the camping stove, like the alcohol stove, that are worth checking out before you decide on the right model. Just remember, it needs to be big enough to cook for the whole family!
An alternative to the camping stove is a camping grill – a true winner for easy cooking! From sizzling bacon in the morning, to perfectly cooked hotdogs in the evening, you'll easily eat like champions if you decide to opt for a camping grill.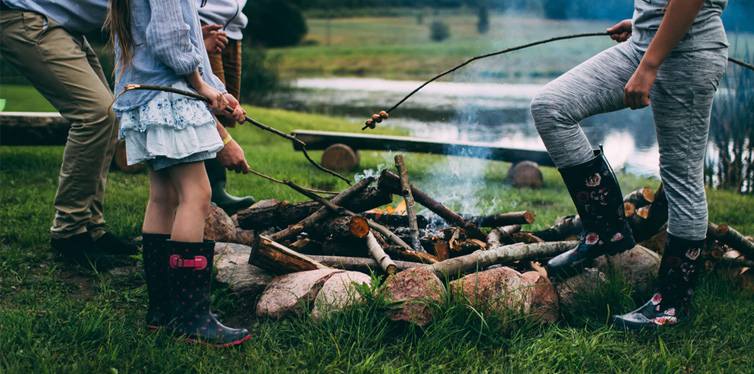 Food to Bring
Of course, cooking equipment is all well and good, but you actually need something to cook. Surviving on junk food the whole trip may be your kid's idea of heaven, but its not going to deliver that all-important energy that you're going to need to keep exploring.
When packing food for a camping trip, you need to strike the perfect balance between healthy and nutritious food, food that stores well, and food that tastes delicious. Planning your meals in advance is essential to ensure that you remember everything you need, but it can really pay to go a little overboard when it comes to dry snacks.
Cereal bars, crackers, nuts and dried fruit, along with sweets, are great for an energy-boost midday when you don't want to stop to cook anything. Dry snacks are also fantastic for long hikes or exploring, when little mouths need an energy boost and you want something that it going to be easy to carry.
Amenities: For All-Important Comfort
We've touched on facilities briefly already, but there's a little more to this crucial part of planning a successful family camping trip. Nobody goes camping to replicate their exact home life out in the campsite, but there are certainly a few creature comforts that are helpful to have around when camping.
How comfortable or high-tech you decide to make your campsite is entirely down to your personal choice, but there are five main amenities and facilities that are important to consider: light, heat, toilet facilities, electricity, and water.
Let's get a better look at what you can do to bring a touch of comfort, and introduce the essentials, to your family campsite.
Ensure You Have Plenty of Water
tWater is one of the big things that you're going to need access to when camping. Some campsites will have fresh drinking water facilities and showers, but others won't. If you decide to really go off the beaten track when camping, you may not have any immediate access to water.
If your campsite has full water facilities, then you're all set to go. If it doesn't, then you may need to make additional preparations to ensure you have adequate drinking water, close access to fresh water, and either showering facilities or washing facilities close by.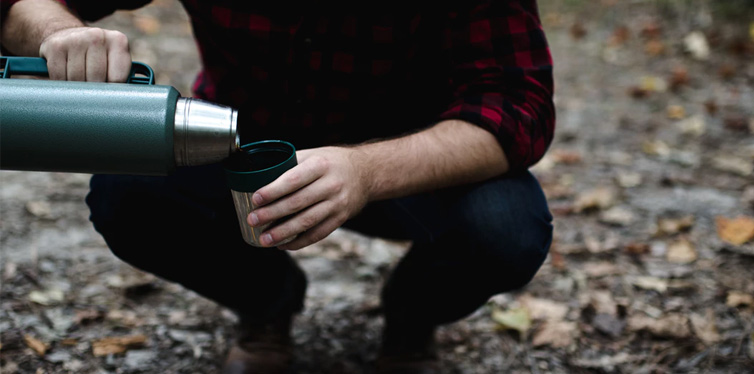 Light up Your Campsite
During glorious warm and bright days camping, it can be very easy to forget that when night descends, its going to be incredibly dark on the campsite; unless you choose a campsite with lighting throughout. However, even then, you're going to need to be able to light up your tent in the evening.
Flashlights are one of the most important things to have handy when camping, but you can go a step further and make things much easier by investing in a camping lantern. These are fantastic for hanging in the communal area of your tent or outside when you're relaxing in the evening. There are multiple different camping lanterns to choose from, that work well indoors and outdoors.
If there is an emergency, it is vital that you can light up the area quickly!
Make Sure You Have Toilet Facilities
Toilet facilities are one of the big essentials, especially if you're trying to tempt your kids or partner into trying out camping for the first time. Some campsites have toilet facilities, whilst others don't, so this is major thing to check in advance.
Even if the campsite does have facilities, they may not always be ones that your family is ready and willing to use. Bringing along your own portable camping toilet will ensure that you have your own private space and an assurance of the cleanliness. If you're camping off the beaten track, this is something that you're not going to want to forget!
Prepare in Advance for Cold Nights
Even in the midst of summer, it can get extremely cold at night in some camping locations. Going from a warm home to a cold tent is a pretty major transition. To sooth the blow, you're going to want to prepare for those chiller nights.
Extra blankets, warm clothes, and thicker sleeping bags can go some way to making camping more comfortable, but few things can beat a good tent heater. A heated tent is a wonderful place to retreat to at the end of an evening, and something that might just tempt unwilling campers into giving camping a try for the first time.
Don't Forget Electricity!
Despite what many people might think, making sure that you have a supply of electricity doesn't take away from the camping experience. Electricity can revolutionize the camping experience, and its pretty easy to achieve, even in the most rural of camping locations.
Bringing a portable generator with you will ensure that you have a good supply of electricity; a touch of music in the evening can make any campfire much more magical!
It can also help to bring along a portable power bank for your mobile phone as well. Most modern phones are not designed to last multiple days without charging. Having your phone charged will make sure that you are reachable in an emergency and are able to access your GPS if you need it.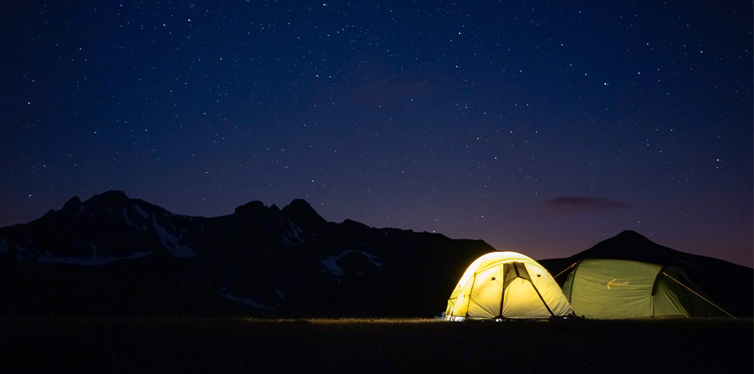 Equipment: Always Come Prepared!
The key to any camping trip is preparation; with the right equipment, you'll be able to handle any emergency. Whilst this part of the guide is not going to make or break your camping trip entirely, it can help to make it that extra bit special – a true adventure for your whole family to remember fondly.
Always Have a Knife Handy
A knife & knife sharpener is going to be one of your most useful tools whilst camping; you really never know when one is going to come in handy when you're on a trail, hiking, in the campsite, or even when you're packing up to head home.
The classic Swiss Army Knife is a versatile tool that combines many of your camping essentials. If you want to feel truly prepared, this is something that you're not going to want to leave at home. Alongside a Swiss Army Knife, it can also help to bring along a survival knife or pocket knife, camping knife – all of these which can be much more helpful that a Swiss Army Knife in some emergency situations.
Make Your Experience Extra Special
While its always important to pack light when camping, that doesn't mean that there isn't room for some additional gadgets that are going to really enhance your experience – and provide plenty of bonding opportunities with your family.
A great gadget to have on any camping trip is a set of night vision binoculars. These are both incredibly helpful in an emergency situation, and fantastic for getting to see a whole different side to camping outdoors. If you're interested in seeing the local wildlife, night vision binoculars are essential!
Communication is Key
For safety, there is one key thing that no camping trip should be without – long range walkie talkies. Camping introduces your children to a whole new world, but also a whole new set of potential dangers.
Being able to get into contact with any member of your family instantly gives you a peace of mind when camping, but also a great way to share information and give your children a bit of added freedom. It is important to make sure that any walkie talkies you decide to use are designed for use outdoors and in rural locations. Not all walkie talkies are going to work well over a long distance!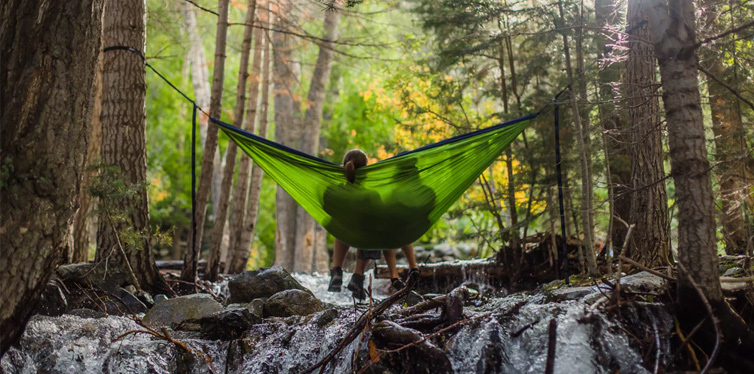 Top Tips and Tricks for A Successful Camping Trip
Now you know the ins and outs of planning a successful family camping trip, it's time to learn how to camp like a true pro! Our top tips and tricks are guaranteed to make your camping trip that little bit easier, and set you on the right path to planning a camping trip that you'll never forget:
Keep Things Simple – Lists are fantastic, and checklists are better, but the essence of camping is to adventure and explore – give yourself the chance to encounter the unexpected. Planning for a camping trip is an essential part of camping success, but always remember to keep some things unstructured, give events the chance to unfold – you can't always schedule new experiences!
Make Sure Everything Stays Dry – The worst enemy of a great camping trip is dampness. If one thing gets damp, it can very quickly spread to everything else; before you know it, your tent and campsite will be an unpleasant place to be. Tarpaulin can be a lifesaver when camping, but make sure you always stay on top of your belongings and get them inside at the first sign of rain.
Prepare Food in Advance – Getting your first meal ready in advance can save you a lot of time when you reach the campsite. With so much going on and so much to be done right at the start of your trip, it really pays to have a fresh, delicious, and healthy meal ready to go. If you don't have time to prepare a meal in advance, keep it simple and have everyone pitch in and help make dinner.
Research Firewood Regulations – A campfire is a classic part of camping, and the thing that most people look forward to when camping. However, not all camping destinations will allow you to make your own fire; in some places there may also be regulations surrounding the wood that you can and can't use. Always check in advance to make sure that fires are ok!
Keep Everything Separate – In such a small space, it can be difficult to stay organized. Make sure you designate a separate space for the important things, like your food, clothes, and cooking equipment, before everything gets unpacked and ends up all over the tent. This will make it much easier to keep things clean and tidy.
Secure Your Campsite – Wildlife is inevitably going to be a part of your camping experience. However, that wildlife it better viewed outside of your immediate camping area. Make sure you secure your food and safely tuck it away, so you don't lead the local wildlife straight to your tent.
Share Responsibilities – Camping should be a holiday for everyone, so it's important to make sure everyone is chipping in and doing their part – even the kids. Camping presents wonderful opportunities to learn new things; whether its cooking, cleaning, or just putting up the tent for the first time.
Don't Rush Packing – This works both ways. If you rush the packing when you're ready to head home, you're going to have a mighty task ahead of you. Leaving tents damp, and food and drinks not properly secured can spell disaster, and possibly damage your camping equipment. Equally, it's always important to make sure your supplies are safety packed up before you leave to go camping, so they are easy to unpack at the other end.
Lock Away Valuables – Tents are not the most secure of locations to leave your valuables. If you're going out for the day and leaving your campsite unattended, make sure everything is safely stored away.
The last and most important tip of all is to have fun! Camping is a unique experience with unique problems and unique opportunities. Things may not go exactly as you planned, or things may go perfectly; that's one of the best things about camping – the unexpected!
Sources
Family Camping is Cool: Tips and tricks for a successful first outing, Outdoor Families Online
Top tips for family camping, Little Adventure Shop