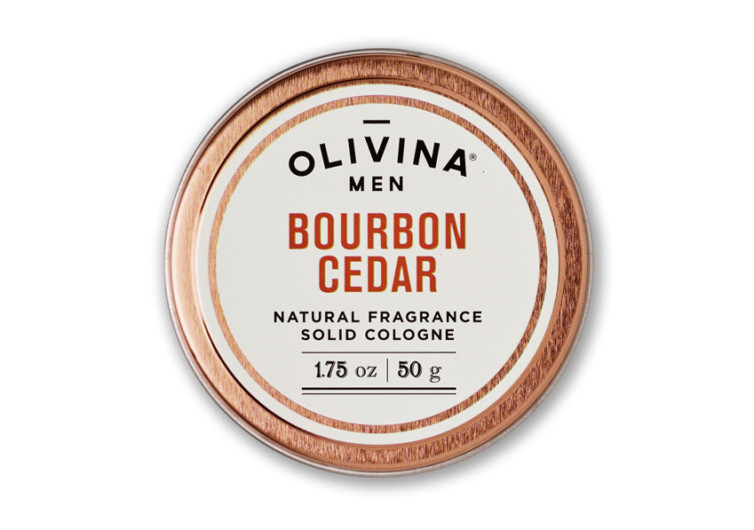 GearHungry may earn a small commission from affiliate links in this article.
Learn more
Olivina Bourbon Cedar Solid Cologne
Not all fragrances are created equal. And when it comes to bringing out the refined qualities of today's gentlemen without necessarily flooding the noses of others with otherwise extra-strong scents, nothing beats the natural fragrance of bourbon sealed in the richness of a cedar solid cologne.
The Olivina Bourbon Cedar is a very manly fragrance that utilizes the natural scent of a variety of organic essential oils to give the modern gentleman a unique take on masculine fragrances. At the heart of the Olivina is Bourbon, inspired by the wood-aging tradition of the nation's greatest distilleries. It's like bathing oneself in these spirits – intoxicating to some while sensual to most. The Bourbon Cedar doesn't irritate the nose, albeit it sure can titillate the senses making for a really intimate experience.
And as the Bourbon Cedar matures one can always expect a rich and velvety red cedar to start popping, replacing the heady yet highly spirited top that has clearly defined its olfactory notes. And just as the spirits clear up the nostrils is delighted with the smoky vanilla finish. It is this unique formulation of the Bourbon Cedar that creates the uniqueness in every man especially when the essential oil-based fragrance starts melding with one's natural chemistry.
Subtle to the nose yet very masculine in every aspect, the cologne is what every gentleman today needs. It doesn't contain artificial preservatives, making sure there's no chemical reaction that will adversely affect the special blend of natural botanical oils into the formulation. And while most synthetics will promise you heaven and earth as to the gentleness of their fragrances, only the Bourbon Cedar cologne can rightfully back it up with actual performance.
Head to whatever social function that you have and turn heads with that subtle fragrance. Take care of your fashion and the Bourbon Cedar will do the rest.
CHECK PRICE ON OLIVINAMEN.COM