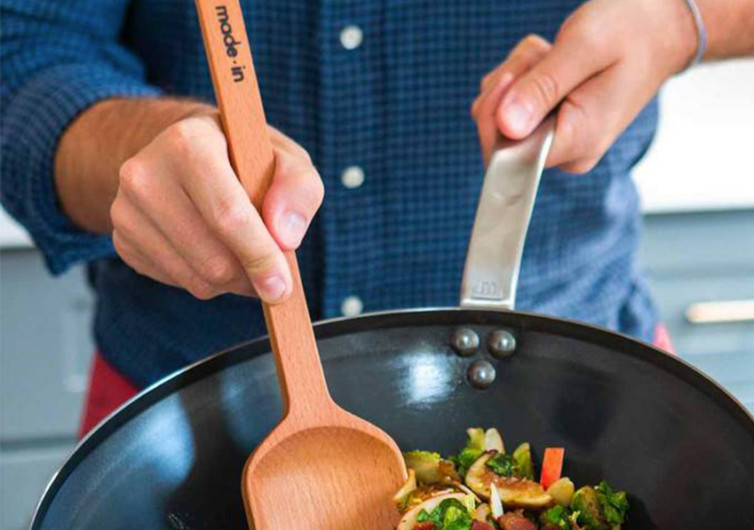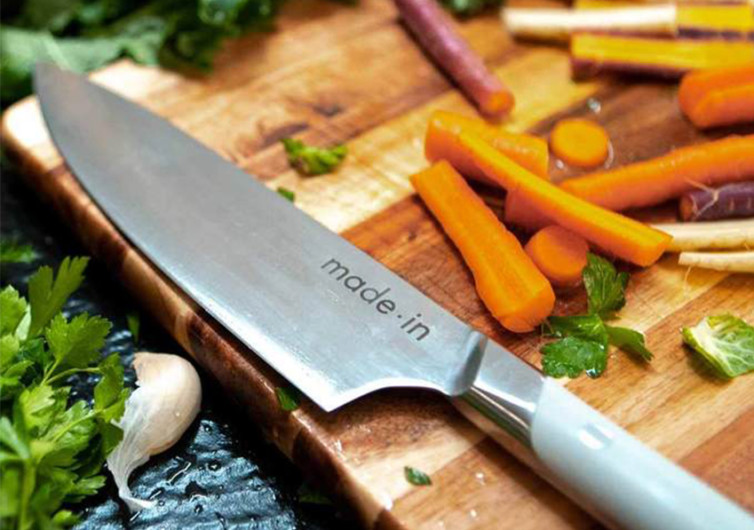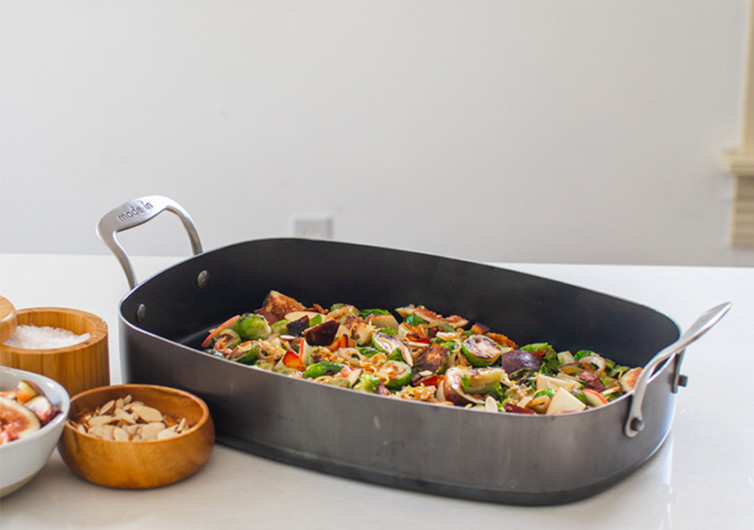 GearHungry may earn a small commission from affiliate links in this article.
Learn more
Made In Cookware – All of The Culinary Flash, for Less Cash
At some point, the purchase of a stone frying pan and knife set becomes critical to a young adult's transition into a fully formed adult's lifestyle. This evolutionary purchasing decision doesn't quite bring one out of the cocoon of adolescence, but it arms them the tools to fry, sauté, and julienne their way into adulthood. Made In Cookware came along in 2017 to ensure that you, the culinarily curious, could access these life-altering tools at a fraction of their corporate contemporaries' cost.
Slice and Shred
Start with their cutlery. A great chef's knife is an essential piece of kitchen kit. You're not even ready to make a salad without one. Made In's knives all start as a single sheet of rolled, cold steel and eventually morph into a 7- or 8-inch chef's knife, paring knife, or utility blade. If you're not quite sure where to start in cutlery, go with their best-selling 8-inch Chef's Knife. One of these can do just about everything and will last forever, a bargain at $89.
Saute and Simmer
Made In's Stainless Clad cookware has all the bells and whistles of premium (read: expensive) pots and pans without the exorbitant price. Sure, your friends would "ooh" and "ahh" at your All-Clad, but those people probably don't know how to cook. So save that coin for premium ingredients.
A frying pan is the workhorse of the kitchen, and Made In has created a beauty. This fine piece of dinner development is ready to go from stovetop sauté to straight into the oven, with the ability to withstand roasting temperatures up to 800 degrees. Their stockpots, saucepans, and butter warmer were all made from a single roll of 5-ply steel. Rounding out the lineup is every egg lovers favorite: the non-stick pan. Offered in 8-, 10-, and 12-inch diameters, Made In's non-stick is ready to fry a whole clutch.
Season and Sear
Carbon steel is one of the kitchen's best-kept secrets. This material is lighter, lasts longer, and resists adherence better than virtually all other metals. Used for centuries in Asian cooking (e.g., the wok), this surface has all the benefits of cast iron, with far less weight.
Made In has brought all of their carbon steel big-hitters to market for your cooking pleasure. Their 8-inch frying pan starts at just $65. You can take home a 12-inch, flat-bottom Wok for $99 and impress all of your friends with perfectly crisp vegetables and delicious slices of perfectly seasoned beef.
Summary
Whether you are just getting started or are a seasoned veteran of the culinary craft, this deal on Made In's line of cookware, knives, and accessories is screamin'. The painstaking effort taken to replicate such exceptional pieces, coupled with their intent to make those pieces more affordable to everyone, is honorable. And they've even innovated their way into the kitchen space, ensuring that they aren't just replicating, but bringing something new to the modern table. Made In has received thousands of top reviews, and their wares have made it into the hands of top chefs.
So…affordable, high quality, and backed by an excellent warranty – what's not to love?
CHECK PRICE ON MADEINCOOKWARE.COM