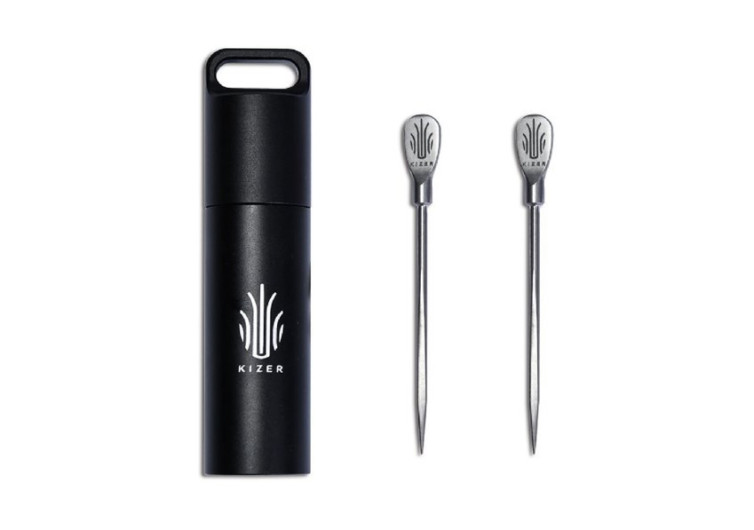 Support us! GearHungry may earn a small commission from affiliate links in this article.
Learn more
KIZER Titanium Toothpick
Encased in a thoughtfully-designed and carefully-constructed aluminum capsule, a pair of elegantly designed toothpicks awaits the person who is going to use this pair to remove food particles and debris stuck in their teeth or gums when brushing simply isn't feasible. The KIZER Titanium Toothpick may seem like a very expensive tool to pick debris off of one's pearly whites, but it does make perfect sense especially if one considers the eco-friendliness of it.
While titanium isn't necessarily eco-friendly, the mere fact that you will be using these toothpicks over and over simply means you will be contributing to the reduction in the number of forest trees that have to be cut down. These trees are turned into a lot of products. One of them is the disposable toothpick that we are always served with at our dinner tables. Alone, you may not even make a dent in deforestation. But at least, you're doing your part.
That being said, the KIZER Toothpick should be a worthy temporary dental cleaning tool (when you don't have your electric toothbrush handy) that can easily pick out any debris that may be present on the teeth. And since it's made of titanium, one can always feel more secure about its hygiene and cleanliness. The material makes it easy to clean, too, allowing it to be reused for many years. It is through this reusability that the KIZER is contributing to a reduction in felled trees.
Unlike other systems, the KIZER comes with an enlarged, flattened head that is perfect for anchoring the thumb and forefinger. This allows for optimum control while manipulating the toothpick across the teeth and gum surface as well as in between teeth. Given that steel is a bit slippery, putting an enlarged head is surely a welcome feature.
It may seem awfully expensive, but the KIZER is made of premium-quality materials that are well worth it.