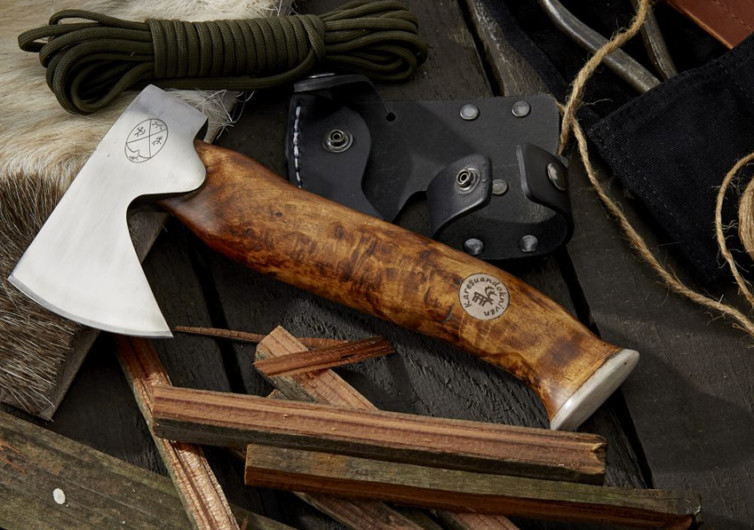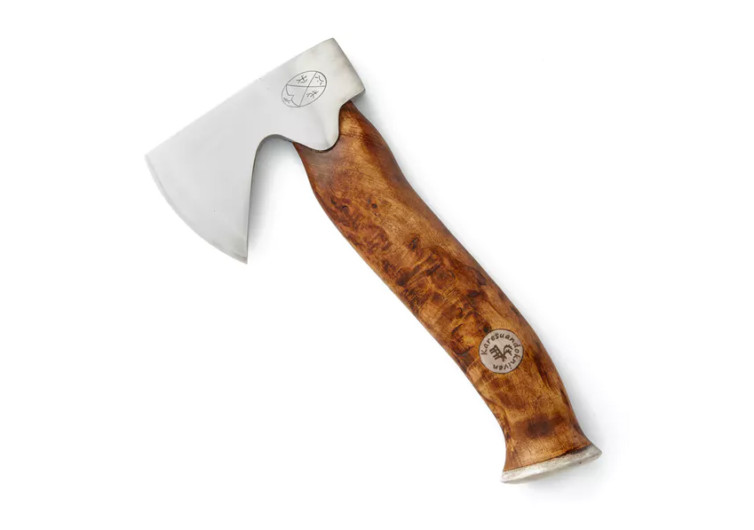 GearHungry may earn a small commission from affiliate links in this article.
Learn more
Karesuando Unna Aksu Artic Hunting Axe
From the land of the Northern Lights comes a hunting axe that's not only a formidable tool but also an elegant masterpiece. The Unna Aksu Arctic Hunting Axe is one of Karesuando's best-selling hunting tools. It's a weapon that is perfect for downing walruses and bears, witch makes it a great survival gift. However, given the nature of its craftsmanship, the Unna Aksu is best showcased in a display cabinet.
Conventional hunting axes only rely on local wood for their handle. While the Unna Aksu also incorporates natural birch wood in the making of its handle, Karesuando went a step further. Also embedded into the handle is reindeer antler. This is a one-piece handle that features two of the upper Arctic region's most famous inhabitants. It is the same tandem that gives the Karesuando creation a level of elegance that very few hunting axes can ever match.
The manufacturer oiled the curly birch handle to help improve its durability against the harsh elements of the Arctic. And when you factor in the 4-inch long blade, you'll know that this axe is going to last a lifetime. Forming the blade is Sandvik's 12c27 stainless steel, known for its high hardness, exceptional corrosion resistance, razor sharpness, and amazing toughness. The purity level of Sandvik's steel is higher while its chemical composition is tighter.
Protecting the 2.6-inch wide cutting edge of the blade is a cover made of black leather. It's tanned to give it a more lasting finish. The Karesuando shield inlay also helps protect the rest of the Unna Aksu. And with its decade-long warranty, this is a hunting axe that is great for your hunting adventures.
Given that the Unna Aksu is so beautiful, you'd be forgiven for showcasing it in your display cabinet. However, its toughness and exceptional weatherproofing also means this is a tool meant to do its job.
CHECK PRICE ON HUCKBERRY.COM