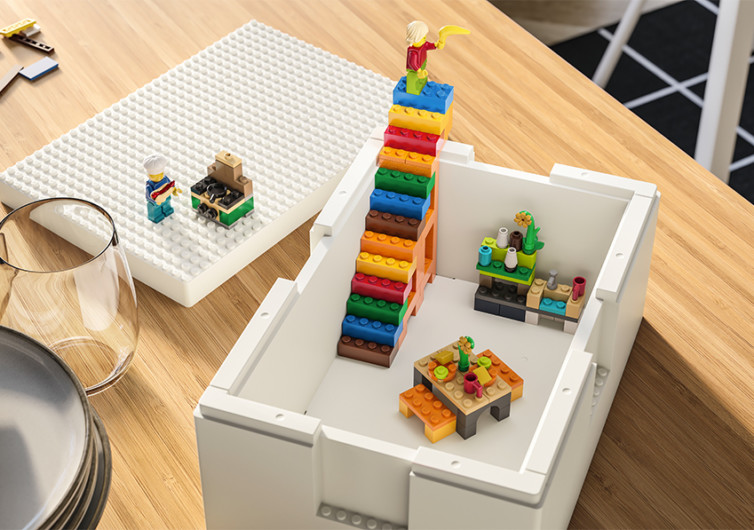 GearHungry may earn a small commission from affiliate links in this article.
Learn more
BYGGLEK by IKEA & LEGO – Storage, Reimagined
We all remember playing with our LEGO sets, or at least stepping on a LEGO and attempting to not swear in front of your kids. After crushing your kids' creation, you have to look at their faces as you ask them to clean up the mess before dinner, effectively ruining their day. A study conducted by IKEA and LEGO finds that this hard swerve from free play to restrictive task interrupts their creative process and doesn't offer kids the option to expand their imaginations further. But, we get it, no one likes stepping on LEGOs.
So, LEGO teamed up with IKEA to tackle the storage and organization issues plaguing homes everywhere. The storage box collection, BYGGLEK, comes equipped with LEGO studs on the surfaces for maximum play and designed to integrate seamlessly into home environments for tidiness.
Kiddos and Playtime Versus Parents and Tidiness
The purpose of the BYGGLEK is to solve the organizational issues parents face when kiddos are in the middle of an idea when playtime ends. It is no secret that where parents see a mess, children see a whole universe of possibilities; BYGGLEK bridges that gap. This system also allows parents to sit down with their kids and 'play' with the intention of starting to clean up, blending both organization and creativity.
What to Expect
The BYGGLEK comes in a variety of storage options from three small boxes, two larger boxes, and one LEGO set. These boxes are compatible with existing LEGO sets. Each box comes with a studded lid for building upon, while the sides of the boxes have a small line of studs, as well. The studs' female parts line the bottom of the box; the studded lids fit into the female underside, creating sturdy, stackable storage boxes or creating multiple-level building platforms for those giant imaginations.
IKEA's goal was to integrate the storage boxes into the home without taking away from the existing aesthetic. The BYGGLEK collections' design blends in with IKEA home furnishings while showcasing your child's creativity on top of the box. The new BYGGLEK storage and toy boxes will be available on October 1, 2020, in IKEA stores and on the IKEA website. Prices range from $9.99-$14.99, depending on box sizes and sets.
Keep the creativity flowing while enjoying the uncompromised organization with LEGO and IKEA BYGGLEK Collection Set.
VIEW ON NEWSROOM.INTER.IKEA.COM