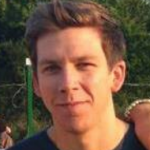 Support us! GearHungry may earn a small commission from affiliate links in this article.
Learn more
Cold Weather Survival Tips
Cold weather scenarios arise in more circumstances than just heading to an icy environment. Whether you're an avid hiker, your car has given up in the dead of winter or you've simply lost electricity for an extended period in your home, there are many reasons why knowing how to cope in cold temperatures will come in handy. Almost 50% of the Northern Hemisphere's landmass is classified as a cold region at some point during the year, and everything from ocean currents to elevation can impact how cold it gets. The most difficult temperature range to contend with is between -6C and 10C, as it's moist which exacerbates heat loss. These tips and tricks are worth keeping note of in case you ever find yourself in a situation where you're faced with an extremely chilly climate.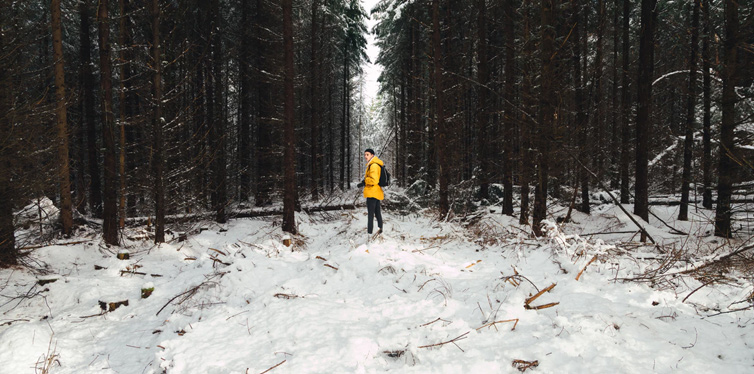 Stay active
The winter is typically that time of year when we hole ourselves up indoors and become a couch potato for several months. But not only does this affect our physical health, it also has a negative impact on us mentally. When we get cold, our heart rate tends to slow down which means there's less blood pumping through our veins and less heat travelling around the body. To stay fit and healthy, you should keep as active as you would do during the summer and there are still plenty of options, despite the cold weather.
One quick and easy way to boost your heart rate is to do a few jumping jacks or jog on the spot to generate heat, or if that's more energy than you want to exert you can just swing your arms around a few times every hour or so, to get the blood flowing. Staying active will not only keep you healthy throughout the colder months but it will also keep you warm while you're exercising – a win-win situation. But don't overdo it, as sweating will cause your body to get rid of heat.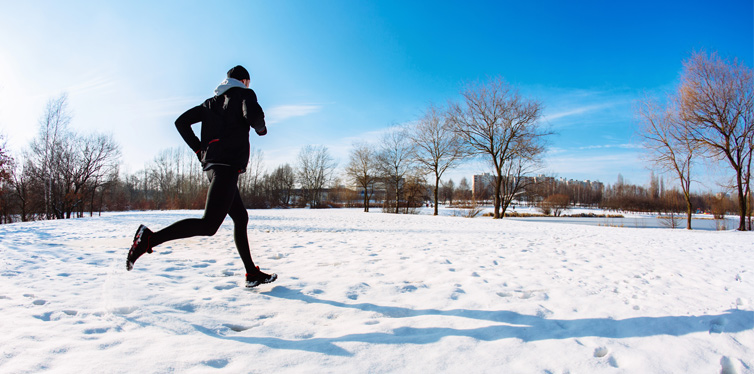 Keep your feet warm
We often neglect our feet when it comes to wrapping up for cold weather, but if you're trudging through snow and ice, it's important to make sure your feet are well insulated. Investing in a good pair of waterproof boots, preferably ones with a removable insulation later which will help you dry them out later on, will keep your feet warm and dry. Don't pick boots which are too tight a fit as it will mean less blood flow to your toes and will mean you won't be able to wear two layers of socks during particularly cold weather.
Frostbite and trench foot can both occur in cold climates and for both, prevention is the best cure. This means keeping your extremities warm and, most importantly, dry. The latter of these can occur after just a few hours of being exposed to wet or damp conditions at low temperatures just above freezing. It leads to feelings of pins and needles, tingling and then pain, and the skin will appear wet, white and shrivelled. If it's not resolved with dry warmth, the skin can actually become red and then blue or black, and the feet will swell. It's crucial that you keep your feet dry to prevent this from happening.
Be prepared
Every year, we hear news of more and more storms and homes being snowed in, so it helps to be prepared for anything. Put together an emergency kit for your home and your car, and make sure that any items you have that required charging are fully charged at all times, so you can still make calls or get in touch with people if you lose power.Setting your thermostat to the same temperature day and night will prevent the pipes in your home from freezing and bursting. You can also leave cabinet doors open at night to allow the heat to get to uninsulated pipes under the sinks and on exterior walls. You'll thank yourself for your preparedness when an emergency strikes.
Opt for layers
While it may seem obvious, it bears repeating that exposed skin is going to add to the chill factor, so layers are vital during winter. Even when wearing the essentials like a hat and gloves, many people often allow their ears and neck to be exposed which drains precious heat. You can lose as much as 45% of your body heat if your head, neck, wrists and ears are left uncovered. At the same time, you want to avoid overheating as it causes the body to sweat which cools the body, exactly the opposite of what you want in the cold weather. Loose layers will help to keep your extremities warm and prevents slow circulation, and the layers will make it easy to shed a layer or too if you find yourself getting too hot. An added bonus of layers is that when they're loose, air can get trapped between the layers which adds to the insulation.
When choosing clothing, the general principles to remember are:
Base layer – Opt for clothing with a thin layer that pulls moisture away from your skin as you sweat. Wool is ideal for a natural base layer but there are many synthetic materials that do the job just as well too. But avoid cotton materials as once it's wet, it makes you colder than if you weren't wearing anything at all.
Insulating layer – The insulating later traps air around you to act as a barrier from cold winds and to keep warmth in. This can be wool again or fleece, or something like a synthetic or down-filled layer.
Shell – This harder outer layer protects your body from rain and wind and is typically made from a coated nylon material or a waterproof yet breathable membrane.
The traditional ski jackets which combine a shell layer with an insulating barrier may be effective, but they aren't as versatile, as you can't use each piece independently. If this is something you want, another option is to take a warm fleece jacket or a rain jacket with you, so you have more options to combine and wear as layers or individually.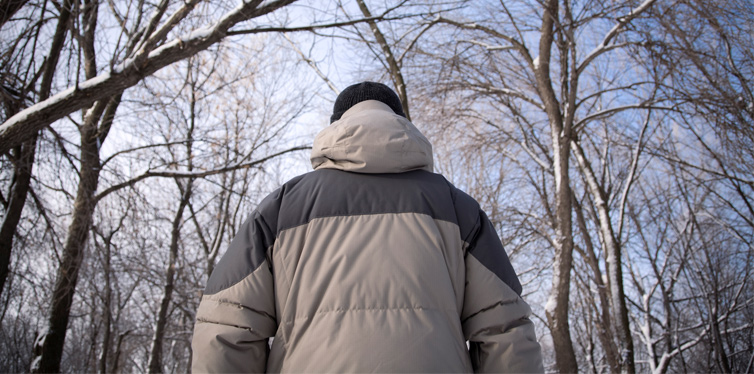 Avoid getting wet at all costs
In cold weather, getting wet is just about the worst thing you can do – it makes you much more susceptible to the effects of the weather, and can even lead to hypothermia in extreme cases. Having cold weather gear on hand will protect you as much as possible, such as waterproof coatings and insulating fabrics, to help stave off the chills and keep your body temperature as warm as possible. If you do get wet, remove the wet clothing as quickly as possible to dry it out and wrap yourself up in something dry, even if it's just a blanket, until your other items are ready to wear again.
Stay fuelled and hydrated
The combination of cold temperatures and your body's instinctive survival tactics will whip through your body's energy reserves incredibly quickly. When the body gets cold, it starts to convert energy into warmth – hence why we shiver when we're cold as a way to try and create more heat. Similarly, when we're in a survival situation the body gets stressed and takes our fat stores to turn into quick energy in case you need it for a fight or flight reaction.
Of course, in a cold weather situation this is a waste of energy and your body will deplete its energy resources unnecessarily, so it's important to stay fuelled. Make sure you eat plenty of simple sugars and carbohydrates and stay topped up with fluids. And choose hot foods and drinks where you can, such as hot coffee and tea, soups and spicy foods to warm yourself up from the inside. Staying hydrated is just as important in the cold as it is during hot weather, so don't neglect this aspect of your survival routine.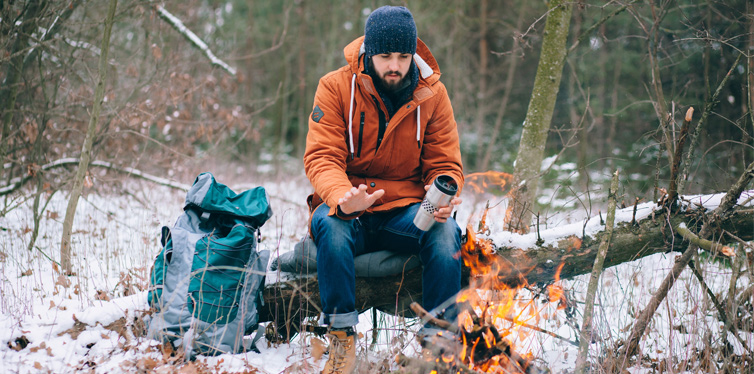 Skip the booze
Bad news – while alcoholic drinks may make you feel warm, they actually have the opposite effect and decrease your core temperature which can be dangerous during the winter months. Studies have shown that alcohol reverses some of the body's reflexes which control body temperature, particularly the body's ability to shiver. It can also make you sweat which makes you even colder.
Have a gas-powered heater to hand
No every cold-weather scenario involves you stranded in the middle of nowhere, so it's important to be prepared at home as well as on the road. If you rely on electricity for your heat at home, then power outages during the winter can be a difficult time – particularly if you have kids or elderly relatives living with you. Keeping a gas-powered heater stored in the home or your garage is great for unexpected power loss. They're fairly inexpensive and easy to run, and if you choose one that's wide and low to the ground then it won't be as easy for your pets or young kids to knock over.
Cold weather survival can be difficult and a bit daunting, particularly if you don't live somewhere where cold weather is the norm, but with a bit of planning and some carefully chosen cold weather items, including clothing and footwear, you can increase your chances of surviving the colder climate. There's really no replacement for having the knowledge to know what to do in an emergency, whether you're heading out into the unknown or just stuck at home during a cold snap. Being prepared and thinking ahead for potential scenarios will help you cope better and survive the cold weather with ease.