GearHungry may earn a small commission from affiliate links in this article.
Learn more
Choosing The Right Work Boots
If you work on your feet it's no exaggeration to say that the work boots you choose can make the difference between being comfortable all day and being miserable. Not only that but choosing the wrong work boots can cause an array of health problems such as corns, athlete's foot, fungal infections of the nails, fallen arches, back pain and more. As such, finding the right work boot is not some kind of luxury problem, it's an absolute necessity. You can't expect even the best walking shoes available to carry out the job work boots do – without question, work boots are required for specific jobs. But with so many different makes and models of work boot on the market today, how can you tell which one will be right for you and which one will lead to a visit with the podiatrist?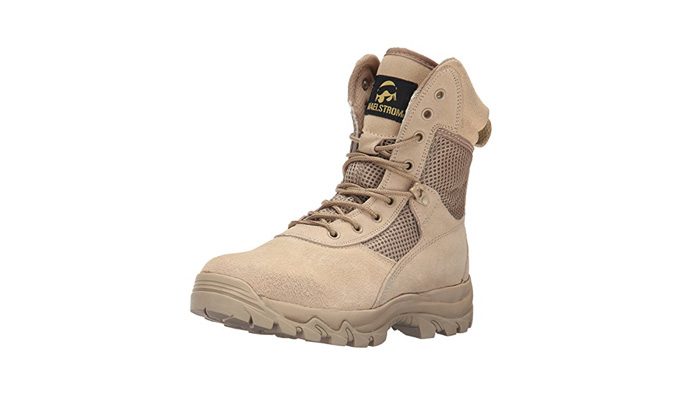 Things to Consider When Selecting Work Boots
Shoes in general and work boots, in particular, are actually far more complex and difficult to get right than most people imagine. The stresses that are brought to bear on the foot – and by extension footwear – by the simple act of walking are enormous and multifaceted and can easily tear apart a poorly made pair of boots. With that in mind then, we're going to take a look at the most important things to consider in order to be sure you're getting a pair of work boots that will serve you well.
The Different Kinds Of Work Boots
Your first decision will be in selecting the right kind of work boot for your feet and your purposes. There are several different types to choose from. They include:
Water-resistant or waterproof boots: These are a common choice with tradespeople who spend much of their time outdoors, often in bad weather on sloppy terrain.
Steel-toe boots: These boots are for those whose jobs bring them into proximity with numerous heavy objects that could cause serious damage to their feet.
Insulated boots: Again, if you work outdoors you'll want to consider insulated work boots to keep your feet nice and warm when the weather turns cold.
Electrical hazard boots: These boots are a common choice of electricians and others who work in proximity to potential electrical hazards; whether on the job site or in an industrial setting.
Slip-resistant boots: These boots have soles fabricated from special slip-resistant materials. People who work on boats or docks commonly seek out this type of boot.
You'll need to do a no-nonsense assessment of your job conditions in order to determine exactly which features you need. Just remember it's always better to have too much protection than not enough.
Materials
The leather is by far the most popular work boot material due to its natural breathability, its ability to absorb moisture, its durability and its workability. Various types of leather are used in work boot construction including
Calfskin (prized for its soft supple feel)
Pigskin (typically used for suede)
Kidskin or goatskin (known for its strength and durability)
A variety of manmade materials are also employed in making work boots including nylon, synthetic rubbers, TPU (Thermo-Polyurethane) and EVA (Ethylene Vinyl Acetate) along with steel and/or various composites to protect the toe area.
Characteristics and Construction
Those who work in cold, damp conditions will likely want high-top, insulated winter boots that are also water resistant  – no one wants to be outdoors doing an aerial install, in the freezing cold while wearing thin footwear. Those who work primarily in warm weather conditions might want a lower cut, a non-insulated boot made perhaps of a combination of nylon mesh and leather for greater breathability. Whether you want your boots to have steel toes or not depends on the types of hazards you're likely to encounter. If you're going to be working with equipment or tools like heavy cordless drills or hammers, you could accidentally drop them on your feet, so you're going to want to be safe and go with the steel toe option.
When it comes to work boot construction, most tradespeople prefer 'stitch-down construction'. With this construction method, the upper is sewn directly into the outsole. The result is an extremely durable boot and the only kind that can be re-soled. Boots made this way are also typically some of the most expensive work boots. With 'cement construction' boots the upper and the outsole are glued, rather than stitched, together. This allows for a more affordable boot but one that is not as durable. And finally, with 'direct attach' boots the upper and outsole are molded together to form a unified front against the elements that are waterproof and very durable.
Fit
The importance of having boots that fit properly cannot be overemphasized. When you try on your boots, make sure you're wearing the socks you intend to use with them. As an example, thermal socks are a lot thicker than compression socks, so the fit would be totally different between them. Also, make sure the boots provide:
A snug fit in the heel
Comfort through the instep.
No pain at the ball of the foot.
Room for your toes to bend without pinching.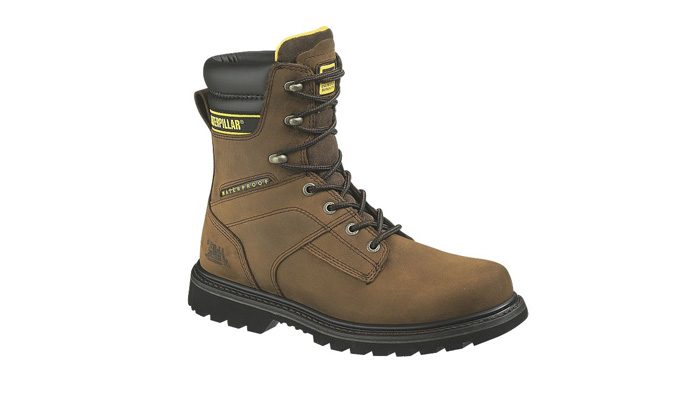 Final Notes
The Brand and price should be secondary to comfort and the ability of the work boots to meet your job requirements. That said you should be prepared to pay $100 or more for a pair of first-class work boots that will serve you well and last for several years.