GearHungry may earn a small commission from affiliate links in this article.
Learn more
Trail Cameras
Trail cameras are a great way to film or photograph wildlife on a hiking trip and with several new models on the market now, there's never been a better selection to choose from. These popular pieces of recreation technology have a number of users, from photographing wildlife to detecting theft.
There are several distinguishing factors that differentiate the many trail cameras on the market. When looking for a trail camera, sometimes called game cameras, these features can serve as the criteria to help you choose the right camera for you. Many units have a motion detection feature which triggers the lens aperture, and each unit has a set detection area to complete this function. Another element that's important to a good quality camera is image resolution and sharpness, along with pixel count. Finally, a great trail camera needs to have the ability to focus the lens.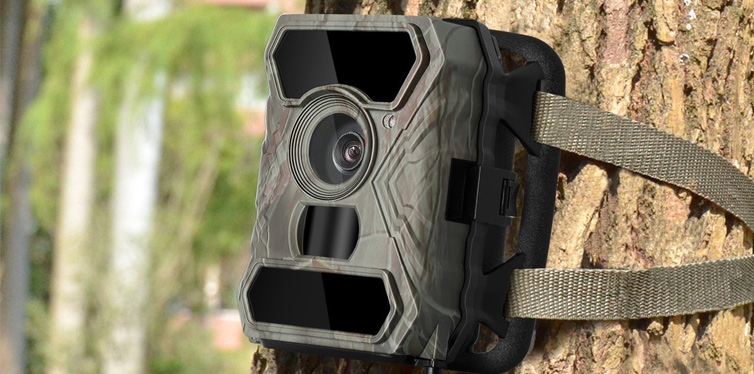 What should you consider?
There are several factors to consider when looking for a trail camera, which will vary depending on the intended use:
Detection circuit – How does the camera detect activity? What is the detection range and field of view like?
Battery – How long does the battery last?
Infrared emitters – Does the camera have an undetectable 'no glow' option or does it have a red glow infrared flash?
Picture quality – Check sample photos to ensure the quality is sufficient for your needs.
Set-up and viewing screen – Is the camera easy to set up? Does it have an internal viewing screen?
Trail cameras can be used for multiple uses and come in a variety of different styles, depending on your needs. Manufactures offer numerous features to explore, with many of the differences focusing on data storage and retrieval. For some, the traditional method of retrieving images through manual download works just fine, while others prefer an instant retrieval. The following list outlines the different types of trail cameras, and the primary uses for those specific units.
Digital
Digital trail cameras work in the same way as regular digital cameras – they're self-contained units with night-viewing capabilities (based on infrared, LED or traditional flash), power and data storage. These types of cameras work by capturing a still frame the moment an animal or person triggers the detection function, the parameters of which are determined by each manufacturer.
Film
Working in a similar way to digital trail cameras, film cameras differ in the medium they use – where digital cameras record an image onto a memory card, these cameras use traditional film. As with traditional film cameras, this film requires development to see the images. For this reason, film trail cameras are better suited to nature photography, where the delayed retrieval time isn't as important.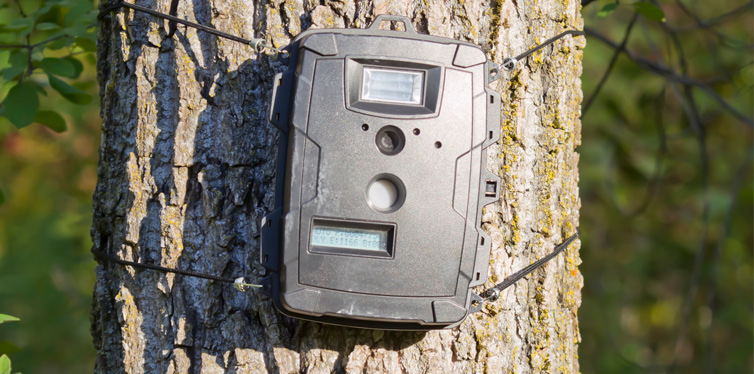 Cellular
Cellular units work by digitally capturing an image then transmitting that picture to the user's mobile phone. This works by utilising wireless signals to allow for instant retrieval of the image. Cellular trail cameras require a data package to use them, as well as a SIM card and decent signal at the location it's being used.
Laser Aim
As with some of the other unit types, laser aim cameras work with the same principles of digital photography. The main distinction is the use of laser guided aim to control the area the detection zone of the lens is focused on. These cameras offer more precision and control, and ultimately better pictures.
Strobe Flash
Strobe flash cameras are more covert than other types of camera – a small flash is produced when the detection zone is triggered, the speed of which allows for more secrecy. Strobe cameras are popular for theft detection uses, where the flash can serve as a warning to intruders. However, it's worth noting that this flash can also scare off intended photography subjects as well.
Wireless Activated
Another great option for theft detection purposes is the wireless activated trail camera, which transmits the image through a wireless network. The unit can be linked to any receiving network or device, but it needs to be specifically linked to permit the transmission and receipt of the images. As with the cellular cameras, wireless activated cameras require available signal to work and in wilderness areas, they don't work effectively.
Infrared
Many trail cameras are used in low light or in total darkness, so many users utilise an infrared feature in these circumstances. These cameras work via a sensor which is activated when assistance is needed – once a picture is taken, a light is emitted to provide light for the exposure. Infrared light provides more secrecy than traditional white flash, although the infrared light can either be red or white depending on the unit. The images from this device have a green, white or red tint to them.
Sound Producing
A lot of people using trail cameras do so to record wildlife, either for research or for sport, so they want animals to approach the camera. Sound producing cameras work by storing recordings of animal noises or calls which can later be selected for playback. Depending on the sound selected, animals will either be attracted or scared off by the noise. These cameras store the sound and images digitally. Some models are triggered by a motion sensor or timer, while others can be remotely activated.
Security Cameras
Trail cameras are often used for security, whether that's for sportsmen who are using them to protect specific hunting spots, or for people to monitor remote cabins. These cameras are connected to a computer system, either locally or wirelessly, and data is stored using a USB. Depending on the computer system, this data can also be sent to another location. There are certain legal issues with using these cameras, but typically they apply to restrooms, changing rooms or other private spaces.