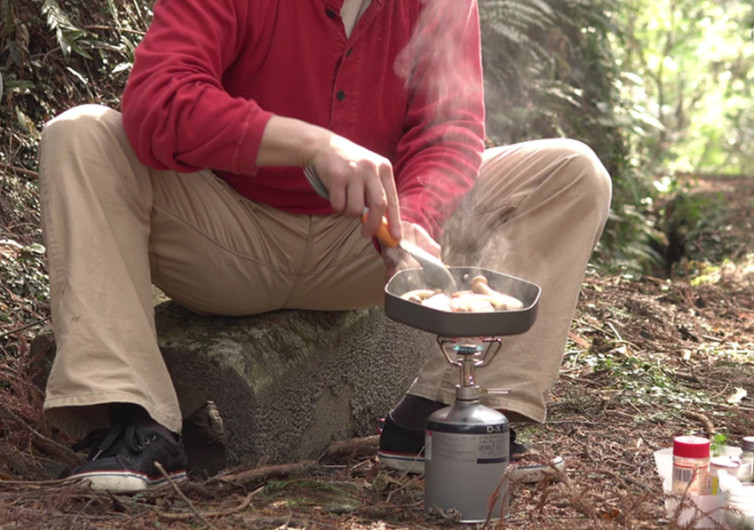 Hex Solo Mess Kit
If you're wondering what a 7.8-inch by 2.5-inch contraption can do to make your outdoor adventures or solo travels worthwhile, just look at the Hex Solo 6-in-1 Minimal Mess Kit to get an idea. It's a fully functional mess kit that is so lightweight and compact, yet comes with 6 different tools to get you the kind of meal you'd definitely enjoy on the go or in the middle of nowhere.
Inspired by the way the Japanese design things in a very minimalist yet fully functional kind of way, the Hex is a complete mess kit that gives you the opportunity to prepare any meal you like whenever the amenities of a modern kitchen are simply out of reach. The way the Hex is designed helps ensure you'll still be able to cook the same quality of meals that you're fond of concocting in your kitchen even though you're in nature's backyard.
The system comes with a 7.8-inch frying pan that also serves as the Hex's neat storage mechanism. With an unusual hexagonal shape with contoured angles, the Hex frying pan comes with sides high enough to make sure you won't spill anything. It has a non-stick surface giving you hassle-free pan-frying as well as making the perfect sunny-side-ups for a great breakfast in the wilderness. The high sides of the Hex also make it a great saucepan just in case you're craving for something savory and saucy.
Completing the system is a multi-purpose prep box that looks more like your kid's lunchbox and a 900-mL nesting bowl for putting some of your cooked meals. There's an expandable spork that you can easily detach from one another so you can still use the more traditional spoon and fork. Your drinks have been thought out, too, giving you an 8-ounce collapsible cup that sure is handy in giving you coffee or tea in the morning or anytime at all. Lastly, there's a Japan-crafted spatula for whipping up your magical meal.
The Hex Solo 6-in-1 Minimal Mess Kit is perfect for modern-day lone rangers. It's your kitchen in the great outdoors.