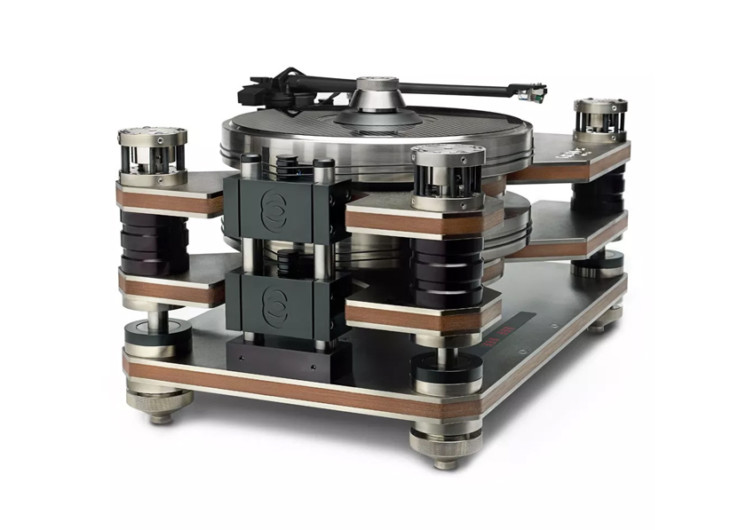 GearHungry may earn a small commission from affiliate links in this article.
Learn more
Hammacher Schlemmer Counterbalanced Turntable
If you think the turntable is dead, you're mistaken. It is very much alive. And Hammacher has created a turntable that will help redefine the way you play your vinyl records. Gone are the days when you had to endure distorted music. The secret is in the design of the Schlemmer Counterbalanced Turntable.
As the name implies, this is not your ordinary portable turntable. It boasts of design elements that allow it to negate the effects of vibrations on whatever surface the turntable is placed on. The technology allows it to dampen vibrations coming from both the device (mechanical) and the environment.
There are twin plinths that secure a 30-lb aluminum platter. The plinths boast of a composite that's deemed "sonically" dead. The platter itself is precision machined to eliminate any chance of vibration caused by uneven surfaces. Hammacher isolated these twin plinths from the bottom platform of the turntable for better dampening of sonic aberrations.
As the top-most platter spins in a clockwise direction, the bottom platter spins in the opposite direction. This cancels any torsional forces that may distort the quality of music by causing rotational speed fluctuations. The platter assembly also boasts of an inverted twin-bearing design. This further reduces the effects of torque-induced drag, which can also have an effect on overall sound quality.
Powering the two-platter system is a pair of ultra-quiet DC motors. An advanced optical sensor keeps track of rotational speed every two rotations. A high-tech CPU controller monitors the information coming from these sensors and adjusts motor voltage. This ensures stability of the platters' rotational speed.
With all these innovations on a turntable, one can never say that such a music-playing device is ever dead. Come to think of it, the Hammacher Schlemmer Counterbalanced Turntable is many light-years ahead of ultra-modern music devices.
CHECK PRICE ON HAMMACHER.COM