GearHungry may earn a small commission from affiliate links in this article.
Learn more
Camping Hacks
It's true that camping is a not-so-comfortable experience especially if you begin thinking about having to be away from the luxuries and conveniences of modern life. You won't have the luxury of a warm shower or the coziness of a memory foam mattress bed or even the convenience of a microwave. Surviving in the wild, even though it's a campsite, can be intimidating to most people. However, there are some things you can do to make life in the woods a lot easier and more fun. Here are 5 hacks to make camping comfortable and help you ensure a more memorable experience in the wild.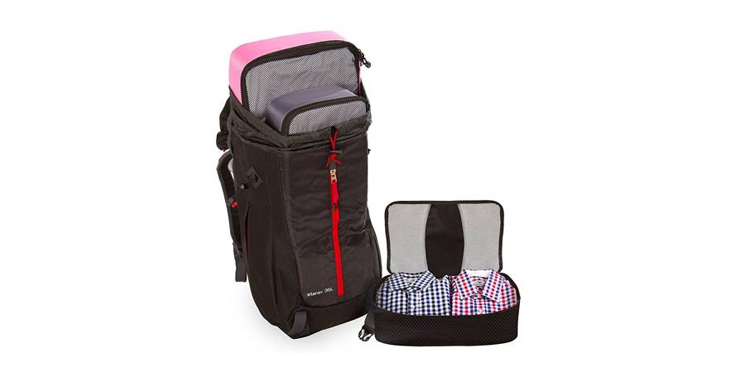 Keep Everything Organized
Keeping things more organized can literally take the hassle off camping. You can access all the things you need for any particular activity if you keep these items well organized in your backpacking backpack. This can greatly improve the level of comfort in your camping activity.
For instance, if you are going to put up your tent, having everything organized simplifies the whole process and makes it a lot easier to accomplish it. You will also not feel too tired as all the things you need are already in one place; there's no need to be going to and from looking and searching for things. This also saves you time which you can then use to relax, unwind, and truly appreciate the beauty of nature.
While it is not really a hack, many campers forget that getting organized is the simplest and easiest way to be comfy at the campsite.
Improvise A Bathtub Or Even A Shower For A More Refreshing And Relaxing Bath
If you are camping near bodies of water like a lake or a river, and you don't have a camping shower, you have the option to take a dip in the mostly icy cold waters of these features or you can build your own makeshift bathroom for a more relaxing warm bath.
You can dig a decently sized pit right next to your campsite that will serve as your bathtub. The depth should be just right to immerse your body while resting your head on the ground surface. Now get some tarp or plastic liner or any other material you can use to provide a waterproof layer for your improvised bathtub. Secure the edges of the liner and fill your outdoor bathtub halfway. Temporarily cover it while you're boiling water to add into your bath.
If you don't like soaking up in water, you might want to try improvising your shower. All you need is an empty gallon of water or an old bucket, improvise a hose with a plastic water sprinkler attached at the end, and hang the contraption on a tree limb. The hose should be long enough so you can raise it higher than the reservoir. This helps prevent the outflow of water if you don't need it yet.
Use The Right Kind Of Wood In Your Fire To Enhance The Flavors Of Your Food
If you're a fan of smoked meat and goodies, then you know what we're talking about. Choosing the right kind of firewood can help enhance the flavors of your food especially if the only spices that you've brought are salt and pepper. Seasoned and air-dried firewood is best but maple and oak make excellent alternatives. Don't go with your ax for wood that has high moisture content like cedar and pine. Smoking enhances the flavors of your dish, turning your camping into a gastronomic experience altogether.
Make Your Own Poop Tube
It's quite uncomfortable having to poop in the middle of the woods. However, if you have to go, you really have to go regardless of where you are. Unfortunately, you're polluting the environment. If you don't have a camping toilet, make an improvised poop tube consisting of a 10 by 4 inch PVC pipe with a solid cap or lid secured on one end. Put a threaded cap on the other end. It's lightweight enough to be brought to the camp. When you have to go, simply poop in a waste package then dump this into the poop tube. Add a few oxygen absorbers and secure the threaded lid.
Employ Garbage Science In A Variety Of Activities
Plastic wraps and used paper can be excellent materials for keeping you warm. Simply crumple these and insert into your beddings, clothing, hiking shoes, or even sleeping bag to give you additional warmth. Just make sure to dispose of these properly before heading home.
You can still enjoy some degree of comfort even though you're in the wilderness. These are just 5 tricks that you can do to help you ensure a more convenient and more comfortable camping experience.