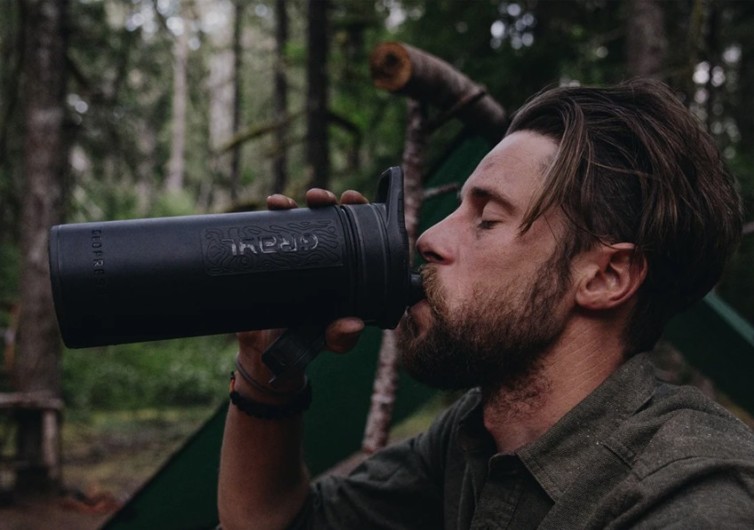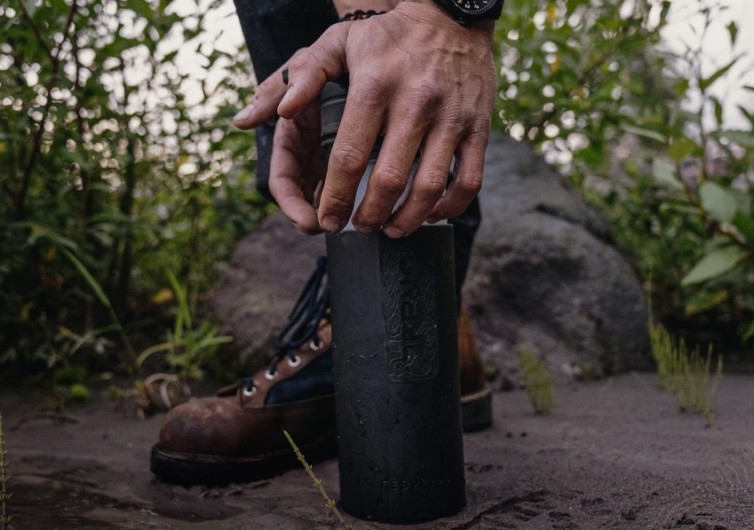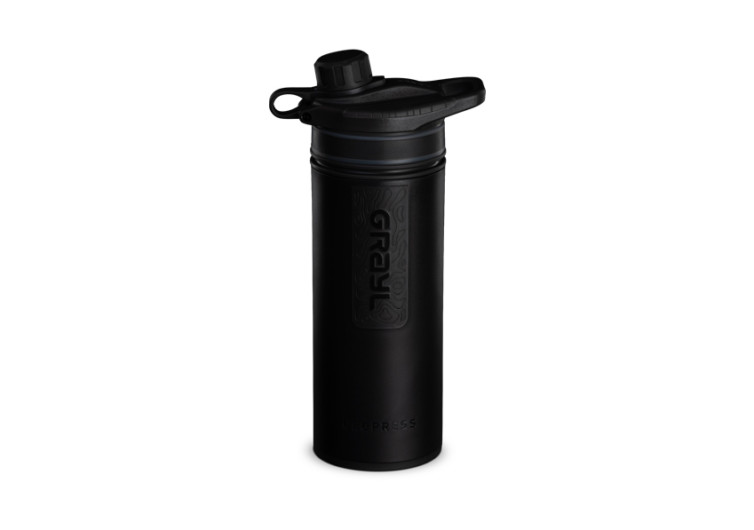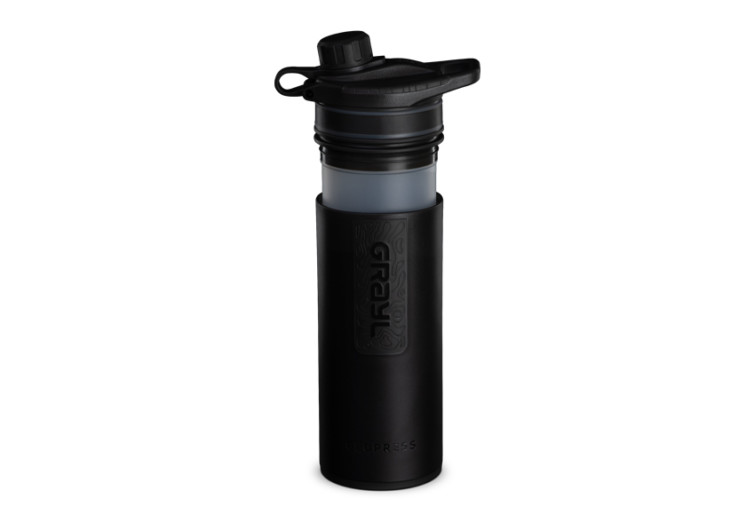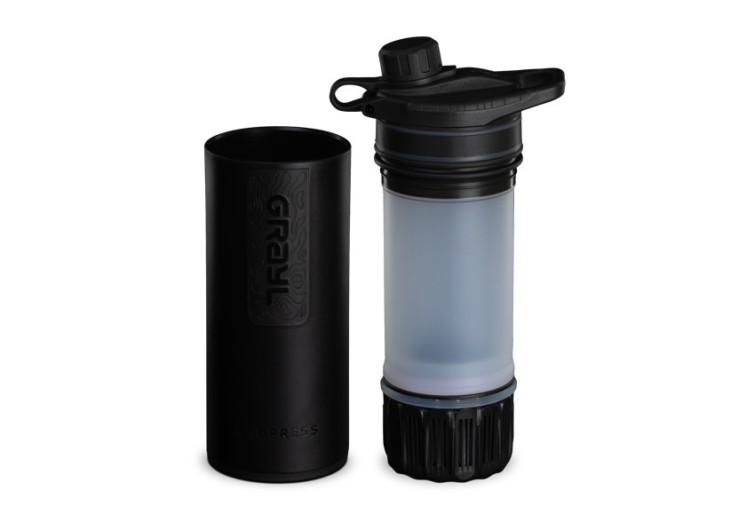 GearHungry may earn a small commission from affiliate links in this article.
Learn more
GEOPRESS Purifier: Eight Seconds to Safe Water
GRAYL designs products that offer new and innovative solutions to challenges found in nature, and the GEOPRESS Water Purification Bottle is their latest offering. This new portable water filter looks like the solution to the challenge of lugging around a large water filter plus a water bottle.
The GEOPRESS uses advanced filtering technology and positive pressure to eliminate 99% of all waterborne pathogens (bacteria, viruses, protozoan cysts) and traps toxic inorganic compounds found in freshwater in record time. It takes just 8 seconds to process 24 ounces of water – which equates to 5 liters of clean agua per minute.
Think of it as a survival tool – because that's what it is. It's hand-operated, independent of any external power sources, built to endure extreme wear and tear, and engineered specifically for times when clean water is unavailable.
And yet it's light and compact enough to slip in a day pack.
Qualifications
The GEOPRESS bottle underwent independent testing by a certified lab and successfully met or exceeded NSF (National Sanitation Federation) protocols 42 and 53 for pathogen and chemical removal. It's also met the EPA guide standards for the protocol used in testing microbiological water purifiers.
According to GRAYL's website, just some of the pathogens it conquers include the Rotavirus, Hepatitis A, Norovirus, Giardiasis, Cryptosporidium, E. Coli, Cholera, Salmonella, and Dysentery.
Reports show that its electro-adsorbent activated carbon filter eradicates trace odors typically left behind by other filters and leaves the water tasting exceedingly pure and visibly clear.
And GRAYL's award-winning One-Press global protection endorsement means that it's fit to protect you from the nasties on all seven continents.
Specifications
The filter cartridge is the brain of the operation – eliminating pathogens and caustic substances from the water to an unparalleled degree. One cartridge lasts 350 purification cycles. Unopened cartridges have a shelf life of 10 years. GRAYL encourages customers to return spent cartridges to company HQ for responsible recycling at their facility.
GRAYL's SimpleVent drinking cap is what makes the bottle's remarkable filtration speed possible. The cap's vent releases air displaced during the purification process; air that, if trapped within the bottle, would counteract the downward force required to strain the water. The drinking cap is cross-contamination-proof to protect your water from any exposure during filtration or everyday use, and the convenient fast-flow spout design means you can open the GEOPRESS single-handedly.
With its 24-ounce (710 ml) capacity and height of 10.4 inches, this is a large volume filtration system that's still light enough to throw in your pack. And with a filtering time of 8 seconds for 24 ounces (5 liters per minute), just one GEOPRESS will refill your entire crew's hydration bladders and ancillary water containers in no time. On a solo 'eat-pray-love' adventure? It's ready to take on your hostel's gnarly tap water, too.
A heavy-duty, nonslip TPE coating protects areas prone to the most wear and tear. Ergonomic, nonslip silicone pads allow you to securely grip the bottle whether you're filtering water or taking a big ol' swig of it. And if you somehow manage to break this beast of a bottle, no sweat – it's backed by a 10-year warranty.
GRAYL didn't skimp on personalization choices, either. The GEOPRESS comes in five colorways: Alpine White, Camo Black, Covert Black, Coyote Amber, and Visibility Orange.
The Bottom Line
While the outdoor market is no stranger to portable water filters, the improvements offered in this little vessel put it in a league of its own.
The MSRP is $90, and all orders placed through GRAYL's website ship free within 1-3 business days. Perhaps that seems steep for a bottle? False. GEOPRESS's filtering technology is not only more advanced than most competitors.
We don't care if it's a multi-month excursion through the backcountry or two weeks in Thailand; it's hard to imagine any reason to not invest in this innovative, compact survival tool.