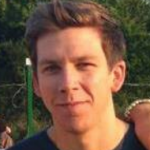 How to Undo the Damage of Sitting
Oh yes, your white-collar job really is killing you – slowly but surely! All those hours sitting slouched in front your computer isn't doing your health any favors. Granted the use of the ergonomic office chair has reduced the damage, but there are still significant risks to your health and well-being, but you are not always sitting in your office chair, are you?  You are sitting while watching TV or driving your car, and the more time you spend off your feet, the more chance you have of developing chronic conditions such as obesity, heart disease, and diabetes. Thankfully, there are exercises and workout that can help offset the risks to health associated with sedentary behavior.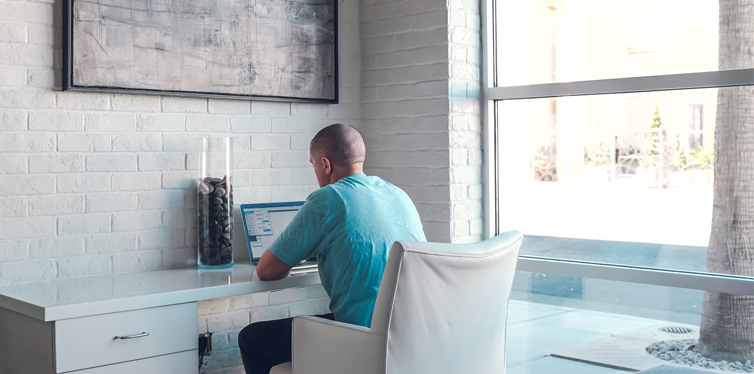 Common Problems Caused by Prolonged Sitting Sessions
You are at risk from the following if you spend too long sitting.
Weak glutes and legs: Lose or use. Your lower body some powerful muscles, but sitting all day means they get no less exercise than they need. Muscle atrophy, or weakening muscles, is going to destabilize your body overall limit your mobility and increase your risk of injury.
Tight hip flexors: Dead butt syndrome or gluteal amnesia occurs when the hip joints and fixtures become tight through lack of use. Movement becomes difficult for the gluteal muscles cannot perform activate in the right way.
Obesity: Your weight will become an issue exposing you to all sorts of chronic conditions associated with carrying too much weight. Lipoprotein lipase, an enzyme your body uses to process fat, struggles to break it down and remove it as waste, instead it is converted to sugars and fats and stored. Studies show men spend more time sitting than considered healthy and gaining weight around the abdomen, which can lead to metabolic syndrome, a cluster of conditions that includes high blood pressure and abnormal cholesterol levels.
Backache: Your back aches when you use the wrong posture for several hours daily. The prolonged sitting and shortening of your hip flexors pull your back muscles the wrong way. Not using ergonomic chairs if you must sit would further increase the risk of compression on the discs that can also cause premature degeneration and chronic pain. So use one, they are designed to encourage a good siting posture.
Depression and Anxiety: It may be a lesser known effect of sitting, but many studies have confirmed that people who sit the most are at an increased risk of anxiety and depression. Their bodies do not release enough 'feel-good' hormones, such as endorphins and dopamine.
Sitting for long hours can lead to problems such as varicose veins, stiff shoulders and neck, deep vein thrombosis, heart disease, and more. To avoid all these damaging effects of prolonged sitting, you need to seriously consider making changes to your lifestyle. Try using a standing desk and start to enjoy the benefits of being upright and on the move as you work. Be sure to combine this with a cool standing desk mat as well. Before you do, here are a few exercises to consider helping you get active at your desk.
Leg Swings
It is a simple yet highly effective way of loosening up your hamstrings, hips, and glutes.
Stand in an upright position and hold something for balance.
Now, begin with forward swings first. You should swing your right leg as high and as far back as you can. Go for 20 reps, then switch legs.
Next, move your legs from side to side. Hold on to something for balance, extend your right leg out, and swing from left to right. Take it as high as you can.
Go for 20 swings per leg.
Grok Squat
You know the catcher's stance in baseball, don't you? The Grok Squat is something similar and is hugely beneficial for your back and hips if they have got tight from all that sitting. Stand in an upright position with your feet shoulder-width apart. Slowly bend your knees and squat down but stop when your butt is about to touch your ankles.
With your heels placed firmly on the ground and your back perfectly straight, maintain that squatted position for 30 seconds. Feel the stretch in your quads, hamstrings, lower back, Achilles tendons, and groin.
Slowly return to the starting position. Perform these squats whenever you can; a few short sessions incorporated into your daily routine will go a long way in undoing the damage of sitting.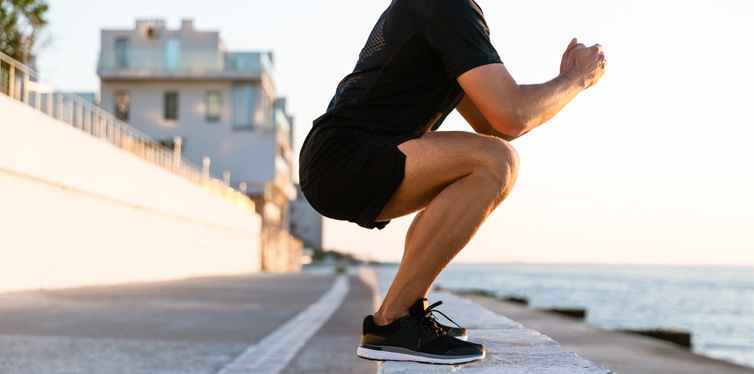 Dead Bug
The exercise targets the stabilizer muscles of the transverse abdominus, and by retraining your core, you can regain the flexibility you require to correct your bad posture.
Lie on your back keeping your arms by your sides.
Now, slowly raise your arms toward the ceiling while bringing your legs up at the same time. Keep your knees bent at a 90-degree angle and stacked right over your butt.
Now, slowly extend your left leg out. While making the move, be sure to drop your right arm overhead. Stop until your arm and the leg is a few inches from the ground.
Feel the stretch and slowly return to the starting position. Repeat for the same on the other side and perform 20 reps in total.
Ketlebell Deadlifts
Deadlifts are fantastic and work amazingly well to strengthen your hamstrings, glutes, traps, lats, and core. Work on moves that target your posterior muscles and get the most heat from your bad posture.
Get a kettlebell and place it on the floor. Now stand in a comfortable position with your feet about shoulder-width apart.
Slowly hinge at the hips while making sure your back is flat. Now, push your butt back and come down to grab the kettlebell.
Press with your legs and move up with kettlebell in your hands. Lift it up to hip level and lock your hips when you get back to the starting position.
Repeat the same move and with 15 reps. Use dumbbells if you cannot find a kettlebell.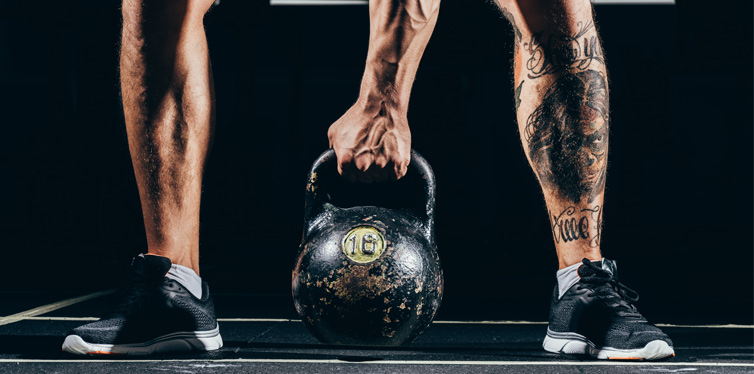 Couch Stretch
If you sit for long hours but still think that it has not affected your flexibility, a couch stretch is enough to correct to you. You will not realize how stiff you've become over the years until you try this stretch. Essentially, it is an advanced version of the quad stretch, but it will work amazingly well to undo years of sitting.
Start by stretching your right leg. Place your right knee against the back of your sofa while keeping the foot of your left leg on the ground.
Now raise your torso until you achieve a neutral spine position. Be sure to squeeze your buttocks and abs hard while lifting your torso.
Maintain the stretch for 3-4 minutes and then repeat the same with your other leg.
Half-Kneeling Hip Flexor Move
By trying this stretch, you will be able to prepare your body for bigger and more complex movements. It will stretch the hip flexor and really help you feel better.
Start with your right knee on the floor and the foot of your left leg on the ground. It means your both knees should be at a right angle.
Place your hands on your butt and try to squeeze your gluteal muscle of the knee-down leg as hard as you can. Be sure to engage your abs properly when performing the move.
You can also push the hip forward to get a better stretch, but do not let your back become arched in the process.
Slowly return to the starting position and repeat the same with the other side.
Good Old Plank
That is right! The plank has always been and will undoubtedly continue to be one of the best moves you can try to undo the damage of sitting. The idea is to strengthen your core, which in turn will help you achieve a proper posture and lead to an appropriate distribution of strength in all those muscles that may have become weak after years of sitting.
Get in a push-up position and then shift your weight on your forearms and elbows.
While staying in the position, squeeze your core and keep your back straight. Ensure that everything from your ears and shoulders to the ankles, knees, and hips is in proper alignment.
Maintain the stretch for as long as you can and then relax. You may be able to hold the position for a few seconds in the beginning, but stick with the move and you will eventually be able to push it to 20-30 seconds.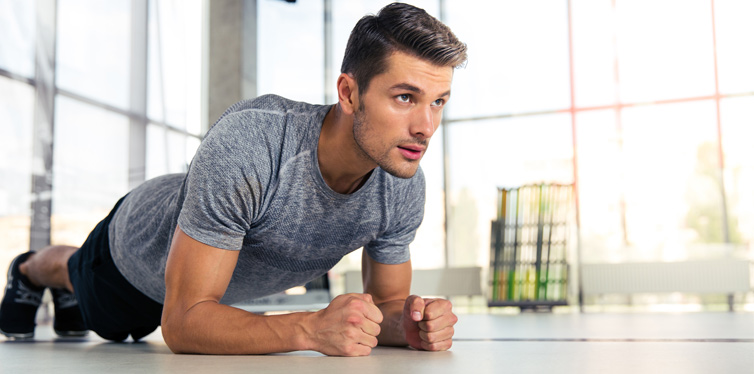 Take Preventive Measures to Avoid any Issue
Just by taking regular breaks from work and walking around for a few minutes will prevent serious issues. Similarly, using a standing desk will work wonders to prevent muscle atrophy. You may want to keep a resistance band in your office and that you can use in lunch breaks or when you have some free time to improve your posture – simply hold a resistance band in front of your chest and stretch your arms to your sides to give your back a good squeeze. These little moves can make a significant impact on your overall health even when your job demands long hours of sitting.