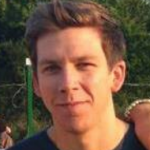 Habits of Ripped Men
While there's no quick fix for achieving the perfect body, it's also not an impossible feat that's reserved only for models and Hollywood actors. What is key to gaining the Adonis-style body is consistency, discipline and habit-forming – all of which can be incorporated with subtle lifestyle changes in your everyday routine. The following tips and tricks are habits which will encourage fat loss, build muscle and help you to gain the physique you've always dreamt of.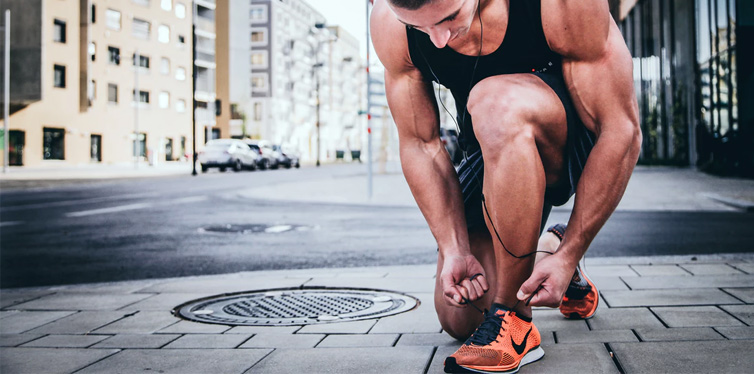 Find Your Motivation and Set Goals
Achieving and maintaining the dream body takes time and commitment – it doesn't happen overnight. So, as with anything that requires long-term effort, you need to find what motivates you to keep going even on the days when you really don't feel like it. Do you have an important even coming up, like your wedding, that you want to be in shape for? Or a holiday? Find your reason to get in shape and lose fat, and you'll find it easier to put the effort in when necessary. If you're struggling, having someone hold you accountable is a great way to get started. Hire a personal trainer who can encourage you and help you to train or work out with a friend, so you have someone pushing you to go to the gym on those days when you'd sooner stay on the couch.
Your goals should be specific, such as wanting to lift a certain amount or being able to do 50 pull-ups. Setting targeted goals gives you something more concrete to work towards and helps you to track your progress more clearly. As you achieve each goal you can move on to setting more challenging ones to work towards to keep things fresh and interesting.
Never Skip Breakfast…
There's a reason why breakfast is the most important meal of the day, but that adage is especially true when it comes to building muscle. Whether it's a bowl of overnight oats or eggs on rye bread, a proper breakfast packed with nutrients and protein is essential. Researchers and the University of Bath discovered that spending that extra 10 minutes in bed instead of getting up to a decent breakfast eats into your weight loss potential, whereas eating breakfast actually kickstarts your metabolism to the sum of an extra 442 calories burned each day. And if you go for a black coffee over your usual latte, you'll burn those calories 11 percent faster too.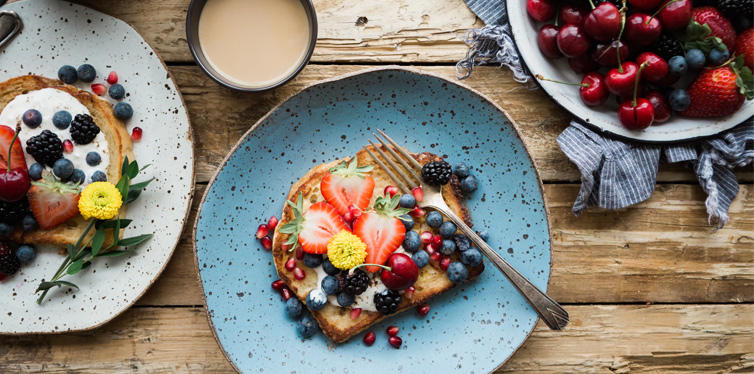 …But Do Skip The Rest Days
Anyone who's even given a passing glance to a fitness regime before will know that rest days are supposed to be tantamount to success, but we're here to tell you otherwise. Skipping rest days doesn't mean you're in for constant strenuous exercise, but some form of activity should be on your agenda every day in order to maintain the habit of exercising. It not only helps with habit forming, but it also increases your total calorie expenditure and helps to promote the release of hormones that help you recover when you do hit the gym hard. In between the heavy deadlift sessions, treadmill and boxing training, you should be factoring in something a bit milder such as hot yoga or swimming.
Put Protein First
Protein is every bit as important as you think in terms of working out, as it aids fat loss and muscle development. Protein has a high thermic effect and around 25 to 30% of its energy is utilised in its metabolisation. What this means is that you burn more calories digesting high protein foods than other nutrients, which helps you to lose weight. It's also more satiating so it helps in making diets more maintainable. A great way to get in extra protein after workouts is to invest in a protein shaker and a good quality protein powder so you can make up a quick but satisfying drink to keep your energy levels up. Need something even quicker? Good quality protein bars are a great way to get extra protein into your body quickly, with no blender / juicer or cooking skills required.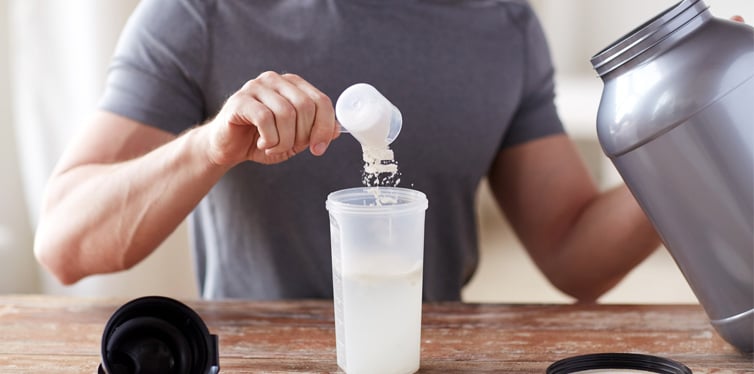 Meal Prep
There's a saying – abs are made in the kitchen. Which is to say that working out all day won't give you the results you want if you're not eating right. The best way to ensure you're getting all the nutrients you need each day is to prepare your meals ahead of time, prepping five to six small but healthy meals for each day. If the food is made up and ready to grab, you're far more likely to eat that instead of getting something less nutritious on the go. Set a day each week, such as Sunday afternoon, to plan your meals for the coming days and batch cook several dishes which you can portion out and place in the fridge or freezer ready for the week ahead. Don't forget to factor in healthy snacks such as almonds or almond butter, hard-boiled eggs, berries, protein bars, apples, rice cakes and sweet potatoes – but these should still be included in your overall calorie restrictions.
Track Your Macros
Losing fat and adding muscle involves a simple equation. You can actually use a formula, such as a macro calculator, to work out the calories you need to maintain your physique based on factors such as your age, weight and how much exercise you're doing. You should try to hit a certain amount of macronutrients each day – carbohydrates, fats and proteins. Around one third of your calories should come from healthy fats, 2.5kg of your bodyweight should come from protein and the remainder should be from carbs. There are apps you can download to your phone to help you keep track of what you're consuming and how your macros average out
Benefit From Teamwork
On a subconscious level, we mimic the behaviours of those around us. It's known as the chameleon effect and its why working out in groups helps us follow a fitness or diet plan. In a similar way to having someone hold you accountable, surrounding yourself with friends who support your new lifestyle habits and goals will help you stay on track. One way to do this is to join a sports team to help boost your spirits and get some extra cardio in in a fun way.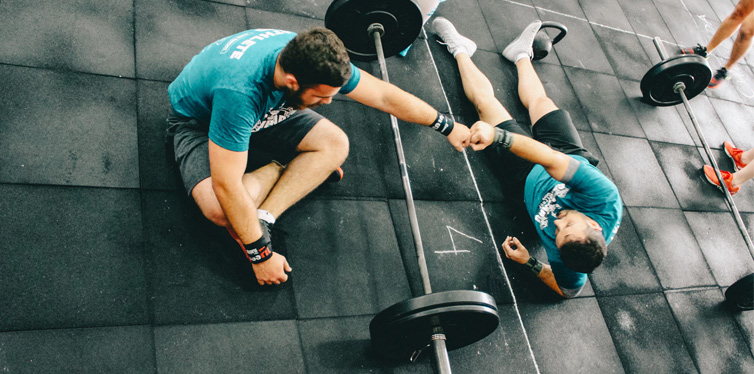 Lift Heavy Weights
Dumbbell exercises such as bicep curls may be useful in increasing muscle in the short term, but for long-term gains you need to be opting for heavy, compound lifts like the squat rack, bench presses and deadlifts. Evidence shows that lifting heavier weights builds more muscle fibres, so you'll increase size and muscle mass as well as burning more calories after your workout – a win-win situation.
Set an Alarm Clock
It's fine in theory to plan to work out, but in practice is often takes a bit more of a reminder. Having an alarm clock to remind you to workout, eat your next meal and when you need to down that protein shake will keep you on track a lot more easily, and will stop you from getting side-tracked by everyday tasks. Alarm clocks are there to act as an accountability partner when you don't have someone reminding you.
Prepare Your Gym Bag
As with many of the habits in this list, preparation is the key to success and having your kit ready to go is no exception. Pre-prepared gym bags, stocked with everything you need, make it much easier to hit the gym before or after work, so you don't have an excuse to skip a workout.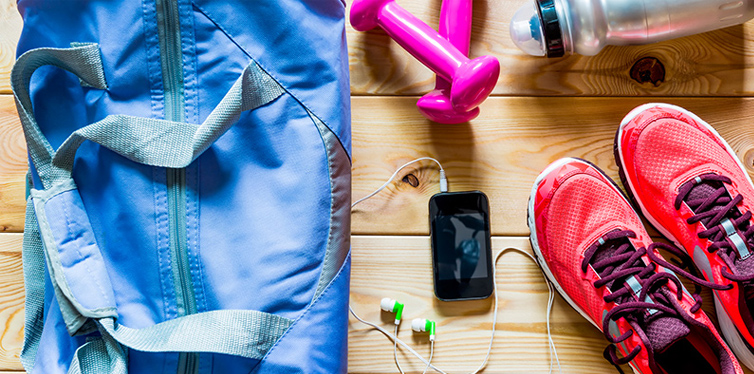 Increase Your Water Intake
Water is a great way to help you feel fuller without having to consume more calories and it also helps to boost your metabolism. A good tip is to weigh yourself before a session and afterwards towel dry before you weigh yourself again. Figure out how much weight you've lost and then replace it with double in water weight, to ensure you stay fully hydrated. For example, if you weighed 75kg before and 74.5kg afterwards, having drunk 500ml of water during your gym session, your overall loss is 1kg and you need to replace with two litres of water. Another added bonus of downing pints of h2o instead of beer is that it helps to reduce the risk of your testosterone levels dropping.
Don't Forget About Cardio
You may think that it needs to be purely weight sessions in the gym, but cardio plays an important part in achieving a ripped body. It doesn't have to be in the gym though – you can walk to work, walk your dog, play with the kids or spend your lunchbreak walking around instead of sitting in the canteen. And if you want to up your game even further, there are plenty of running shoes for men on the market to help provide support for those evening runs. Not only does cardio help to burn vital calories but it also builds endurance – a must for staying on track.
Enjoy a Pre-workout Meal
Pre-workout meals help to support your energy and focus and build endurance in the gym. You can't expect your body to perform at its best if there's nothing in the tank, so it's essential that you provide it with something to run on. Around two to three hours before your workout, consume a meal of around 400 to 500 calories which has plenty of protein and complex low GI carbs, then around 30 minutes pre-workout you should consume a light meal of simple carbohydrates and a little bit of protein.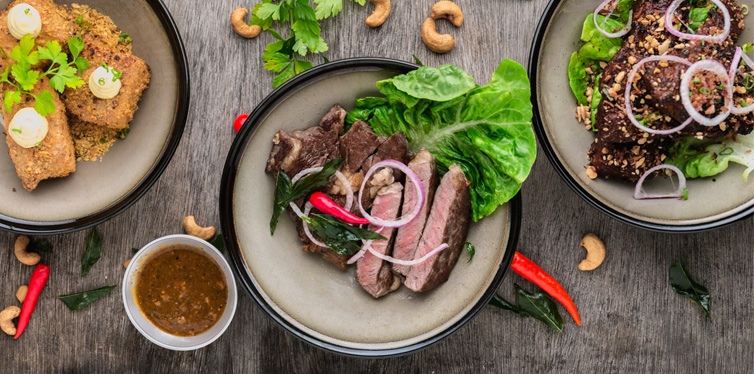 Pick Up The Battle Rope
Iron isn't the only way to build muscle – one of the best full-body workouts you can do actually requires ditching the weights and picking up some ropes. Battle ropes are great for helping you to pack on lean mass, as they work each arm independently which helps to eliminate strength imbalances and sculpts the muscles in your back, chest, legs and core, as well as toning the arms. It's also a fantastic cardio workout that you'll really see the benefits from.
Up Your Weight Lifting Game
Weight lifting is a great way to build muscle, but you can maximise your potential even further by wearing a weight lifting belt. It won't magically make you capable of lifting heavier weights, but what it does do is provide a cue to your torso to squeeze and tighten your core muscles harder when you're lifting really heavy weights. In the same way that you can tense your biceps more when you're curling weights than when you're lifting a soup can, your core muscles will tense more when they have something to push up against, which is where the belt comes in. Weight lifting belts only need to be worn when there's exertion on your spine though, such as with barbell lifts like deadlifts or squats.
Get Enough Sleep
Research studies have shown that poor sleep has been linked to increases in the hormone ghrelin, which stimulates hunger, and lowers the amount of leptin – low levels of which signal a need in the body to eat more. So, if you're tired all the time, all the willpower in the world isn't going to stop you from reaching for the snacks and undoing all your hard work. In fact, there's evidence to suggest that weight gain increased by up to 30% if you drop to below five hours of sleep. Shut down the laptop and all other technology an hour before bed to help your body adjust into sleep mode and be sure to get at least seven hours of restful sleep.
Supplement Anything You're Lacking
If there's anything you're missing out on in your meals, supplements can be a convenient and easy way to fill in the gaps. From multivitamins to protein powders, amino acids and creatine, these nutrients can help you to build muscle and improve your overall health. Just make sure that you take them on a consistent and long-term basis to really see the results.