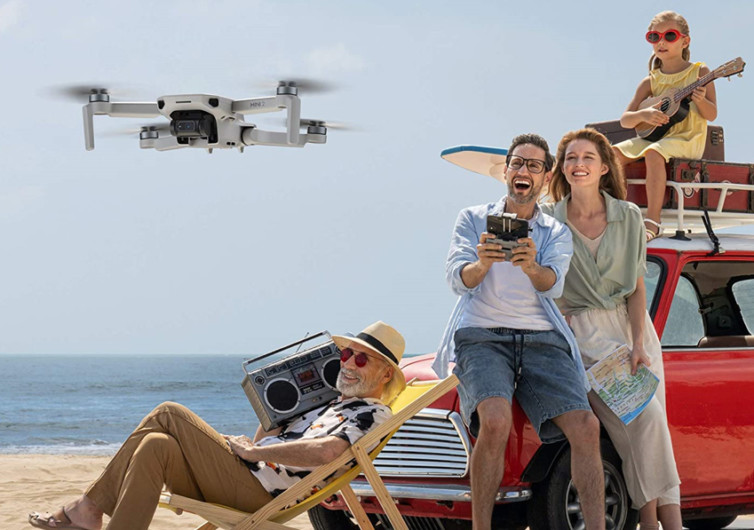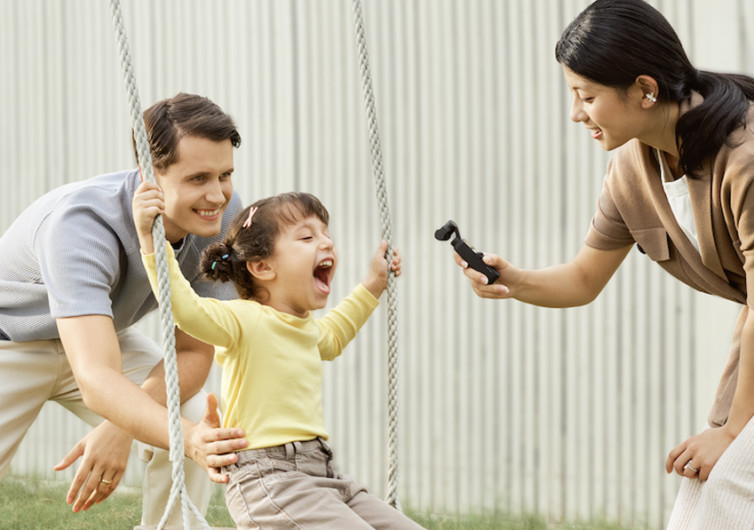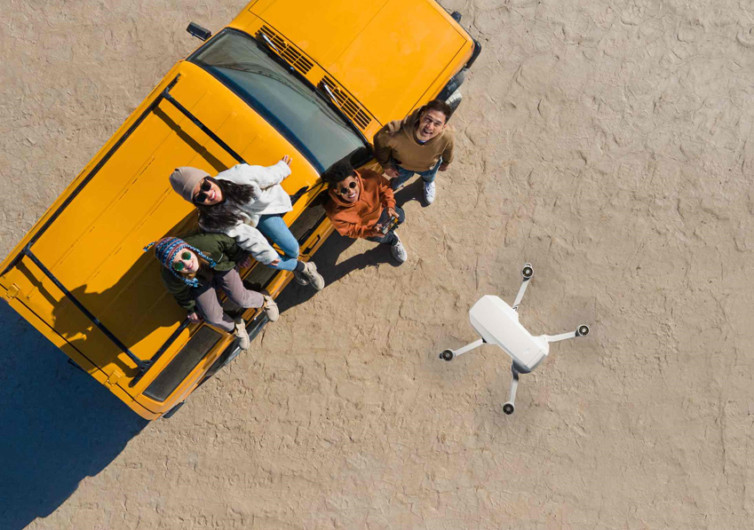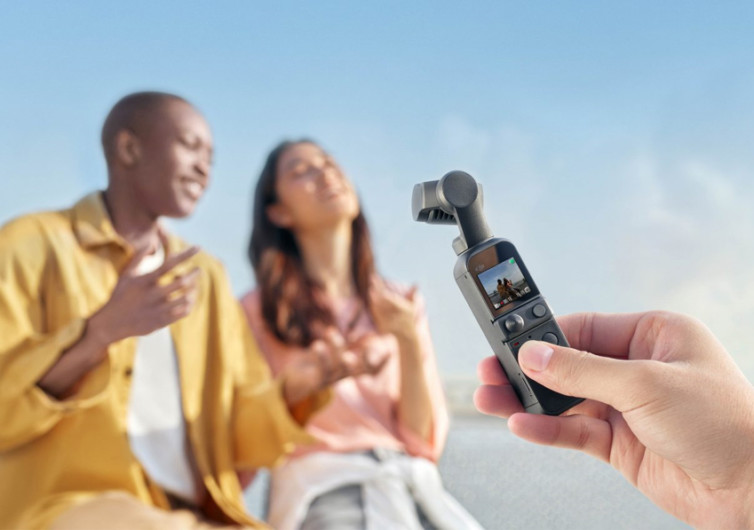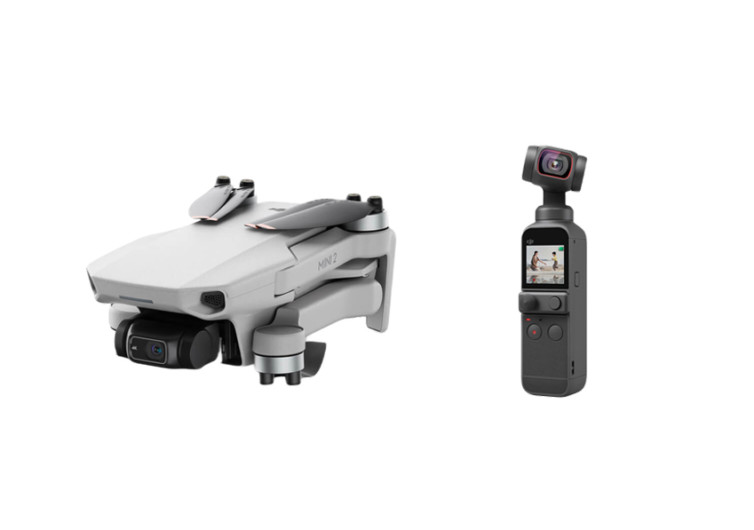 GearHungry may earn a small commission from affiliate links in this article.
Learn more
DJI Mini 2 Drone + Pocket 2 Action Cam – Shoot to Thrill
In the land of high-tech hobbyism, tech company Da-Jiang Innovations ('DJI') is the preferred supplier of unmanned aerial photography and videography equipment. Such has been the case since 2013. It was in 2015 that the company broke into hands-on imaging with the Osmo, a smartphone-pairable action camera. And this season, DJI's thrown down two gauntlets with the release of their most optically advanced, motion-capable devices yet: the Mini 2 drone and the Pocket 2 action camera. Let's meet 'em.
The Mini 2 is DJI's second-generation foldable 4K drone that comes with OcuSync 2.0 video transmission (10-km delivery), 3-axis gimbal, level 5 wind resistance (up to 24-mph gusts) 31-min flight time, and weighs 8.8 ounces. By industry standards, the price tag — $449 — is pretty damn light and competitive, too.
The Pocket 2 by DJI is a handheld 4K action camera that features a built-in 3-axis gimbal, ActiveTrack 3.0 smart tracking, and weighs just over 4 ounces. The smooth-action camera dropped in October, priced at $349 for the Pocket 2 basics or $499 for the Creator Combo.
But that's not all DJI wrote for this little camcorder — expect the reputable drone-maker to release some rad, modular add-ons in the Pocket 2's wake.
Both DJI devices pack punches in the imaging department and boast exceptional gimbal integration. The motor-stabilized 3-axis gimbal pans (-230° to +70°), tilts (-100° to +50°), and rolls (±45°) for exceptionally smooth, easily trained, complex rendering.
Wanna pop the hoods on these bad boys? C'mon.
Mini 2 Aerial Imaging
The Mini 2 drone brandishes a 12-MP camera with 4K/30 fps video capture and 4x zoom capability. Not bad for an airborne whizzy machine.
But here's what we dig the most: the Mini 2's aerial movement modes. Choose from five movement profiles (Dronie, Helix, Rocket, Circle, Boomerang), which combine varying perspectives, trajectories, and recording speeds for cinematic results. Utilize the wide-angle, 180°, or sphere panorama options to bring in or blow out that frame. It's a drone ready to take on the silver screen.
Mini 2 Smart Features
Drones aren't known for being particularly streamlined, and they're not hard to lose. Or at least, that used to be the case. Not so with the Mini 2, which DJI optimized for industry-leading UE and intelligence programming. The result is a slick little drone with Smart Return to Home, automatic takeoff, and painstakingly precise remote-controlled hovering.
Pocket 2 Handheld Imaging
The Pocket 2 features three still photo modes (single shot, countdown, pano), five video modes (video, HDR video, Timelapse, Motionlapse, Hyperlapse), 4K Ultra HD video quality, and, gosh, let's just list 'em out:
1/1.7" CMOS sensor
20-mm F1.8 Lens
64 MP and 16 MP photo modes
Video: 4K/60p, 2.7K/60p, 1080/60p
HDR Video: 2.7K/30p (pending a firmware update)
Zoom: 8x in 64MP mode; 4x lossless in 16 MP mode/1080 p
Panorama: 3 × 3 and 180°
Pocket 2 Modular Redesign
The Pocket 2 is a smaller follow-up to DJI's handheld Osmo Pocket camera. Except this time around, the Pocket 2 comes with a growing quiver of interchangeable modular bases. At present, the Do-It-All handle is the preeminent mod, and it brings with it a tripod base, Bluetooth and WiFi module, speaker audio jack, and wireless mic receiver. The Mini Control Stick mod is a comprehensive joystick for the 3-axis gimbal.
Modular functionality doesn't just blow the standalone camera's potential sky high; it decreases the cost, inconvenience, and waste associated with hardware updates. Unlike similar devices, this puppy isn't glued to some unchangeable, monocoque framework with a shelf life of 1 or 2 years. No, sir. Thanks to its modularity, DJI's Pocket 2 doesn't expire — it evolves.
Pocket 2 Audio Upgrades
Dynamic stereo recording is another laudable improvement over the original Osmo Pocket. With it, the Pocket 2's microphone array intelligently follows the camera lens's direction and pulls audio from the same directional field. So, if you're recording a selfie vlog, the two mics facing you are the ones recording your audio. Zoom in on your visual field and witness the sound field narrow in tandem.
Suppose integrated mics don't do it for you, no sweat. The Pocket 2 accommodates wired and wireless external mics, too.
So, What Else?
A lot. The rest of the specs for DJI's Mini 2 drone and Pocket 2 action camera take up a few pages all on their own (but you really ought to peep them over on DJI's site). We've gotta wrap it up.
But, hey — if content creation is your jam (and boy, do we understand), then this bite-sized jack-of-all-trades duo could well be worth every penny. Hell, we're ordering both.