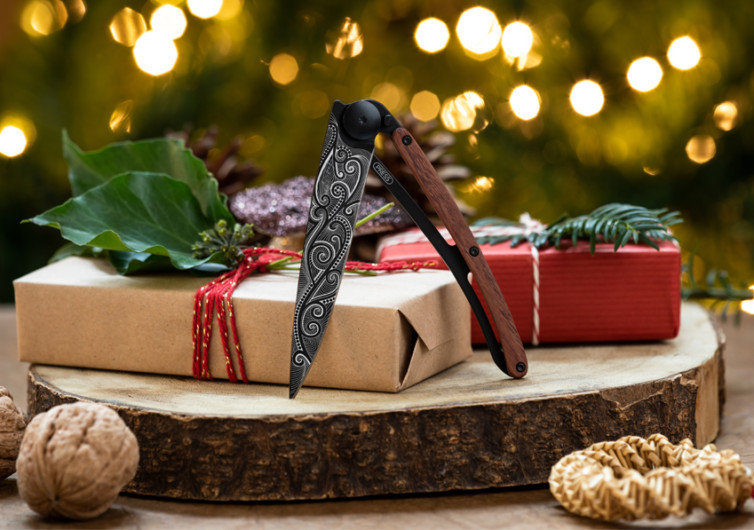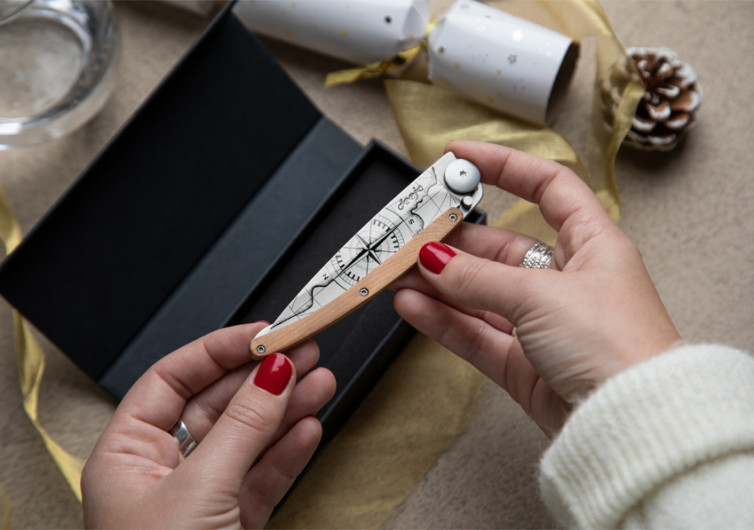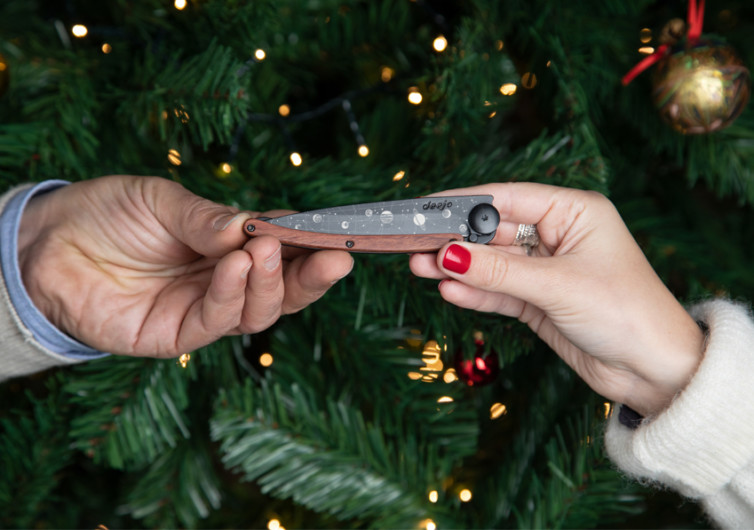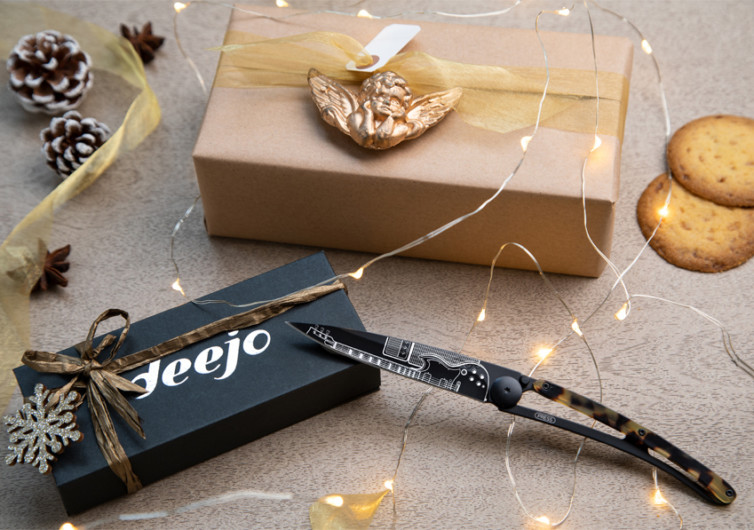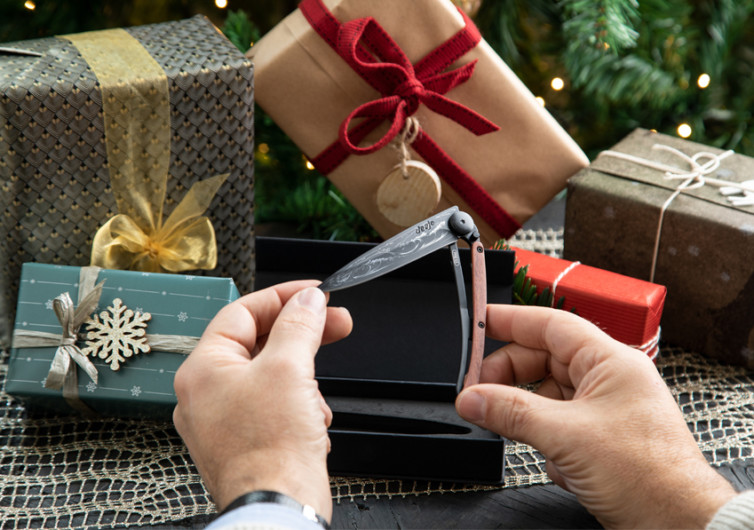 GearHungry may earn a small commission from affiliate links in this article.
Learn more
Deejo – Sleek Pocket Knife Makes a Stylish EDC Gift
The Deejo knife is a modern update of the gentleman's knife. Its open frame and slim build are more pocket-friendly than traditional folding knives, and its aesthetics stand out from those in today's crowded everyday carry field. Add in the customization, and a Deejo is not just a stylized pocket knife; it's a conversation starter.
The French knife maker lets you customize the blade finish by "tattooing" it with a series of laser-cut designs. You also choose the handle scale and personalize the frame with up to 35 characters of text. Now in its 5th year of making customized knives, Deejo introduces new tattoos for its blades each year. That keeps its design options fresh and unique.
Currently, there are more than 60 designs to choose from. They range in theme from natural scenes like a feather, or waves, to art deco or art nouveau carvings, or more like the flash art you'd see in a tattoo parlor, with a pin-up girl, a vintage car, or stylized skull. Four new tattoos arrived in time for Christmas: Lucky cards, chef's tools, a shark, and a nautical-themed corsair.
Given as a holiday gift, a custom Deejo could be a new heirloom, inscribed with a family motto. Or add some words of wisdom to remind the recipient; a phrase that will become associated with a blade that's always there when needed.
A Stylish Blade
Even the most avid knife collector can appreciate this knife's unique aesthetics and find a practical use for it. It's slim enough and light enough to carry anywhere. Overall, it's a simple knife for when you need a sharp edge. You know, everyday scenarios.
There's no fancy spring-loaded mechanism, which makes opening it with one hand easier. In fact, there's not even a thumb stud to help you open it. Like traditional gentlemen's knives, you'll use two hands to open it, or just some good thumb pressure.
Like today's EDC knives, the larger Deejo knife frames include a metal pocket clip. However, it's not until the knife is outside the pocket that it stands out. First, there's that open frame, which shows the blade's entire blank side while closed. On the flashier side, there's a thin handle scale made from wood or composite material. Its shape resembles the look of a barber's razor, but with a pocket clip.
Opening the knife reveals the customized blade, something of a slow reveal intended to create a great first impression. And it has a sturdy liner lock to keep the blade from folding in. Custom messaging can be etched into the bottom of that frame.
The Deejo Is in the Details
Custom Deejo knives come in three lengths, from 7 cm, 9 cm, and 11 cm when closed. Those lengths weigh 15 g, 27 g, and 37 g, respectively. There's no pocket clip on the 7-cm model, which is why it is noticeably lighter than the next size up.
Handle scales come in woods like ebony, juniper, and olive tree, to name a few. Composite handles are available in carbon fiber and tortoiseshell. Finishing options for the stainless steel blade itself include black titanium-coated, natural matte, and traditional mirror. The tattoo designs on the blade will switch from black to silver to stand out on whichever metal finish you choose.
Another standout feature, especially for the holidays, is Deejo's stated 48-hour turnaround time to ship these knives. After they ship, they should make it to U.S. homes within a week.
CHECK PRICE ON MY.DEEJO.COM