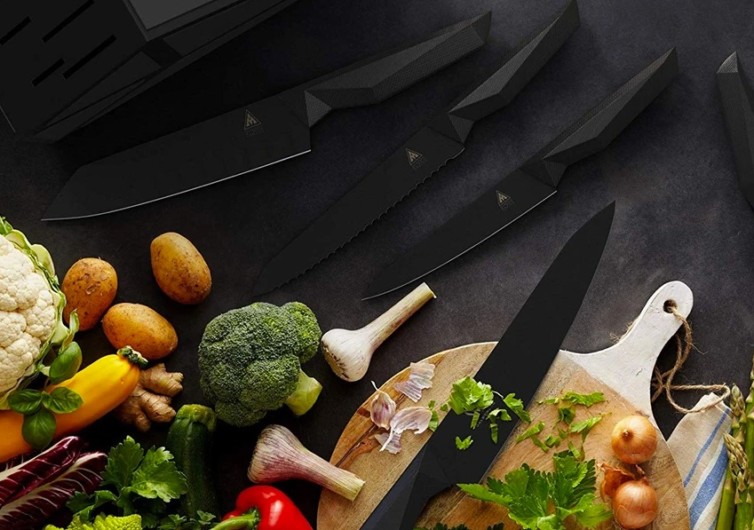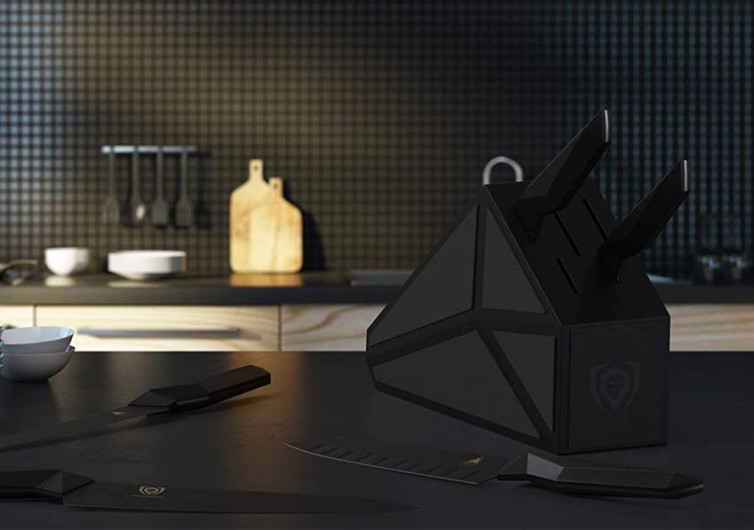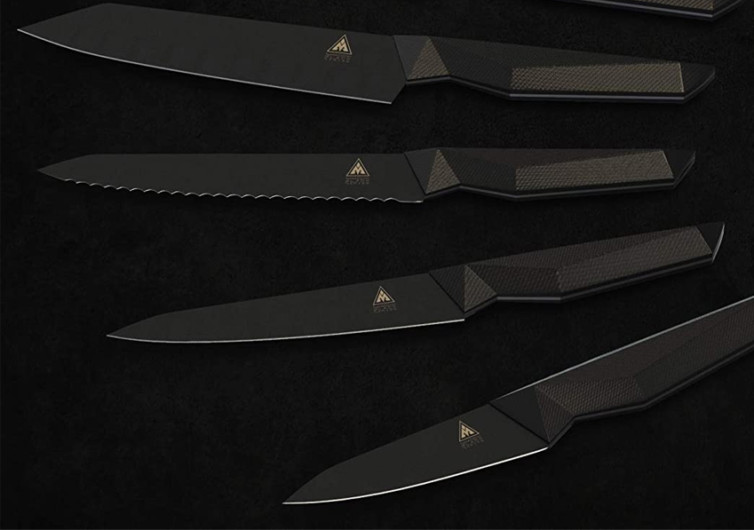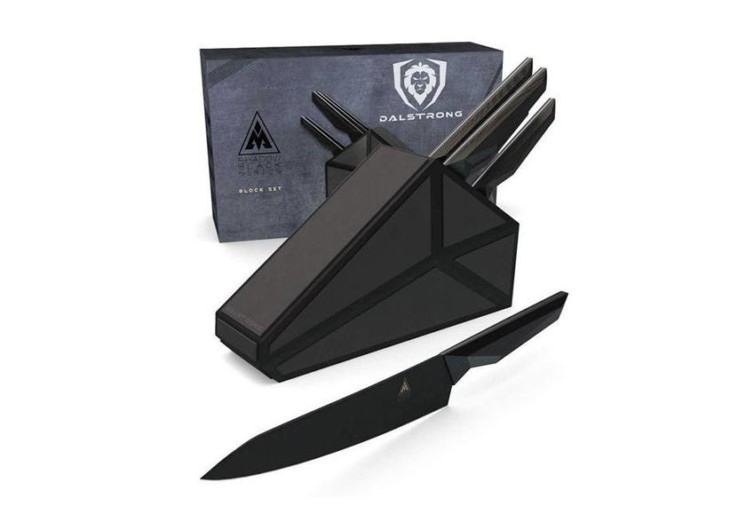 GearHungry may earn a small commission from affiliate links in this article.
Learn more
Dalstrong 5-Piece Knife Block Set – Kitchen Knives With Attitude
Have you ever wanted your kitchen knives to look like they belong on the bridge of a spaceship? A spaceship belonging to the bad guys? The cool bad guys?
Probably not.
Once you get a look at the Shadow Black series from Dalstrong, you might change your mind. These wicked looking kitchen knives are as visually dynamic as they are sharp. They kind of look as if Darth Vader and a chess-playing super-computer designed a chef's knife.
Stealth-Inspired
The F-117 Nighthawk Stealth Fighter inspires the handle geometry. If you ever put together Star Wars model planes as a kid, you probably had a sweet version of this fighter on your bedside table. Now you've got one in your kitchen, and you can use it to slice zucchini.
But it isn't just about looks. A lightly textured, military-grade fiber-resin handle keeps things snug as well. And don't worry about heat, cold, or moisture – it's virtually indestructible.
The blades are high-carbon German steel hardened to 58+ on the Rockwell scale. At that hardness, the blades will hold an edge nicely for ages.
Surprise Your Food
Don't give yourself away by letting stray light reflect off a highly-polished blade; all the knives in this set have a non-reflective titanium-nitride coating. This coating prevents corrosion, keeps food from sticking, and allows you to sneak up on unsuspecting loaves of bread.
Each blade features high-heat treatment followed by a nitrogen deep-freeze for a perfect middle-ground between hardness and dexterity. These knives have a full-tang design, meaning the metal of the blade extends through the handle. The upshot is you won't break these knives as you bear down on roasts, steaks, or any passing wildebeest. A hand-polished spine and tapered bolster add a dash of elegance to the design, while the handle further boasts a groove to rest your middle-finger while slicing and dicing.
The Buy
$300 is pretty reasonable for a high-end set of knives, particularly a high-end knife set that looks like it might be about to embark on a midnight strafing. Dalstrong caters to professional chefs and home cooks alike, so these knives aren't a gimmick. They are wicked-sharp, wicked-looking, and wickedly well-designed. You can get yours from the Dalstrong website, which ships free in the USA.
Your potatoes will never see you coming, no matter how many eyes they have.