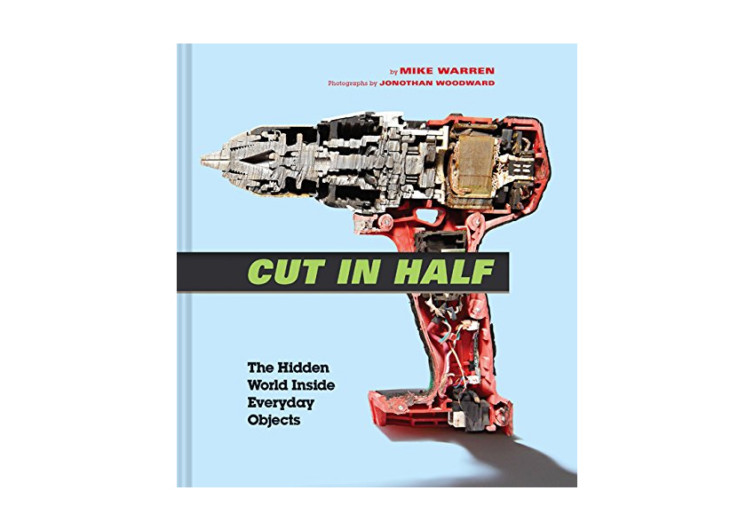 GearHungry may earn a small commission from affiliate links in this article.
Learn more
Cut In Half Book
Written by Mike Warren with fascinating images by Jonathan Woodward, Cut in Half: The Hidden World Inside Everyday Objects is your Star Trek Enterprise in exploring the inner workings of the universe of objects that make up our everyday lives. It's an entirely different take, a journey into many of the things that most of us take for granted.
Cut in Half is like having Superman's X-ray vision, allowing us to see the insides of common objects. Laptops are dissected in half to give you a glimpse of what makes this small book-sized computer work wonders in making our lives easier. The ordinary vacuum cleaner complete with its chamber, filtration system, and the powerful motor that draws dust particles from the floor has been opened in half to give us a glimpse of what's inside.
These and dozens more everyday objects are featured in this illustrated book that should make for an interesting addition to your coffee table or your growing collection of oddities and unusual literature.
What is quite remarkable is that Woodward never used any digital wizardry to create these cutouts. Instead, he relied on a waterjet cutter at extremely high pressure to slice through the thickest slabs of steel plate like hot knife through butter. One cannot help but look in awe at the steadiness of the hands of these creators as well as their attention to detail especially in capturing the true essences of the cut-half.
Mike Warren is clearly not new to such things, having a YouTube channel that features such items cut in half. One can say that Cut in Half is the hardbound book version of his YouTube channel, although the number of featured items is definitely less. From boxing gloves to boom boxes, seashells to oil filters, and a whole lot more, Warren's creative way of using words entices readers to become fully knowledgeable about mundane things while also getting entertained in the process.
You'll never look at your average everyday things the same way again once you've read the Cut in Half. It's your ticket to the insides of your favorite things in life. One of the best books for men.