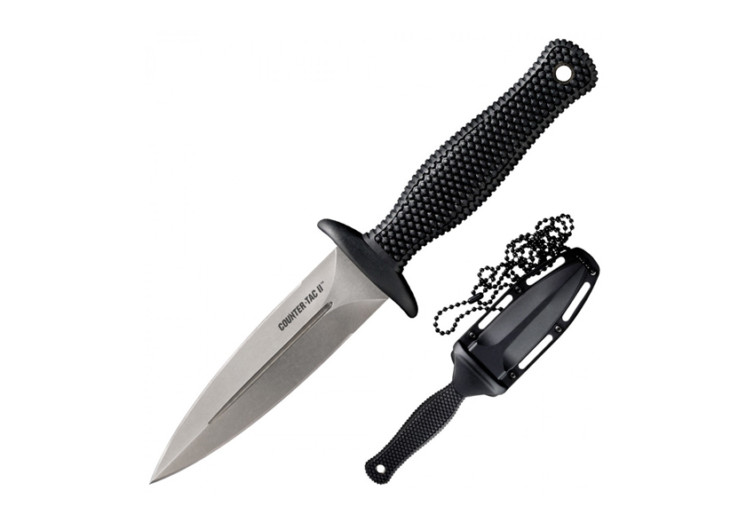 GearHungry may earn a small commission from affiliate links in this article.
Learn more
Cold Steel Counter Tac II Fixed Blade
There are people who prefer the kind of security that boot knives provide. If you are one of them, then Cold Steel's Counter TAC 2 should be a good choice. The knife comes with the same level of craftsmanship that Cold Steel has been known for through the years. And while the Counter TAC 2 looks elegant, it never fails in its function.
The Counter TAC 2 comes with a 4 mm-thick, 3-3/8 inch blade made of Japanese AUS 8A stainless steel. This is a material that is as tough and durable as any other material on the market. Cold Steel also gave the blade a stone washed finish to make it more pleasing to look at.
The blade features a very odd but functional design. One side of the blade comes with a convex surface where the cutting and slashing functions of the knife come into play. On the other side of the Counter TAC 2 is a flat surface. For some, this might be odd. It does serve a purpose, however. The flat surface allows the knife to sit in the sheath or on any surface in a more stable manner.
Cold Steel says that the design gives more clearance. It also helps prevent the knife from getting caught on branches, objects, and other things. The design also minimizes rubbing on the skin. Whether you believe Cold Steel's explanations or not, the Counter TAC 2 remains a viable option for those who need something reliable to defend themselves with.
The handle of the Counter TAC 2 features the Kray-Ex technology. It ensures optimum grip, making you feel more confident when using the boot knife.
The Counter TAC 2 is a good boot knife. It serves its function well despite some people questioning some of the boot knife's design attributes.
CHECK PRICE ON coldsteel.com