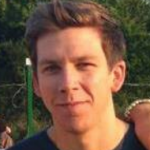 Best Ways To Clean Your Camping Tent
When it comes to cleaning your camping tent, an adage that seems apt for the situation is 'no pains, no gains'. Given that the tent is your home away from home all through the camping trip, keeping it clean should be your priority, no matter how arduous the task might be.
Imagine your disappointment when you open the closet to check your tent and camping gear for an upcoming trip in the wilderness and all that you are greeted with a strong musty smell. Pull out your tent and much of the sweet nostalgia of your last camping trip is replaced with disgust when you observe bottle-green patches of mold, mildew and fungus on the fabric. If you regard cleaning to be an anti-climax after a particularly enjoyable camping trip, this is an inevitable consequence that you must be prepared to face.
Tedious though it might be to clean your camping tent, it is an exercise that comes with several long-term benefits. To begin with, it would add a lot many years to your outdoor home, and secondly, it would save you the unpleasantness of handling a dirty tent before the next camping trip. Cleaning your camping tent like a pro is definitely not rocket science, and all you need to do is follow these step-by-step guidelines.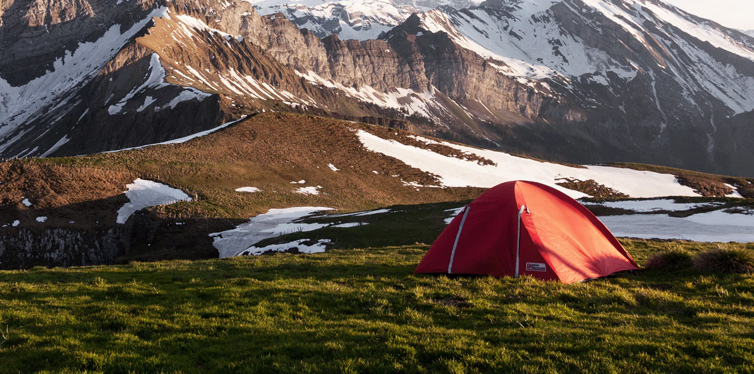 Preliminary Measures
Having spent some time in the wilderness assuming that it is time to pack up and go home, following are some best practices that you must observe before you take down this temporary abode –
Clear the floor of the tent off stones, pebbles, debris or any other outdoor element which might have tagged within inadvertently;

Wipe off the dirt on the fabric with a wet cloth;

If the tent is wet due to rain or morning dew, then let it dry completely before you start rolling it up;
Suppose you have not had the time to carry out these steps at the camping site, then the next best alternative is to set up the tent once again in your backyard, roll up your sleeves and get ready to embark on the cleaning task.
Gather Tools
By the time your camping tent is drying, you can start gathering the right tools that would assist you in the task.
Tools that are ideal for cleaning a tent are scrubbing pad which is non-abrasive, a soft brush, a bucket full of cold water and soap. What you must avoid including in your cleaning kit are brushes having hard bristles, scented soaps and dishwashing liquid, bleach and products that require pre-soaking. Hard bristles tend to damage the fabric of the tent and scented soaps emanate a fragrance that might attract unwanted visitors, not all of which might be friendly.
Scrub with Soap
Next, fill cold water into the bucket and add soap till you achieve a mildly soapy solution. Dip your scrubbing pad into this and start scrubbing surfaces within the ten from the top downward. Delicate that the fabric is, you must be gentle while scrubbing as even the slightest abrasion could cause damage. You need to be particularly careful while scrubbing corners, zips and the fly.
After you have finished with the interior, scrub the exterior following the same procedure, namely gentle scrubbing and exercising caution with certain parts.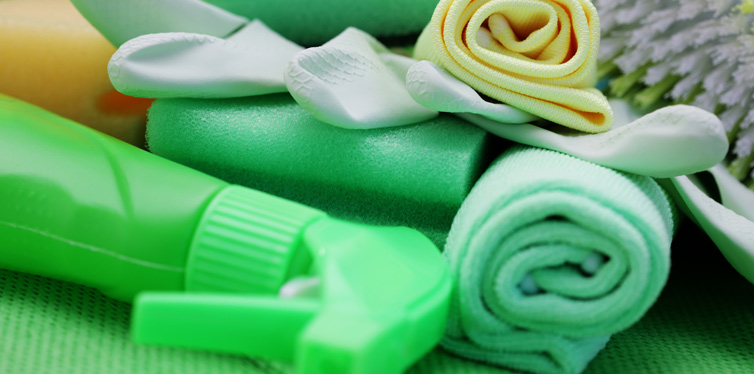 Take Note of Stains
As you scrub the interior and exterior of the camping tent, you are bound to encounter stains. What you must remember is that these could have been caused by a variety of sources ranging from food droppings to pine sap and mud. Hence, before attempting to scrub them out you must first identify the source and then determine which cleaning agent would be most effective in removing the stain while leaving the fabric undamaged.
Mud stains and food stains are best handled by using a brush with soft bristles and this goes for many of the stains on the exterior of the tent too. However, if it is pine sap you are dealing with, the treatment needs to be a little different. Dabbing a bit of mineral oil is the best way to remove a pine-sap stain, but in case you do not have it handy, some alternatives you can use are nail-polish remover, alcohol and adhesive remover.
Just dab a bit of the liquid on to the pine-sap stain and rinse it out with warm water after a few minutes.
Get Rid of Mold, Mildew and Fungus
The problem with mold, mildew and fungus is that these may not be immediately visible, despite flourishing on your camping tent's fabric. So, although you may not be able to spot any patches or colonies, rely on your sense of smell to reveal their presence. Even a bit of musty odor should alert you to the presence of mold and do not waste a minute in getting rid of it.
Readymade cleaning solutions notwithstanding, there are home remedies that are just as effective in eliminating these micro-organisms. A solution of white vinegar and water is regarded as being particularly effective in removing mold while that of salt and lemon juice in hot water is a universal disinfectant.
Is The Polyurethane Causing Odor?
Sometimes the polyurethane coating of the tent breaks down and emits an odor which is reminiscent of vomit or as though someone might have urinated within the tent. This is due to a chemical reaction and the only solution is to remove the old coating completely and replace it with a new one.
DIY method of going about this task entails soaking your camping tent in a bathtub of warm water and soap for about 3-4 hours, scrubbing it gently, rinsing in normal water and applying a fresh coat. After this you would need to let your tent dry thoroughly over the entire next day before wrapping it up.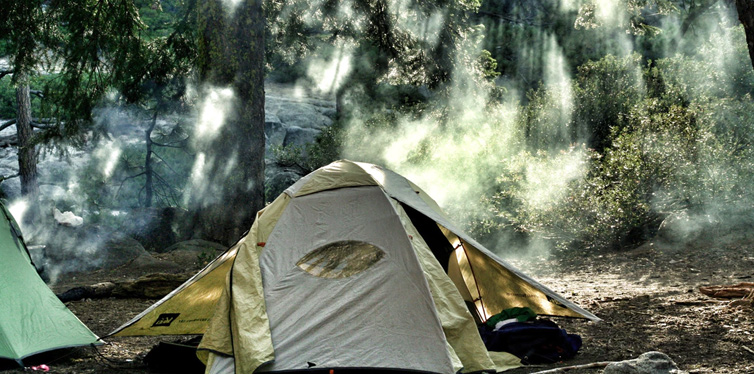 Final Word
While it might be tempting to just dump your camping tent in the washing machine and let it undergo a complete cycle, often what comes out is a tattered, torn and totally damaged version. Rather you can simply follow a few basic procedures like cleaning it before rolling it up, ensuring that it is completely dry prior to being stored and avoid cramming it into a smaller bag for more long-lasting results.
Since the objective of this cleaning exercise is to ensure that everything is in prime condition for your next camping trip, it is worth undergoing the pains to be able to enjoy the gains later on.