GearHungry may earn a small commission from affiliate links in this article.
Learn more
Carry A Multitool Or Knife
The most organized folks will never leave their homes without the comfort of a pocket knife or a multi tool, with good cause. The reasons to carry a multitool differ from person to person, but at the end of the day, it all comes down to the efficacy of solving a problem. During the course of the day, you may find yourself facing a particular predicament, and if you had a multitool or pocket knife handy, the imminent issue will be resolved in little to no time.
In fact, multitools are best referred to as a do-it-yourself solution for a multitude of everyday tasks. It's a liberating feeling knowing that all those pesky DIY burdens will be nothing short of victorious once resolved. Continue reading to get the 10 most common reasons to carry a knife or a multitool.
1. Makes your Daily Job Easier
Your day can be made a whole lot easier if you equip yourself with a multitool or a knife. The frequency at which minor needs arise can be amazing. Those needs might come in the form of peeling open an envelope or UPS parcel or even slicing up an apple meant for a quick snack at work. Such tools offer a level of self-reliance and efficiency for better concentration on the more significant aspects of your daily activities.
One little secret about carrying a multitool or pocket knife is that you may be surprised how often you find yourself using it until you have within easy reach. You may then begin to wonder how you got along for so long without it.
2. Self Sufficiency Will Always be in Style
They say vulnerability is only a byproduct of civilization, though it is never a given; we all tend to have a healthy dose of respect for that dude or gal who can easily whip out the needed tool for an imminent task. Succinctly, people should always show readiness to properly adapt to any given situation on the fly. You just need to be prepared for when a knife or multitool is needed to get you through something at random.
You might find yourself fixing a slack battery wire on your beat-up pickup truck, cutting a box open at work or even cutting a piece of chord you didn't expect will be needed. You will always be one step ahead when you are self-sufficient.
3. Clipping Coupons
If you are an avid coupon collector, a multitool can come in handy for clipping coupons; for example, the Leatherman Charge has a pair of scissors that can cut a straight line on paper. The scissors may not be the most capable of the entire tools, but when it comes to clipping coupons, they work just fine.
4. You Feel Safer
Paranoia is not a feeling to endorse but self-sufficiency has full support as it has its own way of dissuading nonsense before it starts. However, you should always have it at the back of your mind that it is not a weapon but a tool – and more often than not, that tool gives you that feeling being of in charge.
5. Replacement of Batteries in a Toy
When it is time to change the batteries in your children's toys, you will just find yourself reaching out for the nearest multitool. A screwdriver or a flat blade can come in handy here or at the minimum, a Philips screwdriver can suffice.
6. Remove a Splinter
It really sucks to have a splinter stuck in your skin, but not being able to get them out sucks even more. Under an ideal situation, when you find yourself at home, you will have access to a safety pin or some tweezers in your medicine cabinet to get the splinter out. Worst case scenario is that you don't have anything at all and you will just have to pass through the agony. But wait a minute, there might actually be an alternative and it is called the multi-tool way.
Many of the modern multi tools actually come equipped with tweezers, especially the Swiss Army Knife models; but it is very unlikely to see tweezers in the traditional style of multitools.  The only option you have here is to work out the splinters using the fine tip of the available knife blade. Majority of the knife blades in multi tools come with a thin blade design which can come in handy.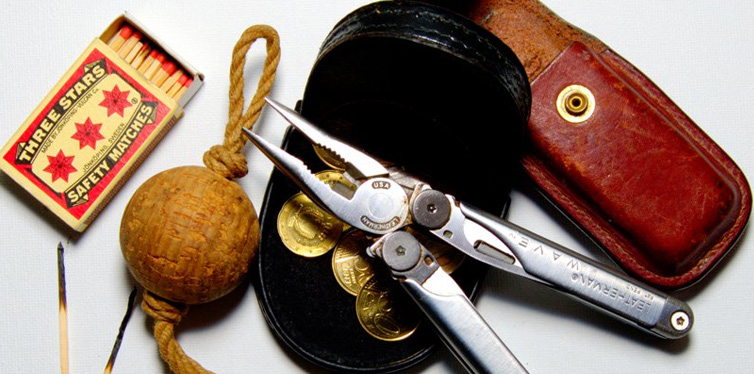 7. Open Paint Can
When there is the need to pry a can of paint open, the flat blade screwdriver in your multitool is definitely the best tool for this job and can cut the seal open in a twinkle of an eye. Apart from using it as a small prybar, it has also been used effectively as a screw.
8. Tighten a Loose Dresser Drawer Handle
The flat blade screwdriver will come in handy in this situation, even if what you have is a Phillips screw; your multitools got you covered, whenever the nuts and bolts of your dresser drawer handle comes loose. Just whip out either of the tools and get it fixed in no time at all.
9. Make a Belt Fit Better
When you need to add another notch to your belt, once again the multitool with an awl comes in, unless you are the type that keeps a leather punch handy. Not all multitools come with an awl but you are better off with the ones that have it as it becomes very useful to add a notch to your belt when you lose or gain some weight. Despite the situation you find yourself, it feels good just to be able to punch some holes in nylon, leather or just about anything that requires some form of modification or the other. An awl will come to your aid when the need arises.
10. Repair a Broken or Bent Zipper Pull
A faulty zipper is a situation that happens to everyone at some point and it could occur on your best jacket or a pair of jeans. Whichever may be the case, you need to apply precision needle pliers and if you happen to have a good quality multitool lying around, you have exactly what you need. The needle nose pliers will get you straightened out in no time at all.