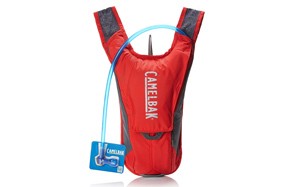 2016 Edition HydroBak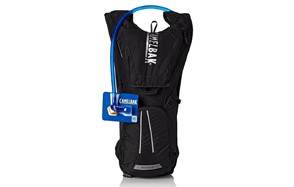 2016 Rogue Edition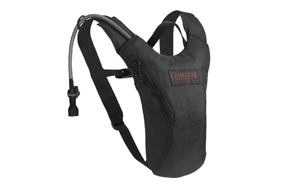 Mil-Tac HydroBak CamelBak Backpack
Hikers, rejoice. The outdoors calls to you every time you're stuck in the office, every weekend you have to spend with the in-laws or helping a friend. You should just be able to get up, get out, and hit the trail without a care in the world. CamelBak backpacks are one of the ways to get there. These aren't going to clear up your schedule, but they are going to minimize all the extra water bottles and junk you end up bringing along, allow for longer hikes, and keep you in top physical form to enjoy life out in the great outdoors. As always, we try to narrow your options down to a select ten. This was supposed to be a hydration pack list, but CamelBak can't be beat, no matter what. In response to their epic products, we glorify them with an entire guide dedicated to their ten best models.
Our Top Picks Of The Best CamelBak Backpacks
1. Mil-Tac HydroBak CamelBak Backpack
See More Reviews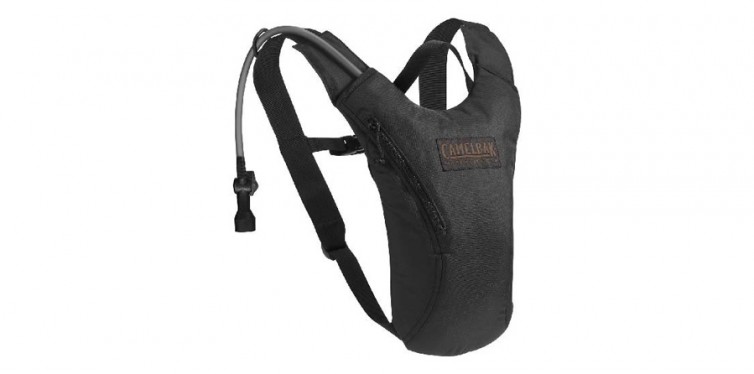 Kicking off this list with a killer pack, we roll in with a stellar price and hundreds of firsthand user accounts. CamelBak poured all of their know-how and years of experience into Mil-Tac HydroBak, giving you durable, comfortable straps that don't weigh down on your shoulders, and a comfortable exterior (and backing) to the bag itself that keep your reservoir nice and tight. Part of the exterior construction includes reflective materials, keeping the sun at bay and your water nice and cooled. Nothing warms up your water reservoir faster than crappy insulation. With a 1.5L capacity and an Amazon-exclusive price, the Mil-Tac is your perfect companion for a weekend away, or a seriously hardcore hike on your off days. You can't avoid one thing; you need hydration. CamelBak is the way to get it, no matter where you are.
Key Features:
1.5L capacity
Includes pocket large enough for multi-tool and ID
Reflects heat to keep water cool
Specification:
Brand

CamelBak

Model

61536

Weight

1.12 ounces
2. Rogue Hydration Pack CamelBak Backpack
See More Reviews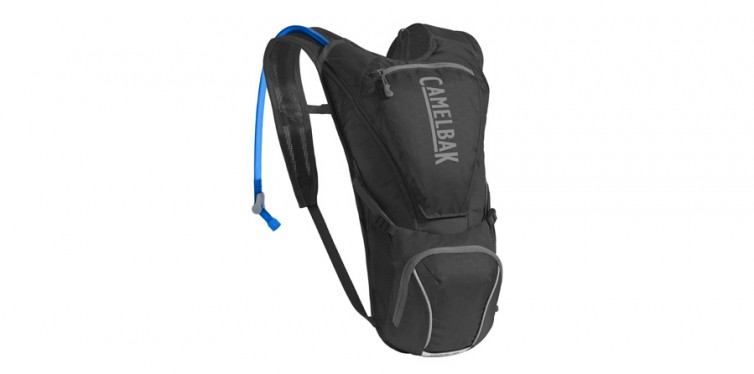 If you're stepping up your game, and therefore stepping up your water consumption out on the trail, you're going to need a higher capacity that suits your body's requirements. Water goes quicker than you think, but with 2.5L on your back, you'll be ready to go wherever the wind decides to take you. CamelBak is all about making these models different, which is why they took the time to add in a magnetic locking Tube Trap™ to help keep your hose where it needs to be. You're able to take in 20% more water per sip than the leading base model, but if that's too much for you, you can simply flick the on or off lever to completely prevent or allow water flow to the hose. You're in control of the show, but the spotlight's on the MVP: Rogue Hydration Pack by CamelBak.
Key Features:
2.5L capacity
Magnetic Tube Trap™ keeps your hose secure and accessible
Overflow compartment for rain cover storage
Specification:
Brand

CamelBak

Model

1120002000

Weight

8.2 ounces
3. Ambush Mil Spec Antidote Camelbak Backpack
See More Reviews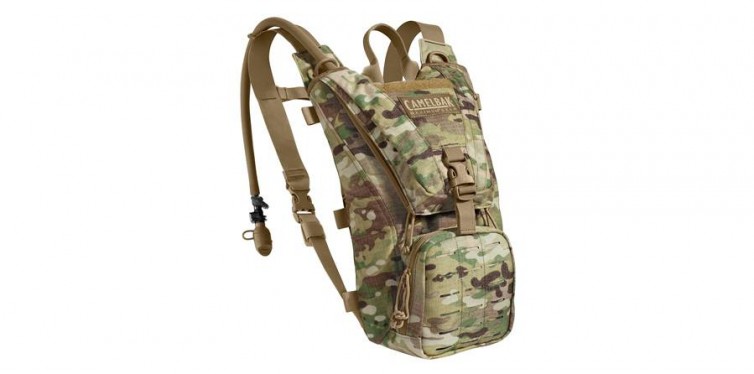 You're not planning on staying, but you want to hit the trail for a few hours and get in some sweat, take in that sunset, and hit the road for another day. You're not going to make it far if you put your body through hell, and don't justly reward it with proper hydration. The Ambush pack comes with 3L of water storage, which works absolute wonders for hardocre mountain bikers, by the way. You get a few styles to choose from, though we enjoyed the woodland camouflage approach. You get comfortable straps, a max weight of 1.60lbs when empty, and the capacity to store enough items to turn this into the only bag you'll need for day trips. You get up to 200 cubic inches of storage (not a ton, but nothing to bat an eye at), which gives you the opportunity to pack the essentials, such as a multi-tool or other survival items. From top to bottom, they really put their best efforts into the Ambush pack.
Key Features:
3L capacity
Ripstop Cordura 5000 fabric construction
Allows additional storage; great day pack
Specification:
Brand

CamelBak

Model

60978-CAP-P

Weight

14.4 ounces
4. M.U.LE. Hydration Pack
See More Reviews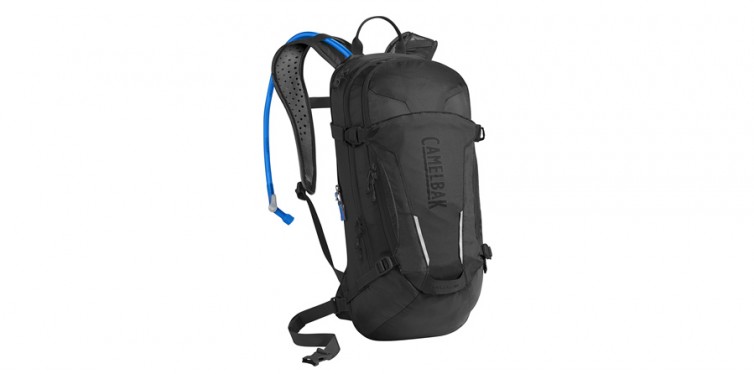 They mean a stylish mule. Really, they do. Kidding aside, there's nothing to joke about when it comes to the M.U.L.E. quality build and optimal performance. Firstly, you get up to 3L of storage in the reservoir, allowing you to hike 'til your heart's content. We seriously enjoyed the exterior hooks to hang mesh bags onto, (we even trusted it to hold our camera bag; it didn't disappoint). Thanks to their Tube Trap™ technology, your hose is going to stay right where it belongs: close to you, and within reach. Nothing is more frustrating than having to spin circles to find that thing again. On top of the conveniences, you also get the peace of mind that comes with an air director, keeping the heat off your back, and your water as cooled as possible. Comfortable, cost effective and lightweight as can be, the M.U.L.E ranks as a damn fine hydration pack for long summer hikes, and a weekend camping out under the stars.
Key Features:
3L capacity
Includes Magnetic Tube Trap™ technology
External hooks provide an opportunity to bring extra items
Specification:
Brand

CamelBak

Model

1115001000

Weight

1.37 pounds
See More Reviews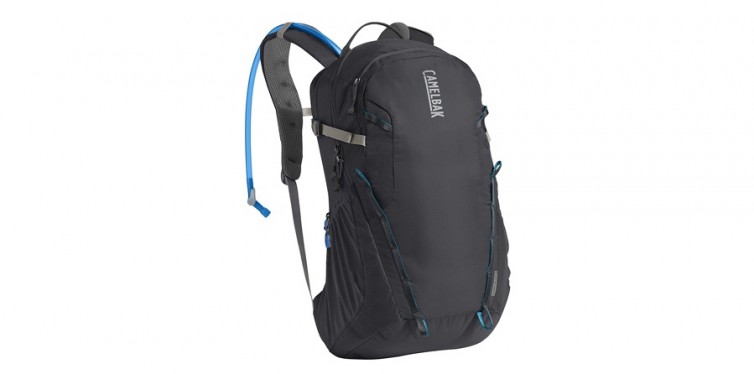 They didn't go with the Cloud Walker name just because it sounded cool; you're actually going to have a far better experience in-transit than you've ever had before with off-brand hydration packs. Thanks to the hip belt, this lightweight pack rests ultra close to your back, making this feel like an extension of your body instead of a burden to bear. We love the on and off lever to cut-off or evoke water flow in the tubing, as well as the mouth piece that gives you 20% more water per sip than other brands. If you don't want to stuff essentials into the pockets of your shorts, we're with you. It's aggravating when you have a bunch of gadgets just banging around, so use the essentials pocket, and the additional side stitch pockets on either side to store your must-haves while you're enjoying Mother Nature.
Key Features:
2.5L capacity
Side stitch pockets for additional storage
Hip belt for maximum stability and minimal strain on your back
Specification:
Brand

CamelBak

Model

1107002000

Weight

1.43 pounds
6. 2016 Classic Hydration Pack
See More Reviews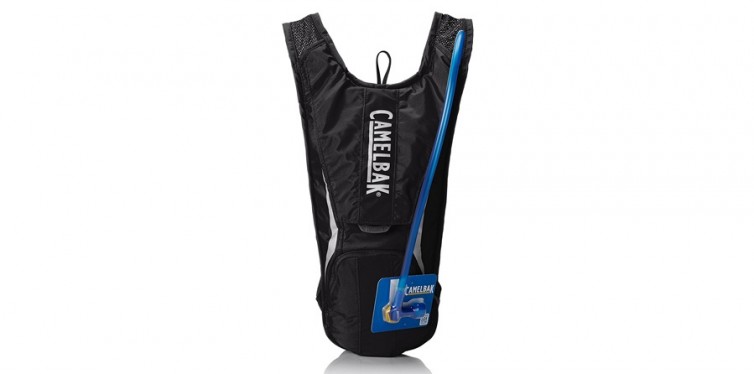 Take a look at it, and tell me it's not a classic design. Their 2016 frontrunner is anything but timid, and comes with a slew of CamelBak features that you're already in love with. Firstly, you get the Crux reservoir and self-sealing bite valve. More water per sip, but only if you want it. This slingshot design is intended to hang over your back, or come up as tight as you want it to. You get plenty of room if you want to throw this on top of another bag; either way, you'll be protected by the reflective construction, which ensures your water isn't going to heat up with the sun's rays. One of the biggest frustrations with standard, veil-thin hydration packs, is that you reach the summit of your hike, and your water's about as warm as you are after spending hours in the hot sun. CamelBak's line, classic 2016 model or not, makes sure that doesn't happen.
Key Features:
2.5L capacity
Self-sealing bite valve
Breathable back to prevent profuse sweating
Specification:
Brand

CamelBak

Model

62176

Weight

12.6 ounces
See More Reviews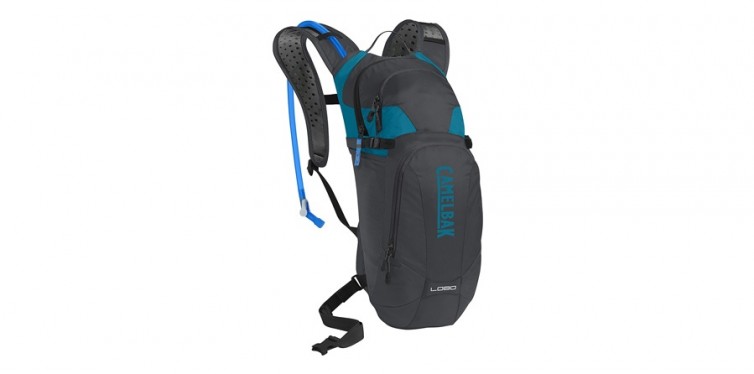 It's not just about function; it's about flair, the two golden rules of men's products here on Gear Hungry. If you're sick of basic black, the Lobo lineup has seven different colors for you to choose from, each a bit more outrageous and fun than the one before it. Functionally, you get a 3L water reservoir, complete with a magnetic Tube Trap™ setup to keep the tube right where it belongs: by your side, accessible when you need it to be. Apart from that, you're also going to get an air director panel to ensure your back isn't turning into a sweat waterfall, keeping it cool and ventilated on the walk up, and the slow wind back down the trail. We love the hip strap, which allows you have this as close to you as possible, which cuts down on any heavy feeling you're going to run into. Price point; prime features; perfection, if we do say so ourselves.
Key Features:
3L capacity
Air director panel for sweat reduction
Overflow storage compartments
Specification:
Brand

CamelBak

Model

1118005000

Weight

1.63 pounds
8. ThermoBak Hydration System
See More Reviews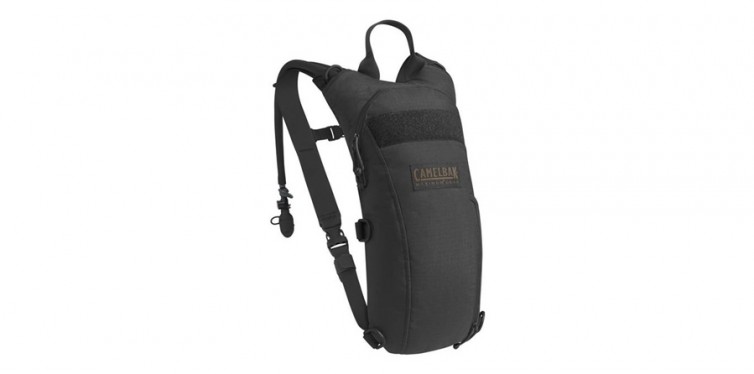 We're sloping down into a few of their more basic models, each providing you with a budget friendly price, and anything but ordinary features. The ThermoBak gives you a 3L capacity for your water reservoir, and three distinct styles to choose from, depending on your preferences. It's crafted of 100% nylon, making the exterior just as easy to clean as your reservoir, and keeping everything nice and chilled, even when the sun's beating down on your back. This pack is super lightweight, and clings tightly to your body to cut down on drag and fatigue. There's not much more to tell, other than the fact that you'll get every single drop of reliability you need out there if you grab this pack.
Key Features:
3L capacity
100% nylon construction
Only weighs 1.50lbs when empty
Specification:
Brand

CamelBak

Model

62326-CAP-P

Weight

1.4 pounds
See More Reviews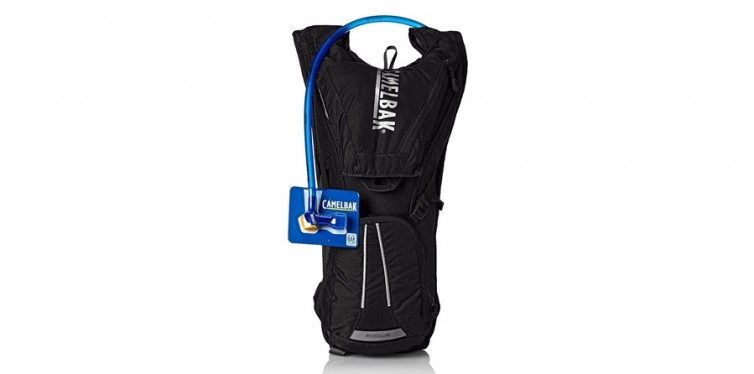 You're not all about the beaten path; you like to go rogue, and head in a different direction. When your budget and your outdoor activity aspirations have difficulty agreeing with one another, you're left in a hard spot. Fortunately, CamelBak sympathizes with this common dilemma, and made an ultra affordable pack with a 2L capacity, great for a long hike or a night out under the stars. The nylon exterior construction keeps this super easy to clean, no matter what muck and mud come your way. CamelBak's custom Crux reservoir system gives you a faster water flow for larger sips, as well as an on and off lever to cut-off the supply completely. 2016 Rogue Edition doesn't even weigh a full pound when empty, so if you're new to the game and want a lightweight companion to start out with, you've just met your match.
Key Features:
2L capacity
100% nylon construction
Includes custom Crux water reservoir
Specification:
Brand

CamelBak

Model

62239

Weight

15 ounces
10. 2016 Edition HydroBak
See More Reviews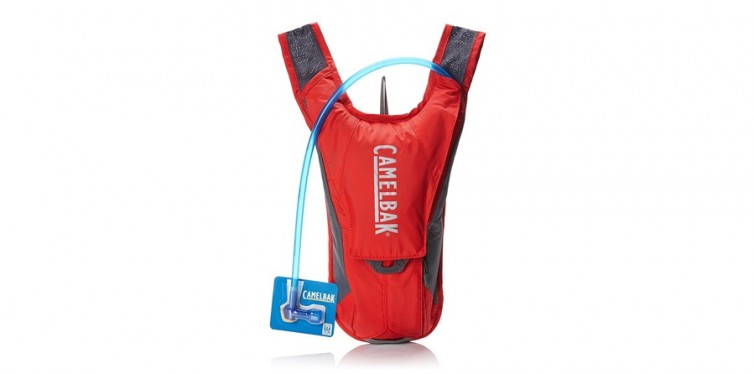 Last but not least, we have the underdog of the CamelBak world- 2016 Edition HydroBak. Holding 1.,5L of liquid, you get enough oomph to keep going through a strenuous hike, without having too much weight on your back if you're in the early days of your hiking lifestyle swap. 210D grade nylon makes up the exterior, which is simple to clean (if you have kids, this thing will come clean from just about any mess), and also comes with a clear tubing system to keep an eye on the cleanliness of the tube, telling you when you need to stop and take a minute to maintain your pack. If you're wondering what makes these tick, or furthermore, what we did to choose these top ten packs, continue reading our comprehensive buying guide. If you loved all these packs like we did, choices can be hard; let's help you narrow it down.
Key Features:
1.5L capacity
210D nylon construction
Clear tubing system to monitor cleanliness
Specification:
Brand

CamelBak

Model

62204

Weight

9 ounces
Buying Guide and FAQ
Q: What is a Hydration Pack?
A: CamelBak makes the best of the best, but if you're not certain exactly what these are, let's break it down a bit, and tell you one of the most common and effective forms of use. Hydration packs are insulated containers on your back, taking the place of your backpack or fitting beside/over them, giving you access to a tubed mouthguard. That has a bite grip (usually) that releases water from the reservoir on your back, keeping you hydrated out on your hike.
To put things into perspective, an active person will shed 0.8 to 1.4 liters of their body's water supply through sweat, during physically straining activities. It all depends on the user's familiarity with the task, the muscles built up beforehand, the temperature outside, and difficulty of the incline. Depending on what you're doing, you'll want a larger pack. If you're planning a six to eight-hour hike, you'll want a 2.5L with a freshwater stream near the end of your trail so you can refuel. People underestimate the amount of water it takes to truly stay hydrated.
Things to Consider When Buying a CamelBak Backpack
Reservoir Size - Hardcore hiker? Perhaps you can bike for eight hours without needing to turn around? You're looking for a much larger reservoir, around 2.0 to 2.5L. Newcomers will do well with a single liter up to 1.5L on their back without adding too much weight and/or strain.
Backpack Size - How bulky is this thing going to appear on your back? It's going to tie-in to the possibility of fatigue (read further down0 and soreness. CamelBak packs are specifically designed to be as densely-built as possible, leaving you with plenty of space, and a centralized sense of gravity.
Cargo Capacities - You're not just getting hydration, here. Most of these are going to come with additional storage, albeit it only sized enough to fit essentials. While these are nowhere near a replacement for your hiking pack, it's still some viable storage for mult-itools and identification.
Style - A man's gotta have style, right? If it's not you, it's not you. CamelBak comes with some varying style,s but no matter what, basic black goes with just about anything. We get it; you don't want to look awkward or silly on your pit stops on the way to the hiking trail.
Weight - This is the weight that your pack rests at when fully empty. From the reservoir material itself, the size, insulation, strap weight, and more, you're going to see multiple weights across the board. CamelBak has done their best to keep them at lightweight as possible, while still offering excellent use and quality. Pay attention to your own physique and what you can handle before committing to a purchase.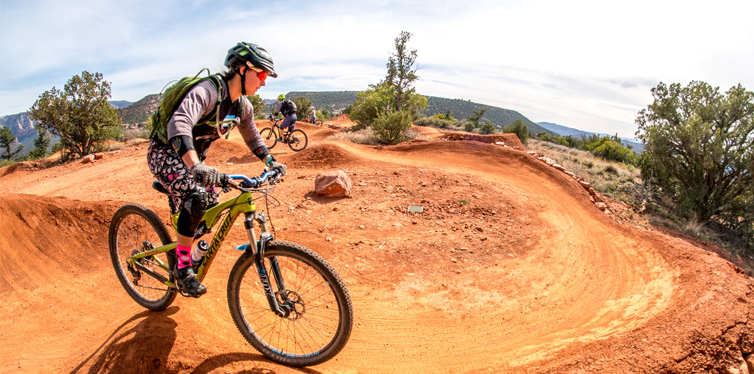 Q: Why Choose CamelBak?
A: There are a bunch of hydration packs out there, a bunch of brands, but they still act like they're meddling with a new concept. CamelBak has perfected the process, making each one of their packs absolutely excellent against just about any condition. You get dedicated customer support, stellar warranties, and a company that focuses on one thing, and one thing only: giving you the best hydration pack experience.
While that all sounds a bit arbitrary, a few broken-down reasons CamelBak have taken the hydration pack scene by storm are their ease to clean, killer insulation, and prices that don't drain your hiking gear budget (you know, so you can also check out our other outdoorsman guides). They're reliable, persistently high quality, and built on a name that's synonymous with attention to detail, and attention to their prospective buyers.
Q: Can I Experience Back Pain With a Hydration Pack?
A: It all depends on where you're starting from. If you're going to strap a 2.5L pack over your shoulders, you need to have the proper physique to support it. Inexperienced hikers who still have a lot of weight to lose, or those who haven't built up enough lean muscle, may encounter some back issues. Mountain biking and hiking both call for constant hydration, so a proper hydration pack from CamelBak is recommended. That being said, don't get one that's too heavy for you. The more fit you are, the longer your hikes/rides will be, and the more water you will need. If you're still getting the ball rolling, you'll be going for shorter stretches. Just apply this guideline to your purchasing process.
Q: How to Properly Clean a CamelBak
A: There are two ways, each of which are fairly simple and straightforward. We'll cover both, the steps to achieve them, and why they work as well as they do.
Baking Soda or Bleach Solution
Cheap and effective, you can spend about $2.00 to maybe $6.00 depending on which method you expect to use, and clean the hell out of your reservoir. Here's how to do it
Use two teaspoons of baking soda or bleach for every one liter of reservoir space; don't mix
Drop them into your pack after loading it up with water; lukewarm is preferable, nothing colder than 65F
Shake up the pack, and allow to sit for three to five minutes
Pinch bite nozzle (if your hydration pack has one), and let it run its course. Once everything has left, rinse your pack with another full cycle of water, potentially up to two times
Take extra special attention to flush everything out of your reservoir and tubing afterward to avoid unpleasant odors and/or mold buildup. While the CamelBak packs don't encounter these problems, poor care of the product is a surefire way to make it near impossible to clean in the future.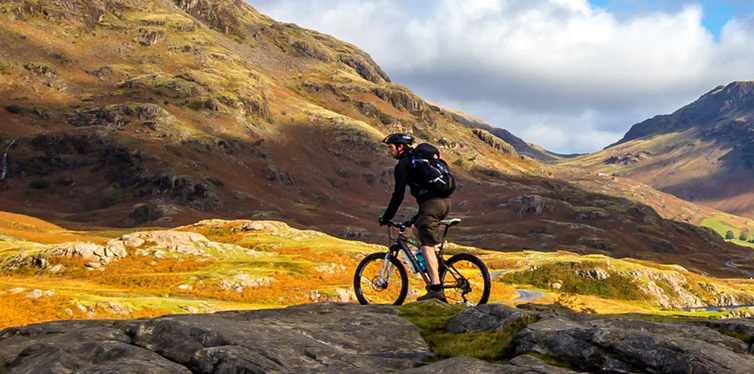 Using CamelBak Tablets
Our preferred method is to use CamelBak's cleaning tablets and follow the instructions. These take, at most, three to five minutes, and will allow you to take a more hands-free approach. There's no measuring, just simply following the instructions. The best part about this method is that these are designed specifically for CamelBak bags, by the same creators, so you know you're in the right hands.