GearHungry may earn a small commission from affiliate links in this article.
Learn more
Bodyweight Exercises To Build Your Back
When putting sessions in the gym or at the squat rack it can be easy to just focus on those front visible areas to make a muscle-pumped good impression – the pecs, the biceps, your abs, and quads. But for your frame, your posture and overall body strength, it's important that you don't forget your back. After the legs, your back has the second largest muscle group in your body and can be honed into a whole torso of power with a little thought and effort. And trust us, that time spent on your back will be time well spent.
A muscle-bound back will create a core of central power you need for most sports and, as such a large muscle group, will burn through those calories as you train. And with the right balance of toned back muscle, you can also create an awesome shape on which to hang your cool dude threads.
You don't need fancy equipment or any serious weightlifting hardware, you can power yourself to a super-buff back with the weight of your body alone. Bodyweight exercises can be done anywhere and all you need is minimal equipment…or none at all. And if you work the upper, mid and lower back in each session, you will get both the stability that a strong back brings as well as an impressive set of 'wings' to be proud of.
So, crack on with your warm up, we've put together what we think are the top nine bodyweight exercises that will totally have your back.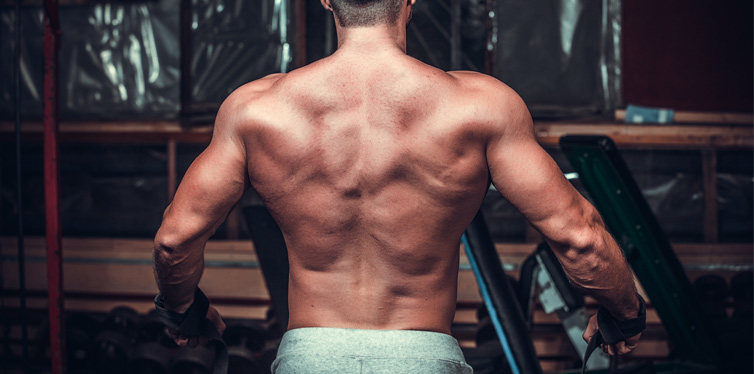 1. Pull Up
Good for: Lats (Latissimus Dorsi), shoulder abductors
No bodyweight exercise guide to building your back muscle would be complete without a pull-up and to max out on its lat-blasting power, we've thrown in three!
All you need is a pull-up bar – either at the gym or if you have one already set up at home. Pull-ups are fantastic to use your whole body weight to push and tone your back muscles, bringing their strength and power into play.
Start with a straight pull up – with your palms facing away from you, grip the bar with your hands shoulder width apart and then pull yourself up so your feet are off the floor and your chin clears the bar. Hold then lower smoothly, without snatching and you will feel the burn nicely in your lats and into your biceps.
Now get ready to shake it up for more strength and endurance in your back. Try a horizontal pull up where your feet are raised on a workout bench so you don't need to lift your bodyweight too high and so you can do more reps than a full body pull up. Or when you're ready, smash it with one arm pull up to turbocharge your back strength. The one arm pull up is one of the toughest bodyweight exercises out there, so don't strain or push yourself too soon, but slowly build up your technique and rep number.
Reps: standard pull up: start with 10-12 and take it from there!
2. Scapula Push Up
Good for: Trapezius ('traps') and shoulder blades (scapulas)
This bodyweight exercise takes your average push up and styles it to blast your back, in particular, your upper back and shoulders where you can develop that strong inverted triangle shape. This exercise requires very focused muscle movement and we promise you will feel it but keep it still and calm and you'll quickly build up your reps and stamina. To start, get into the standard push up position, with hands just outside the width of your shoulders and your body set in the up position (arms straight and feet together). Now, without bending your arms, squeeze your scapulas – shoulder blades – together then push them apart. Take it nice and slow in a strong, considered movement to really bring those upper muscles alive and try not to shrug your shoulders. You will also feel it in your arms as you need to keep them strong, straight and still. Start low with the number of movements, rest and then repeat, gradually building your reps as you improve your strength and overall control.
Reps: start with three sets of five, and build up the number per rep.
3. Bodyweight Row
Good for: Lats, shoulders, traps, biceps
This is a boss move for a total upper body workout, blasting not only the lats, but your deltoids, traps and upper arms so great for sculpting those back muscles. You'll need a bar or gym rings suspended at waist height, so you can hold on lying back, with your feet on the floor. With a good grip, lean back so you take your full body weight but your spine is in a neutral position. Now squeeze your shoulder blades together and steadily pull your chest up to the bar/rings. It's important to maintain a straight line with the body and the closer your body is to a horizontal line at the start, the harder the lift.  Hold, then slowly lower yourself back to the starting position, ready and willing to do it all again.
Reps: aim for two sets of 12 if you are a beginner.
4. The Superman
Good for: Erector Spinae (small muscles along the spine)
This may not look the most dignified of moves but trust us, keep at this great little bodyweight exercise and you'll soon have the back of Clark Kent's alter ego. This exercise works and strengthens all the muscles along the length of your spine, so great for posture and stability. To start, lie on your stomach on the floor with your arms at your side, thumbs to the floor. Keep your legs straight and your feet together. Now, breathe in and slowly move to lift your shoulders and legs from the floor in a smooth arch movement.  As you arch, rotate your shoulders back so your hands rotate, and your thumbs face into your sides. Hold for a couple of seconds, focusing on squeezing your lats and the rhomboids in your shoulders. Then release and get in position to do it all again.
Reps: Aim to work up to three sets of 30 for great results.
5. Reverse Snow Angel
Good for: Erector Spinae (plus upper abdominals)
Here's another great one for your spine, with the added bonus that it also works deep into your upper core. This one channels your childhood of creating angel shapes in the snow but cranks up the muscle heat instead of creating a chill. It's a simple one too, but we promise you will feel it if you take it slow. Instead of lying on your back, for this you need to lie on your front with your feet together and your arms stretched out in front of you, held a few inches off the floor. Now lift your chest and head up and bring your feet off the ground. Hold. OK, breathe deeply and bring your straight arms down to your sides, hold briefly and then bring them back to their starting position and briefly rest your feet. Repeat, with your head and feet, raised again and feel your lower back and glutes joining the party!
Reps: start with three sets of 10 and take it from there.
6. Plank
Good for: Trapezius ('traps')
We all know that done properly the Plank is an awesome – and at times unforgiving – bodyweight exercise which is why it is a fantastic move to do if you want to blast the back. This version of the Plank classic focuses on the traps, those power muscle dudes that sit in the top triangle of your back, from across your shoulders and down to the mid-spine.
This move is about focusing on the traps as a key driver to the Plank as you lower and raise, so you feel the muscles contract and kick into action. To get started, assume the traditional Plank position:  a press up stance but lifted to the point where your arms are straight. Now, as you lower and depress your shoulder blades to go down, focus on your traps and feel them slowly contracting to control the whole move. Take it slow and work hard to keep it steady, hold briefly as you get to the bottom of the dip, then push back up to the starting position, consciously releasing your traps as you go. Take a breath, and then repeat until you feel you can't do anymore.
Reps: start with three sets of 10 and build up.
7. Front Lever
Good for: Lats (Latissimus Dorsi) as well as your biceps
For a good old muscle trembler that really feels like it is getting deep, then you can't go wrong with a Front Lever. It needs to be done properly and not forced so you don't strain or pull, but with a controlled movement, this is a bodyweight exercise for your upper back that is tough to beat. You'll need an overhead bar and a little bit of sheer grit but that's it. Start by hanging with an overhand grip on the bar and keep your arms straight. Slowly tilt your body with straight feet so your torso and legs come up to a horizontal position to the floor (or as horizontal as you can go). Now maintain this position for as long as you can, keeping a nice tension in your lats throughout. Release back to a dead hang, rest and have another go!
Reps: start with five and see how you do. Be careful not to strain or push on too quickly, it's about quality, not quantity with this one.
8. Single leg dead-lift
Good for: lower back, glutes, flexor muscles
All you will need for this back strengthening power-house is a couple of hand weights but nothing else, other than the balance of your body to stretch and test your lower back and glutes.
Start off by balancing on one leg while holding a hand dumbbell on the same side. Slowly lower the hand weight to the ground and lift the alternative leg straight behind you. Now hold for a couple of seconds and then push back to your starting position and change sides. If you want to up the challenge, gradually increase the weight of the dumbbell, increase the time you hold the stance or hold a weight in both hands. This exercise will not only test and strengthen those lower back muscles but will also help with your balance and coordination.
Reps: 6-8 per leg, for three sets
9. Handstand shrug
Good for: traps, shoulders, lats, arms
We finish our nine 'best bodyweight exercises to build your back'roll call with a total monster of a routine, that you can either admire from afar or aspire to perfect. The handstand shrug is a serious challenge and not to be taken lightly, but if you can work your way to it, your back strength will go to a whole new level.
To attempt this exercise, you need to be confident and comfortable in doing a handstand against a wall, so if you're not there yet, just read on and put it on your wish list.
Once you are able to do a basic wall handstand, then here's what you need to do. Get into (upside down) position, with your arms locked at the elbow and comfortably straight. Now, using the muscles of your shoulder and your traps, shrug up and try to make yourself even taller. Yes, that's right, upside down, stretch as far as you can go until you feel your feet rise more up the wall. Take a breath, then lower back to the starting position, breathe again and try it once more. If you feel you are losing muscle control then stop, and slowly curl yourself out of the handstand, you're work is done!
Reps: this is totally down to the individual – if you can do one, then you have Gear Hungry's total respect. More, and well, we salute you!