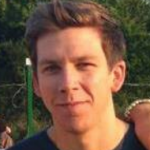 Support us! GearHungry may earn a small commission from affiliate links in this article.
Learn more
Best Water For Brewing Coffee
Perhaps in the past you have never put much thought into the crystal clear water that goes into your coffee, even though it's the only other main necessary ingredient. However, if you are a coffee connoisseur and enjoy the beverage for the art and science that goes into making it over and above the decadent taste and caffeine fix, then you'll want to pay attention to what you are infusing your coffee beans with.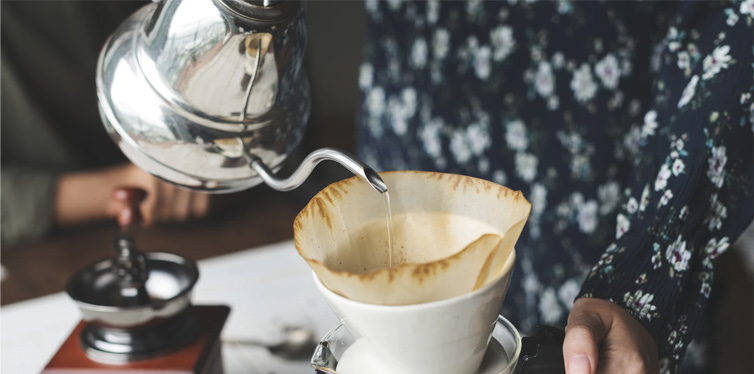 You might want to ask yourself "What is in water that affects its taste?"
Water comes into contact with many substances, including soil. This means that it collects minerals and other organic substances from the things the liquid comes into contact with.
Before water is bottled or added to the pipes which are connected to our taps, it is treated to maintain microbiological standards. This means that chemicals like chlorine are added to the water. These chemicals tend to come with strong tastes and flavours of their own.
Water also collects substances from the water supply system it finds itself in and these substances can be anything from copper and iron sources that are found in pipes.
A sad reality is that no matter how much effort is put into cleaning water, it will always still contain pollutants which can be collected at any point, from before water is purified to its journey to our cups and glasses.
And then there are those nasty little critters – microbes. Microbes are germs that infiltrate our water and while they are harmless, for the most part, their nasty business still tends to compromise the natural taste of the water.
The mineral content and ph. level of the water you use to make your coffee also has a big influence on the final brew. Using poor quality water in a coffee machine can ruin the flavour of the finest beans and can compromise what could have been an amazing cup of coffee.
Consider the following key points when choosing a type of water to use for your favourite blends:
Soft and Hard Water
Yup, there is such a thing! Where you live will influence the type of water that comes from your tap and even bottled water is made up of select contents depending on the brand and water source. Water around the world contains different measures of minerals, such as calcium and magnesium. These minerals determine whether water is hard (has a high mineral content) or is soft (has a low mineral content).
While some might think that the purer the water the better, this is not necessarily so when it comes to making coffee. In fact, hard water that is rich in minerals tends to hold the flavour of the coffee grounds far better than its counterpart. This is because the coffee particles tend to "stick" to the solid minerals and hold the flavour of the blend.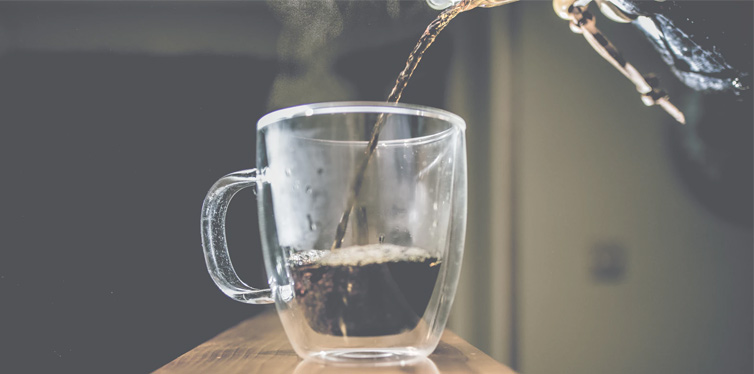 Keep in mind, however, that water which is rich in minerals tends to add more wear and tear to the likes of a coffee percolator or a coffee pod machine, since it encourages the mineral remnants to cling to the appliances' surfaces. This usually leaves a layer of stubborn limescale which is not only difficult to clean but in turn, contaminates the brew that it comes into contact with. Regular descaling and maintenance should make residue from hard water negligible.
Clean Water
If you're looking for a cup of coffee that pleases your senses and tastes like, well, heaven, then you're going to want to make sure the water you use is free from impurities and harsh chemicals, like chlorine. While some coffee makers come with built-in water filtration systems, your more manual appliances like a cafetiere (French Press) will require that you add water that has been filtered and purified beforehand. Your options are then to purchase already filtered water, or you can invest in a filtration system that connects directly to your water source; your kitchen tap.
Filtration systems are made to eliminate bacteria, organic solids, and sodium from your water. Depending on the make and model you use, however, your water purifier or filtration system could be stripping the minerals from your water too, which is what we want to avoid, since minerals actually enhance the coffee's flavour. Ensure that the filtration device you are using only removes chemicals and impurities, while leaving a moderate amount of minerals in the liquid at the same time.
Reverse Osmosis Water
A reverse osmosis system works like a water filtration system, except on steroids. During the reverse osmosis process water is stripped of chemicals, minerals, and impurities, leaving the liquid in its purest state. Because this pure water is less compromised with added flavours from chemicals, pollutants, and bacteria, its ideal to use if you want to get the best aroma and original taste from your chosen coffee beans.
The only downfall, of course, is that minerals are the ingredient that enhance the flavour of a coffee blend, so you don't want to strip them from the water completely, you want them in there! This can be rectified by using what is called a "blending reverse osmosis system". This system uses advanced technology to mix the minerals back into the water. Some of these systems even allow you to customize the settings so that you can measure the number of minerals in the water, allowing you to make a perfect liquid environment for your coffee beans. A well-balanced mineral content in a chlorine-free environment is what will help perfect the final taste and aroma of your coffee.
Bottled Water
Some might say that when taking the above mentioned into consideration that bottled water is probably the best and most convenient bet. You simply walk into the store and purchase a pleasant tasting water, all bottled-up for healthy drinking. This is not always the case, however, because depending on the brand of water and where it was sourced from, the mineral content can vary greatly. And like we said, mineral content is a key factor when it comes to choosing water for your hot cuppa.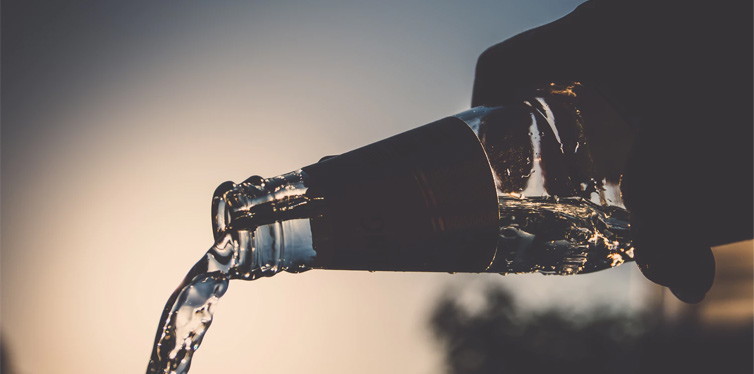 Water that's packaged in plastic bottles can also absorb the fibres from the plastic, which often contain harmful or at least strong chemicals themselves. When you buy your bottled water, look out for bottles that are 100% BPA (bisphenol A) free.
Taking the above into consideration, this means that you will need to compare the ingredients of the bottles of water kept at your local stores. Once you have found the perfect blend of natural and clean water that boasts an ideal balance of minerals, then yes, purchasing bottled water is possibly a more convenient (albeit costlier) way of choosing the perfect water for your coffee-making endeavours.
Water Temperature
Apart from choosing the type of water for ideal brewing methods, you will want to perfect the temperature of the liquid too. While we all enjoy a hot cup of coffee, water that is overheated tends to "burn" the coffee grounds and eliminates the authentic taste of the blend, possibly making it more on the bitter side too.
We don't want our coffee too cold either, unless we are using a cold brew coffee maker, of course. If tepid water is used to make coffee you will end up with a beverage that's flat and almost tasteless, paying no respect to the beans and the rich exotic flavours they hold.
The Ratio of Coffee to Water
Last but not least, there's the ratio of water to the measure of coffee. The only right way to perfect this ratio is to make the coffee the way you like it, which is easier said than done! There are so many ways to make coffee, from instant coffee brands to percolators and pod machines, and each of these methods will take a blend and pop out a completely different tasting cup of coffee. So, you'll first have to settle on your preferred brewing method, and then you will have to play around with ratios before you get the measurements that will ensure that your cup of coffee is going to hit the spot.
These days coffee manufactures make the job slightly easier for you and include blend ratios on their packaging. They also often suggest measurements according to the appliance you are using to make your coffee.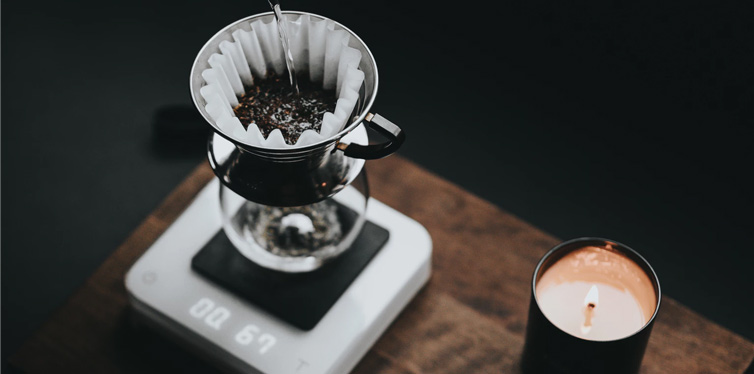 If All Else Fails, Ask Your Barista
If experimenting and endless research is not your forte, why not skip the homework and pop on over to your favourite local coffee shop for some answers. Politely cross-question your barista and if you are lucky, he or she will share their best-kept secrets with you and give you some tips on how they select their water to make the coffee that you have fallen in love with. This will help you to replicate your favourite blend from the comfort of your own home while making you more of a coffee expert if coffee is your thing!
Sources
Reverse Osmosis – Wikipedia
How To Choose The Best Water For Your Coffee – CoffeeScience