If you're living in the snowy woods of Maine, or the frosty lakeshore of Michigan, you're no stranger to those sudden cravings to rough it for a few days and let off steam. Problem is: the weather doesn't always agree with you. One of the biggest risks of camping out in the middle of winter comes down to your personal health, particularly, enduring freezing conditions. Tent heaters and camping lanterns are your saving grace. When you sleep, your heart-rate drops, and your body temperature dips, making you a prime candidate for hypothermia. You don't want that. Nobody wants that. Getting the right tent heater, along with the right camping coffee maker and setting it up properly, is the difference between camping smart, or not camping at all.
Our Top Picks Of The Best Camping Heaters
1. Mr. Heater 4K/9K BTU Portable Radiant Heater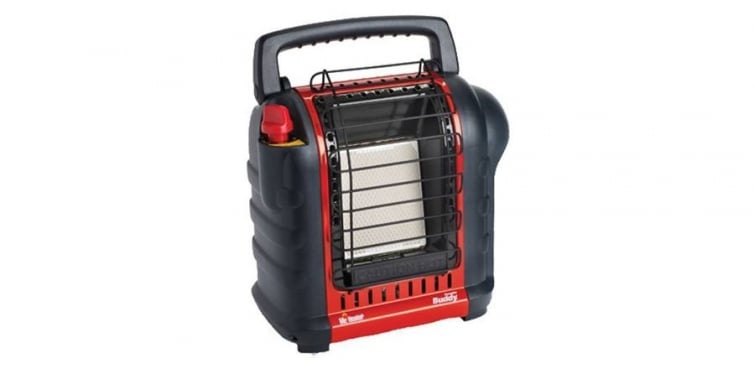 Apart from an attractive price point and immense power, you get the safety and security of the dual sensors: if this falls over, or if the oxygen quality in your tent dips below a reasonable level, this will automatically shut down to preserve your safety. This premier heater comes with a hose that attaches to propane tanks, so you can run this all night long in a 225 square foot space with no problem. This also comes with a little kink, which is worked in for safety, but it depends on how you view it. When you reach over 7,000 feet above sea level, this is going to shut down pretty easy. It's mixed into the fact that the air is thinner, so the oxygen regulator is going to go off more often. Overall, this heater is a great buy that isn't going to burn through your propane too quickly, all while providing an excellent heat source no matter your needs.
Key Features:
Switch between 4K and 9K BTU power.
Tip sensor technology.
Oxygen sensor for ultimate safety.
Specification:
Brand

Mr. Heater

Model

F232000

Weight

9.5 pounds
2. Honeywell Surround Heat Heater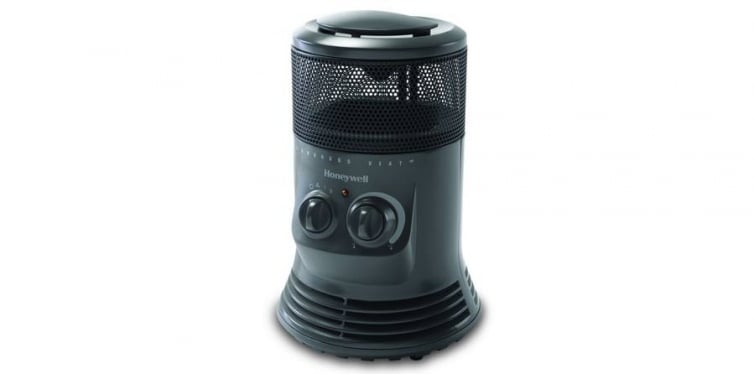 While this is not designed for the minimalist camper (tent and sleeping bags), it is perfect for those bringing campers or those who are at least near the plugins for an RV at a campsite. You get two different heat settings to mess around with, as well as a singular fan option that doesn't push any heat at all. The chassis is designed with an easy carry handle and sturdy base. Even with an extended stand area, they still took the maximum safety effects into consideration. Industry standards are left in the dusty rearview mirror, kissing the wind, because Honeywell took it ten steps further. There's no safer heater to take camping with you. With a 360 degree spin to push out comforting heat, you'll be able to enjoy this heater in a small group as you huddle around the heater.
Key Features:
360 degree spin heats up the entire area; not just one corner.
Two heat settings plus a fan-only setting.
Safest heater on the market.
Specification:
Brand

Honeywell

Model

HZ-0360

Weight

4.65 pounds
3. Mr. Heater Portable Propane Heater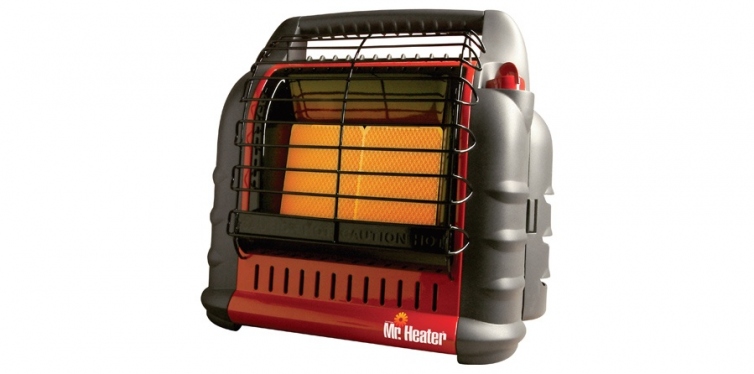 Similar to the 4K/9K model of the same brand, this maximum output of 18K BTU power is going to heat up just around 400 square feet of space—that's power. If you're planning on a largescale camping trip, this is the heater for you. It hooks up to propane with extreme ease, so you can start heating up your space in no time. Whether it's a cabin or an enormous tent, (though you should be careful with safe oxygen levels), you'll be all set and ready to rock. You even get all the safety features that ensure you'll be perfectly secure, even if you kick the heater over in your sleep. This has a sensor to shut off when it's tipped over, and will also shut down when low oxygen levels are detected.
Key Features:
Between 4K and 18K BTUs of heating.
400 square feet of heating space.
Automatic shut-off features for safety.
Specification:
Brand

Mr. Heater

Model

F274800

Weight

20 pounds
4. Comfort Zone Personal Heater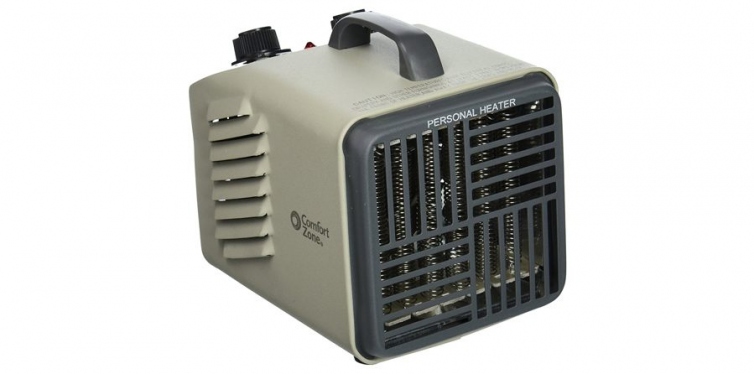 Compact and crafted of a full metal design, this heater is going to give you every bit of comfort that you need. You can kick cold nights in the rear end with this personal-sized, cost-effective heater—but it's more than just heat. You get optimal safety with power indicator lights, and a high limit safety fuse to ensure you can use this heater to its maximum potential without fear. One of the best uses for a personal heater out in the wilderness is keeping your body temperature up when you're sleeping. Then again, sleeping is also challenging when you're trying to tune out the aggravating whizzing sound that you get with a lot of personal heaters. Comfort Zone's model has a noise-free
Key Features:
All metal construction.
Fan-forced heat.
Flip between 750/1,500 watts for specific power.
Specification:
Brand

Comfort Zone

Model

CZ707

Weight

3.67 pounds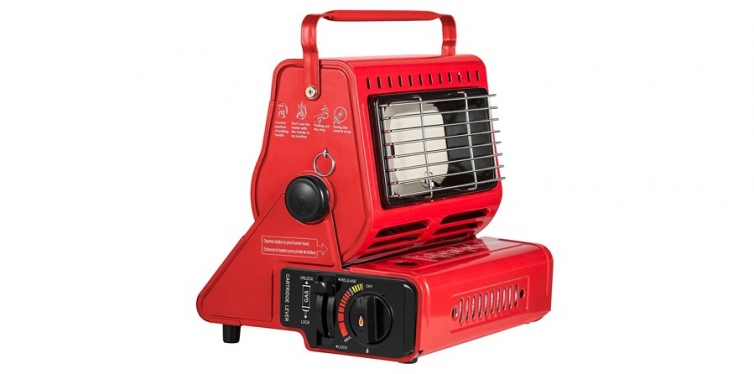 Butane is by far one of the best ways to heat up your tent in a flash. It beats waiting for ages if your electric heat just can't output the right heat quickly enough. This ultra-portable emergency heater uses cartridges, so you won't have to hook it up to a large propane gas tank. When the chilly air rolls in over the hills while you're hopping into the tent for the night, you can flip this on, and get rid of that frosty air. Turn winter into summer in seconds. With a ceramic burner for optimal heating, and a 100gm/hr rate of gas consumption, you'll be ready to keep the heat burning through the night, and awaken to a warm tent, and a fresh day.
Key Features:
Ceramic burner.
CE Certificate for safety.
Pressure senting safety shut-off.
Specification:
Brand

Tooluze

Model

60116L

Weight

5.4 pounds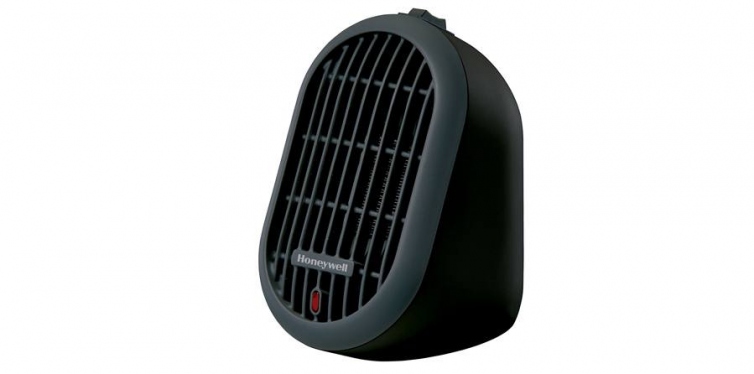 Honeywell's name is everywhere, especially when it comes to looing at electronics on a budget. Their low-cost solutions brought us the best portable heater for camping—heating a tent has never been easier. This heater is perfectly portable, and comes complete with tip-over protection, so you won't have to worry about the heat burning up the foot-end of your sleeping bag. While this portable heater for camping works wonders, it's going to shine the brightest in smaller tents with 1-2 occupants. Heating a tent shouldn't take long, which is why Honeywell puts their mark onto every model, no matter the size or price. Heat up the tent near-immediately, and relax.
Key Features:
Tip-over protection.
Small and lightweight for optimal travel.
Safe tent heater at a great price.
Specification:
Brand

Kaz

Model

HCE100B

Weight

1.05 pounds
7. Texsport Portable Outdoor Propane Heater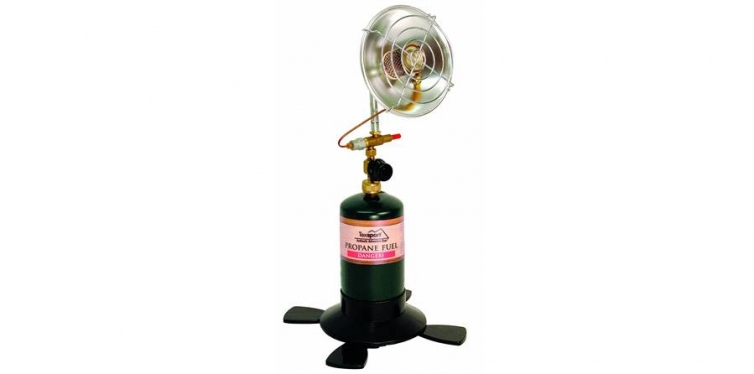 We're not going to design, here. We want function. We want the best camping heater without all the frills and ribbons. Texsport gives us just that with this ultra portable, quick-acting propane heater. It'll be a real chore to tip this over; the paddlefoot plastic base provides a stable position while you burn through 16oz disposable propane cylinders. Fire this baby up immediately and reap the rewards just as quickly. With aluminum reflector plates to distribute heat and intensify the output, you'll cure the frost on your breath in under a minute flat.
Key Features:
Paddlefoot stand to prevent tipping over.
Utilizes disposable tanks.
Excellent heat distribution as a low cost.
Specification:
Brand

Texsport

Model

14215

Weight

1 pounds
Tent Heater Buying Guide
When you purchase your camping tent, mosquito repeller, or hammock, you're looking out for quality and safety. While any tent heater you find on the market is going to be safe enough to use, you have to think of the practicality of your use. Is it going to work well inside whatever tent you've purchased, i.e. a solo or backpacking tent? Will it be able to heat up you, the wife, and the kids? Then there's safety to take into consideration. When you play with fire, we don't want you to get burned—that's why we've thought up every aspect of the buying process, and laid it all out in a clear guide to help you determine what's best for your family.
What's The Big Deal With Coleman?
For ages, Coleman has been the number one brand that everyone has flocked to when looking to keep their tent warm during camping trips. Especially if you're going out in the winter, you'll see everyone and their grandmother recommend a Coleman tent heater. They're a perfectly good brand, but as times change, so does brand dependability. They're not the only ones in the market, and as such, they don't have a steady grip. Coleman tent heater models are still great for heating up your tent in winter, but there are plenty of brands, models, and types out there that are perfect solutions as well. Don't go brand diehard when it comes to keeping yourself warm in inclement weather especially when it comes to your coffee or mug.
Safety Tips When Using a Tent Heater
It's not as simple as dropping it down, turning it on, and hoping nothing bad will happen. You need to utilize every safety tip possible to ensure that not only yourself, but other members of your party are kept safe. When everyone else is relying on you—the one setting up the heater—to take care of business, you can't disappoint. You don't have to limit yourself to one season to camp; using your camping tent heater in winter extends your season, because nature was meant to bend to us. Not the other way around.
Avoid Stands
If your model comes with a built-in stand, like the Texsport on our list with the paddlefoot, then by all means, utilize that. Those are built individually for specific models in mind, by the companies that manufacture them. However, if you're upset at how low the heater is to the ground, the biggest thing to remember is not to use an object to raise your heater or portable ac up even higher. A milk crate or piece of firewood can melt or cause a fire under the command of a heater, as well as project your heater a farther distance should it fall, potentially singeing your sleeping bag or camping cot or a member of your party (kid).
Proper Placement
Putting your heater in the middle of your tent space is absolutely optimal for proper distribution, but it's not always practical. If your tent boasts an ergonomic, compact design, it's not made to withstand tent warmers. Instead, you need to think logistically, also while keeping it away from the edges. It's a tricky situation, but it all depends on the interior shape of your tent. Use your best judgment, and just remember that the edge of the tent doesn't have to be touching the heater directly to melt or set on fire.
Keep Brush Away
If you're really roughing it in the middle of the woods, and you haven't taken the easy path to a camping ground or campsite, then your number one priority is to ensure you're picking the right spot. Campsites aren't really roughing it, but they do come with the knowledge that each area is specifically built the way it is for a reason. If you're on the forest floor, be wary of dried brush, leaves, and twigs. If your heater catches those ablaze, it'll spread.
Understand Your Model's Maximum Heat
If you read the booklet you get with any model you decide to purchase, you'll be able to see the maximum heat that your tent warmer can reach. Understanding the power of your heater can aid in better judgment calls when it comes time to place it, as well as understanding if your heater even possesses the potential to start a fire.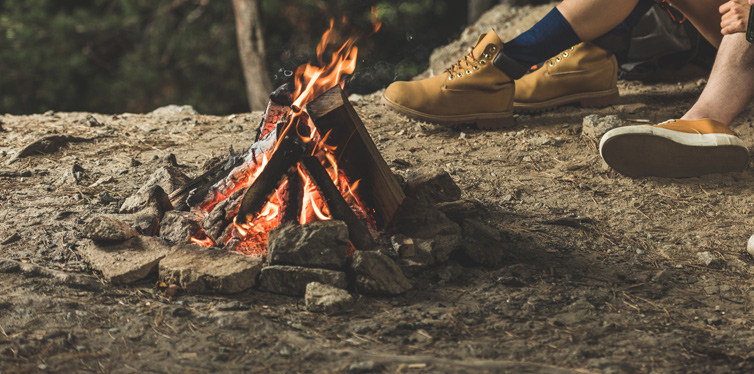 How To Properly Set Up Your Tent Heater
Safety comes first. No matter how square that makes you sound, it's true, especially in the case of setting up your camping tent heater without razing the place to the ground. Taking a tent warmer with you is crucial to your comfort and keeping everyone's body temperature in check. It's still advised to bring alternate means of keeping warm, especially if it's your first time using a tent heater; you don't want to run out of propane or butane cartridges. Here's the step-by-step guide on how to setup your tent heater for optimal safety, and function.
Unboxing and Necessary Assembly
Yes, we're going to square one. Your heater may require small bits of assembly, which won't take you very long at all. The main thing to take note of here is the booklet, and all the information that's wrapped-up inside. It will prove invaluable later, especially if you can remember it. We're all guilty of "losing" manuals, especially if you have a junk drawer that will probably have an old flask in it!.
Propane Tank Setup
We'll fast-forward to you being in the tent, trying to setup your propane heater. Not every model will come with a short hose. If you have one, great. If not, we'll deal. Every propane tent warmer you buy is going to have an area where you can just directly hookup your tank, and turn the valve. Figure out where your tent is going to go, and ensure that neither it, nor the propane tank, are going to tip over from the wind or light movements.
Butane Setup
Butane is the same fuel used in Bic cigarette lighters at every gas station in America. Butane comes in smaller packages, like cartridges, and generally lasts about 20% longer than propane does. However, they do burn at the same heat, and output the same temperature down to the fraction of a degree, so don't let propane vs. butane be a big selling point for you. Much like setting up your propane tank, find a spot where it's not going to tip over, and where it's away from belongings, brush, and the edges of the tent. With butane, you'll be able to pop your cartridge in, making it a little easier to setup than a propane heater. The cartridge areas will be clearly visible, and once you snap it in, voila! You've done it.
Actually Heating Up The Tent
Every model is different, but it goes a little something like this: use the electric igniter, and watch the heat pour out. You'll know immediately if it's working or not. The actual process of turning it on is easy. Just remember this: if you're going to be turning off your tent warmer, you need to ensure that no more fuel is fanning the heat. Twist your propane off, or press your switch/button to flick off the butane output, and save the rest for later.