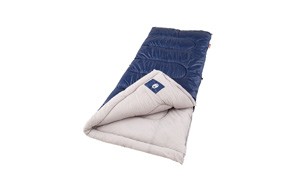 Coleman Brazos Cool Weather Sleeping Bag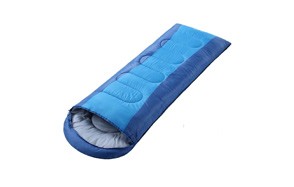 SEMOO Comfort Sleeping Bag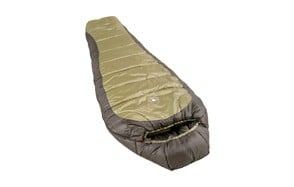 Coleman North Rim Extreme Weather Sleeping Bag
If you're heading into the great outdoors whether for a leisurely weekend with the family or to trek through the Presidential Range in New Hampshire in mid-winter you'll need a sleeping bag that's appropriate for the conditions you'll be facing. A lot goes into the design of a sleeping bag and In order to find the bag that's right for you you'll need information and that's what we're here to provide with this review guide of the 10 best sleeping bags. From materials to filling to zipper quality to weight, size and more we cover all the pertinent details so that you can pick the right bag for your next outdoor adventure. Let's begin.
Our Picks Of The Sleeping Bags in 2018
1. Coleman Brazos Cool Weather Sleeping Bag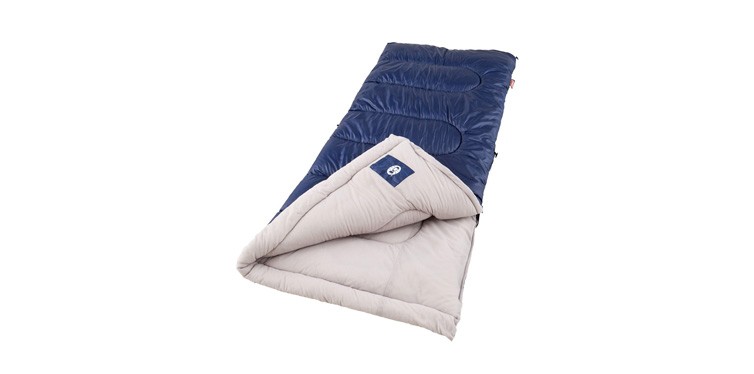 Coleman has been making quality outdoor gear for more than 100 years so they know a thing or two about sleeping bags. Their Brazos Cool Weather Sleeping Bag is a prime example of the thought they put into engineering their bags and their ability to offer high quality gear at a reasonable price. Ideal for those in-between days of spring and fall when nighttime temps are routinely in the 40s and occasionally dip below freezing. Rated to 20° F you'll never be caught off guard by Mother Nature as long as you have the Brazos with you. It boasts an array of features that make it a convenience winner as well including double-sided snag-proof zipper and soft tricot knit filling.
It's an all-too-common occurrence: a hunter or backpacker goes into the woods in September or October toting their summer bag because the weather has been unseasonably warm. Then, in just a matter of a couple of hours the temperature plummets and that happy camper is now a shivering wreck that can't stay warm. The Coleman Brazos is ready to handle whatever those in between days can conjure up. The tricot filler will keep you warm and snug when the water's freezing in your Nalgene bottle and yet won't overheat you if more seasonable temperatures are on tap. The snag-free zipper is a major plus that should be mandatory on every sleeping bag and is thankfully included here. And the bag also features Coleman's Roll Control System which ensures you'll get a tight, even roll every time. If the bag has a drawback it's that people over 6' tall are going to find themselves unable to stretch out inside. Other than that this is a great piece of cool weather kit.
2. Coleman North Rim Extreme Weather Sleeping Bag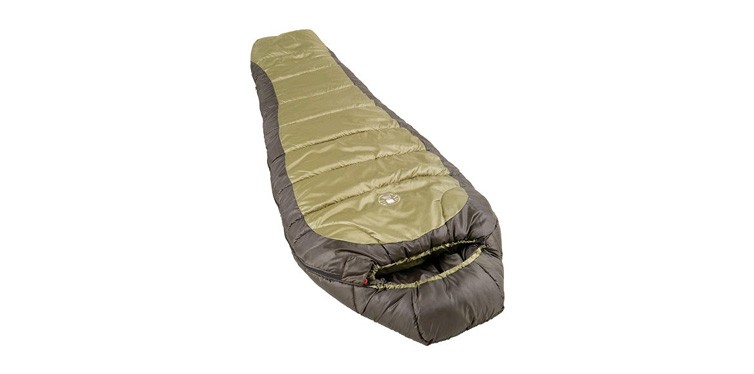 With the North Rim Extreme Weather Sleeping Bag Coleman plants their flag firmly in the land of high performance outdoor winter gear. This mummy bag is rated to 0° Fahrenheit and delivers the kind of warmth and comfort you'd expect from a bag two or even three times the price. On top of that it's designed to accommodate people up to 6' 2" tall and sports Thermalock technology that prevents heat loss through the zipper; a major issue with less well made bags. It's also got a classic mummy bag profile that we find appealing. Whether you're a hunter or hard-core mountaineer you're going to find a lot to like in the North Rim Extreme.
The Coleman North Rim Extreme Weather Sleeping Bag is engineered to make the most of the heat your body generates. As with the very best extreme weather bags everything here is designed to prevent your body heat from escaping as well as preventing drafts and cold air seepage. Through quilting the insulation remains properly distributed which in and of itself goes a long way toward creating a warmer environment inside the bag. Add to that the Thermolock draft tube applied to the zipper which eliminates heat loss and the drawstring around the form-fitting hood that eliminates drafts and you've got a bag that's intent on keeping the cold at bay. The shell is composed of durable ripstop polyester and there's enough room inside to allow you to effectively trap heat while giving you the freedom of movement you need to have a truly relaxing night's sleep. Put an inflatable roll up mattress under this sleeping bag and you'll wake up feeling like you slept in your own bed. The 5 year warranty is just icing on the cake.
3. Suisse Sport Everest Sleeping Bag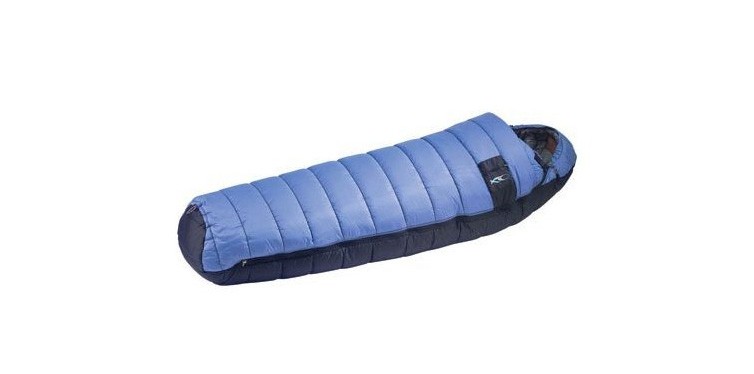 The Suisse Sport Everest Sleeping Bag may never actually be used on Everest due to its weight (3.5 pounds) but for everyone who isn't climbing in the death zone where oxygen is required, each step can take 5 agonizing minutes and every ounce in your pack counts the weight of the Everest won't be such a big deal. And the fact that it provides outstanding warmth and comfort for an astonishing low price means it's absolutely worth your consideration when it comes time to buy a winter sleeping bag.
To call this a true high altitude bag is perhaps a bit overly optimistic. It is however a true winter camping bag that will serve you well when the mercury becomes punishing and you're far from civilization. The Hollowblend MicroTekk Z1 fill creates a snug atmosphere inside the bag while the full chest baffle ensures heat generated in the lower portion of the bag doesn't leak out through the facial opening. That opening is part of a sculpted hood section with a drawstring that prevents cold drafts from keeping you awake all night. A rare feature among this type of bag is the exterior zippered utility pocket so you can keep things like power bars close at hand without having to worry about them soiling the environment inside the bag. All in all the Suisse Sport Everest Sleeping Bag is a fine winter bag for the outdoor enthusiast who doesn't mind toting an extra pound along in order to get a good night's sleep under the winter sky.
4. TETON Sports TrailHead Sleeping Bag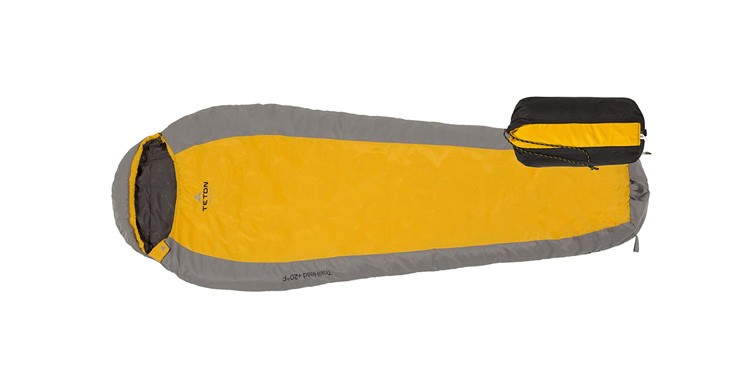 The Teton Sports TrailHead Ultralight Sleeping Bag is an excellent bag for cold nights. It will keep you nice and warm right through the freezing point down to around 20° Fahrenheit. The lush quality of the fill and the breathable liner make sure that warmth is accompanied by outstanding comfort and the lightweight nature of the bag (just under 3 pounds) makes it easy to tote the TrailHead long distances into the wild. This is not an extreme weather bag but it will handle anything an average winter night can dole out. If you're looking for a dependable cold weather bag at a price that won't break your bank the Teton Sports TrailHead Ultralight sleeping bag will fit the bill.
The Teton Sports TrailHead sleeping bag is rated to 20° Fahrenheit which makes it ideal for the average outdoor winter adventure. The outer shell is made from water resistant 75D diamond ripstop polyester which means you can sleep outdoors under the stars without worrying too much about incidental damage. The TrailHead also features anti-snag zippers that prevent problems when you need to get out of the bag in the dead of night, a full-length draft tube on that zipper that prevents warm air seepage and contoured hood with drawstring that closes up tight around your face to prevent cold drafts from intruding. There's also a decent sized interior zippered pocket to hold your wallet, tactical watch and more. Toss in a box foot design that allows for ease of movement a durable stuff sack and the fact that the TrailHead can be had for around 50 bucks and this is a winter sleeping bag after your very heart.
5. SEMOO Comfort Sleeping Bag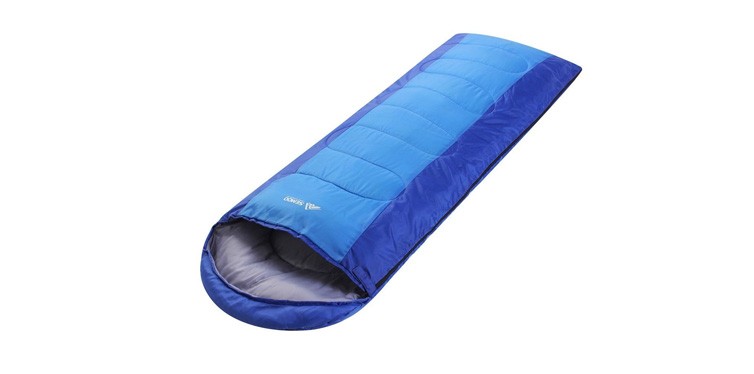 The Semoo Comfort Lightweight sleeping bag is a decent 3 season bag you'll want to take on those long beach vacations and family trips to Sequoia or other National Parks. It's made of tough, water resistant 190T polyester and at 2.7 pounds even the bigger kids won't have trouble shouldering it in their pack. There's a full length double sliding zipper and the bag can be opened all the way and used as a quilt in the RV or trailer if you want. Versatile, durable and extremely affordable the Semoo Comfort Lightweight Envelope sleeping bag is the kind of practical gear you'll always want along with you on your family excursions.
No one is going to mistake the Semoo Comfort sleeping bag for a "state of the art" sleeping bag, but it doesn't pretend to be that. What it is is a very modestly priced 3-season bag that's perfect for an array of different family outings. It has all the typical features of a solid, dependable bag that will provide you a warm, comfortable night's sleep after a long day of whitewater rafting, hiking the trails at the state or national park, or barbecuing into the evening at the seashore. It also comes, as you might expect, with a few caveats; none of which are particularly serious. First, if you're 6' tall or taller this is not the bag for you. Second, don't expect a mountain of loft to provide cushioning. And third, when it says it's good down to 43° it means it. If you're going somewhere cold take a true winter bag with you. At the end of the day the Semoo Comfort sleeping bag makes our list because it's the kind of bag every family should have in its outdoor arsenal.
6. Coleman Big Basin Extreme Sleeping Bag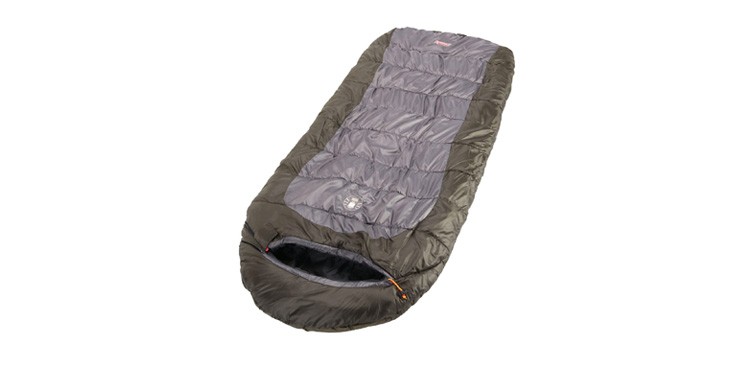 The Coleman Big Basin sleeping bag is another one of the company's serious deep winter sleeping bags. Rated to 0° Fahrenheit (but recommended to 15°) the Big Basin is made for big guys and features plenty of quilted insulation that warms up quickly and retains the heat all night long. The 75D diamond ripstop polyester shell is tough and wind resistant and there's a ton of space at the lower end of the bag to store sweaters or anything else you want to be nice and toasty warm come morning. It's a solid addition to Coleman's winter repertoire and one you should consider having along on your next overland trek or winter sojourn in the Rockies.
With its recent cold weather sleeping bags Coleman has proven they belong in the discussion when it comes to quality outdoor winter gear. Their Big Basin sleeping bag is just one more example of that. From the Thermolock technology that prevents warm air seepage to the zipper to the quilted construction that prevents fill from collecting in bunches and creating cold spots this bag is built to keep heat where it's needed. The ripstop polyester shell is also important to have when your campsite options are limited and you may be forced to lay out your bag on the ground. The two way zipper also allows you to vent from top or bottom to release excess heat and the whole thing stores neatly away in the accompanying stuff sack. An outstanding winter bag for the price.
7. Coleman Biscayne Sleeping Bag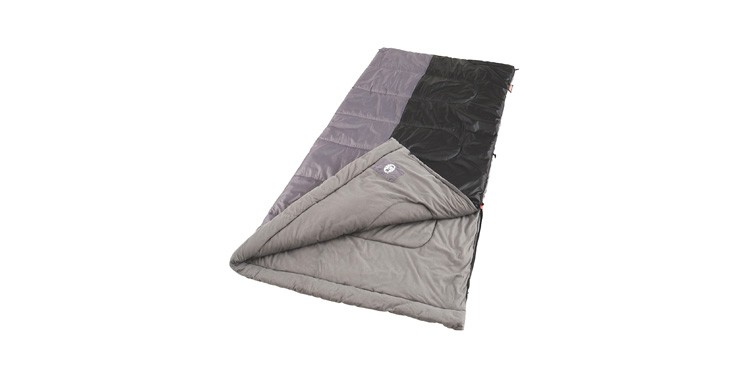 As the name indicates this is a bag intended for warm weather use although it will also keep you plenty warm on those nights when the temperature takes an unexpected dive. Rated down to 40° it's as well constructed as you'd expect a Coleman product to be. It's also made with larger guys in mind and is cut to accommodate dudes up to 6' 4" tall. Whether you're camping in the Smoky Mountains or are spending the weekend at the beach at Biscayne Bay the Biscayne is the ideal lightweight, durable bag to bring along.
This is a large sleeping bag intended for large guys so if you're thinking about getting one for your 5' 2" daughter think again. Other than that it exhibits all the qualities you want to see in a 3 season bag including durability, comfort and the ability to retain warmth effectively if need be. The zipper utilizes Coleman's proprietary zipping system that moves fabric out of the way in order to prevent snags and the quilted, Fiberlock construction method prevents the insulation from bunching and creating cold spots. There's also the company's QuickCord no-tie closure system for added convenience. Like other 3 season sleeping bags the Biscayne Big and Tall sleeping bag is fully machine washable although keep in mind this is a large bag and should be cleaned in a full sized washer. Keep in mind as well that the Biscayne is a bit heavy at nearly 6 pounds so it might not be the ideal bag to take on a long spring trek in the White Mountains. For those driving to the campsite though it's a great, durable, affordable bag to have along.
8. Coleman Green Valley Sleeping Bag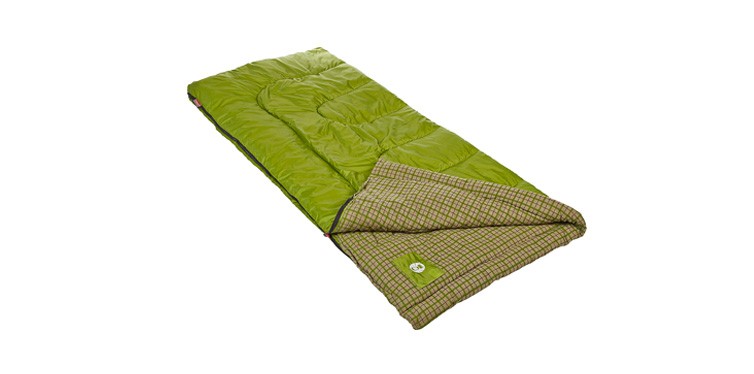 The Coleman Green Valley sleeping bag is an excellent 3-season bag that will serve you well on cool nights when the mercury dips into the 40s or even 30s. It sports the simple rectangular design you'd expect from a 3-season sleeping bag and it will comfortably accommodate users up to 5' 11" tall. The outer shell is a durable water resistant polyester and the company's Thermolock protection can be found on the zippers which adds to the heat retaining qualities of the bag. What's most remarkable about the Green Valley Cool Weather sleeping bag is that you can have Coleman quality and durability that will last you for years for less than the cost of a pair of jeans.
The Coleman Green Valley sleeping bag is the prototypical 3-season sleeping bag from its rectangular profile to its moderately thin insulation. It's intended for light duty in average seasonal weather and under such conditions it will keep you warm and comfy. It sports a soft, comfortable cotton-flannel lining that puts you to sleep faster than a lullabye and when it's time to break camp it rolls up perfectly every time thanks to Coleman's Roll Control system. The bag is a bit on the heavy side there's no doubt about that, but it isn't intended to be a bag you take on a long trek. It's a sleeping bag intended for family weekends camping at the state park and it fulfills its role admirably and affordably. If the temperature at the park does unexpectedly dip you or the kids will be well prepared with the 3 pounds of ColeTherm insulation the bag provides along with various measures like the Thermolock zipper designed to keep heat in and cold out. A great all-purpose 3 season sleeping bag for casual outdoor enthusiasts.
9. TETON Sports Celsius Regular Sleeping Bag
The Teton Sports Celsius Regular Sleeping Bag boasts a unique profile that may make you think marketing gimmick but it's anything but gimmicky. This is a serious cold weather bag that will keep you warm even if the mercury dips to 0° Fahrenheit (18° Celsius). Eschewing the traditional 'mummy' profile of most extreme sleeping bags the Sports Celsius instead takes an alternative view of sleeping bag design and comes down somewhere in between a standard rectangular 3-season bag and the aforementioned mummy bag. Everything here from the quality of the SuperLoft Elite hollow fiber insulation to the shoulder and zipper baffles to keep the cold out is employed in the service of keeping you warm.
Even when the mercury in the wilderness dips into the single digits you still need to get a good night's sleep and the only real way to do that is to make sure you're packing a true extreme weather sleeping bag like the Teton Sports Celsius sleeping bag. The company's distinctive quilting patterns keeps the SuperLoft hollow fiber insulation evenly distributed so there's no cold spots where fill has been pushed aside. The brushed poly flannel lining truly recreates the feeling of sleeping in your own bed once the bag warms up, which it does only minutes after you zip it. This is the most comfortable extreme sleeping bag we tested for this review guide and that comfort was augmented by the zipper draft tubes that prevent thermal seepage or the intrusion of cold air. The Celsius is sometimes promoted as a three season bag but don't be confused by that. The 3 seasons are fall, winter and spring, not spring, summer and fall; although the bag really shines in the dead of winter.
10. Ohuhu Double Sleeping Bag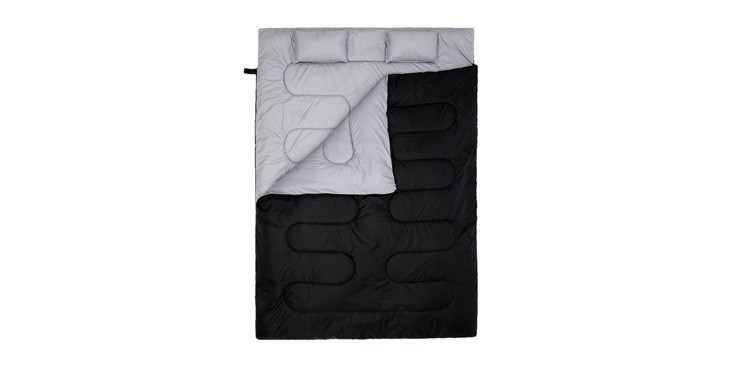 We round out this list of our 10 best sleeping bags with something just a bit off the beaten path. The Ohuhu Double Sleeping Bag. The Ohuhu is actually designed and made in China and is sold to a variety of companies who slap their logo on it, like Ohuhu. Not that that really matters though because we're here to talk about the bag, not business practices. And the bag is actually pretty remarkable given its price point. The top and bottom of the double bag can be separated and used to make 2 individual bags each of which will keep you relatively warm even when the temperature dips slightly below freezing.
While we're reasonably certain you won't want to be relying on this sleeping bag if it's 23° Fahrenheit for a week straight in the campground or on the mountainside we're also sure that under slightly less extreme conditions the Ohuhu Double Sleeping Bag will keep you and your companion toasty warm. Build quality throughout is reliable while the M2 3D cotton fiber insulation does a fine job as long as you don't get the bag wet. Other features that we'd normally expect to see in a bag that's touting its winter bona-fides like a shoulder baffle and draft tubes for the zipper are missing here, so why did this bag end up on our Best Sleeping Bags list? Because, in spite of its shortcomings, it still does what it does reasonably well and for a price that's all the more remarkable when you consider you're actually getting 2 full sleeping bags here. If you're heading to the park for a weekend of spring, summer or fall camping and you're the type that likes to share your bed we'd recommend the Ohuhu double sleeping bag for its versatility, its generally high build quality and its affordability.
Buyers Guide
Here are three of the most common buyer questions we encountered while researching the best sleeping bags on the market.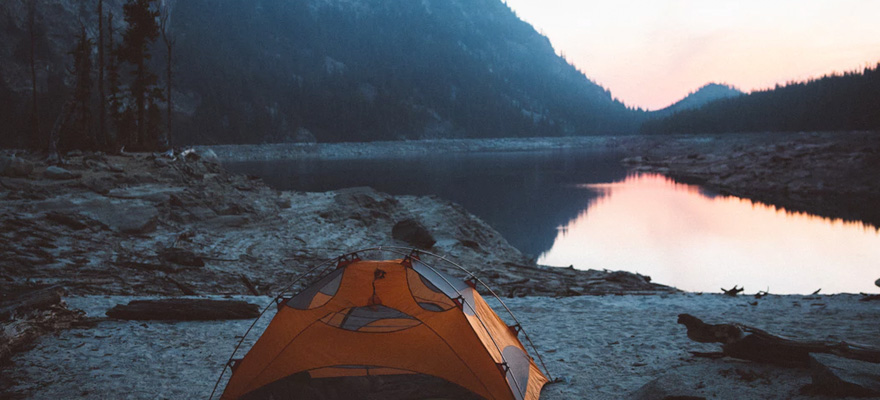 What Is The Best Camping Sleeping Bag? – For our money we'd have to go with the Teton Sports Celsius Regular Sleeping bag. It's the most comfortable bag on our list while at the same time being attractive and durable. It will also be genuinely livable down to 0° Fahrenheit and the high quality of the materials and fabrication mean it should provide you many years of reliably warm, comfortable service when the wind is howling and the coyotes are howling at the moon. At the same time we have to say that any of the bags we reviewed above would make a welcome addition to your outdoor kit. Looking for the best kids sleeping bags? Checkout our kids sleeping bag guide.
What is the top two person sleeping bag? – The Ohuhu Double sleeping bag takes the cake in this department as far as we're concerned. It's large enough to comfortably accommodate two adults, well-built enough to keep you and your significant other toasty warm under all but the most extreme conditions, it comes with 2 pillows (always a welcome feature when it comes to sleeping bags) and it's remarkably lightweight at just over 6 pounds. While doubling up in the sleeping bag isn't everyone's cup of tea or coffee! For those who enjoy such activity the Ohuhu double sleeping bag will have them smiling all vacation long.
Why do some sleeping bags have a "mummy" shape? – Most folks who've never spent much time in a sleeping bag don't understand why some are shaped like rectangles and some have the distinctive "mummy" shape. The fact is it all comes down to warmth. The colder it gets outside the closer you're going to want the insulation to your body; within reason. The goal of the bag is to prevent your body heat from dissipating or escaping. So with a thick pile of insulation held close in toward the body – as it is in a mummy bag – heat is also retained close in where it can do its magic.
Conclusion
Sleeping bags come in all shapes, sizes and permutations, from camping sleeping bags to winter sleeping bags, cheap sleeping bags, compact sleeping bag to bags designed to take you to the summit of Everest. Trying to select the best sleeping bag or sleeping bags on the market today was not easy but we're confident you'll find that the sleeping bags reviewed above have earned inclusion on this list. We hope you found these sleeping bag reviews helpful in determining which sleeping bag may be best suited to your needs.
At gearhungry.com we publish new product reviews and guides on a regular basis so be sure to bookmark us and stop back often to get all the latest information and insight on your favorite products.