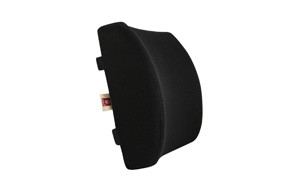 LoveHome Memory Foam Lumbar Support Back Cushion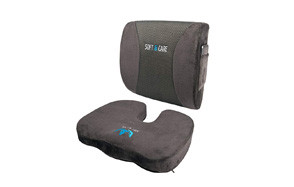 SOFTaCARE Seat Cushion Coccyx Lumbar Support Pillow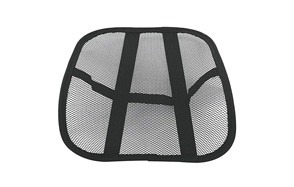 Travelon Cool Mesh Back Support System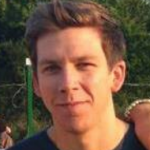 Working in an office or driving for long distances can put a strain on your back, as well as your patience, depending on your work colleagues and passengers! Without the right support, your body can falter under the strain, causing pain and discomfort throughout the day, as well as being an unwanted distraction during your down time too. However, there are easy fixes for ensuring your back or shoulder pain doesn't escalate. Back support can be solved by great quality, affordable products, such as memory foam cushions and specialist mesh support systems, which can be easily attached to an office chair. Whatever lumbar support you require, there's a type out there for you. Below, we've outlined a list of the best lumbar support products on the market, giving you a range of options to choose from. Ensuring you take into account all the support you require, focus on the key features and see how they weigh up compared to one and other. We've got your back.
The Best Lumbar Support
Lumbar Support Buying Guide
This is an important decision. Back pain and discomfort can cause you a lot of distress, particularly in the office environment, where you're expected to sit for a prolonged amount of time. If you're planning a road trip or vacation, back support is vital so that you can make those long journeys without too much complaint. This is why we've put together our lumbar support buying guide, so you know the key features to look out for, how we put our list together, and links to some great products. Whatever you need your back support for, there's something out there that can alleviate your pain and ultimately provide you with a better quality of life.
A great functioning back rest can alleviate slouching, as your posture is enforced, as well as maintaining that posture throughout the day. Although you might not want to splash the cash on a back support system, just remember that chiropractors and physiotherapists are a lot more expensive in the long run!

How We Chose Our Selection Of Lumber Supports
We have to take into account a number of different points when choosing the right lumbar support products to feature. Bearing in mind that many people have various types of back pain, which can affect your legs, shoulders, and more. Including a range of products is important to give you the variety you need to make that all-important decision. To do this, we've included lots of different brands, so that we're not just biased in one direction. This means you can make an informed choice about which brand is right for you, and not just the product.
Reviews are also an important element of purchasing a product of this type. Without seeing how other customers have experienced their choice of lumbar support, you can't be certain how well the product actually performs in a real-life scenario. Remember, reviews can't always be trusted however, as some customers may have written it to simply complain, without any real issues with the product. Keep your options open and take a majority vote.
We all know that most of our buying decisions will ultimately come down to cost. Yes, we want something high quality that functions well, but if it falls outside of our budget, then it simply won't do. That's why we've included a range of different priced backrest products on our list, giving you a great selection to choose from. Remember, the most expensive doesn't always mean the best quality and the cheapest doesn't always mean it won't be up to the job. Read the reviews, see what the brand ethos is, and stick to your budget.

Features To Look For In Lumber Supports
Although you might not think it, there are several features you need to look out for when purchasing your back rest or support. Particularly if you've never made a decision like this before, you'll want to make the right one, so that you're not missing out on those all-important benefits.
Support - As obvious as it sounds, your back rest needs to provide you with a high level of support. There's no point purchasing something that will only disburse your pain to a different area of your body. A great back rest will give you support throughout your body. Everyone is unique in their posture and their pain, so it's all about finding the right product that gives you the right support. A flimsy or moveable lumbar support will leave you frustrated and aggravated throughout the day, constantly having to shift and move the product, so read up and find one that suits your needs. Look at the material that the product is made out of, so that you can see what type of support you'll be receiving and how this might affect the rest of your body.
Comfort - Although you might be getting the support you need from your back rest, don't forget about comfort too. Something might adjust your posture, but will leave you with indents on your back and painful patches for the rest of the day. Look at the different materials that the product is made up. Is it memory foam or mesh? Which provides you with the most comfort? Read up on the reviews and see what others have to say. Memory foam probably works best for comfort as it fits to each person's body uniquely, so you get the support and comfort you need.

Height - Ensure you read the product specification and see what height the back rest actually is. This will give you a good indication on whether it works well for taller people or shorter people. Most back rests on the market only provide support for the lower back area. If you need something to cover your upper back and shoulders too, ensure you read the manufacturer's specifications. The width of the product is important too, as if it comes up too narrow, you could start suffering from back pain on the sides of your body as well, because the pain simply becomes displaced.
Straps - Do you need to attach the back rest in a special way? Does the product come with straps to ensure you can do this? Do the straps actually hold the support in place? All these are important questions and it's vital to know how robust your back support will be. Straps are a crucial element as they keep the product secure and in place, allowing you to get on with your day and not worry about adjusting the lumbar support each time you sit back down. Ensure that the straps can be adjusted for other chairs too, not just the one you intend to use it for. You never know when you might need it for your car or dining chair.
Cleanability - We do a lot of sitting throughout the day, which can mean a lot of wear and tear for our back support. We also sweat too, which can transfer through to the back rest. Ensure you find out whether the product can be cleaned easily or not, as this can cause problems in the future. A removable cover would be idea, but remember that memory foam doesn't just hold the memory of your body shape, but your smell too. Read the manufacturer's specifications before you purchase if you know you'll need to wash your support a lot.