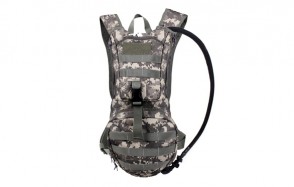 Unigear Tactical Hydration Pack with 2.5L Bladder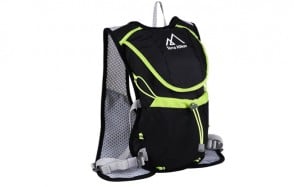 Terra Hiker Hydration Pack & Water Bladder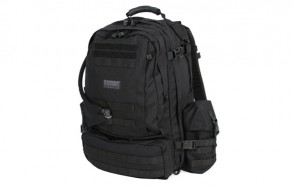 BLACKHAWK! Titan Hydration Pack
The hydration pack is a relatively new product, born of the experience of countless outdoor enthusiasts who never seemed to have enough drinking water on hand when mountain climbing, backpacking, bicycling or taking part in a hundred other activities. There are 2 basic types of hydration pack in wide use today: the backpack and the waistpack. Break things down a bit further and you'll discover there are several sub-groups within those 2 general categories. Those sub-groups consist of packs made specifically for different activities including backpacking, cycling, cross country skiing and more. For the purposes of this review guide we're going to confine ourselves to reviewing hydration backpacks and leave waistpacks for another day.
That said here are our choices for the top 10 hydration packs on the market today as chosen by the members of our product review team.
(Our Picks) Best Hydration Packs in 2018
Unigear Tactical Hydration Pack with 2.5L Bladder
See More Reviews

The Unigear Tactical hydration pack is a slick looking piece of outdoor kit that slips comfortably over your shoulders and provides all the water you'll need for a long cycling jaunt or an afternoon of reconnoitering the trail for tomorrow's summit push. It hold 2.5 liters of water in the upper of 2 pouches and provides a second, lower pouch for storing ancillary items like your headlamp, hunting GPS, multi-tool and/or first aid kit. The shell is composed of rugged 600D ripstop polyester that will stand up to whatever you encounter on the trail and there are lots of MOLLE-style loops on the exterior for related gear.
This Unigear hydration pack has adjustable waist and chest straps that make securing all that water a simple, straightforward process. You'll never lose your balance because of the water load, (which can often happen when you have several water bottles flopping around in your backpack). Like most hydration packs this one is not intended to take the place of your backpacking backpack. Instead it's meant to be worn as is on those occasions when you won't be gone overnight. As there are plenty of occasions like that this pack will find plenty of fans. It's available in black, tan and two different camo patterns.
Specification:
Brand

Unigear

Model

FBA_H-PACK-ACU

Weight

1 lb
Camelbak Gambler Ski Hydration Pack
See More Reviews

Camelbak has been quietly building a nice reputation for themselves as makers of some of the most comfortable, well-designed hydration packs on the market. This Gambler Ski Hydration Pack is a good example of the many things Camelbak does right. The Gambler hydration pack is perfect for cross country skiing and for those times you want to leave the camp and spend the day trekking the ridge. It's also great for mountain bikers for whom balance and stability are prime concerns. Motocross riders will also find the Gambler to be a welcome companion.
Keep in mind that this water backpack is intended to be used during cold weather so both the reservoir and the feeding tubes are well insulated. If you've ever done any winter hiking you know the sinking feeling of reaching for your water bottle and pulling out a block of ice. That won't happen if you're using the Camelbak Gambler. Overall the hydration pack holds 3 liters of water, (6.6 pounds) which is enough for most day long activities. The vertical orientation of the reservoir means all that weight will be well distributed down the center of your back, minimizing any weight issues. There's also enough room in the rest of this backpack to hold a host of other small to medium sized survival gear. A great cross country backpack for skiing or snowshoeing.
Specification:
Brand

CamelBak

Model

62302

Weight

1.7 lb
OXA 40L Hiking and Hydration Pack
See More Reviews

The OXA 40L Hiking and hydration pack is more than just a method for transporting a hydration bladder. It's a serious overnight camping backpack that also happens to easily accommodate a 2 liter water bladder (included) to make your backpacking life easier. It's available in black, blue or orange and has been thoughtfully laid out to provide safe, effective portage of everything from the aforementioned water bladder to your 17" laptop, sleeping bag, smartphone, GPS device, camping lantern and whatever else you need for your weekend in the woods (including standard water bottles if you feel inclined to bring some of them along).
The hydration bladder has a space reserved for it in the center of the pack where it won't interfere with balance when full. From there a tube runs through a hole at the top of the pack and is guided along the shoulder straps until it's proximate to your mouth. If there's a drawback to the hydration bladder/laptop concept it's that the two probably shouldn't be forced to co-exist. It's really more of an either/or situation. That said the pack is well-built. All load bearing straps are adequately padded and comfortable and stitching is top-notch. The compression straps allow you to secure the load properly every time you saddle up and the shell is made of durable, water resistant polyester. All in all an excellent all-around hydration pack.
Specification:
Brand

OXA

Model

B071ZF9C2F

Weight

2.2 lbs
See More Reviews

The Rabosky Hydration Pack bears more than a little resemblance to the Unigear hydration pack reviewed above and that's fine because both are smart, well-balanced packs that will make your day hikes that much more safe and enjoyable. Like the Unigear hydration pack the Rabosky sports an upper/lower pocket configuration and the weight of the water bladder is centralized so there are no balance issues. This is an ideal water pack for those day-long bike rides, hiking the Presidential Range on a summer day, participating in walk-a-thon for your favorite charity and a slew of other occasions. The water bladder that comes with the pack holds 2 liters and has an extra-large screw top for easy refilling. That water bladder is also BPA free and FDA approved. It also boasts enough thermal insulation to keep ice water cold for several hours at a time.
As for the pack's other features it has fully adjustable shoulder, chest and waist straps and enough storage capacity to take along an extra shirt, your GPS, smartphone, multi-tool, maps, snacks, sunglasses and more. The shell is tough but lightweight 600D polyester that's both tear and water resistant and your back is treated to Rabosky's innovative airflow system so you're not sweating out more than you need to. A smart, rugged hydration pack that should provide you years of reliable service.
Specification:
Brand

RaboSky

Model

B074QM9JDZ

Weight

1.8 lbs
BLACKHAWK! Titan Hydration Pack
See More Reviews

The Blackhawk Titan Hydration Pack looks like an ordinary day pack and in many ways it is. What's different about it is evident when you open it up and see all the slots and compartments for carrying hydration bladders, including the 100 ounce hydration reservoir that comes with the pack. That reservoir boasts the Microban antimicrobial safety system that heads off one of the primary concerns people have about water bladders. Access the Blackhawk reservoir via their "Bite me" valve system while you're on the go.
Beyond its ability to meet your hydration requirements on a given day hike or bike ride the Blackhawk Titan hydration pack also features a ton of internal and external pockets. Enough in fact to consider using this as a weekend backpacking pack (although you'll need to lash your sleeping bag to the outside, which you can thanks to the generous number of MOLLE-style straps and loops). The main compartment is zippered from top to bottom which allows you free and easy access to the interior so you don't have to drill down to find stuff. As an added bonus the shell is composed of 1,000D nylon and is maybe the most abrasion resistant pack you'll at any price. Versatile, tough, dependable and available in black, tan and olive drab.
Specification:
Brand

BLACKHAWK!

Model

65TI00BK

Weight

6.4 lbs
Terra Hiker Hydration Pack & Water Bladder
See More Reviews

See More Reviews



With the Terra Hiker Hydration Pack we return to the land of the straight ahead hydration pack. While there's room here for some of your travel accessories like GPS device, smartphone, Swiss Army Knife, tactical flashlight and more it's primarily designed as a safe, reliable way to provide you with drinking water while you're on the go. The center compartment will accommodate a water bladder up to 2 liters in size and there are side pockets designed to hold standard water bottles of up to 500 ml as well.
This hydration rucksack is designed to wear like a vest and as such the weight of all that water is brilliantly and evenly distributed across your shoulders, chest and back. The pack itself weighs almost nothing – less than half a pound – and there are copious safety features throughout as well. Waterproof ripstop nylon is used to construct the shell and as such you can confidently wear this hydration pack on rainy days whether you're trekking above tree line or cycling the length of Cape Cod. Toss in the fact that you can have it for about the price of a polo shirt and this is one high value hiking and cycling hydration pack.
Specification:
Brand

Terra Hiker

Model

B071HXQSZ1

Weight

10.7 oz
Osprey Packs Raptor 14 Hydration Pack
See More Reviews

A lot of thought and care went into the design and construction of the Osprey Raptor hydration pack and you can tell the minute you lay eyes on it. It has a sleek yet businesslike profile that invites to you see if it's as comfortable as it looks. The good news is that it is. The even better news is that it's not only comfortable, it's also eminently practical. It comes with a 3 liter reservoir that's specially designed to minimize liquid movement so that your balance won't be thrown off while biking or hiking. The hydration sleeve is easy to access and the drinking hose is directed straight over the shoulder strap and onto the chest strap. There it's anchored via a magnetic disk which provides easy access to the drinking valve.
But the Osprey Raptor Hydration Pack is about more than just delivering water to thirsty hikers. It's also about providing those hikers or cyclists that storage capacity they need to hold other important items whether that's extra t-shirts and socks, sunglasses, sunscreen, your smartphone, EDC knife or just about anything else. Basically what this water bag for hiking lacks in MOLLE-style webbing, straps and loops on the outside it makes up for with copious room for everyday items on the inside. You can comfortably stuff this backpack with water and never have to worry about it becoming unwieldy simply because the structure won't allow it. That's called smart design.
Specification:
Brand

Osprey

Model

10000250

Weight

2.1 lbs
Mubasel Gear Hydration Pack
See More Reviews

The Mubasel Gear Hydration Pack brings it all back home with a minimalist design that puts the emphasis squarely on hydration. The shoulder straps are well padded to ensure you can handle the 4 ½ pound weight of the 2 liter bladder over the course of a long day without causing undue fatigue or muscle stress. The pack itself weighs just over ½ pound so when the bladder is trending toward empty you might not even be aware you have it on. That hydration bladder by the way is FDA approved and itself weighs less than 2 ounces. In order to buttress stability when the bladder is full there's also a fully adjustable chest strap.
As we said this pack is designed to carry water and it may be the best running backpack. If, however, you're hellbent on using it to carry other items it will do that as well, within reason, and it will keep those items safe and dry behind the waterproof nylon shell and the tough and durable SBS zippers. On the outside there are a few bungee-style cables as well as a large, centralized webbed pocket for snacks, sunglasses or whatever else you feel like depositing there. And if you have a hard day walking the trail and this very cool hydration pack winds up a bit muddy you'll be glad to know it cleans up in a snap with just a damp cloth.
Specification:
Brand

Mubasel Gear

Model

B071JTFJF2

Weight

15.2 oz
CamelBak 2016 Lobo Hydration Pack
See More Reviews

If you're like most people you'll appreciate the practical ease with which a Camelbak hydration pack like this goes about its business. It's a no frills piece of outdoor gear that has a sleek, attractive profile and won't fall apart when the 3 liter bladder is filled to the gills. Everything about the Lobo is well thought out and well executed from the intelligent layout of the various storage compartments to the stitching to the spare but effective load bearing straps. If you want a hydration day pack that is designed as a water-first asset you can't do any better than the Camelbak Lobo in our humble estimation.
The generously sized reservoir sports a low profile that allows it to effectively distribute the weight evenly across the middle and upper portion of your back. The magnetic tube strap keeps the tube in place so you never have to go searching for it when you're trucking along. If you're a cyclist you'll appreciate the helmet hooks and what Camelbak calls the "Bike Tool Organizer" pocket. The reservoir also has an easy access cap and center baffling and the whole thing comes with a limited lifetime warranty on materials and workmanship. All in all just a really attractive, no-nonsense piece of outdoor gear and may be the best hydration pack for trail running.
Specification:
Brand

CamelBak

Model

62390

Weight

1.5 lbs
CamelBak 2017 Fourteener 20 Hydration Pack
See More Reviews

The last hydration pack on our list is, perhaps fittingly, another Camelbak hydration pack. This one is called the Fourteener 20 and it shifts a little of the emphasis away from toting water to carrying other equipment as well. It does that not by reducing the size of the bladder but by expanding the overall volume of the pack. This is actually a great all-purpose day pack that is solidly put together, attractive and extremely versatile. It boasts a 3 liter bladder just like the Lobo; one that's specially designed to meld with the inner contours of the pack.
The Fourteener 20 boasts the company's NV Back Panel that's designed for superior ventilation and impressive suspension and comfort. That back panel features both upper and lower pods with the lower used primarily for load bearing purposes. As you might imagine the shoulder and waist straps on this hydration hiking backpackare a bit more robust than those on the smaller, lighter Lobo and they make the experience of cycling or hiking even with the pack filled to capacity a relatively simple and enjoyable proposition. Bring along what you want on your next day hike or marathon bike ride. The Fourteener 20 hydration pack from Camelbak can handle it.
Specification:
Brand

CamelBak

Model

1316001000

Weight

2.8 lbs
Buyers Guide
Here are a couple of common questions regarding the operation of a typical hydration pack.
How Do I Clean The Reservoir?
Just as important as "how" to clean the reservoir of your hydration pack is "when" to clean it. Basically you should make it a habit to clean the hydration pack reservoir after every outing. This is especially true if you've filled it with Gatorade or fruit juice or anything other than H2O. That said cleaning the reservoir of your hydration pack is a pretty simple process that typically goes like this:
Mix 2 tablespoons of baking soda in enough hot water to fill the reservoir. Pour it into the reservoir, pinch the drinking tube and then turn the reservoir upside down so that water fills the drinking tube. Hold it like that for a minute. Then set it down and let it sit for about half an hour. (note: you can substitute bleach for baking soda if you need to)
Empty the bladder and then wash it out thoroughly using hot water and a mild dishwashing detergent. If you used bleach be sure you've removed all of it before using the bladder again. This typically means rinsing it out 1 or 2 times after you think it's been rinsed out enough.
Finally, and this is crucial, remember to thoroughly air dry the bladder before replacing the cap. If you leave moisture inside you're inviting bacteria and mold to take up residence. And the end result of that will be some very unpleasant experiences when you thought you were going to be enjoying a nice hike, bike ride or day of snowshoeing.
Should you discover mold in your drinking bladder fill it with hot water and let it sit for several hours. Once you've emptied that water repeat the cleaning process above.
How Do You Drink From A Hydration Pack?
Drinking from a typical hydration pack isn't rocket science but it does take some getting used to, especially if you want to rehydrate without slowing down. Make sure you've cleaned out the water pack after your last use using the steps outlined above. If you don't you may be drinking bacteria and mold along with your water.
Fill the bladder and replace it in the hydration pack. Make sure it's properly positioned and properly secured. Make sure the hose is also properly positioned. Strap the pack on and begin your chosen activity.
Whether you're hiking, cross country skiing or riding your bicycle the process is the same. Reach down and place the tube in your mouth. Bite down on the tube and draw the water in. It's the same motion you use when drinking through a straw. When you've had enough release the tube from your mouth and return it to its intended resting spot, typically on the shoulder or chest strap of the hydration rucksack. Different hydration packs will have different mechanisms for securing the hose.
Just remember running hydration is an activity that requires moderation. A few sips and be done with it.

Conclusion
The hydration pack has transformed the way people approach hiking, cycling and a range of other activities. No longer beholden to the plastic water bottle they've been able to improve their performance and realize a higher degree of convenience and fun. We hope you found these best hydration pack reviews helpful and be sure to stop back soon for more informative product reviews and guides from Gear Hungry.