If you've ever spent any time seriously hiking the trails, gullies and mountain ridges of the world you know that your most important allies are your hiking shoes. And that's true whether you're tackling boulder fields, hardscrabble trails above tree-line or some of the wider, better groomed trails in our National Parks. If the shoes you're wearing into the wild aren't up to the task you're going to tire more easily, be susceptible to cramps and blisters and set yourself up for twisted ankles and an array of more serious injuries.
Modern hiking shoes can trace their origins to the aftermath of World War I when weary Europeans began to focus their attention on leisure activities. Early hiking shoes were heavy, leather affairs that were of very little use when they got wet. Over time hiking shoes began to incorporate different materials and fabrication methods. But while waterproof fabrics have been around for some 250 years it wasn't until the late 1970s and the invention of Gore-Tex that the kind of hiking shoes we have today became possible.
The 10 hiking shoes we're going to review here have all proven their mettle on your trek. So, without further ado let's get started.
Top Hiking Shoes In 2018 (Our Picks)
Hiking Shoes Buyers Guide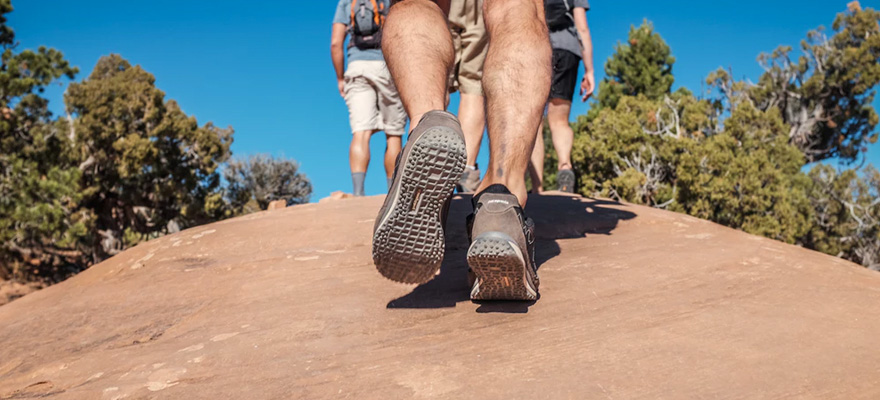 Things To Look For When Buying Hiking Shoes
Just like you're used to, your good friends at Gear Hungry broke every part of the buying process down. Isolate your requirements, put them to the test on your favorite products, and see which ones emerge victorious. When you're going for something that's personal, like hiking pant or a hiking watch you want to ensure they're right on the money the first time around. Here's how to do that:
Material - This is going to play into your comfort, but also, it's about preference. There are some people who just can't handle leather shoes; it gives them blisters, and that's why they'll go for another material like suede or nylon. You want durability to hold up against the elements, but you also want to make sure that they're shoes you actually want to wear. Function is excellent, but when it lacks on your personal brand of style, it falls flat.
Waterproofing - Arguably, one of the most important features in your hiking shoes is waterproofing in the Winter especially. When you're out on the trail and trying to make the climb, the last thing you want is to be left with a soggy insole. If you're a hardcore hiker and plan to be out for extended periods of time, prolonged moisture exposure can bring on the early signs of athlete's foot and other types of bacterial fungus on your feet.
Support and Cushioning - You wouldn't buy a shoe that you didn't feel comfortable in, and that's something that's very difficult to judge online. The best place to find true blue reviews on the comfort level of shoes is on the sales page. At Gear Hungry, we test every product we can, but it's impossible to say what's going to be the most comfortable for you. We all different feet types, sizes, and that all plays into the decision-making process.
Traction - You need to maintain proper traction out on the trail. One slip can result in fractured or dislocated ankles, and potentially-damaging slips and falls down a trail or hillside. Hiking is all about making the climb; it's difficult to do that properly when your hiking shoes don't help you out and when you don't have the best compass.
Weight - The more lightweight, the better. You don't want to walk around feeling like there are just anchors tied to your ankles. You want to keep on the move, and that requires being able to keep pace with your equipment; not pick up the slack. Heavier hiking boots also fatigue you far quicker than lightweight ones. You're carrying extra weight—your energy level will pay the price. Especially if you put them on your back.
IMAGE
Durability - If you hike every weekend, or even if you only get the chance to hi the trail once a month, you want to ensure that you're wearing a well-maintained pair of hiking shoes. You're putting them through various angles of pressure, tension and scraping them against the unforgiving ground. They need to be able to withstand the test of time and be ready for anything, just like you are.
Breathability - We talked about waterproofing earlier—it's a necessity, because you need to keep moisture out. The same is said for your sweat buildup in your shoes; you want to keep them as dry as possible. The breathability of your hiking shoes are excellent indicators of how long you can use your hiking shoes in a single go, before they end up being too hot/sweaty to keep going. The biggest thing to keep in mind is that you do not want to start a pattern of fungal growth. Dark, wet places is where bacteria likes to grow.
Lacing System - Lace up and you're ready to go—almost. Taking a little slip in the living room on your laces is one thing, but when you're in the untamed wilderness, you can't be tripping over your own shoes. Your lacing system should keep a nice tight fit on you, while ensuring that your laces aren't going to drag across the ground. It becomes a tripping hazard.
Toe Protection and Insoles - It's difficult to perfectly marry two traits in hiking shoes: lightweight build, and toe protection. You're going to encounter various levels of terrain out there, as well as boulders, snags on tree branches poking up in the trail—the point is, it's not going to be an easy time, so you need proper protection. The toe of your hiking shoes should be a bit tougher than the rest of the build, ensuring that stubbing your toe on a large rock or stumbling isn't going to ruin your trip.
Your insoles are also key. These play more into comfort than anything else, but if you don't have proper insoles, you'll end up damaging your feet and, possibly, hurting your lower back and putting extra stress on your shoulders. Instability in your feet affect your posture and how well you perform out on the trail.
Price - You can't get away from it—price is going to influence everything you do. This is where the tough choices are made, where you have to weigh the pros against the cons and decide what's best for you, and what's best for your wallet.
What Is A Good Test To Ensure The Proper Fitting Of My Hiking Shoes?
As with any shoe, you should have sufficient wiggle room for the tips of your toes. Apart from simply applying the shoe to your foot, there's not a whole lot that can be done to ensure a proper fit. Wiggle room on the toes, tight around the ankle (not too tight), and you're good to go.
How Can I Avoid Blisters?
There are a few different proactive measures you can implement to ensure you're not going to walk off the trail with a boat load of blisters. Firstly, you need to keep your feet dry. When your feet become ever so slightly moist, your socks and the interior lining of your shoes don't glide against your skin—they try to take it with them.
Spray the inside of your shoes with an antiperspirant prior to hiking, and be sure to keep moisture-wicking socks on the possibility list. An at-home trick if you don't have spray antiperspirant or specific socks is to use cornstarch in your shoes to keep them dry.
What Solutions Are There For Narrow Feet?
Having narrow feet can be a bit of a bummer when you're trying to get the right hiking shoes. It's actually a bit easier to purchase hiking shoes if you have wide/flat feet, since it makes traction a lot easier to manipulate. The best thing you can do is look for specific hiking shoes that are designed for narrow feet, though they will be difficult to come across.
How do Hiking Shoes Improve Hiking?
There are a few main ways that they improve hiking:
Traction
Standard shoes (and hunting boots / work boots) aren't going to give you proper traction on Mother Nature's territory. It's fairly difficult to gain proper traction on rocks and loose dirt. While most of it depends on your footing and stability, your hiking shoes are your second line of defense against slips and falls.
Avoiding Blisters
Ever walk around in sneakers for far too long, only to find that you're getting blisters on your pinky toes and the interior side of your feet? That happens to the best of us. Hiking shoes are specifically designed to breathe easier, and to lessen the likelihood of finding blisters when you pop your shoes off.
They Withstand the Elements
Try going hiking in standard sneakers—your hiking shoes were designed to get dirty and dusty, but your casualwear sneakers weren't. Not only that, but while you lose traction, you'll also damage your sneakers with all the various ways that your feet twist and turn during a hike.
Conclusion
Hiking shoes have come a long way over the years to the point where it's sometimes difficult to tell where the running shoes end and the hiking shoes begin. That said, any of the men's hiking shoes reviewed above will serve you well on your future excursions and none of these hiking shoes will require you to make any financial sacrifices to acquire them.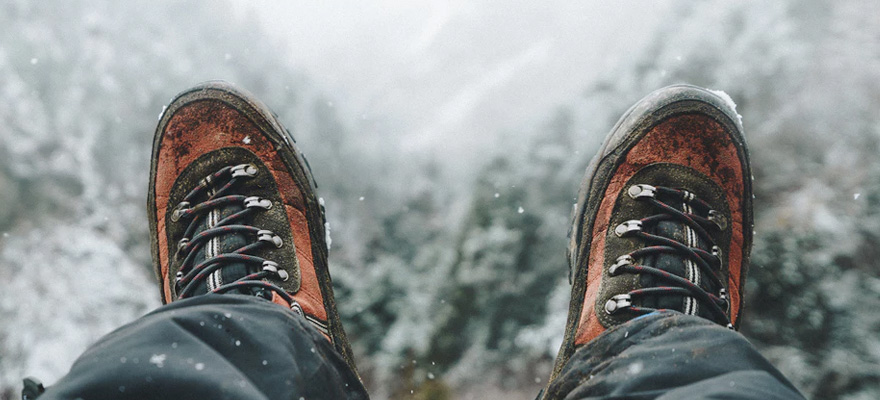 We hope you found these reviews of the best hiking shoes for men helpful and that the information aids you in making an informed decision on which might be best for you. Be sure to stop back regularly for more insightful product reviews from the experts at Gearhungry.