Best Heated Jackets To Keep You Warm This Winter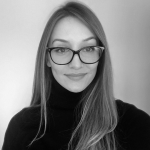 This product guide was written by Jovana Dosenovic
Last Updated
December 31, 2021
Jovana Dosenovic
Jovana is a writer and copy editor living with her lazy calico cat and thousands of (mostly unread) books. She has worked as a copywriter, fact-checker, QA analyst, and librarian, but this has been her favorite gig so far. A bit of a bookworm since she was tiny, she loves nothing more than curling up with a giant cup of coffee or tea and a good book. When not hunched over a keyboard or book, Jovana enjoys going on long walks, short hikes, and occasional camping trips. She also has an unfinished novel she'd like to publish one day. No, really.
GearHungry may earn a small commission from affiliate links in this article.
Learn more
When it comes to your cold-weather wardrobe, the most important thing is whether or not it's able to protect you from frigid temps and cold air. Staying warm and dry in cold weather can usually be accomplished by wearing a proper three- or four-layer clothing system: a moisture-wicking base layer, a soft and warm fleece mid-layer, and an outer layer that shields you from wind and rain (an insulation layer can also be added before the last layer for extra warmth). However, if you work outside all day or participate in winter sports or activities, a multiple-layer clothing system may not be ideal as it can get quite bulky and therefore restrictive. The next best thing? A couple of flexible thinner layers plus a heated jacket.
A heated jacket fits like a normal jacket but has heating panels inside that are powered by a rechargeable battery. These heating elements keep the main parts of your upper body warm and pass that warmth throughout your body for maximum protection against the cold. As a bonus, many have heated pockets to keep your hands warm too.
After spending countless hours on research and editing, we bring you the absolute best-heated jackets currently on the market. Some of them are made by tool manufacturers instead of clothing brands, but they still look good so you can wear them recreationally as well. Whether you work outside, participate in winter outdoor activities, or have to commute through the bitterly frosty weather every day, these heated jackets and hoodies are guaranteed to keep you warm and toasty.
The Best Heated Jacket
Ororo Men's Soft-Shell Heated Jacket
The Ororo Men's Soft-Shell Heated Jacket is possibly the best heated jacket for men in this price range. Ororo is actually a heated clothing company whose entire focus is on making heated apparel – and it shows. This jacket has a soft-shell design and a relaxed, casual fit that would look appropriate in a workplace or recreational environment. It's made from 100% polyester and has a fleece lining to make sure you don't lose any of the precious heat provided by the heating elements. Speaking of, the Ororo jacket boasts three carbon fiber heating elements on both sides of the chest area and one in the middle of the back. You can choose from three heating settings (low, medium, & high) by pressing the button above the logo on the breast.
It's got a 7.4V UL/CE-certified battery that provides an impressive 10 hours of working battery life when on low. The USB port can also be used to charge your smartphone or other devices, but using this feature is going to drain the battery much faster. For added protection on wet and windy days, there's the detachable hood, as well as the overall water-resistant design of the jacket. If you need an insulated jacket to keep you warm this cold winter season, make sure you also check our guide to the best down jackets.
Key Features:
100% polyester, fleece lining
Waterproof fabric and detachable hood
7.4V UL/CE-certified battery, up to 10 hours of battery life
3 heating settings
Machine washable
USB port
Specification:
Brand

Ororo

Model

ORORO-18650
Pretty long battery life, especially when used on low
Beautiful casual design with removable hood
Handy USB function
The sizing seems to be off; runs a bit small
Bosch Men's Soft Shell Heated Jacket
If you're looking for a durable work jacket with a quality heating element, definitely check out Bosch Men's Soft-Shell Heated Jacket. Bosch is a well-known and well-respected engineering and technology company, so they know how to make equipment that really works, and this heated jacket is certainly no exception. Firstly, you can tell that it's quite durable just by looking at the seams and the zips. It's made from 100% tough polyester, which means it's wind and rain resistant, which is obviously important if you're working outside as you can wear it instead of your windbreaker jacket.
It has a powerful 12-Volt battery, but strangely it only provides 6 hours of runtime, which is less than the Ororo jacket, for example. This is probably because it's providing more heat though, but they don't say exactly how hot it gets. If the run time isn't enough, you can buy extra batteries or bigger batteries from Bosch or simply recharge the jacket when on a break inside. With three quick-warming heating zones, including two on the chest and one on the back, and three heat settings, this is one toasty jacket. It also includes a USB charging option for your electronics. You may also like some of the trench coats from our list for when the occasion calls for something more stylish.
Key Features:
100% polyester with nylon lining
Wind and rain resistant
12V max battery, up to 6 hours battery life
3 heating settings
USB charger
Specification:
Brand

Bosch

Model

PSJ120M-102

Weight

3.81 Pounds
Very well-made and durable design
The USB charge is a useful function if you don't need the battery life
Warms up quickly
The run time isn't super-impressive, but you can buy extra batteries
Milwaukee M12 Heated Jacket
If you're satisfied with only the best, including the best heated clothing, and you don't mind spending a little more to get it, you should consider the Milwaukee M12 heated jackets for men. This model does the same thing as the other jackets on our list – it just does them better. The exterior is made from ToughShell stretch polyester, which should last around five times longer than other similar materials. It's also wind- and water-resistant and has FreeFlex mobility gussets to make the jacket easier to move around in, making it great for work and other outdoor activities.
The Milwaukee jacket boasts five battery-powered heating elements: two on the chest, one on the back, and one in each hand pocket. The two heating zones in the pockets are of particular note as they will keep your mitts nice and toasty even when you're not wearing insulated or heated gloves. It's all powered by an M12 RedLithium battery, which provides up to eight hours of run time. And if that's not enough run time for you, you'll be pleased to hear the jacket's compatible with Milwaukee's more powerful M18 battery. The whole jacket is controlled using a one-touch LED controller that can be used to change the three heat settings and choose which areas you'd like to heat. A top contender for the best heated jacket!
You may also like our guide to the top men's peacoats that are both stylish and comfy.
Key Features:
ToughShell stretch polyester with FreeFlex Mobility Gussets
Water- and wind-resistant design
M12 RedLithium battery, up to 8 hours of life
5 heating zones, 3 heating settings
Adjustable cuffs and waist
USB port
Specification:
Brand

Milwaukee

Model

TV205494

Weight

4.75 Pounds
The best electric heated jacket on this list
Extremely durable and long-lasting materials
Well-insulated yet flexible
Great quality comes at a price
Venture Heat 12V Motorcycle Heated Jacket
Riding in the cooler seasons can be beautiful but undoubtedly cold, too. To remain warm and comfortable while on the road, we recommend you wear the Venture Heat 12V Motorcycle heated jackets for men. This jacket has a whopping seven heating zones –  two on the chest, two at the back, two on the sleeves, and one on the collar – distributing comfortable heat all over your body. Equally important, it's lightweight and slick, similar to a windbreaker, so it's easy to layer over it. In fact, it's designed to be worn under your regular motorcycle jacket, or any other outer layer of your choice.
Best of all, this Venture Heat jacket is powered by the battery of your motorcycle, ATV or snowmobile, and comes with Bluetooth connectivity. If you choose to control it via their app, you can choose between 10 heat settings, and if you prefer the on-board button, there are three settings. As if the heated sleeves and heated collar weren't enough, the jacket is also rain and wind-resistant and can be packed away into its own self-contained pocket when not in use. For more reliable and warm options check out our guide to the best-selling Carhartt jackets.
Key Features:
Powered by your motorcycle's battery
7 heat panels, 10 settings via app/3 settings manually
Should be worn under a motorcycle jacket
Water- and wind-resistant
Specification:
Brand

Venture Heat

Model

BH15901
Lightweight, comfortable and warm
Works with a variety of vehicles
Packs away into its own pocket for easy storage/portability
Must be worn under a thicker/insulated jacket in really cold conditions
ORORO Women's Slim Fit Heated Jacket
Like the men's version of this jacket, the ORORO Women's Slim Fit Heated Jacket is one of the best models in this price range. It's made from 100% polyester, making it durable and able to retain heat, plus it's got a detachable hood for extra protection during windy/snowy weather, and it's fully waterproof and windproof, making it suitable for all sorts of outdoors activities as well as work.
As you'd expect, the heating elements are in the standard heat zones: three carbon fiber heating elements of which two are on the chest area and one on the middle back. This is powered by a 7.4V UL/CE-certified battery which provides up to 10 hours of heat time. Although, it's worth noting that the 10 hours run time will only be available when you choose the lowest heat setting. The Ororo heated jacket is also machine washable and looks quite stylish – great for work, outdoor activities and everyday life. Our handy guide to the most popular fleece jackets features more great products like this.
Key Features:
100% polyester, soft fleece lining
Water-resistant fabric and detachable hood
7.4V UL/CE-certified battery, up to 10 hours of battery life
3 adjustable heat settings
USB port
Machine washable
Specification:
Brand

Ororo

Model

ORORO-18650
Integrated hood makes it great for outdoor use
The battery life is pretty long if you use it on a low setting
USB charging is a handy addition
The jacket remains somewhat stiff even after repeated use
Milwaukee Performance Men's Heated Hoodie
The Milwaukee Performance Men's Heated Hoodie is a little different from the other jackets we've featured here. Comfy, soft and casual, this heated hoodie is perfectly suited to recreational use. If you're the kind of person that's cold all the time, this is definitely the hoodie for you as it features two heating zones – one on the front and one on the back- to help you stay warm and maintain proper body temperature in cold weather. It has three heat settings (low, medium, & high) and it's powered by a 12V smart lithium-ion rechargeable battery.
Made from cotton and boasting thick thermal inside lining, knitted cuffs and a waistband, this comfy, electrically heated hoodie will definitely keep the heat inside, right where you need it. It's worth noting that this jacket isn't made by Milwaukee the tool brand. It's made by Milwaukee Performance, which is a completely separate company. It's still super high-quality, but it uses different batteries and different heating tech. We don't think this hoodie is particularly good for use in tough work environments because most cold weather workers need something at least wind- and water-resistant, but it's great for recreational use.
Love this product? Check out our review of the best-rated denim jackets for our top picks.
Key Features:
100% cotton exterior, thermal inside lining
7.4V rechargeable battery pack included
2 heat elements, 3 heating settings
Integrated hood, 2 large pockets
Compatible with any Milwaukee heated gloves
Specification:
Brand

Milwaukee Performance

Model

MPM1713-SET-BLACK-2XL

Weight

4 Pounds
Very comfortable because it's a hoodie
You can power it using your bike battery
Ideal for recreational use
Battery run time is not specified
Prosmart Men's Heated Jacket
If you've never owned a heating jacket before and you don't want to spend a fortune on one in case you end up not really liking it, we highly recommend you check out the Prosmart Men's Heated Jacket. Budget-friendly (for a heated jacket), comfy and warm, this soft-shell heated jacket is perfect for someone looking to find an entry into the world of heated clothing. Sure, it's not the most advanced jacket on our list, but with a 12V Li-polymer battery pack and two large heating zones, it will keep you comfy and toasty in colder seasons.
With heat elements on the front (chest) and back and three different heat settings to choose from, the jacket provides enough warmth to keep you comfortable in super-cold weather without overheating you. The battery life is pretty impressive as it can last for about 12 hours if you have it on a low setting. One of the best things about this model is how quickly it heats up – the quick warming heat zones take only a couple of minutes to get comfortably warm. The exterior also repels water so it should keep you dry in rainy weather. Find more great products like this by checking out our guide to top-quality field jackets.
Key Features:
100% polyester with fleece lining
12V ultra-thin battery, up to 12 hours of run time
2 heat zones, 3 heating settings
Water-resistant design, adjustable hood
Specification:
Brand

Prosmart

Weight

4.4 Pounds
Excellent battery life if you use it on a low setting
Comfy and flexible, great for winter sports
Really affordable for a heated jacket
The quality of the material isn't as great as the more expensive options
DEWALT Heated Soft Shell Jacket
If you're looking for a heavy-duty soft-shell heated jacket for outdoor work and recreation, the DEWALT Heated Soft Shell Jacket is a fantastic option. It's definitely durable enough to be used around the workplace, thanks to its thickly woven outer shell with wind and water resistant abilities. The fact that's it made by Dewalt is the other clue that this is a product that's going to last. Inside the jacket, there is a warm fleece lining that will keep you toasty even if you don't have the heating turned on. Speaking of which, there are five heating elements that generate heat, including two in the front and one in the back, plus heated upper arms. This is all powered using a button inside the jacket.
It's got four useful pockets scattered around the jacket, as well as a pocket designed specifically to carry the 20-volt MAX battery. This impressive battery can power the coat on its lowest setting for 9 hours and comes with a charger and adapter. The other good thing about this battery is that it's interchangeable with the batteries on any other Dewalt tool. So, if you've already got a couple of Dewalt power tools, you can just swap them out when this one runs out. It might cost you a little more money, but we definitely recommend this jacket for outside work and play. It's also tougher and will definitely last longer than some of the cheaper options. Hands down, one of the best heated jackets around!
Don't forget to also check our guide to the best running jackets.
Key Features:
Insulated woven softshell, fleece lining
20V MAX battery, up to 9 hours of run time
5 heat zones, 3 heating settings
Water and wind-resistant design, multiple pockets
USB charging port
Specification:
Brand

DEWALT

Model

DCHJ060ABD1-2X

Weight

2.7 Pounds
Super-comfortable and warm jacket
Ideal for outdoor work and activities
Works with other Dewalt 20V batteries
A detachable hood would be a nice addition
Why Trust Us
As folks who regularly and frequently hike, camp, hunt, and bike in cold conditions, we know a thing or two about staying warm in freezing cold weather. Aside from layering your clothes properly, our team of outdoor professionals highly recommends heated clothing in bitterly cold climates as it will keep you warm and comfortable no matter how much time you spend outside. Every jacket you see here is either a favorite among our winter- veterans (hunters and ex ski lift operators included), or is a top-rated jacket from a reputable brand we trust and love.
Who This Is For
This guide is for anyone looking for top-quality jackets to keep them warm, comfy and safe in frosty weather. Whether you work outside in frigid temps and need durable heated clothing specifically designed for cold weather workers, participate in outdoor activities like cycling or hiking and are looking for electrically heated jackets with some flexibility, or you're simply always cold and want a comfy battery powered heated jacket for everyday use, this guide to the best heated jackets has got you covered.
How We Picked
To give you the very best heated jackets the market has to offer, we consulted with the outdoor professionals on our team, researched dozens of brands, and read hundreds of customer reviews. We then selected the best options for different categories (work, recreation and everyday use included) to make sure varying needs and budgets were covered.
Features To Look For In Heated Jackets
Power source – Heated jackets come with either one heating element, or more commonly several elements that are powered using batteries. They'd be pretty useless if you had to walk around the job site plugged into the wall. Of course, the more money you spend on a heated jacket, the better-quality battery you will get (typically). Each battery has a different run time, and it's important to take note of it when shopping for a heated jacket. Needless to say, if you work long hours in the cold, look for heated jackets with powerful batteries as they provide longer work times.
Run time – Run time is an extremely important factor when you're buying a heated jacket. It needs to last long enough to keep you warm for the entire day. On the heated jackets we've selected, the run times range from 6 hours to 12 hours. Of course, if your jacket only lasts for 6 hours, you might need to put it on charge during your lunch break. Most jackets have low settings that will save battery life and make it last longer.
Fit – Obviously, it's really important that your heated jacket fits correctly. You might be buying it primarily for its heating technology, but you're going to be wearing it every day, so it needs to fit well. On the 'customer questions and answers' section of Amazon, you can often find customer asking about the right size for certain heights and chest sizes. This might be a useful shortcut to finding the perfect fit. Alternatively, go to the manufacturer's website and see if they have a size guide.
Weight – Naturally, by adding heating panels and batteries to a jacket, you're going to make it heavier. But you don't want something that is going to weigh you down too much when you're on your feet all day. Fortunately, the brands usually choose lightweight materials and often manage to get the jackets to weigh less than 1lb. Make sure you check out the weight of the jacket before you buy it if its weight is of particular concern.
Pockets – Don't get too carried away thinking about heating technology. This is still a jacket you're going to be wearing at work every day. That means you'll need plenty of pockets to carry around all of your essential tools with you.
Heat settings – You might not want to have your jacket on full-heat all the time. It might just be a mildly cold day where you need a bit of heat to keep you toasty. Almost every heated jacket has three heat settings (low, medium, & high) and some have more. Not only does this give you complete control over the heating power, but it also lets you save the battery and make it last for longer. The heating settings are normally powered by a button on the left breast of the jacket.
Weather resistance - The best heated jackets boast wind and water-resistant materials, so you can wear them rain or shine. If you plan on wearing your heated jacket in snowy/rainy conditions regularly, make sure you select one with at least some weather resistance.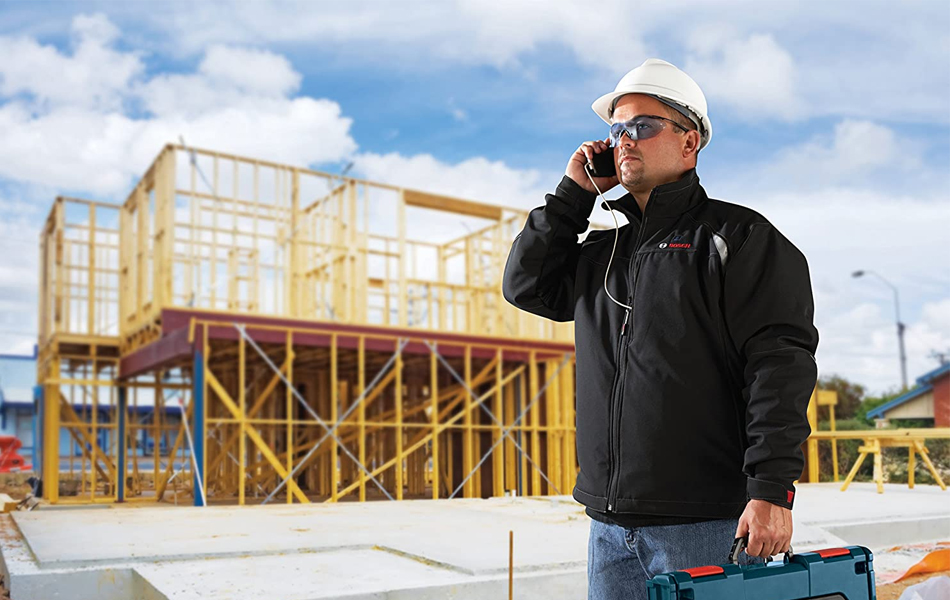 Heated Jacket FAQ
Q: Are heated jackets bad for your health?
A: Heated jackets manufactured by reputable brands are perfectly safe, and indeed healthy, especially if you work or spend a lot of time outside in cold weather. A good-quality heated vest, jacket or parka will help you maintain proper body temperature even in extreme cold, plus improve your circulation.
Q: Are heated jackets safe in the rain?
A: Many heated jackets are safe in the rain, including most we reviewed in this guide. Typically, heated jackets have a polyester exterior with some weather resistance, including water and wind resistance. However, if your heated clothing is made from 100% cotton, then it doesn't have a water-resistant outer shell and shouldn't be worn in the rain.
Q: Can you wash a heated jacket?
A: Most heated jackets can be washed in a washing machine a certain number of times - after you take out the jacket battery pack, of course. It's always best to follow the manufacturer's instructions, and as a matter of precaution, use a mild, technical detergent.
Q: How should I clean my jacket?
A: If you don't want to machine wash your heated jacket (or if your particular model shouldn't be machine washed), you can hand wash it using a mixture of warm water and a technical detergent. You can also spot clean certain areas with a smaller cloth and the same water-detergent mixture.
Q: How should I recharge my battery?
A: Most heated jackets are powered by standard batteries that can be recharged once they empty/as needed via USB or wall plugs. Some motorcycle heated jackets can be wired to your motorcycle so they get charged as you're riding. This being said, each heated clothing item is different in its charging process (as each has different a battery type and capacity), so it's important to check user manual before charging.
Sources:
Heated Clothing - Wikipedia
Sign Up Now
GET THE VERY BEST OF GEARHUNGRY STRAIGHT TO YOUR INBOX