GearHungry may earn a small commission from affiliate links in this article.
Learn more
Best Goatee Styles
Growing a goatee for the first time is a big deal, heck, it's a big deal even if it's not the first time. A goatee is one of those classic facial hair styles, extensively adaptable and easily combinable with other facial hair styles. It can match your style, completely re-invent your style, or sit somewhere in between. But, with endless routes and possibilities, where is the best place to start?
If you've decided to grow a goatee, then the likelihood is, you're a little concerned about how to get it right. There are some big questions that need answering: will it look good? will it be uncomfortable? and importantly, will it grow right?
To give you the best chance of goatee success, and a helping hand with the right style for you, we have put together the ultimate guide to getting the perfect goatee style. Not sure where to start with your goatee? Look no further!
Picking the Perfect Style
First-up, it's worth taking a look at some of the classic and unconventional styles, to give you a good idea of which direction to take with your goatee. Once you have an idea in mind, it's almost completely smooth sailing. Here are 5 of the top goatee styles for 2018:
Style One: Thick Goatee with Stubble
This style is a classic, not incredibly high-maintenance, and easy to pull off. The goatee hair is thick but trimmed, and the stubble is left light around the moustache and jaw.
Style Two: Thin Goatee and Moustache with Chinstrap
While a bit of regular maintenance is required to take care of this style, it can certainly pay off. The goatee is very trimmed, combined with a thin chinstrap, and connected to a thin moustache.
Style Three: Pure Goatee
This style embodies everything that most people expect a goatee to look like. The face is kept clean-shaven, and the goatee is left relatively small but very thick.
Style Four: Goatee and Soul Patch
The classic combination of a goatee and soul patch is a winner for many, especially with the addition of a disconnected moustache. The style is clean and attractive, with the face otherwise clean-shaven.
Style Five: Handle Bar Moustache and Thick Goatee
A controversial style but one with some serious potential. Handle bar moustaches have jumped in and out of style, but when twinned with a thick goatee, they can really deliver that classic appeal.
Of course, there are a thousand and one ways that you can customize a style to suit your facial features. This makes the types of goatee style near endless, only limited by your own creativity. Once you have a style in mind, you need to make sure your skin and facial hair are protected to ensure your goatee has a healthy look and feel.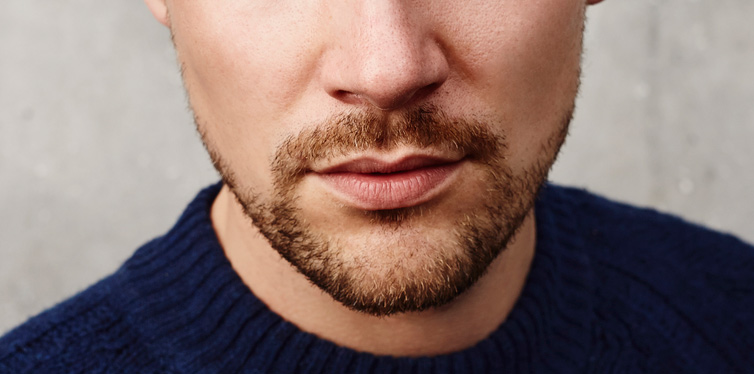 Protecting Your Facial Hair and Skin
No matter what facial hair style you're going for, if you want the best look, you're going to have to put a bit of work in. Dry skin under a beard is a very big concern for some people and finding the skin irritated or inflamed is not too uncommon – especially in the early stages when the facial hair is incredibly itchy.
Most cases of dry skin are caused by the facial hair removing moisture from the skin. This can leave your freshly grown and styled goatee feeling dry, itchy, and generally unhealthy.
The biggest combat to this dryness is using the right facial hair moisturizer – an essential piece of kit whether your growing a moustache, goatee, or full beard. Thankfully, there are products in abundance designed to target dry and itchy skin under facial hair. Two of the essentials are beard oil and beard conditioner.
Beard oil is an all-round wonder-product, and one of the best ways to moisture your goatee. These can help to balance the moisture levels in your goatee and enhance the look and feel of your facial hair – making it smoother and shinier.
Beard conditioner is also a fantastic product for making your beard softer and more manageable, with nutrients to enrich the facial hair. Regular use of a conditioner will help to reduce itching, leaving you with a softer and healthier goatee.
Give Your Goatee a Helping Hand
Sadly, you're not going to get a perfect looking goatee overnight; it takes time, patience, and dedication to get a look that's really going to work for you. Whether the process takes you weeks or months, it's important to give yourself a fighting chance. This all revolves around facial hair maintenance and a touch of male grooming.
Investing in a high-quality safety razor will make sure that you're able to get the perfect shape and style every time, so your goatee can grow consistently. Combined with a goatee trimmer, there should be no reason why you can't maintain the ideal style. For everyday maintenance, a beard brush is essential – keeping your goatee smooth, clean, and soft.
When it comes down to it, all that hard work shaping, styling, and maintaining your facial hair is going to be well worth the effort. If you do run into problems somewhere along the line, then you're certainly not limited to sticking with the same style!