You're not a standard gentleman – you don't have a standard job or lifestyle. You're a beast, and you know it. When beasts get stuck with garden variety solutions to their gaming office chair needs, it's truly upsetting. We've gone and found the best ten gaming chairs with high comfort, support, weight capacities, and a high amount of fun. Sit down and stay awhile; we've got a lot to cover.
Our Top Picks Of The Best Gaming Chairs
1. Homall Executive Gaming Chair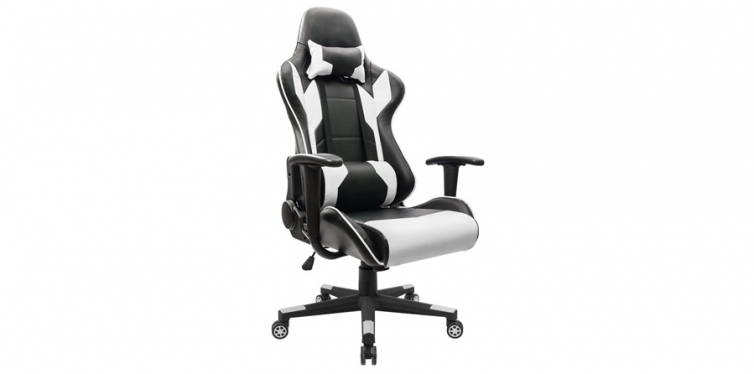 Who says you can't game and be an executive at the same time? Homall understands the struggle you've had looking for the perfect chair, and made it easy as can be. You get a fantastic price on this high-quality chair, at least in most aspects. The armrests on this chair truly do disappoint, and we're the first to admit that. However, you're going to have your hands on the keyboard and mouse or a configured controller most of the time; keep that in mind.
This comfortably sits up to 300 lbs, and up to 6'7" without incurring an issue with height. You'll still be able to use the comfortable and supportive headrest, and let this chair envelop you entirely while you game. You'll smell a material chemical reaction, often referred to as off-gassing, and it takes some time to go away. Overall, based on value, comfort, support and the load capacity, Homall took the cake for best big and tall gaming chair on Gear Hungry.
Specification:
Brand

Homall

Weight

42.1 pounds
Headrest comfortably seats 6'7" without making you feel squished
Lumbar support is comfortable and does its job
Excellent price
Armrests are as basic as it gets; they focused on every other element of this chair
Retains an "off gassing" odor that takes a long time to go away
2. Flicmax Ergonomic All-Black PC Gaming Chair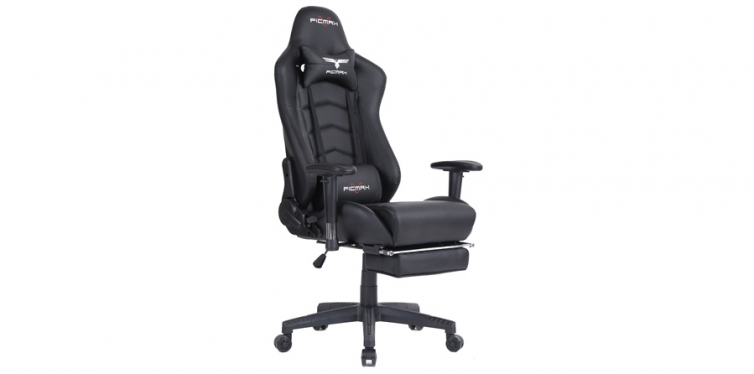 You need a comfortable companion for new releases, long weekends, and dungeon raids that just won't end. Even when your eyes are getting tired and telling you to quit, Flicmax still has faith in you. Outfitted for up to 300lbs (though we would recommend imagining a 270lb limit), you get support in numerous areas to help you play on through the night. A cushioned and tightly-designed headrest allows you to lean back, and either utilize the 90-degree tilt option, or simply put some relief on your neck.
From the lower lumbar support to the additional leg cushioning, right on down to the adjustable armrests, you get a lot of control over your support and comfort, with easy fixes so you don't have to wait until the end of a match to adjust. Before you click through and purchase this one, know this: the bottom cushion looks a lot more, well, cushy in the photos than when you actually sit on it. It's still comfortable, but not what we expected.
Specification:
Brand

Ficmax

Model

YF-007

Weight

51.4 pounds
Adjustable armrests with support
Lower lumbar + headrest support
Bonus leg cushioning
Bottom cushion looks thicker than it feels when you sit on it
Rated for 300 lbs, but squeakers/makes uncomfortable noises at 270+
3. OFM Essentials Racing Leather Gaming Chair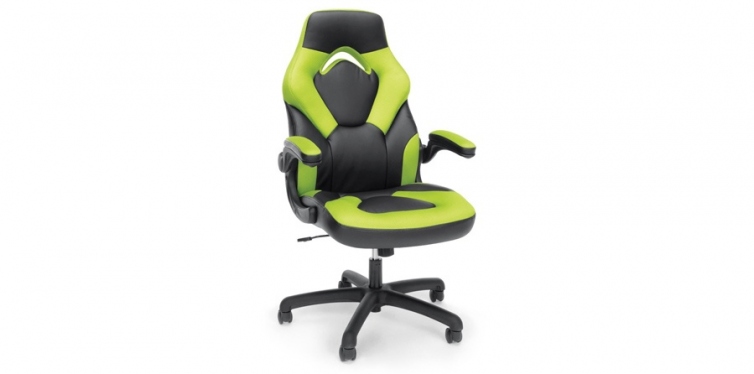 OFM brings us a racing stripe-inspired chair that looks fantastic, and comes in multiple colors to conform to your current setup. While the design caught our eye, we stayed for the even support and comfortable armrests that actually fold up to give you more room (if you need it). Quick to assemble and fairy sturdy, we were quite impressed right off rip, but upset to learn that many, many users encounter issues around the 18-month mark. From it feeling misaligned to a little rickety, all without a proper tune-up helping the situation. We can't attest to their amount of use, but it's disheartening to hear this.
Rolling on the casters happens, what, about every time you get up or move the chair to run a vacuum? They're qualified for over forty miles of movement before you run into issues, so you'll have a smooth time gliding around the office, so long as you don't go street luging with it. Tilting and spinning are a bit tougher with this model, but overall, it comes with an attractive price, Amazon's blessings, and a comfortable alternative to your current chair.
Specification:
Brand

Essentials by OFM

Model

ESS-3085-GRN

Weight

37 pounds
Casters are rated to move for over forty miles before showing wear and tear
Fold-up padded arms allow you to control your comfort
Fast assembly
Reported issues after 18 months of use
Limited tilt function/difficult swivel
4. GTracing Gaming Office Chair in Blood Red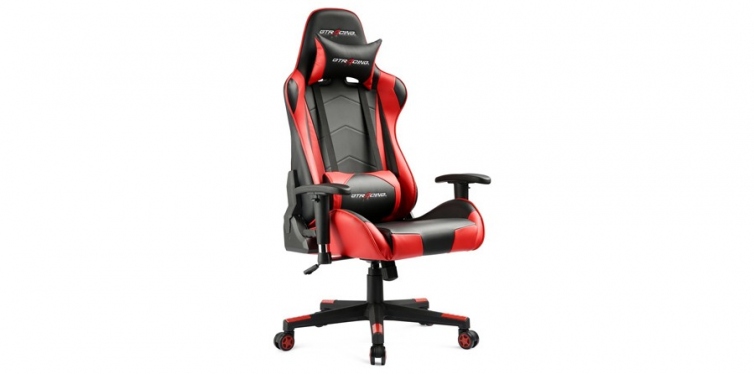 Gtracing doesn't just know how to make chairs – they know how to make comfort designed for gamers. From the excellent black-and-red design, right on down to the support and comfort from the lower lumbar and headrest cushioning, it's a very comfortable chair that's used by 330lbs+ gents, all without showing signs of damage or decay. Our favorite part, and something that's unique to this specific chair, is the cup-like bottom, where the lipped edges envelop you in comfort.
Nothing comes without flaws, and GTracing fell inlign with the common cardinal sin of gaming chairs: the armrests are awkward and uncomfortable. While you're going to be gaming and hands your hands occupied, we know that's not the only thing you do – there's Netflix to be had, and we imagine you'd like to actually rest your arms. Apart from that, leaning back is a bit of a hassle – you need to keep your feet up on the desk or something in order to keep it positioned, as if it were spring-loaded or something. Comfort, minor inconveniences, and a price we can all agree on – that's the takeaway.
Specification:
Brand

GTRACING

Weight

50 pounds
Fantastic headrest and lumbar support
Chair is designed with a lipped edge, enveloping you in comfort
Outfitted for up to 330lbs
Tilt function requires adequate force; no simple lean back
Armrests are adjustable, but uncomfortable and awkward
5. Furmax Ergonomic Swivel Gaming Chair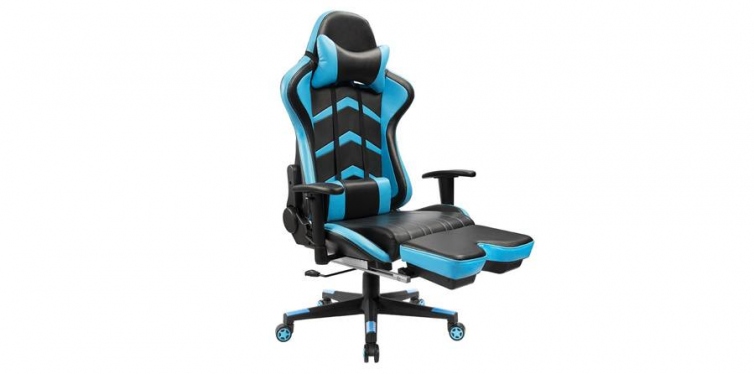 Designed with the PlayStation colors in mind, Furmax hit the drawing board and made an ultra comfortable gaming chair that we're happy to say we own. While it's shortcomings leave a few things to be desired, the lower lumbar support and headrest of this chair, not to mention the leg rest support, are absolutely comfortable and work as you'd need. However, the bottom cushion is a little thinner than the pictures look, and as a result, a three-hour gaming session is going to give you a bit of numbness in the butt or the beginning of dead leg.
You can fit up to 310lbs, and the bucket seating is wide enough to fit multiple body types and styles. Assembly is going to take roughly thirty minutes, but ensures a sturdy end result with excellent swivel and gliding from the wheels. Between the attractive price and support, you're getting a fair amount of support and comfort without being a budget-buster.
Specification:
Brand

Furmax

Model

4335388764

Weight

51.8 pounds
Comfortable leg support for days
Lower lumbar support and headrest
Good for up to 310lbs
Armrests are cheap and uncomfortable
Bottom cushioning a little thin; three-hour gaming session results in a little leg numbness
6. Homgrace Ergonomic Office Chair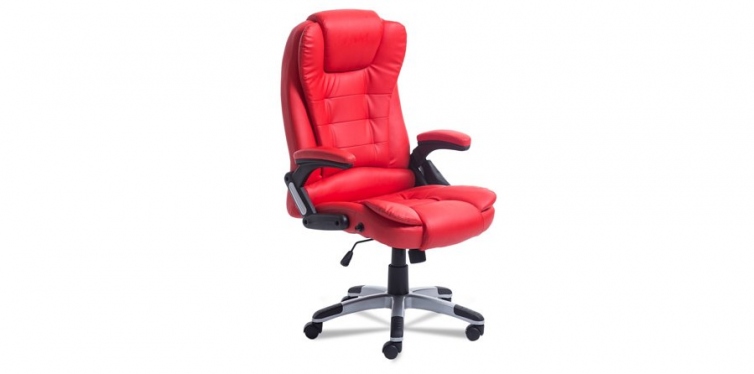 As we dip into our second-tier gaming chairs, we're going to see some inconsistencies with the first five. You're not going to get lumbar support of a designated headrest here. What you are going to get, is evenly-spaced comfort and excellent PU leather for maximum leisure. Tilt, swivel or roll (on harder surfaces or a desk mat; the wheels are bad on carpet) to your heart's content. For a relatively low price, this chair packs a punch.
You do get dedicated armrests with comfortable cushioning, but you don't get the option to lift them up like you do on first-tier chairs. It's outfitted to handle up to 330lbs of weight, and is one of the most simple to assemble (and adjust in mid-match, for that matter), that we've ever had th pleasure of owning. Budget-friendly and burgeoning to be your next prime time gaming seat, Homgrace hits the mark.
Outfitted for 330lbs total load weight
Comfortable PU leather with properly-spaced cushioning
Simple to assemble and adjust
No designed lumbar or headrest support
Wheels catch fairly easily on carpet
7. CMO Ergonomic Mesh-Back Gaming Chair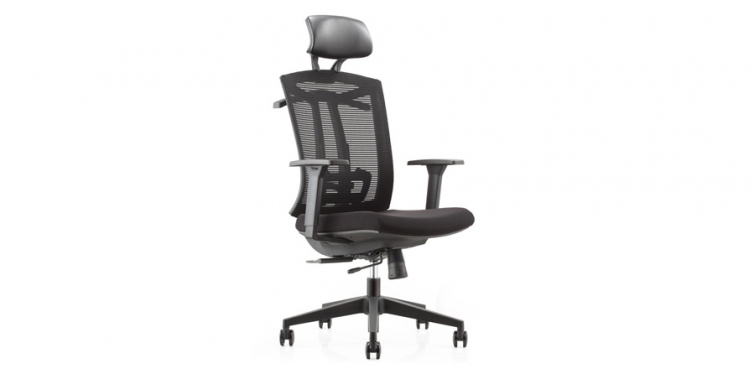 Mesh-back isn't usually the choice of gamers, but this chair met us with an exception. It's a tad bit higher priced than we would have liked, but we had to try it out – we weren't disappointed. You're not going to get the same comfort as a padded chair with lumbar support, but this chair only falls flat in one area: the wheels. While those seem like a very important component, as long as you're not running through carpet while applying body weight to it, you're good to go.
Your adjustable headrest fits the bill perfectly, and the armrests are passable – these T-shaped rests don't exactly wrap you in luxury, but they're not uncomfortable like many other models. Adjustments are simple if you can wait until after your match/you're in a safe spot, and gaming for shorter intervals of time due to the mesh backing is required. Comfort, support, albeit it a little on the pricier side, but worth every penny.
Specification:
Brand

CMO

Model

CMO-6206Aa

Weight

43 pounds
Designated adjustable headrest, and armrests that are passable
Ready for up to 350lbs
Simple to assemble
Half-bodied wheels make them weak under too much pressure (usually on carpets)
High price for mesh-back
8. HappyGame Formula Racing Gaming Chair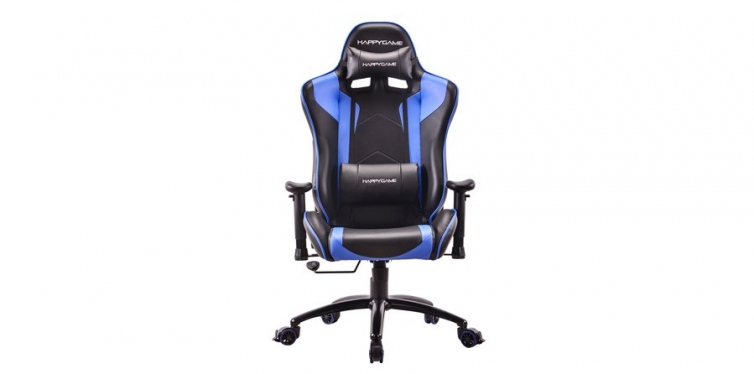 With a high-octane name like that, it can only be epic, right? From the ultra comfortable head and lumbar support, right on down to armrests that don't suck, HappyGame hits home on a lot of the issues gamers face when they're in long stretches. One of our favorite aspects to this is the wide construction on the wheels – it allows more support (up to 330lbs of weight) to be evenly-distributed throughout the entire frame. Thanks to the wide back and bucket-style seating, you'll be sitting pretty throughout the entire game.
As you know, everything comes with a catch, or trade-off, if you will. For HappyGame, they added something that's ultimately unnecessary – locking wheels. They're basically just another feature to drive the price up, and can actually work against you if you lock them in, and fall prey to this next grievance: a hair trigger lever. Adjustments are quick and easy, and you can get flick shot-level good at adjusting yourself in the middle of a match, but if you have a dog or toddler bat at it, you could lose your balance fast. This chair is comfortable as can be, and gets the job done while supporting you.
Specification:
Brand

HAPPYGAME

Weight

55 pounds
Holds up to 330lbs
Extremely durable frame due in part by wide wheel construction
Lumbar + headrest support
Wheel locks are basically unnecessary, only there to add to the price
Hair trigger adjustment levers
9. Killabee Big & Tall Racing Leather Gaming Chair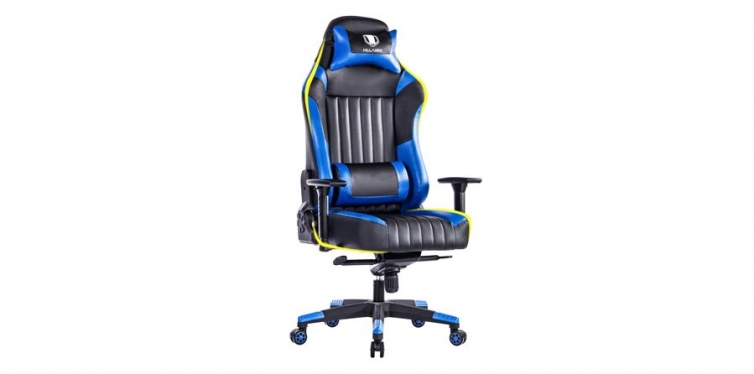 Killabee brings us one of our favorite chairs, with some of the most luxurious features you'll ever ease into. Tilt it back or swivel it around, this unidirectional chair comes with a customized mechanical movement with an easy-to-alter lever setting. Thanks to the cage-like weight distribution of the wheel alignment, 350lbs of max capacity are spread out evenly amongst the entire frame, making this one of the most durable gaming chairs on our list.
So why did it rank at #9? There's a buyer beware we'd like to address. While it's an excellent chair, Killabee is still a relatively new player in the game, and they've had issues with shipping. Customers received two right-side armrests, leaving them a bit screwed, and occasionally damaged components as well. Killabee handles their customer support very well, but we'd all like to avoid these issues from happening in the first place. Excellent chair with the least amount of cons on our list, but a bit of a gamble with shipping.
Specification:
Brand

KILLABEE

Weight

56.2 pounds
Outfitted for up to 350lbs
Luxury full-body design with leather and attractive color scheme
Comes with headrest support and lower lumbar cushioning
Shipping issues (damage to duplicate items/deficient items)
10. Turismo Racing Ancora Series Gaming Chair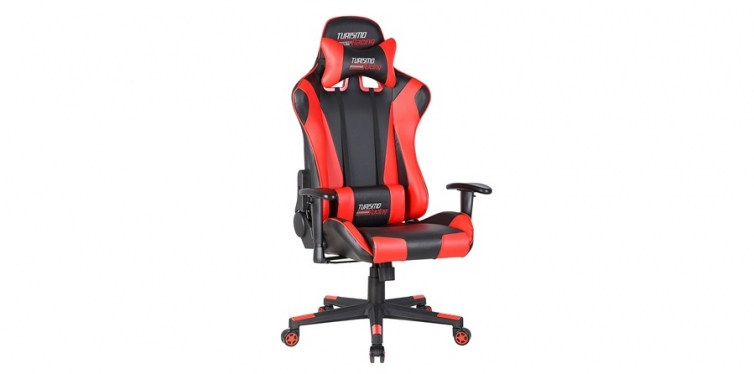 Last but not least, we have a medium-priced, medium weight restriction chair comes with some excellent features, and a few flaws. For one, users have had a couple of issues in the past with assembly, and sometimes need to bring their own tools. Personally, we didn't have any issues assembling our product, so while it's a potential problem, it is by no means a fatal flaw. The weight support, however, only goes up to 240lbs – a possible make or break deal for some men.
When it's good, it's good – this chair features a comfortable headrest, super supportive lumbar cushion, and a bucket-style seat that wraps you up in comfort, and throws away the key. You'll be able to lean nice and easy in this chair for six-hour gaming sessions without feeling anything more than the need to stretch. Stylish, comfortable, and easy to adjust – Turismo Racing hit the nail on the head with this one.
Specification:
Brand

Turismo Racing

Model

Ancora

Weight

38 pounds
Attractive black-and-red leather design
Bucket-style seating for maximum comfort
Headrest + lumbar support
Only up to 240lbs of support
Requires more items than it includes for assembly
Big & Tall Gaming Chair Buying Guide & FAQ
Wonder what sets these chairs apart from common office chairs with absolute garbage supports? From stem to stern, we're about to bust it wide open, and tell you exactly what to look for in your next gaming chair.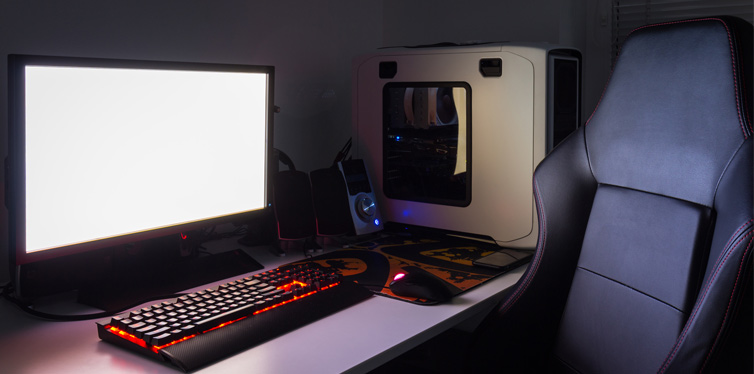 Key Differences Between Standard and Big/Tall Chairs
Standard chairs are built for standard gents, but there's nothing standard about you - you're after superior comfort, support, and a more stylish chair than the basic $40.00 one from Wal Mart. That being said, you should know the key differences between common office garbage, and your gaming masterpiece.
Weight Capacity - Big and tall chairs are outfitted, much like our top pick on this list, to hold 300 lbs and more. Personally, this writer sat in a standard office chair at 230 lbs, and leaned back one too many times - the axis snapped, and I went backwards into the wall. After that, I went with a big and tall chair (number seven has been my personal office chair for two years, and I love the thing).
Support - You're gaming for four, five, maybe six+ hours in one fell swoop, but that stationary, sedentary gaming style is going to kill your back, and your neck. Lumbar support and headrests are designed to let you lean back in comfort, and game in peace.
Swivel and Lean - Many big and tall chairs are designed to swivel around 360 degrees, and have a 90-degree (sometimes up to 180) lean radius. We don't know why you would ever need that much, but hey, to each his own. For some reason, big and tall chairs just seem to come like this.
Design Elements
You're buying a comfortable chair that's ready to hold the big and tall beast that you are, but your pals at Gear Hungry still have two golden rules when it comes to picking any product: function, and flair. Certain design elements are going to come out in the features (next section), particularly in support items like headrests, etc. Your gaming setup is important, and there's nothing wrong with coordinating styles with your gaming keyboards and PC, so long as it meets your personal function requirements first.
Features
At its base, you're looking at a chair. But if you look a little further, you'll get a couple of different features that seem to pop out of the woodwork. Those include:
Padded arm rest areas
Lower lumbar support
Neck support/cushion
Full 90-degree angle lean
Other chairs will come with brand-specific features, though these are some of the main ones you'll want to be on the lookout for.
Average Chair Lifespan
Most places aren't going to have an average lifespan, just warranty information. They're not the same thing, not by a longshot. Common sense tells us that when any product has three years of a warranty, they're betting it's going to last for six, and so on. Depending on which chair you purchased, double the warranty time (if you're a regular gamer who spends 3-5 days per week gamer).
That's the basic rule of thumb. In the grand scheme, you have to take a look at the materials of the chair, stitching, cushions, how much of an angle it bends at (faster, more sudden motion means extra stress on the chair), and you'll have to take a look at your weight (sorry fellas) versus the weight requirements set in place by the manufacturer.