The Best Floating Coolers To Keep Your Drinks Chilled In 2022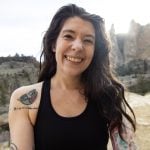 This product guide was written by Tuesday Kirby Kahl
Last Updated
August 30, 2022
Tuesday Kirby Kahl
Tuesday Kirby Kahl is a contributor at Gear Hungry. Her fierce love for the outdoors fuels everything she does. Her professional pursuits include writing, creating art, and photography. These professional passions allow her the time to live life outside as a rock climber, skier, runner, backpacker, paddle boarder, swimmer, and explorer. When Kirby is indoors, she enjoys tea, whisky, old films, cooking, and baking. Her product testing and feedback have shaped the design of everything from climbing shoes to candles.
GearHungry may earn a small commission from affiliate links in this article.
Learn more
With summer in full swing and many social occasions on the horizon, from pool parties to kayaking, looking for fun and durable products to last the season can be difficult. Luckily, we've pulled together our list of the best floating coolers and floating ice chests to make your days on the water even more enjoyable.
Whether you're after something fun and quirky that will be the talk of your party or just need an essential piece of equipment to keep you going on those kayak trips or fishing adventures, our list of options will give you all the information you need to make the best purchase for you. Check out our essential features and product buying guide too, so you know exactly what to look for when buying your floating cooler. Cheers!
The Best Floating Cooler
The ICEMULE Jaunt is quite a bit different from most of the other coolers on this list as the bulk of the products here are inflatable coolers, and this model is more closely related to traditional coolers or soft-sided coolers. The ICEMULE Jaunt is my favorite cooler for paddleboarding and river days. I use this all the time and regularly use it to store food for weekend trips in my van. This cooler has excellent ice retention, rivaling most other coolers at 24 hours. When the exterior is inflated, this cooler floats, so you'll never lose it. The Jaunt also features backpack straps for hands-free carrying. Nearly all ICEMULE Coolers float, so check out their other models to find the perfect option for you.
Key Features:
Small front pocket for valuables
Fun colorways
Floats easily, even when full
24-hour ice retention
Specification:
Brand

ICEMULE

Model

Jaunt 15L
Hands-free carry
Easy access with roll top and buckle closure
Front pocket for valuables
Excellent ice retention
Not as large capacity as some other coolers on this list
WOW Float Fridge 30-Pack Cooler
The WOW Float Fridge 30Pack Cooler is the best floating cooler for lake days, and I tested it here in Oregon on Trillium lake with friends. We used it both onshore and floated it between our barge of paddleboards so we always had easy access to our drinks. It retained ice for the full seven hours we were at the lake with no leakage or issues! Like many of the coolers on this list, there are built-in cup holders on the exterior for holding everyone's favorite beverage with the main drink storage being in the middle. The 30-can capacity means that there's plenty of space for all kinds of beverages and snacks inside this floating ice chest.
Key Features:
Durable molded handles
Zippered lid
Four cupholders
Holds up to 30 cans
Great pool cooler or for use at the lake
Specification:
Brand

WOW

Model

Float Fridge

Weight

6.17 Lbs
Easy carry handles
Plenty of storage space
Zippered lid keeps drinks colder
Could use more cupholders
Ice retention could be improved
Intex Mega Chill Inflatable Floating Cooler
If you want to enjoy a day lounging in your pool (or at the lake), you need refreshments. And that means you need to store them somewhere to keep them cold. The Intex Mega Chill has plenty of room, whether it's bottles of water or beers. The main cooler compartment is big enough to hold a 12-pack, a couple of water bottles, and enough ice to keep it all cool. Then, on the outside, it has multiple drink holders and larger spaces for snacks. Other features include two durable grab handles, an easy-to-use connector, and three air chambers for a stable ride and to ensure that this inflatable cooler doesn't sink if one of them is popped. Intex is well known for their high-quality inflatables and the Intex Mega Chill is no exception!
Key Features:
Holds up to 30 cans 
Five cup holders
Extra storage areas 
Three air chambers 
Two durable grab handles 
Repair patch included
Specification:
Brand

Intex

Model

56822EP

Weight

3 Pounds
Large main cooler compartment 
Extra drinks and storage spaces 
Durable design 
Easy to connect to a boat 
Cooler compartment isn't insulated
Airhead Aqua Oasis Beverage Floating Cooler
Got a small pool party coming up for close friends and family? The Airhead Aqua Oasis Floating Beverage Cooler is ideal for summer pool shenanigans. Holding up to 24 cans or bottles with additional six drink holders, the AIRHEAD cooler might not be the biggest on the market but it certainly does the job. The numbered cup holders are ideal if you're constantly getting your drinks mixed up. With a bright design, the Airhead is perfect for long, lazy days in the sun by the pool and is easily spotted when out on the lake too. It doesn't get much better than this! Our guide to the best coolers for camping features more great products like this. 
Key Features:
Keep up to 24 cans cool at any time
Numbered cup holders
Molded plastic rope connector for tethering the cooler to other inflatable devices
Insulated nylon cooler
Great, bright design, perfect for small pool parties
Larger cup holders for other products, such as suntan lotion
Specification:
Brand

Airhead

Model

AHAO-1

Weight

2.4 Pounds
Bright and fun, so perfect for all the family
Numbered cup holders, stopping any arguments over whose drink is whose
Decent-sized capacity for a small floating cooler
Not as big or high quality as others on the market
Doesn't keep your drinks as cool as you would like in the intense summer sun
Intex 58837EP River Run II Sport Lounge Floating Cooler
Another great Intex product on our list of the best floating coolers! However, this one is different as is more of a floating lounge than a simple cooler. If you're looking for something that's small and comes with two great seats, then the River Run II Sport Lounge is a perfect choice. If you and a friend or significant other are enjoying a float on the lake, river, or in your own private pool, this floating cooler is ideal as it comes with two built-in drink holders and armrests for perfect relaxation. The sturdy grab handles, mesh bottom, and connectors make this a durable inflatable cooler and tube. The built-in cooler has a lid, so you can keep your drinks and food covered up and increase ice retention. This tube is perfect for river floats with your loved one.
Key Features:
Lounge seating area
Lid for floating cooler to keep drinks protected
Two cup holders on either seat
Connect n' Float system for additional products
Can hold up to 24 cans
Built-in backrests for extra comfort and support
Specification:
Brand

Intex

Model

58837EP

Weight

11 Pounds
Ideal for two people
Robust enough to hold plenty of weight
Quick inflating time because of the durable valve system
More focus on the seating side of things than the actual floating cooler
A few customer complaints about tears in material, which may indicate its lack of long-term durability
CreekKooler Pup 15-Quart Floating Towable Cooler
This is an excellent floating cooler, especially if you're looking for a floating cooler for a kayak. Not only does it look like an inflatable kayak, but it's built with the water sport in mind, naming itself 'the ultimate water companion'. With durable materials and foam insulation, the CreekKooler can withstand different surfaces, connecting to your kayak and floating along with ease. It can hold around 15 cans of drink, as well as ice, keeping your drinks cool until you reach your destination. However long you decide to kayak for, this handing little cooler will protect and keep your drinks at optimum temperatures, so you can enjoy a cold when whenever you're ready. With built-in drinks holders for when you have come to a stop, keeping your drinks safe on the water. The water-tight lid ensures it's properly locked, keeping your belongings safe along the journey. The molded handles make for easy transportation too, and it can double up as a storage container on the dry as well. This is a nifty little product that not only looks great but puts the work in too.
Key Features:
Molded handles for easy lifting and maneuvering
Water-tight lid that locks and keeps your drinks safe
Keeps ice formed for up to 24 hours
Keeps up with you when you're kayaking or rafting
Foam insulation that keeps your drinks cool, even without ice
Robust and secure, so it keeps items safe
Specification:
Brand

CreekKooler

Model

CK1662

Weight

8.8 Pounds
Extremely easy to tow
Easy on the eye and doubles up as a dry storage container too
Lots of storage space for all your belongings
Very sturdy and durable
Great for kayaking, but not necessarily great for pool parties
Beer Nation Inflatable Beer Pong Table and Cooler
If you're looking for the ideal pool party floating cooler, then the Beer Nation Inflatable Beer Pong Table (with cooler, of course) is perfect. Whether you're relaxing on the lake or having the ultimate pool party, this can be your centerpiece and keep your guests entertained for hours. There's an extra-large cooler in the middle, which is then surrounded by the quintessential floating beer pong table. This is quite a large float, so it might not be ideal for those with smaller pools and especially not for those with children, but if you have a Spring Break party or a big summer blowout coming up, then this floating cooler will be a hit. For a gimmicky float, it's also high quality and well-constructed, so there's no need to worry that it will let you down or leave you with a deflated float at the bottom of the pool.
Key Features:
Beer pong game incorporated into a floating cooler
Carry handles for easy transportation from area to area
Built-in cooler can hold ice and a six-pack
Reinforced cooler for peace of mind
Helps to stop beer and other drinks from spilling
Specification:
Brand

Beer Nation

Weight

4.01 Pounds
Unique product that's fun and easy to use
Surprisingly robust for a beer pong table
Keeps drinks cool for hours at a time
Some difficulty inflating as the product is quite large
Quite large if you only need it for cooling drinks
CreekKooler Insulated Floating Cooler
Find yourself often on the water in your kayak or raft in need of a drink? The CreekKooler Outdoor Insulated Floating Cooler is perfect for those who are active on the water or need extra storage for big days, large groups or multi-day outings. The floating ice chest has a water-tight locking lid, so you know your drinks will remain safe and dry, and foam insulation keeps them cool for hours. This cooler works just as well on dry land too. Although more expensive than most, it is worth the money as it's robust, durable, and perfect for kayaking. Some customers have even accessorized their floats to match their fishing kayaks, which looks great and will ensure your floating cooler is the talk of the river. If you don't use this as an ice chest, you can use it as an additional storage area for gear on big missions.
Don't forget to also check our guide to these best-selling golf coolers.
Key Features:
Two inches of insulation to keep your drinks cool
Can hold up to 30 cans and a lot of ice
Perfect for kayaking and rafting with its unique design
Easily towable and floats well on water
Four drinks holders
Water-tight locking lid so you know your drinks are safe from escaping
Specification:
Brand

CreekKooler

Model

CK00210R

Weight

17 Pounds
Floats incredibly well, even when there are a lot of drinks and ice
Holds ice well and stops it from melting, even in direct sunlight
Towable, ideal for small watercrafts
Can feel the cooler tugging on your kayak or raft when it's fully stocked
Not ideal for pool parties because of the tight-locking lid
Bestway Hydro Force Tropical Breeze Raft
Floating island is an understatement for this cooler. This giant product from Bestway can hold up to six people, allowing you, your friends and family to relax and enjoy the ride on this robust and comfortable float. With six cup pouches, a removable sun awning, extra-wide backrests, and a cooler bag, the Tropical Breeze Inflatable Floating Island is ideal for families and those of you looking to make a real statement at the pool or on the lake. With a removable sunshade, the Tropical Breeze allows you to take a break from the harsh summer rays, plus there's an area for dipping your feet into the water and keeping them cool. The cool bag isn't the largest of the coolers on our list, but we couldn't not showcase this unique product that's literally built for water fun.
Key Features:
Includes removable sunshade
Six cup holders
Cushioned oversized backrests
Cooler bag for food and drinks
Six-person capacity allows you to socialize with friends and family
Mesh bottom for durability
Specification:
Brand

Bestway

Model

43105E

Weight

53.73 Pounds
Customer reviews have stated that the float could handle more than six people
Material is thick and durable
Plenty of seating room
Cooler bag is decent-sized
Because of its size, it takes a while to assemble and blow up
Heavy to carry after you have assembled it, so make sure your friends are nearby
Canopy sometimes acts as a sail, so you may need a small anchor to stop it from floating away
The Big Bobber Floating Cooler
The Big Bobber Floating Cooler is a great hard floating cooler modeled after a classic fishing bobber. This is our favorite hard plastic floating cooler for fishing. This model holds up to 12 cans and features a hideaway built-in handle for easy carrying. You can store the big bobber on land or in the water and anchor it to your gear, boat, or nearby rocks or trees to keep it from floating away. Aside from its cute shape, the big bobber floating cooler also offers excellent functionality and can keep drinks cold all day long while you focus on fishing. When you aren't fishing, this ice chest can double as a pool cooler for pools or lakes. It makes a great gift for fishermen.
Key Features:
Insulated and shaped like a fishing bobber
Holds up to 12 drinks
Hinged opening
Can be anchored to your belongings, trees or rocks
Lightweight at only 5lbs
Specification:
Brand

ACCUSharp

Model

Big Bobber

Weight

5 Pounds
Easily anchored
Hideaway handle is easy to use and secretive
Holds an entire 12-pack of drinks cool for hours
Capacity could be bigger
Hinge can rust
Handle could be more ergonomic
Why Trust Us
Having lived in Texas and spent most of my life in abysmally hot summers, I learned the best way to keep cool was to get in the water. I spent many summers tubing down many of Central Texas' rivers with a cold one in hand and an inflatable cooler not far behind. Now that I live in the PNW, I still spend summers on the water, but I do more paddleboarding than tubing, so I need products that can handle more of the elements.
Who This Is For
This guide is for anyone looking for the best floating coolers. Whether you plan to host parties in your backyard pool, tube down your local river, or hang out at the lake with your buds, there's a model here for everyone.
How We Picked
We selected the best floating coolers by looking at hundreds of customer reviews, considering the best sellers, and I pulled a few of my personal favorites for this guide too. We wanted to ensure there were nimble options for rivers, large floating base style options for groups, and smaller options for pools.
How We Tested
I tested the floating coolers in this guide on lakes and rivers here in the PNW. For the inflatable floating cooler models, I towed it behind my paddleboard to see how well they floated with me and how hard they were to tow. With the ICEMULE cooler, I usually keep it on my board but have the peace of mind that if I capsized, it would stay afloat. Both tested models made several trips to lakes and rivers.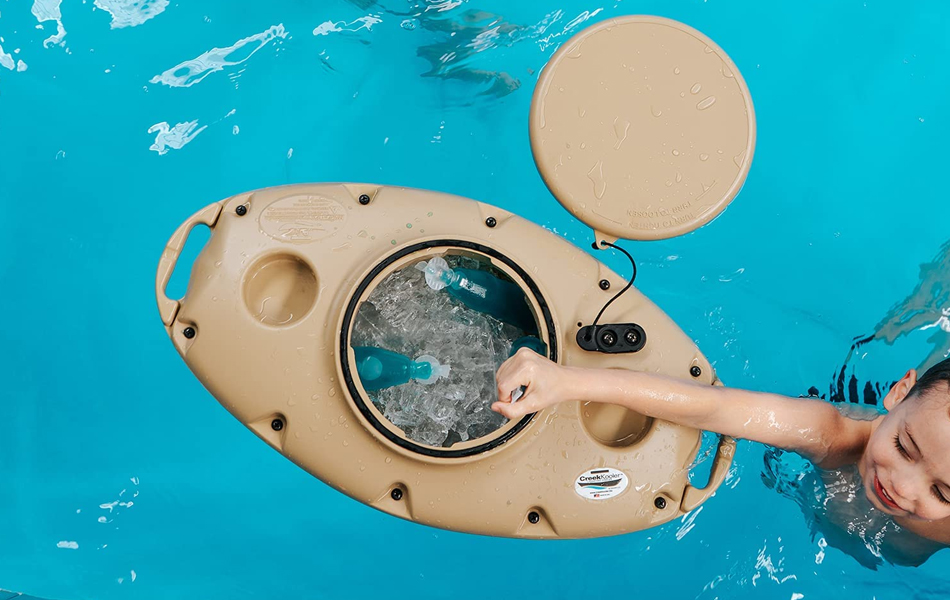 Features To Look For In Floating Coolers
Materials – If you've never bought a floating cooler before, it can be tricky to know what kind of materials you should be on the lookout for. This is why it's important to read the reviews and research the best materials for the best cooling ability. PVC or vinyl tends to be high quality and durable while keeping your drinks afloat. Most popular floating coolers like Big Bobber, Intex Mega Chill, and Aqua Oasis feature these materials.
Effectiveness – There's no point in buying a floating cooler that doesn't keep your drinks cool. The better product quality you buy, the more information the company will provide you on insulation. If you're just purchasing a float to hold your current cooler, then you don't have to concern yourself too much with insulation – but make sure it's stable enough to hold that weight. You'll want to look for notes on ice retention to understand how well your floating ice chest performs.
Size – The bigger the float, the bigger the hold. If you're planning many large parties this season, remember that you'll need something larger to cater to all your friends and family. However, you won't want something so big that it takes over the pool and distracts you from swimming and having fun because it keeps getting in the way. A pool cooler can come in many sizes. However, if you are tubing or out on rivers and lakes, you'll want to ensure you have something that can handle the elements and doesn't impede on your fellow water enthusiasts.
Durability – Pool products and inflatable items aren't often as durable as you would like. With water, this increases the risk of the product deteriorating, ripping, and even permanent deflation risks that can occur. Ensure you research the types of materials being used as this will impact durability and how well the product has been put together. High quality is essential when it comes to floating coolers.
Portability – Whether at home, down the river, or on the lake, you need a floating beer cooler that can easily deflate and inflate whenever required. If you are not using an inflatable cooler, your floating cooler should still be portable and easy to carry. The better the quality of the product, the easier it should be to inflate and deflate. Of course, many reviews cover portability, so ensure you read a few and consider how important this is to you when purchasing your cooler.
Stability – When using your inflatable cooler float, you want to be confident that you can leave drinks open and unattended without the cooler capsizing. Consider reviews and the product description, ensuring that they talk openly about stability. This is especially important if you're looking for an inflatable drink cooler that can withstand a lot of weight. You don't want a capsized cooler ruining all the fun!
Style – So you've picked something that suits all your needs, but does it suit your tastes? Floating coolers come in various styles and designs, some of which are a little more tongue-in-cheek than others. If you need a more serious floating cooler for more intense activities like kayaking or fishing, then an inflatable pirate ship might not be right for you. However, if you need a floating pool cooler that will be functional and entertain the kids, you might be headed in the right direction. However you choose your design, make sure it fits your needs, makes an impact, and, most importantly, keeps your drinks cool.
Floating Cooler FAQ
Q: Where can you use floating coolers?
A: You can use floating coolers anywhere there is water. You can use them for parties, fishing, lake days, tubing, paddleboarding, or as a floating base for your group to return to.
Q: Can a floating cooler sink?
A: A floating cooler could sink if the mechanisms that make it float are damaged. Inflatable coolers could have their sides popped or cut and lose air which could cause them to sink. Generally, damage or improper use is what would make a floating cooler sink.
Q: Do regular coolers float?
A: No, most traditional cooler options and regular land cooler models would sink when you put them in the water, especially if they have anything inside them. So, if you want a cooler that will chill your favorite beverages right on the water, make sure you look for proper easy-access floating ice chests or coolers.
Q: What are the benefits of a floating cooler?
A: A floating cooler means your cooler can stay with you when you are on the water. Instead of your cooler remaining shorebound, your cooler can now join you while tubing, paddleboarding, or swimming. This keeps your drinks more accessible and helps keep you hydrated, which could help with common summer ailments like heat exhaustion.
Sources:
Tips For Tubing With A Cooler - ATXcursions
Sign Up Now
GET THE VERY BEST OF GEARHUNGRY STRAIGHT TO YOUR INBOX