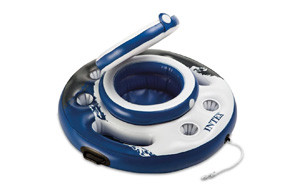 Intex Mega Chill Inflatable Floating Cooler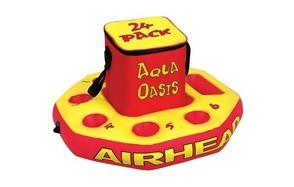 Airhead Aqua Oasis Beverage Floating Cooler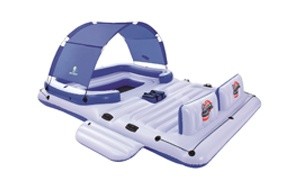 CoolerZ Tropical Breeze Inflatable Floating Island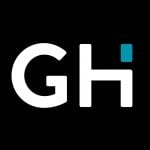 With summer just around the corner and a range of social occasions on the horizon, from pool parties to Spring Break by the river, looking for fun and durable products to last the season can be difficult. Luckily, we've pulled together our list of the best floating coolers. Whether you're after something fun and quirky that will be the talk of your party, or just need an essential piece of equipment to keep you going on those kayak trips or fishing adventures, our list of options will give you all the information you need to make the best purchase for you. Check out our essential features and product buying guide too, so you know exactly what to look for when buying your floating cooler. Cheers!
The Best Floating Cooler
Floating Cooler Buying Guide
Our floating cooler buying guide gives you the essential information you need to make the best decision for you when it comes to purchasing your cooler. From state of the art floating islands to a floating ice chest, there are lots of pointers you should bear in mind when buying this fun and often essential product for the summer.

How We Chose Our Selection Of The Best Floating Coolers
We know important it is to know exactly where your information comes from, which is why we've scoured the internet for the best brands, reviews, and price options to give you every option you need to make the right decision when it comes to buying your floating cooler.
By looking at the good, the bad, and the downright weird reviews on our range of featured products, we're able to illustrate how well these floating coolers work and which one is the best for your needs. Remember, not everything you read is necessarily true and some of these reviews will have come from disgruntled customers. We've done the hard work for you and sifted through to ensure we've only included the pool cooler reviews that matter.
We've also included a range of brands so that we're not biased in our selection. This means that you can choose the right brand for you, as well as seeing what other products they have. Some brands take their floating coolers more seriously than others – it's all about finding the best one to fit your lifestyle.
Features To Look For In Floating Coolers
Picking the right floating cooler is an art – and although it might not seem like the most essential of purchases, you'll find it coming in extremely useful during those long, hot summer days, where you need to say hydrated. There are a number of features you should bear in mind when making your floatable cooler purchase. Whether you're a seasoned water baby or looking for your first cooler, you need to ensure it takes into account these top features in order to get the most out of it.
Materials –if you've never bought a floating cooler before, it can be tricky to know what kind of materials you should be on the lookout for. This is why it's important to read the reviews and do your research on the best materials for the best cooling ability. PVC or vinyl tend to be high quality and durable, as well as keeping your drinks afloat.
Effectiveness –there's no point buying a floating cooler that doesn't actually keep your drinks cool. The better quality the product you're buying, the more information the company will provide you on insulation. If you're just purchasing a float to hold your current cooler, then you don't have to concern yourself too much with insulation – but make sure it's stable enough to hold that weight.
Size –the bigger the float, the bigger the hold. If you're planning lots of large pool parties this season, then bear in mind you'll need something larger that will cater for all your friends and family. However, you won't want something so big that it takes over the pool and distracts from swimming and having fun because it keeps getting in the way. However, you're choosing to use your cooler, make sure it's the right size for your needs – and keep in mind how often you think you'll use it as it will need to be stored away too.
Durability –pool products and inflatable items aren't often as durable as you would like. With water, this increases the risk of the product deteriorating and rips, tears or even permanent deflation are risks that can occur. Ensure you research the types of materials being used as this will have an impact on durability, as well as how well the product has been put together. High quality is essential when it comes to floating coolers.
Portability –whether you're at home, down the river, or on the lake, you need a floating beer cooler that you can easily deflate and inflate whenever you require. The better the quality of the product, the easier it should be to inflate and deflate. Of course, many reviews cover portability, so ensure you read them thoroughly and consider how important this is to you when purchasing your cooler.
Stability –when using your inflatable cooler float, you want to have the confidence that you can leave drinks open and unattended, without the cooler capsizing. Consider reviews and the description of the product, ensuring that they talk openly about stability. This is especially important if you're looking for an inflatable drink cooler that can withstand a lot of weight. You don't want a capsized cooler ruining all the fun!

Style – so you've picked something that suits all your needs, but does it suit your tastes? Floating coolers come in a range of different styles and designs; some of which are a little more tongue in cheek than others. If you need a more serious floating cooler for more intense activities, such as kayaking or fishing, then an inflatable pirate ship might not be right for you. However, if you need a floating pool cooler that will not only be functional but also entertain the kids, you might be headed in the right direction. However, you choose your design, make sure it fits your needs, makes an impact, and most importantly, keeps your drinks cool.