Physix Gear Flight Socks For Men & Women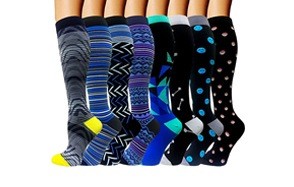 SOOVERKI Compression Socks Women & Men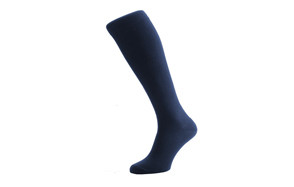 Luxury Flight Socks For Men & Women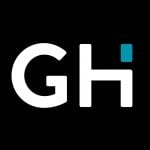 If you're one to stand or sit for prolonged hours, one piece of clothing that can help you deal with aches and pains within your foot is a pair of flight socks. Also known as compression socks, these items are stockings or socks that when worn, apply pressure to your lower legs and ankles, in a manner that increases blood flow to your feet. These socks are perfect not only for the elderly but for those who travel a lot. They provide ultimate comfort for all users and also aid in the prevention of future injuries. To ensure that you select only the best brands and models, we have curated for you a comprehensive list of the best flight socks being sold today, with their features and specifications that enable them to stand out proudly from other competitors.
The Best Flight Sock
Flight Sock Buying Guide
How We Chose Our Selection Of The Best Flight Socks
Brand - With the existence of several brands and manufacturers of flight socks, it was imperative that the review team keep an eye out for only the best. These brands were selected based on their productivity and the quality of their items. Every brand mentioned in our list is trustworthy and has all their materials sourced from credible locations. They are also well known within their industry and are known to produce only the best items for their customers.

Price - Every reader comes in search of the perfect product based on the resources they have available. In consideration, our team selected items with a broad price range to enable everyone to finds a product they can afford. The prices of these flight socks, however, doesn't take away from their high quality, which we found to be essential to their functionality.
Quality - The level of quality of the recommended flight socks is exceptionally high. This is because of the use of ultra-modern technology, durable materials, and excellent construction methods. These combined create an entity that can withstand regular use and regular washes without losing its compression abilities. Quality is essential when it comes to compression socks; thus, it played a massive role in our decision process.
Reviews - Feedback from existing users of these compression socks enables us to streamline our options and come up with a final list for this article. We took an in-depth look at various brands and studied the reports from users all across the globe. They offered both the pros and cons of each product which we weighed to provide a detailed catalog of products for you to make a more informed decision.
Features To Look For In Flight Socks
To ensure that you select only the best flight socks for your feet, it is imperative that you take note of the following considerations, as they will enhance your long experience and offer you high value for money. Some of the factors include the sizing, gender, compression levels and the rate of graduated compression. These factors come together to ensure that any brand you opt for impacts your feet positively always.
Men & Women - Many flight socks have been designed as unisex elements, but many other brands and models create unique models for the different genders with each model having a distinct feature differentiating between the two. To know if a particular pair of socks have been made for men or women, it is imperative that you study the sizing guide attached to the brand, as the bigger socks are mostly made for men, with the smaller sizes ideal for women.
Materials - To make flight socks more productive, most of them are made with high-quality materials to ensure that they maintain their shape and compression even after regular use and washing. They are also made with fabrics that possess breathable, practical, moisture-wicking and stretchy abilities, and this increases the overall performance of the socks. To find the perfect socks, make sure that you opt for models that are breathable enough for your feet.

Size & Fit - Choosing the right size is ideal for all users of flight socks as it determines the level of comfort one will experience. Poorly fitting socks tend to be extremely uncomfortable for many thus it is imperative that you check out every sizing guide available, to know the size that best fits you. Your socks must not be too tight, but they must also not fit snuggly.
Compression Level - The tightness of your socks and the pressure exerted on your legs will be determined by the compression level of your flight socks. There are many ranges of compression, some of which include the extra firm which is 30-40 mmhg and the mild which ranges from 8-15 mmhg. Depending on your typical travel time or job description, your level will change. A higher level of compression is recommended for those with circulation issues, while the opposite is the best for those who take long haul flights.
Graduated Compression - There is a remarkable difference between compression and graduated compression. The latter refers to socks that apply the most pressure to the ankle of the user. This pressure tends to reduce as the socks move up your leg. This type of compression is excellent as it helps push your blood back up your leg to reduce the occurrence of swelling.