Snacks for Your Packs: Best Dehydrated Camping Foods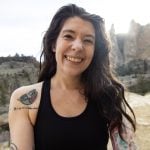 This product guide was written by Tuesday Kahl
Last Updated
August 17, 2021
Tuesday Kahl
Tuesday Kirby Kahl is a contributor at Gear Hungry. Her fierce love for the outdoors fuels everything she does. Her professional pursuits include writing, creating art, and photography. These professional passions allow her the time to live life outside as a rock climber, skier, runner, backpacker, paddle boarder, swimmer, and explorer.  When Kirby is indoors, she enjoys tea, whisky, old films, cooking, and baking. Her product testing and feedback have shaped the design of everything from climbing shoes to candles.
GearHungry may earn a small commission from affiliate links in this article.
Learn more
When you spend a lot of time in the outdoors, you're bound to enjoy a couple (or dozens, or hundreds) of dehydrated camping meals. These meals are quick, easy to prepare, and often delicious. In addition to that, they are often nutritionally dense to fuel you for your next adventure while recovering from the last one.
Whether you want something easy or you need to trim ounces, these pouches of freeze-dried deliciousness can be a lifesaver at the end of a big day. They've long been a favorite of mine when camping and rock climbing, and I haven't found a meal I didn't like yet.
The following guide will be a mix of bestsellers, products for dietary needs, and my personal favorites in my years of frolicking in the outdoors and eating freeze-dried foods.
The Best Dehydrated Camping Food Review
GOOD TO-GO Cuban Rice Bowl Dehydrated Camping Food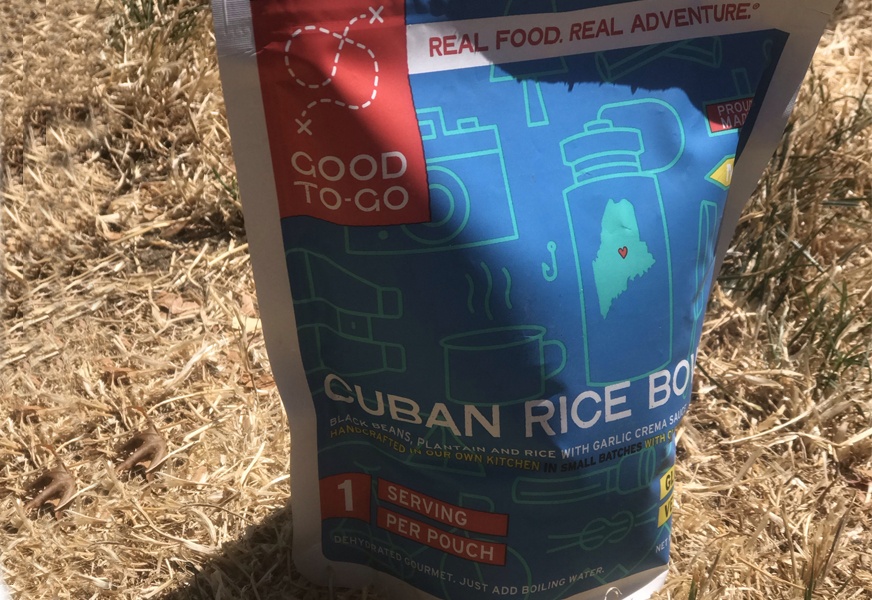 Not too spicy, just creamy enough, the GOOD TO-GO CUBAN RICE BOWL is a solid vegetarian and gluten-free camping food option for your next backpacking trip. Inside, you'll find creamy garlic crema topping rice, beans, and plantains boasting 82g of carbs, 14g of protein, and 540 calories.
My main problem with this product is the misleading packaging. A yellow dotted line exists on the top of the package, which I assumed was the fill line and thusly added too much water to my meal. The actual fill line is lower on the package and significantly more discreet, so look closely. All in all, this meal is still delicious when eaten in more of a soup form should you make the same mistake I did and left my belly nice and full after a big day of bouldering outdoors without being too spicy! To enjoy your meal, make sure to bring some quality camping utensils, of course.
Key Features:
12-minute cook time
14g protein
82g of carbs
Vegetarian and gluten-free
Specification:
Brand

GOOD TO-GO

Weight

4.3 Oz.
OMEALS Vegetarian Chili Dehydrated Camping Food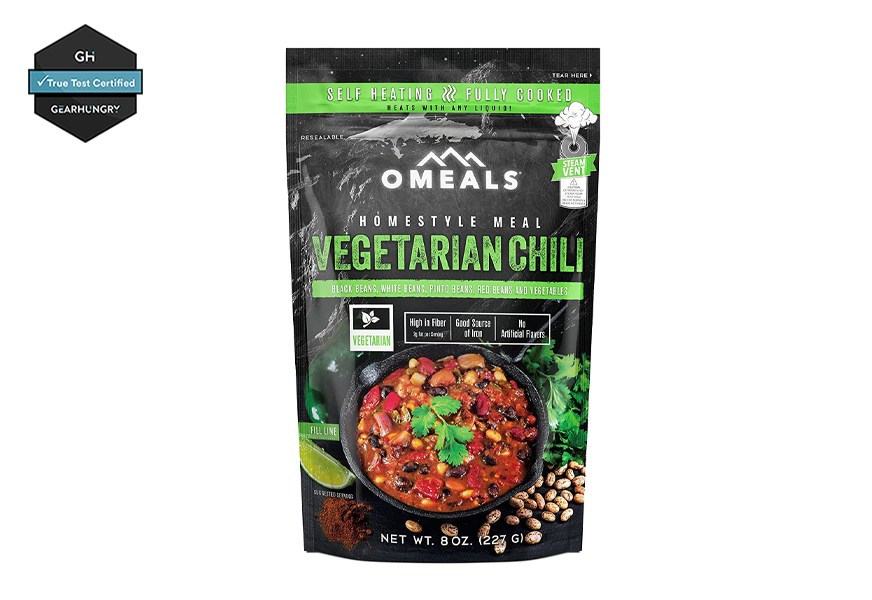 Once upon a time, I stumbled onto the OMEALS Vegetarian Chili via Amazon while stocking up on food for future camping trips. As a Texan, I love my chili, and what better to fuel my days outside than chili. Once ordered, it sat in my camping stash for over a year before I opened it. I took it on a climbing trip, and while it wasn't quite as filling as I was hoping for, I added some quinoa the next time, and it was perfect. 
This meal earns easiest to prepare because you don't need to heat your water before adding it to the pouch, eliminating the need for a camping stove entirely. You add regular water and a heating element heats the food, so you have a nice, warm meal with minimal work. With only 9g of protein and 160 calories per pouch, you may want more than just this chili for dinner; but otherwise, it's a winner in our book. 
Key Features:
No water heating required
9g protein
160 calories
Specification:
Brand

OMEALS

Model

OMEV4

Weight

8 Oz.
GOOD TO-GO Mushroom Risotto Dehydrated Camping Food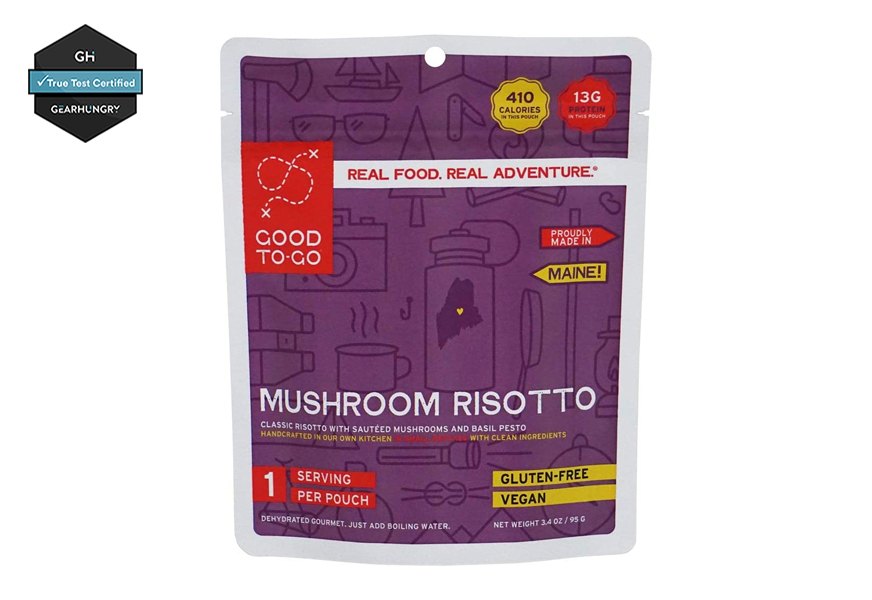 Many meat-eaters have written off vegan camping food as boring, tasteless, or bad. That's certainly not the case with the GOOD TO-GO Mushroom Risotto. While it's not quite the risotto we all know and love, it's still an excellent camp meal with 410 calories, 13g of protein, and 64g of carbs. My co-tester Rory loved GOOD TO-GO's vegan dehydrated camping food one and claimed the bulk of it for himself, especially the chewy mushroom bits. 
The cooking time is a bit long, about 20 minutes, but time passes quickly with good friends by a campfire. I mistakenly added a bit too much water to this one, but it all turned out fine. I'd love to see an internal fill line on the GOOD TO-GO meals because apparently, I'm a bit heavy-handed when I pour! You may also need one of these top cooking tripods, so check them out.
Key Features:
Vegan
Gluten-free
410 calories
13g of protein
64g carbs
20-minute cook time
Specification:
Brand

GOOD TO-GO

Model

SG_B00OHXFFH4_US

Weight

3.4 Oz.
Mountain House Pasta Primavera Dehydrated Camping Food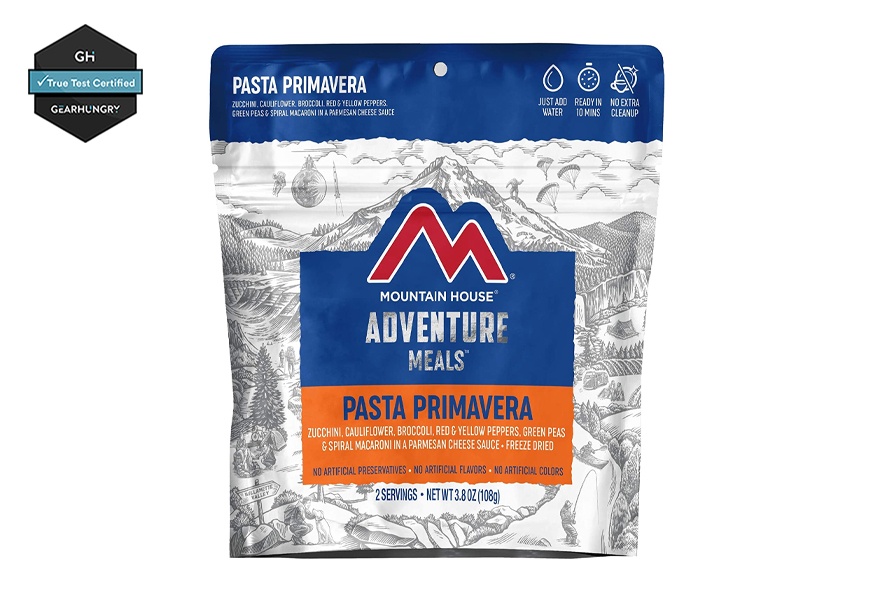 The Mountain House Pasta Primavera gets the best choice nomination because it's a tried-and-true classic. This meal has been a warm, carby, creamy godsend after many long mountain days. When I think about the meal I want to eat while withered, battered, and ready to fall into my sleeping bag, it's pasta primavera. I love this meal so much; I crave it even when I'm not camping. My sole complaint is that this meal contains broccoli, my most hated food. I usually have a friend pick out and eat it for me—no waste! 
Mountain House made this meal salty enough to replenish lost electrolytes while serving up 68 grams of carbs and 16g of protein in a single pouch, which replenishes me after a long day. This pouch is advertised as two servings, but I always eat it like one. Does anyone actually follow serving sizes? Better yet, after big day, should we? My philosophy is to give your body what, and however much it needs after exhausting days. Your body will thank you for it. For absolute comfort during your trip, be sure to also bring one of these reliable camping tables.
Key Features:
16g protein
68g carbs
Ten-minute prep time
Vegetarian
Specification:
Brand

Mountain House

Weight

3.8 Oz.
GOOD TO-GO Kale and White Bean Stew Dehydrated Camping Food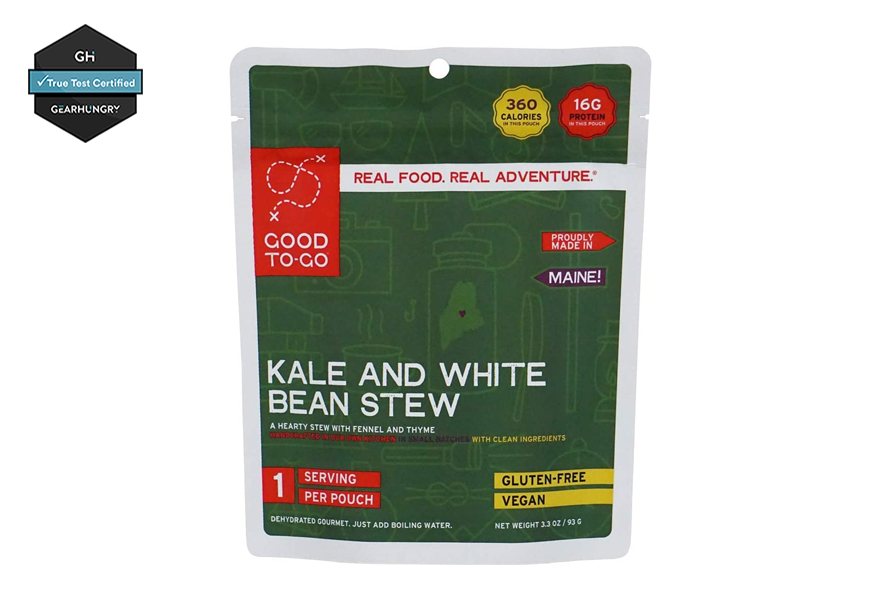 This meal was Tad's favorite and the one I was most skeptical about, but the GOOD TO-GO Kale and White Bean Stew was surprisingly tasty. I really enjoyed the heartiness in this pouch and managed to finally perfect the amount of water added to my GOOD TO-GO meals. While the flavors are not incredibly strong in any one direction, they balance each other well for a meal everyone can enjoy. 
This dehydrated meal might be best in winter or while snow camping; at least that's when I want to eat a stew! Inside you'll find a vegan and gluten-free meal with 310 calories, 16g of protein, and 60g of carbs. A 15-minute prep time is a tad long compared to some other meals, but it's still easier to prepare than most meals at home! For more camping essentials, check out our list of the best camping coffee makers!
Key Features:
15-minute cook time
310 calories
Vegan and gluten-free
16g protein
60g carbs
Specification:
Brand

GOOD TO-GO

Weight

3.3 Oz.
Mountain House Classic Bucket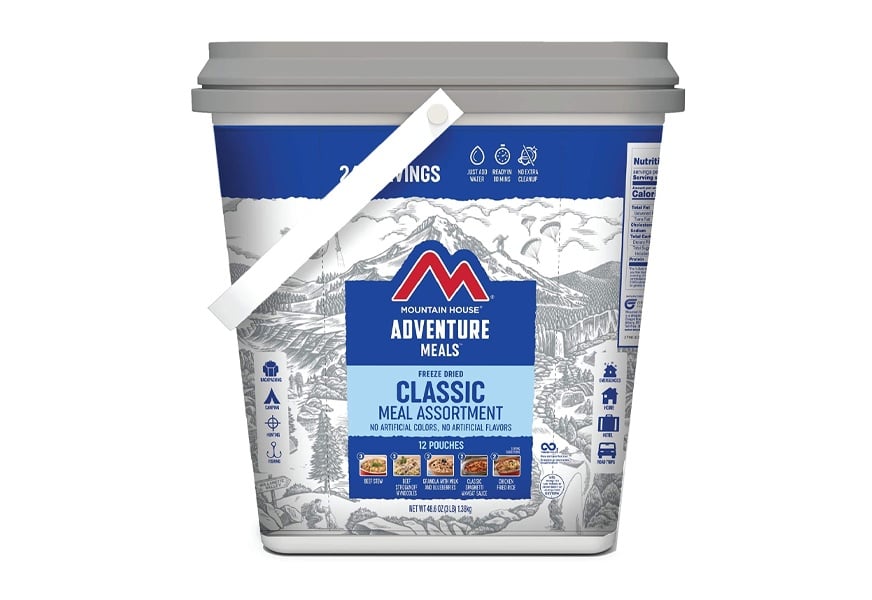 When it comes to stocking up on camp foods for a big trip or general emergency preparedness, you can't beat the Mountain House Classic Bucket. This set comes with twelve pouches (24 suggested servings) of five different entrees from Mountain House. All of the included meals, save two, have meat, so this option is not for the vegetarians or vegans reading this guide. 
The included foods are MH classics that are tried and tested. One of our favorite features of this option is the reusable bucket. You can repurpose the bucket for general storage, packing out trash from your trip (Leave No Trace, y'all), or any other use you can think of for a bucket. If you need the best possible storage for your supplies, bring one of these coolers for camping that won't let you down, for sure.
Key Features:
12 meals
Five varieties
Reusable bucket 
Specification:
Brand

Mountain House

Model

0081635A

Weight

48.6 Oz.
Mountain House Beef Stroganoff with Noodles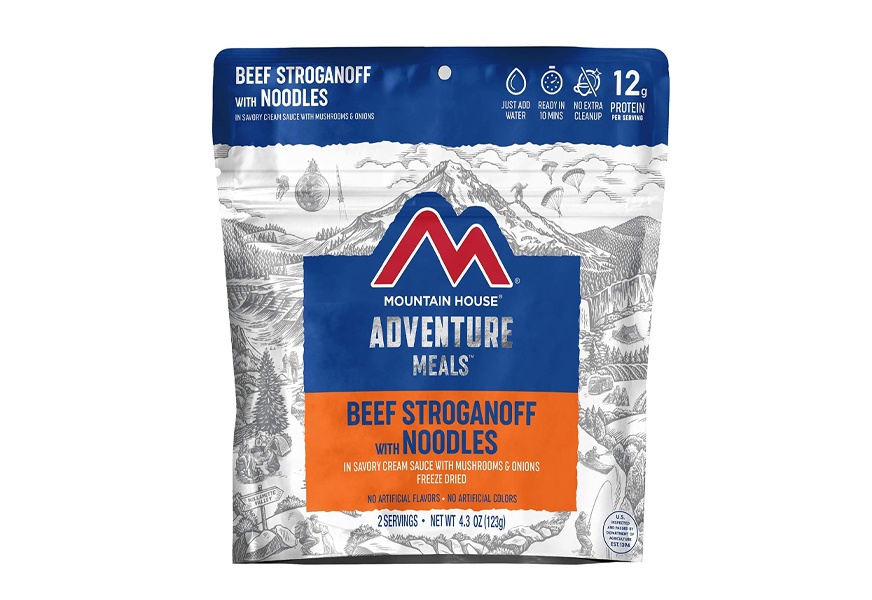 One of the most cost-effective and most popular backpacking foods is the Mountain House Beef Stroganoff with Noodles. While I haven't personally tried this meal because I don't eat beef, it made it onto this list on recommendations from trusted friends who have eaten as many camp meals as I have. Additionally, this meal comes from Mountain House, a tried-and-true favorite.
Beef Stroganoff comes laden with 63g of carbs from all that noodley goodness, 24g of protein from all the beef, and a whopping 560 calories, not quite the same as your average dinner but high compared to the other meals on this list. With a nine-minute cook time, you'll have a delicious meal in no time. Just relax in your camping chair and enjoy.
Key Features:
Nine-minute cook time
560 calories
63g carbs
24g protein
Specification:
Brand

Mountain House

Model

55149-052021-v1

Weight

4.3 Oz.
Mountain House Breakfast Skillet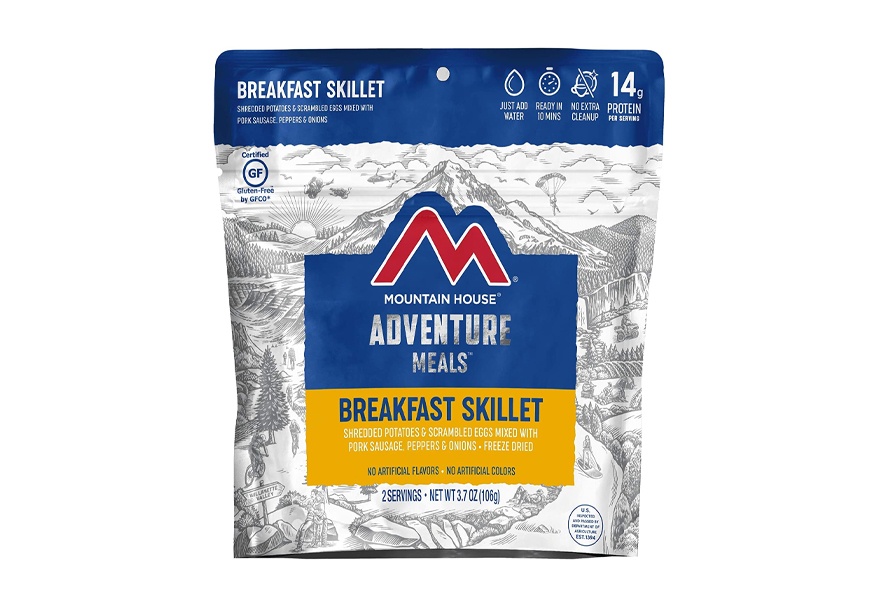 Many dehydrated breakfasts offer some blend of oatmeal or granola, which is not a winner in my book, but maybe it suits you. In general, I prefer a savory breakfast, and that's why the Mountain House Breakfast Skillet earns a spot on this list. A skillet without the need for a skillet, you just add hot water and you've got a hearty breakfast to fuel your day. It's the most important meal, right?
This meal is nutritionally dense, boasting 510 calories, a high amount of sodium, 28g of protein, 46g of carbs, and 24g of fat in the pouch if eaten as one serving (which we highly recommend). If you want to prepare more elaborate meals, check out these amazing camping grills everyone is buying right now.
Key Features:
Nutritionally dense
Ten-minute prep time
Specification:
Brand

Mountain House

Weight

3.7 Oz.
GOOD TO-GO 3-Pack Weekender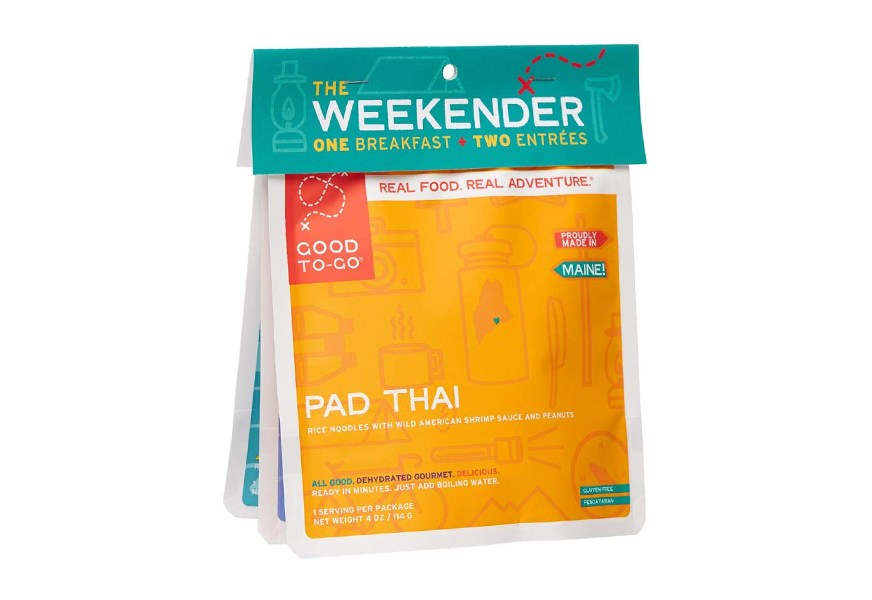 Lastly, but not least, the GOOD-TO-GO Weekender 3-Pack is the perfect solution for those quick overnight or weekend trips. With three varieties to choose from, two vegetarian and one vegan, there's something to suit your next trip. Each pack comes with two dinner or lunch entrees and granola to start your day off with a proper breakfast.
Each pouch boasts plenty of protein and carbs to fuel your next adventure, no matter where it takes you. One of our favorite features of this product is the lack of excess packaging and minimal weight it adds to your pack. Don't forget to also check out these cool camping gadgets that will make your outdoor adventure even more awesome.
Key Features:
Three meal pack
Vegetarian and vegan-friendly options
Two entrees and one breakfast
Specification:
Brand

GOOD TO-GO

Weight

4 Oz.
Why Trust Us
As an avid outdoorswoman who has spent large chunks of her life in the wilderness, I've consequently eaten a lot of dehydrated meals, whether for ease, weight, or just because I didn't feel like cooking from scratch.
These meals have fueled backpacking, camping, hiking, and rock-climbing trips for the last several years. The idea that I can come back to camp and expend minimal energy on a nice, filling meal after a long day is often what fuels those final miles or pushes of the day. I'm a huge fan of dehydrated meals and the effort or lack thereof that it takes to prepare them. 
Who This is For
This guide is for anyone interested in the best dehydrated camping foods. You may only be able to pack a jet-boil stove and want to keep weight down with dehydrated meals or be attracted to the ease of these options.
Whether you're hiking, camping, bikepacking, climbing, skiing, or getting into one of the dozens of engaging outdoor activities that may result in you ferociously devouring one of these meals at the end of it — this is for you. 
How We Picked
In all honestly, I started curating this guide with my personal favorites and the meals I've purchased again and again. I'm a pescatarian, so my options are more limited.
After I selected my favorites, I asked trusted friends, read amazon reviews, looked at sales stats, and more to craft a well-rounded guide with something for every palette.
If things on this list pique your interest, I'd encourage you to explore that brand more and try some other options, even if they were omitted here. While I believe this selection includes many of the best dehydrated foods on the market, I realize that your palette may vary from mine. So let us know through our social channels if you discover a dehydrated camping food that didn't make the list; we'd love to try it out for ourselves!
How We Tested
The dedicated tests conducted for this guide involved some dear friends, rock climbing, and a camping trip. When on group trips, I prefer community meals, so we all share the cooking. We made a trip to Leavenworth to go bouldering and camped each night.
On one of my assigned dinners, I whipped up various cheap dehydrated camping foods and offered a smorgasbord of freeze-dried meals to my friends to enjoy after a big day of climbing. Co-testers Tad and Rory helped formulate some of the thoughts in this guide, and you'll see their eloquent and well-thought-out feedback throughout the product blurbs.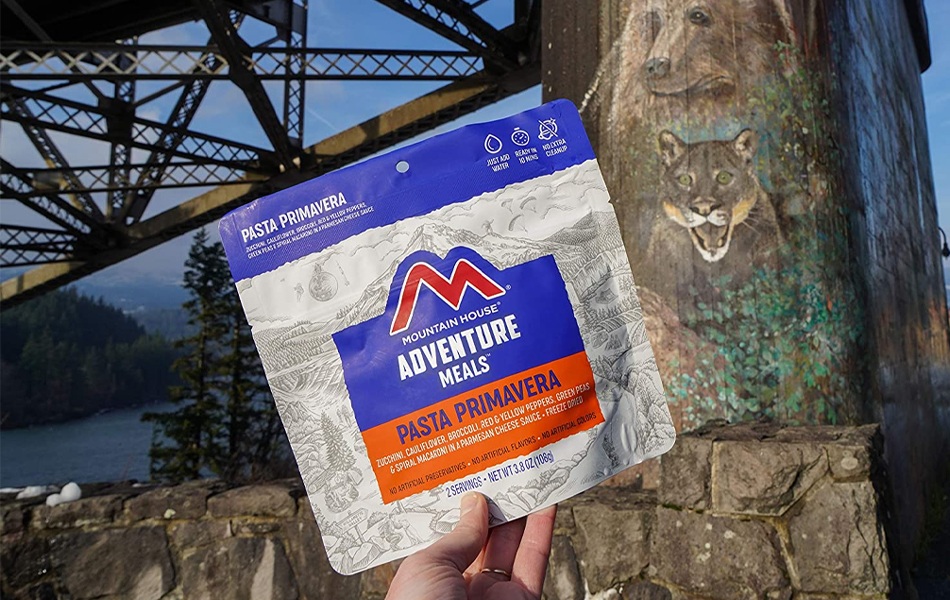 Features To Look for In Dehydrated Camping Foods
Nutritional Value - Given that these meals are mostly designed for the active and outdoorsy, they generally have great nutritional value and make for well-rounded meals all by themselves. However, if you know you have specific needs, review the nutrition facts ahead of time! 
Cooking Method - Most dehydrated camping foods require heating water, adding it to the food pouch, and zipping it up until it rehydrates.
Other options may have a heating pack in the bag that allows you to add room temperature water. In general, you should expect that your cooking method will involve water, heated or unheated.
When it comes to cooking, that's about as easy as it gets and it's absolutely foolproof whether you're exhausted from a big day in the mountains or have had a few too many back at camp. 
Cooking Time - Cooking time for most freeze-dried foods is 3-10 minutes, blissfully fast and straightforward so you can refuel and get back on the trail or settle in for a great night of sleep. 
Calories - Depending on your given activity, your caloric needs can vary greatly. A lazy day at camp or hanging on a river doesn't burn nearly as many calories as big days of hiking, climbing, backpacking, or skiing.
You should ensure your chosen meal fuels you and replaces at least some of the calories you've lost during the day while preparing you for whatever lies ahead tomorrow. Many camp meals range from 400 calories to 1000 calories. 
Serving Size - Many food pouches say their product boasts two servings, and in theory, which would be enough for two people. I have at no point in my life not eaten a full pouch and wanted a second. Maybe I'm a part ravenous bear, have an unending stomach, or some other strange malady that would make me eat so much, but the suggested serving size seems off to me.
If you are not me, maybe a pouch is two servings, but I beg to differ.  
Ingredients - Pasta, meats, legumes, and vegetables appear to be some of the most common items found in camping meals. All ingredients in your pouch should be listed on the back or in the product description.
If there are certain ingredients you may be sensitive to, be sure to peruse that information prior to making a purchase. 
Dietary Restrictions - Regardless of your dietary restrictions, it's very likely you can find a camp food that fits the bill. Gluten-free camping foods and vegan, vegetarian, and soy-free options exist and are as delicious and filling as their meat-laden counterparts, if not sometimes more so.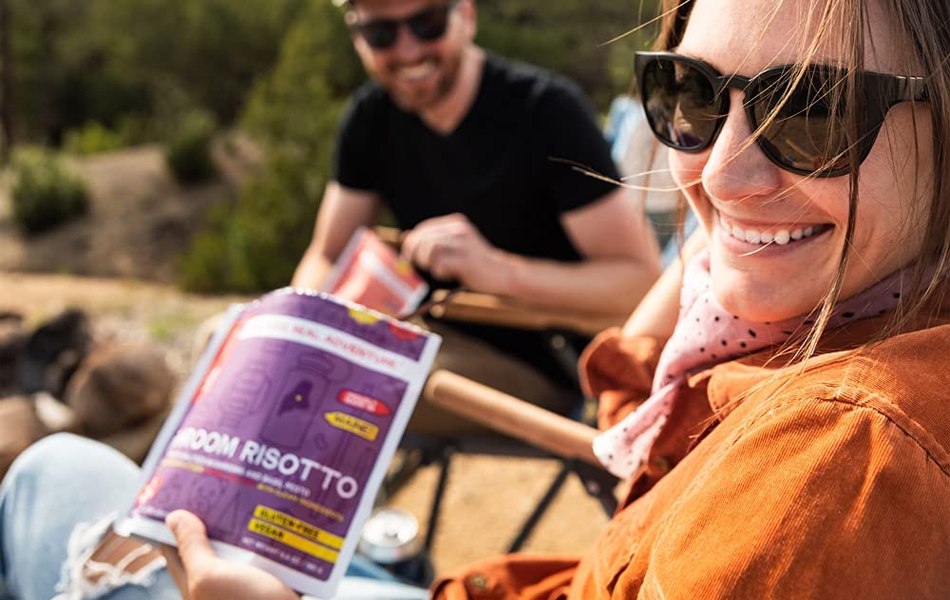 Dehydrated Camping Food FAQ
Q: How much water does it take to rehydrate meals?
A: Each meal varies. You could need anywhere from a few ounces to a few cups depending on how large the meal is and how many people it feeds. 
Q: Can you eat dehydrated food without water?
A: In short, yes, BUT there's not a lot of reason to do so. Given that the food is dehydrated, it will search for water. You can add that water ahead of time, or it will take it from your body, and you'll end up quite parched and drinking as much water as you would have used to rehydrate the food in the first place. 
Q: Is dehydrated food healthy?
A: When crafting these meals, the manufacturers are acutely aware that the bulk of their user base has just engaged in some kind of physical activity in the outdoors, not limited to hiking, backpacking, climbing, skiing, kayaking, and more.
The brands found in this guide are lauded for taking consumer needs, diets, and goals into account. The result? Healthy dehydrated camping foods full of well-rounded sustenance regardless of activity levels. 
Q: Does dehydrated camping food taste good?
A: As a human that has eaten a surprisingly large amount of backpacking food, I can confirm that the options featured in this guide constitute some of the best tasting dehydrated camping foods I've — and many of my friends — have come across. I don't think I've found a dehydrated meal I didn't like. While that could be related to pure exhaustion and a willingness to eat literally anything, I stand by it. I have at times decided not to go grocery shopping and simply pulled a meal from my stash of dehydrated foods in pure laziness, and they haven't disappointed in those moments either. 
Q: How do I prepare dehydrated camping food?
A: Generally, any dry foods are prepared by adding water, whether heated or unheated. Your food pouch should come with instructions on how to prepare that specific meal.
Sources:
Sign Up Now
GET THE VERY BEST OF GEARHUNGRY STRAIGHT TO YOUR INBOX